Earlier this Spring, when I was sharing the photos from our Honeymoon Road Trip, I posted about this great town we stopped in to see – Laurel, Mississippi. Since then my inbox has been filled with comments and emails from people all over the US who either have a connection to Laurel or just love it as much as Garrett and I do. In that spirit, I thought I'd share a bit more about our lovely hosts, Erin & Ben Napier and their incredible 1925 Craftsman home, as well as some other homes we stopped into see while we were there.
Erin and Ben live in the historic district of Laurel with their two sweet Great Pyrenees pups, Chevy and Baker. (Baker and I became good friends during our visit). Their home was featured in Flea Market Style Magazine last fall and Erin was kind enough to give me some of the photos from that shoot to share with you. It's such an inspiring home.
/  /  /
In junior high, Erin would come downtown to draw the houses in the area, including her favourite of them all – this craftsman cottage near the museum. When she and Ben were dating in college, she'd point the house out to him on their neighbourhood walks. Then three years after their wedding, they were talking with the owner of the house and made an offhand comment that if she'd ever like to sell it, they'd love to buy it. A month later it was theirs and the rest is history.
The house itself has great bones, but you can see all the little touches and details that Erin and Ben have put into every room to make it a home. The moment you walk in, it feels cozy and warm, with music wafting throughout (most likely The Drifters).
The oil painting in the dining room is one of three used as a prop in Season 4 of The Sopranos. Erin is a big James Gandolfini fan!
The kitchen is always the heart of the home to me and this one made me want to roll up my sleeves and get baking. Everyone knows I have a thing for white kitchens.
It's hard to pick a favorite feature in the kitchen – from the cotton factory pulleys that the lights hang from to the white subway tile to the cookbook shelf – I love it all.
Ben was eager to explain all the renovations they did and answer all our questions. I hope that Garrett was taking notes for when he builds our kitchen someday, ha!
Isn't their home just gorgeous? I could easily move in next week if they'd let us. I wonder how they feel about roommates and chihuahuas 🙂
 While we were there, a new shop/garage was being built in the backyard.
 Even the dogs have a cute house!
We headed downtown to visit their shop, Lucky Luxe (which I'll be sharing for Wedding Wednesday next week!) and to pop into to see the apartment of their friends Josh and Emily.
The main room was full of warm earth tones and luxe textures – from beadboard and rustic wood to supple leather and linen. More and more I'm being drawn to textures over smooth finishes. They add so much dimension to the room.
This bookcase built into the staircase railing is genius. Practical storage space meets eclectic design. The whole apartment feels so bright, in part to the large windows but also the transom windows above all the doors. It makes all the rooms feel very open.
The kitchen is another great mix between function and design. The exposed brick and old signs, combined with the crisp white cupboards is cozy without feeling cramped.
I would love to find a large vintage sign like this, or paint one by hand. There is something about vintage typography that always catches my eye.
 The bathrooms are simple yet bright with honeycomb tile, bead-board and chair rail.
Josh & Emily are about to welcome home their first child, so they've moved into this lovely Italian villa inspired home.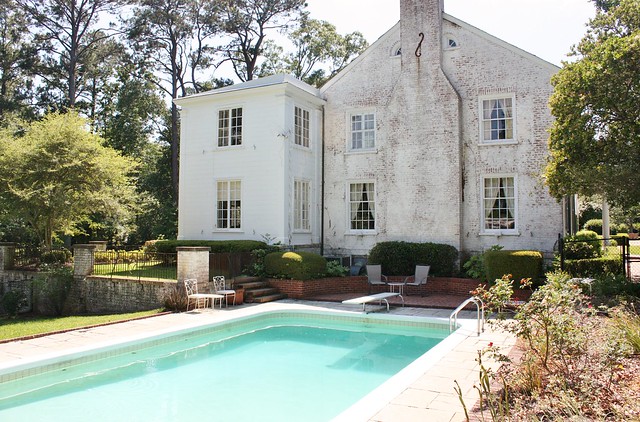 The backyard was just gorgeous, with a grand pool area and a big backyard full of gardens and terraces.
They even have a wishing well AND a pizza oven – why would you ever need to leave home?
Another house the we visited while we were there was that of Erin's cousin Jim and his lovely wife Mallorie. We popped over to their 1912 city farmhouse after dinner to look around and my jaw dropped. It was another great home with a mix of modern and historic, with a great eye for design. It was too dark to take photos then, but here is a little snippet of their dining room, dressed up for their daughter Lucy's first birthday.
Thank you again to our dear friends Ben and Erin for showing us around their town and their home. You better believe that I'll be calling them for design advice in our own place someday! It really was a highlight of our road trip and I know that we'll be back there again someday…
…because a part of our hearts will always be in Laurel, Mississippi.
Be sure to check out Erin's blog, Make Something Good Today and their beautiful wedding stationery and design at Lucky Luxe.
/  /  /
Photo Credit: 2-4, 6-10, 13-16 Jean Allsopp; 18, 22, 23, 25, 33 Erin Napier