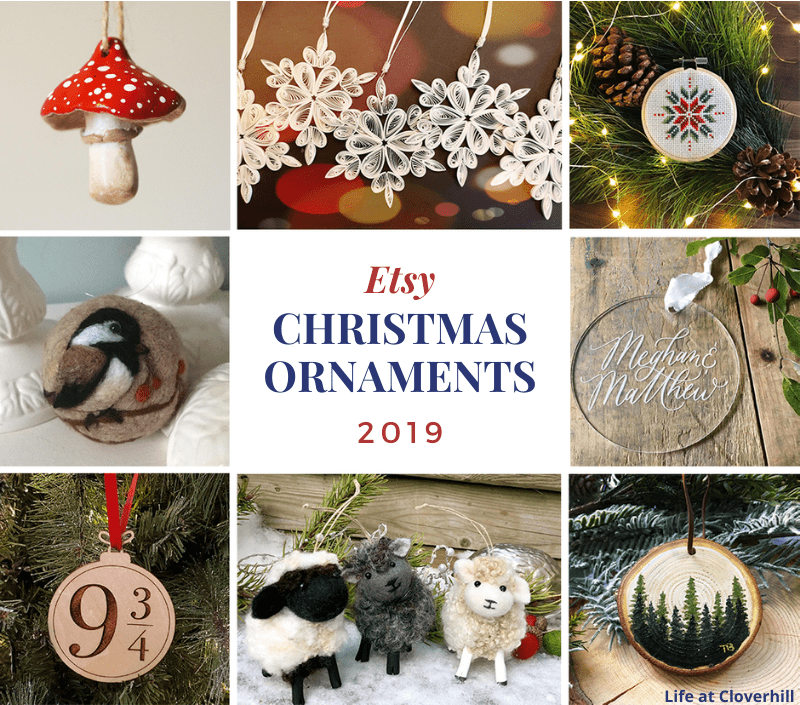 Happy December! Over the weekend we finished decorating the inside of the farmhouse and got things feeling might jolly over here. While we were hanging the ornaments on the tree, it got me thinking about how so many of them mark a moment in our lives. They commemorate special milestones such as weddings, births, new homes and vacations (we pick up one on every road trip!). I have quite a few that I've done as fun craft projects over the years (you can see tutorials here!), and some were made by local artists too.
Today is the Etsy Cyber Monday sale and I've been doing a bit of Christmas shopping on there. I love that I can support artisans (including Canadians!) during the holiday season and discover unique gifts too. I found some great personalized gift ideas, including ornaments. Any of these would be lovely as a gift idea for the holidays, tied to the top of a present as a unique gift tag or as a new addition to your own tree.
Clay Mushroom – I had a little chuckle when I saw this whimsical hand painted clay mushroom. It looks like something right out of a winter woodland scene.
Quill Paper Snowflakes – The detail and design that goes into these stunning hand quilled snowflakes from an Alberta artist is incredible. Can't you just picture this delicate snowflake glowing in the Christmas lights?
Poinsetta Cross Stitch Pattern – Looking to get crafty and make your own ornaments? These Canadian inspired designs by Toronto based Pigeon Coop Designs can be downloaded as a pattern. No need to wait on shipping. You can print the pattern, grab the supplies from your local craft store and get crafting tonight!
Laser Etched Newlywed Circle – Made in Halifax, Nova Scotia, these laser etched acrylic ornaments can be personalized in the most beautiful font for any occasion from weddings and engagements to first Christmases and new homes.
Painted Tree Slice – My sister makes similar ornaments for our family and they're some of my favourite on our tree. The rustic edges and hand painted designs are so creative. This artist from Nanaimo, British Columbia has an Etsy shop full of great designs to check out.
Felted Sheep – These little felted sheep are just too cute. Made with natural wool and curls in New Brunswick, a whole flock of these would be nice on a tree or tucked into a nativity scene.
Harry Potter Inspired 9 3/4 Wood Disc – For the Harry Potter fan, this simple laser engraved ornament would be a welcomed addition to their tree. How cute would it be as a gift tag on a set of the books for a young reader?
Felted Chickadee Ball – These beautiful Christmas balls with a lovely felted chickadee design are made on the shores of Lake Huron. A family heirloom in the making.
I hope that these give you some fun ornament gift ideas for the holiday season!
This post contains affiliate links, which allows me to make a small commission from your purchase, but your purchase price stays the same. When you use these links, I'm able to keep this blog going – thank you for your support!