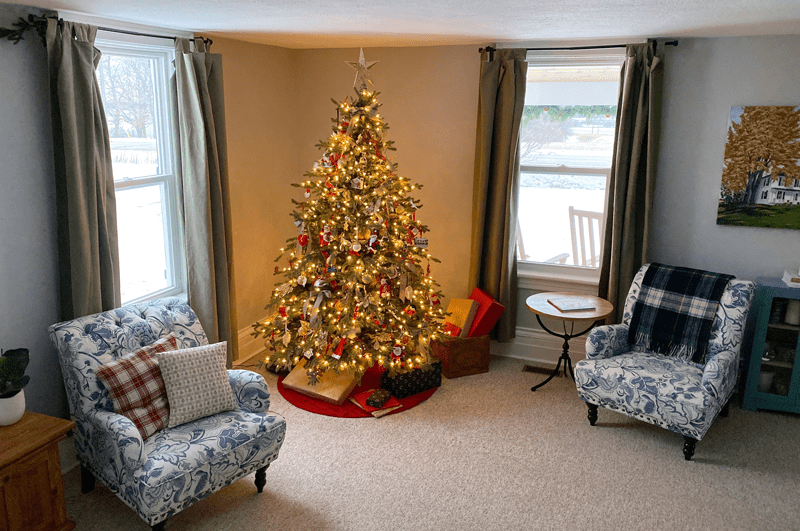 This morning I was sitting in our living room, looking at the Christmas tree with snow falling outside the window and it dawned on me that this will be our FIFTH Christmas in the farmhouse. I can hardly believe that much time has gone by already. You can find all the annual holiday home tours in my Holiday Decor section.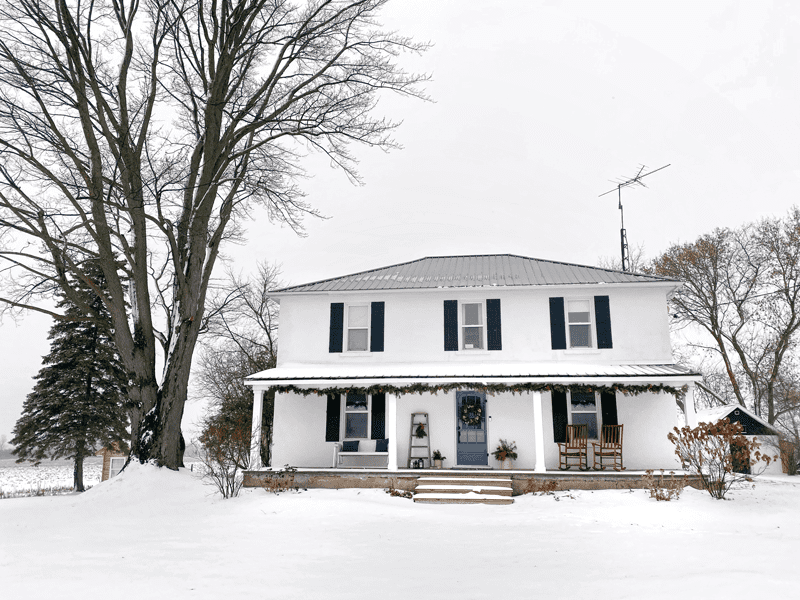 Christmas might just be my favourite time of year here, especially when everything is covered in a blanket of snow. It really does look like a winter wonderland.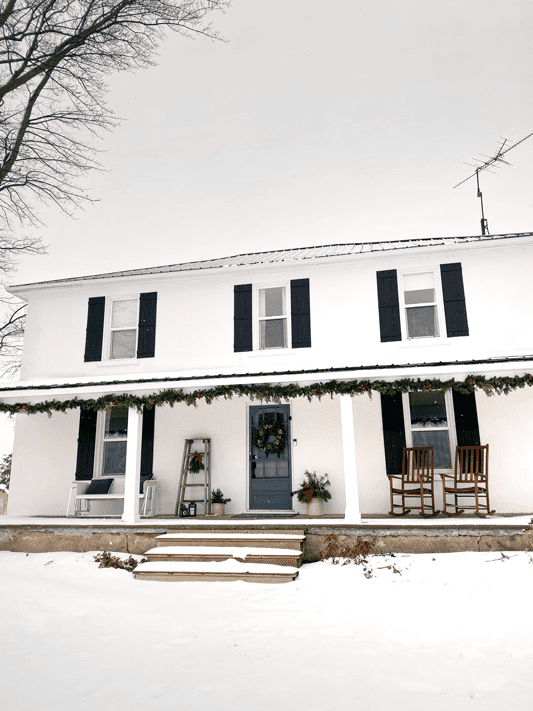 Last week I shared our Holiday Front Porch, with the 36 foot garland I made (using real and faux greenery). I love having a welcoming front porch to greet our family and friends (and the mail lady!). Come on in and I'll show you what else we've been up to around Cloverhill Farmhouse.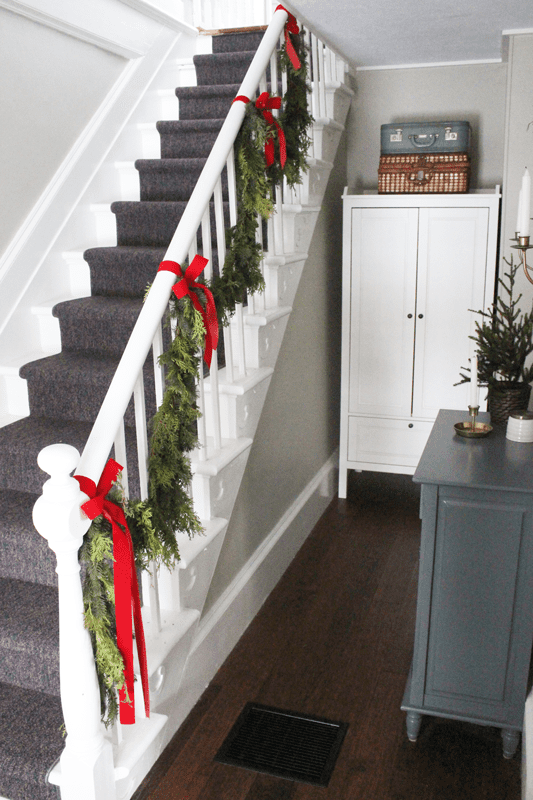 We renovated the front hallway last year and it's still one of my favourite transformations we've done. The wardrobe at the back is much needed storage for winter coats, hats and gloves, and the small blue cabinet holds purses and bags.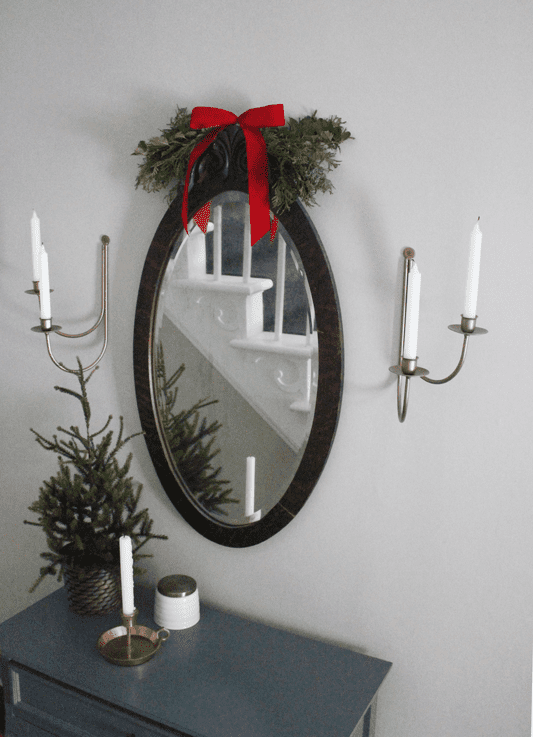 This vintage mirror came with me from my first apartment. I love having it hanging in our front hall with the candleholders and I felt like it deserved a little swag of greenery to freshen everything up for the holidays.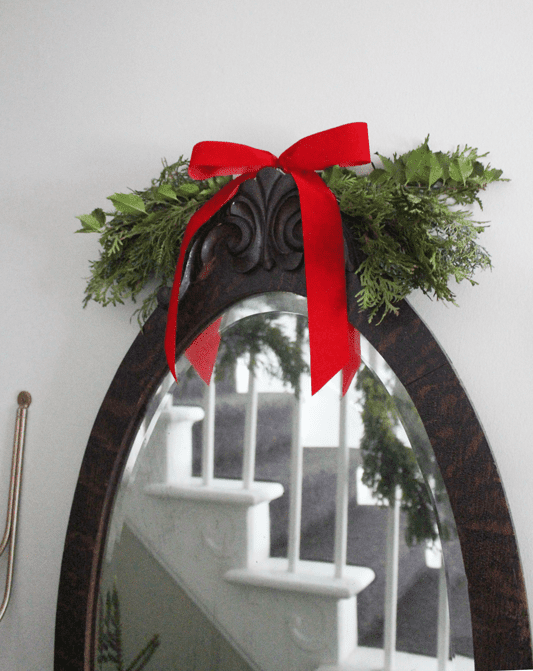 I used juniper, cedar and real holly (clippings from my in-laws gardens), with a bright red bow. It feels so old fashioned, which suits this 1903 farmhouse.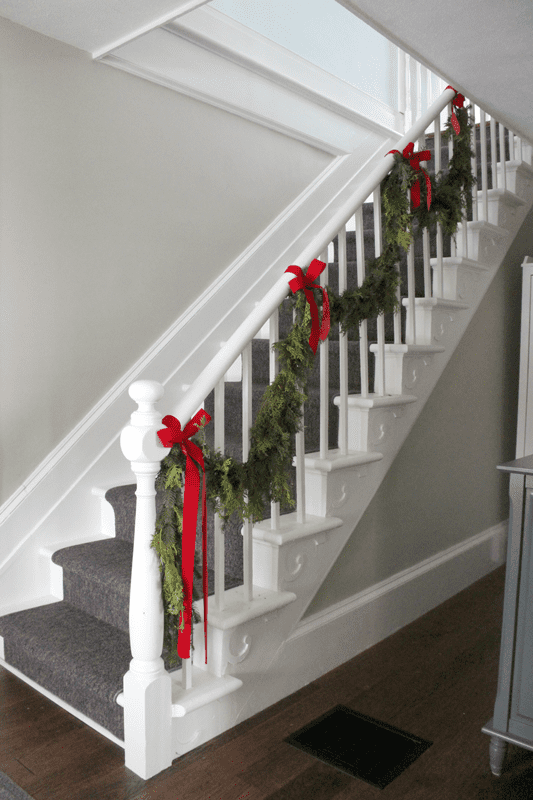 I hung our stockings along the staircase last year, but this time I was looking to do something different. This railing has always felt like the perfect spot for a festive garland with red velvet ribbons. I used the same idea as the front porch garland, with a mix of real and faux garland to create this classic Christmas look.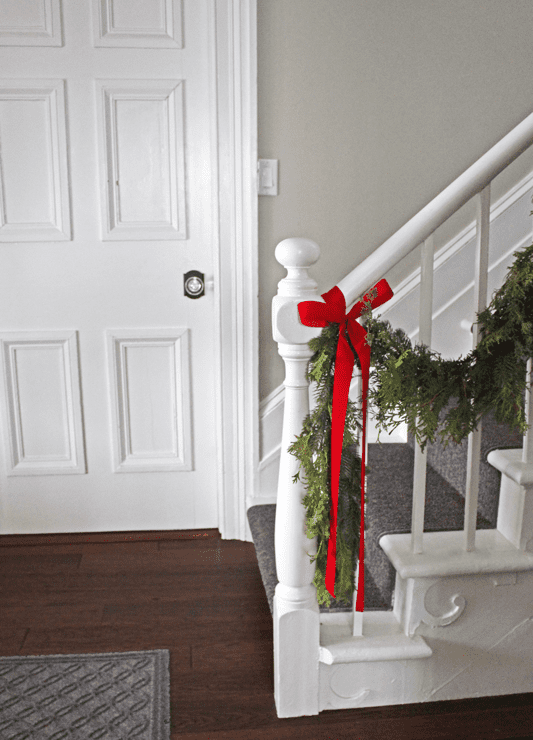 I can reuse the faux part every year (it was actually one we'd already had anyways) and it took much less time (and greenery) to make it look lush. I'm not too worried about when the needles inevitably start to fall because there is still the faux stuff there to help keep it looking full.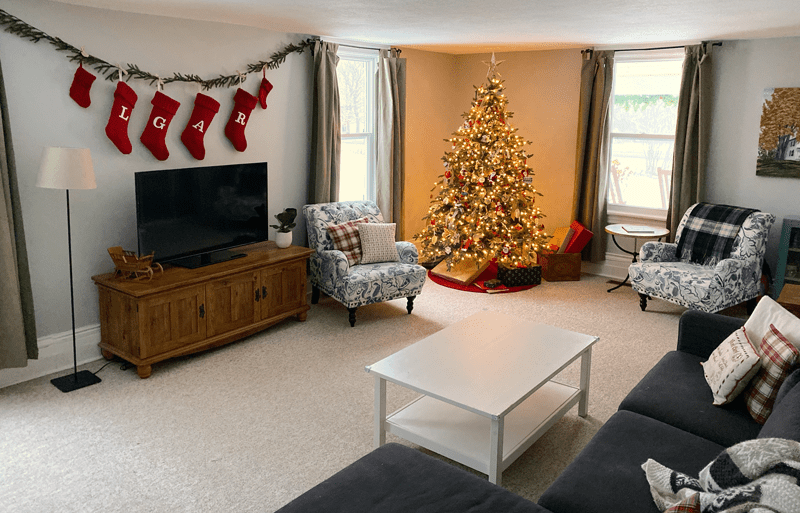 The living room is where we spend the most time, so it's the perfect spot for a nice big Christmas tree. Our little girls love to turn on the tree as soon as we come down in the morning and it's on right until we head up to bed for the night. It's such a magical time of year, especially now that we have young children who are completely enamoured with all the twinkle lights and decorations.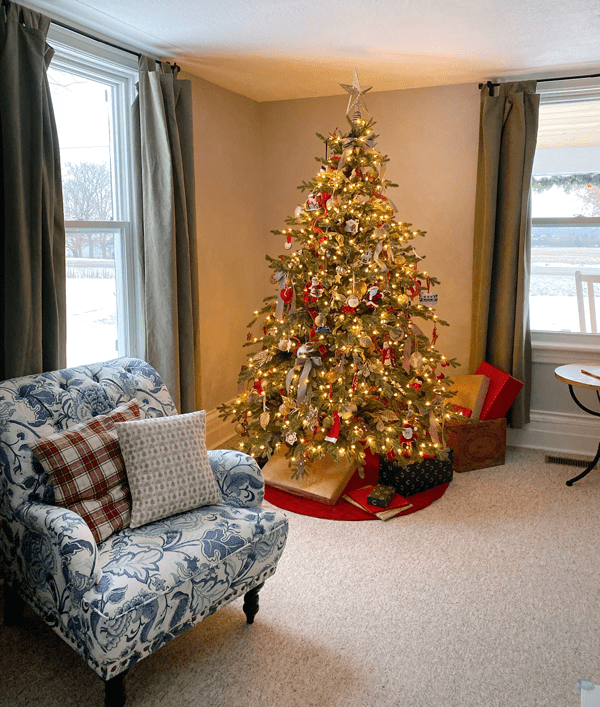 Our tree this year is decorated with non-breakable ornaments on the bottom half and a few precious ones up top. I used gold and silver balls along with sentimental or homemade decorations too, like my felt gingerbread men, felt mittens,, kissing santa, and Lucy & Rosie's first Christmas ornaments. The tree skirt is a thick red cable knit one I found at Target a couple years ago.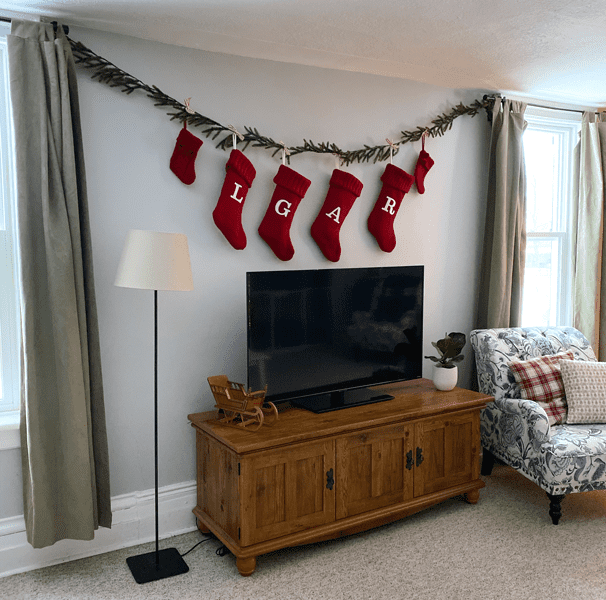 After being told by our three year old that we needed to hang our stockings or Santa won't come, I decided to do something different with them this year. In the past they've hung up on the staircase, but this time I strung them up on garland above the TV. Garrett was teasing me and turned on the "fireplace" channel, ha!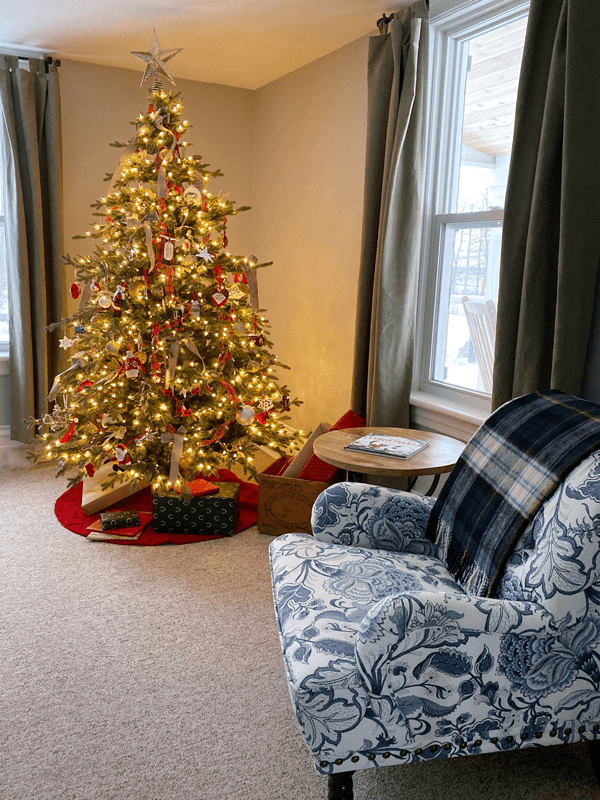 Many evenings, we've been sitting here with the little ones and reading stories by the the glow of Christmas tree.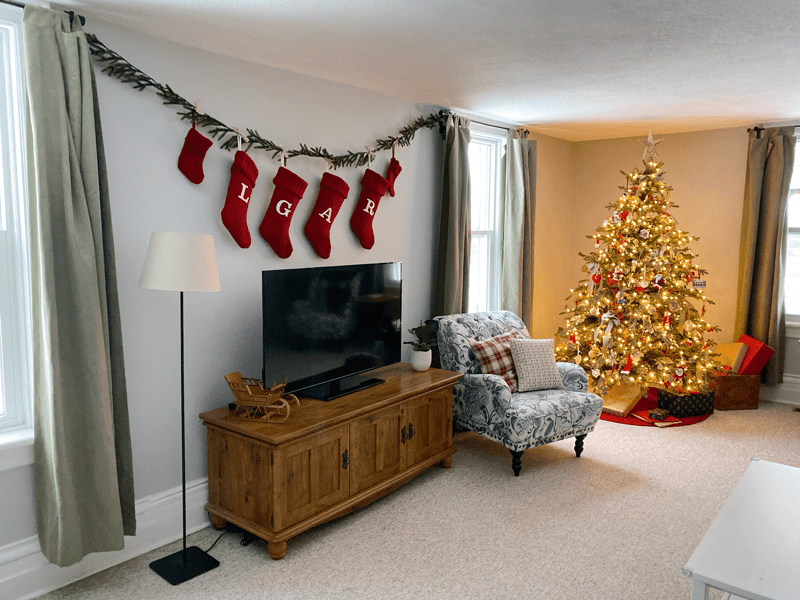 We do our big Christmases at both grandparents' houses but we always have some family and friends stop by around the holidays, so it's nice to have the house all decked out for the season. Plus we enjoy it too 🙂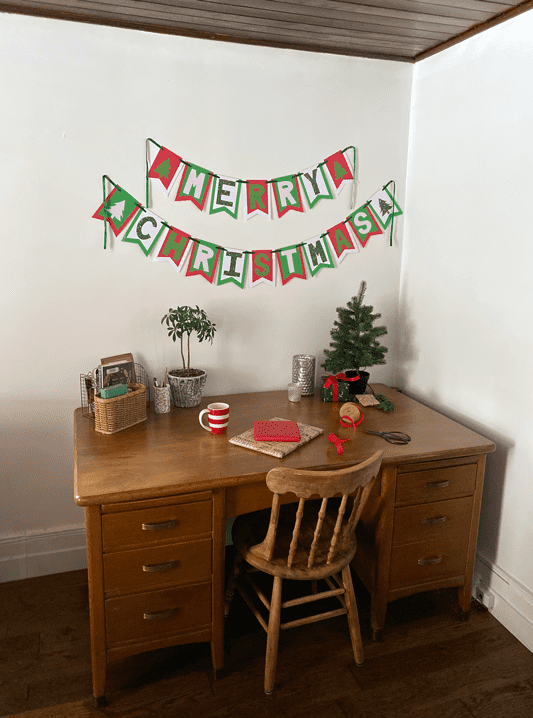 A couple weeks ago I shared on Instagram that I'd scored this 1930s teacher's desk for $50 from a local couple. It's become my command post for all things related to blogging, the flowers business, crafts with the kids, etc. I have most recently turned it into my wrapping and card writing station.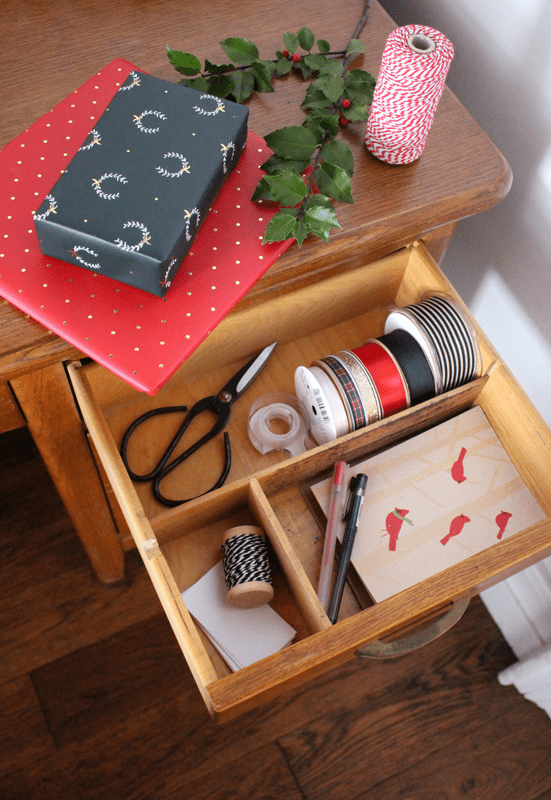 I've dedicated one of the big drawers to everything that I need for writing Christmas cards and wrapping gifts. It's stocked with greeting cards, tags, ribbons, twine, pens, scotch tape and my good scissors. I keep my wrapping paper rolls tucked in beside the desk, along with a stack of handmade fabric gift bags too. I've been able to wrap each gift as soon as I get it and then tuck them under the tree.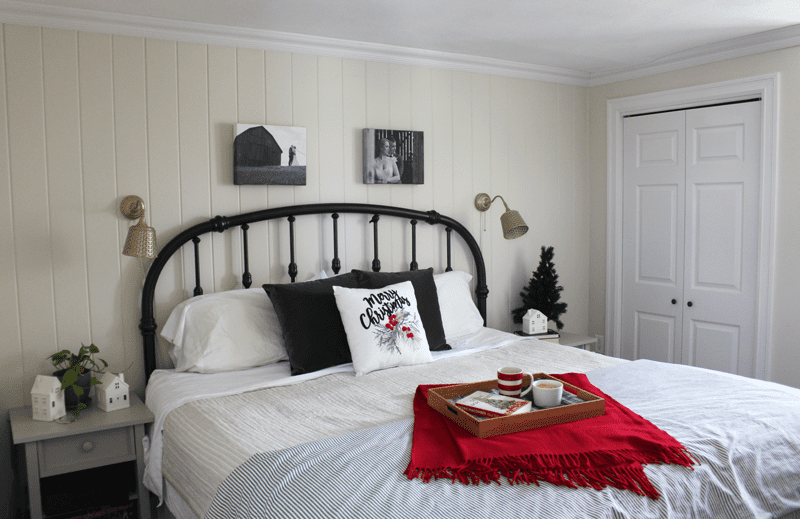 Our Master Bedroom has pretty much stayed the same ever since we renovated it a couple years ago. It seemed like a good time for a little Christmas freshening up.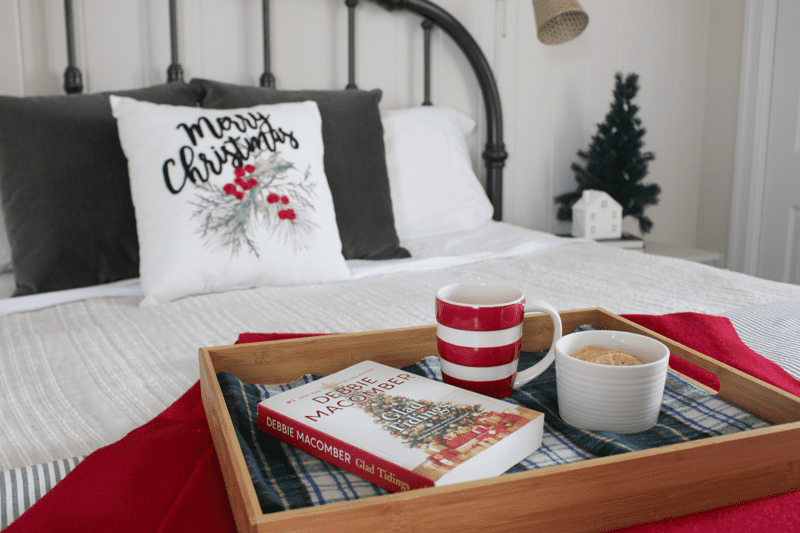 I shared this book in my December monthly newsletter last year and the new one comes out tomorrow (first Friday of every month!). I've been sneaking up to the master bedroom in the evenings to read with a big mug of tea or hot cocoa, whenever I get the chance. I recently was gifted this classic UK Cornishware mug from owner Karina Rickards and it's become my favourite. Stay tuned for a cool gift idea using these mugs soon!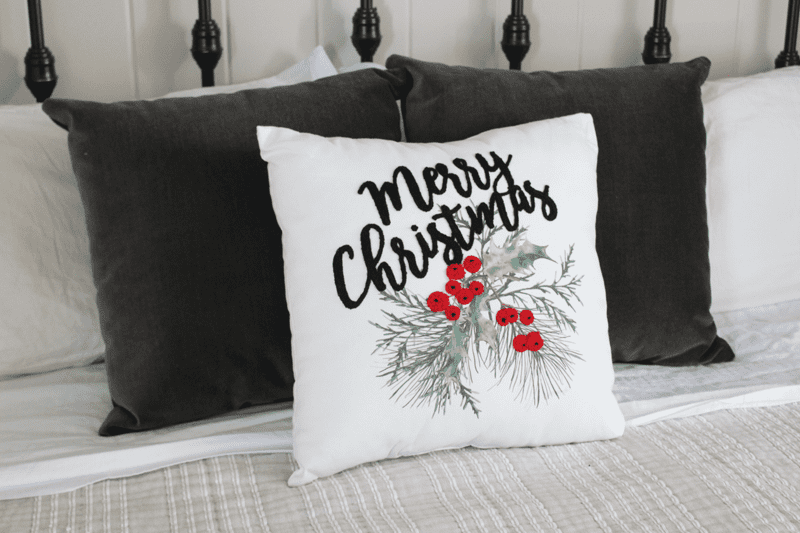 Our throw pillows were looking quite beat up (I blame the dog – he loves to burrow!), so I treated myself to a few news ones. The grey-brown velvet goes well with the embroidered Christmas berries (all three from Walmart)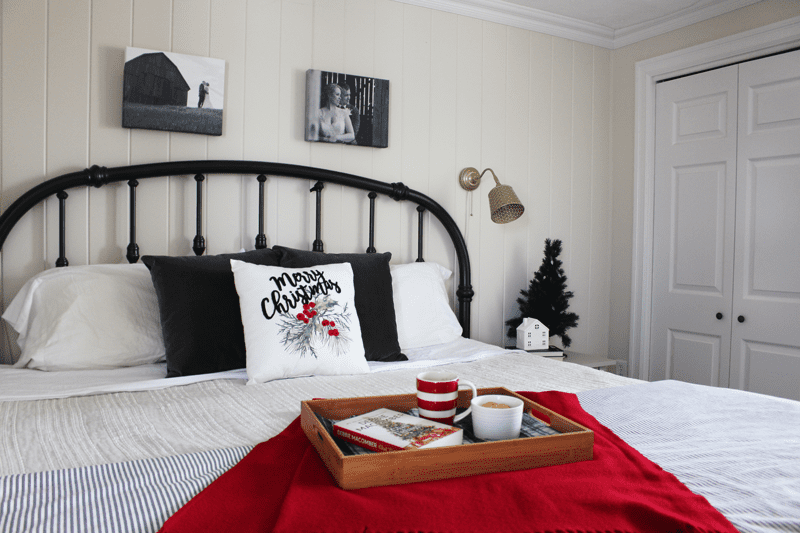 At the end of a long fun-filled day of Christmas baking, gift wrapping and carol singing with the girls, it's nice to have a warm and cozy bed to climb into.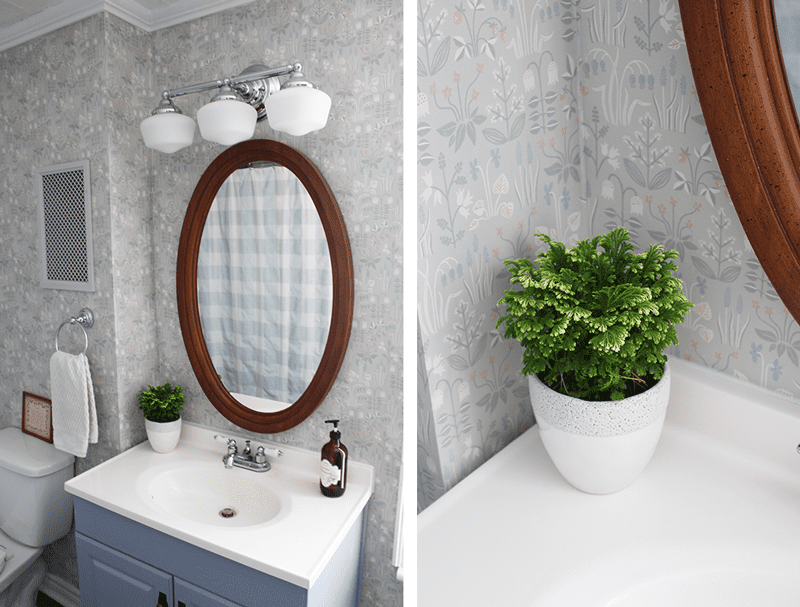 I believe that even the bathrooms can do with a little holiday cheer, so I picked up a couple frosty ferns for our recently updated Farmhouse Bathroom and the Powder Room. These are a great houseplant and will be a welcome touch of green in these rooms well into the winter season. They're not just Christmas decor!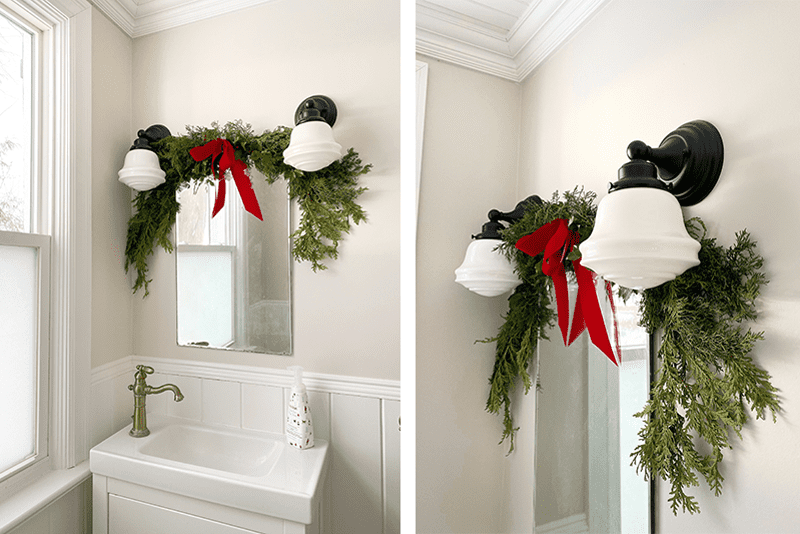 The powder room also got some fresh greenery on the vintage mirror too. The greens are resting on these lights, but they don't get hot and they don't tend to be on long anyways, with it being a powder room.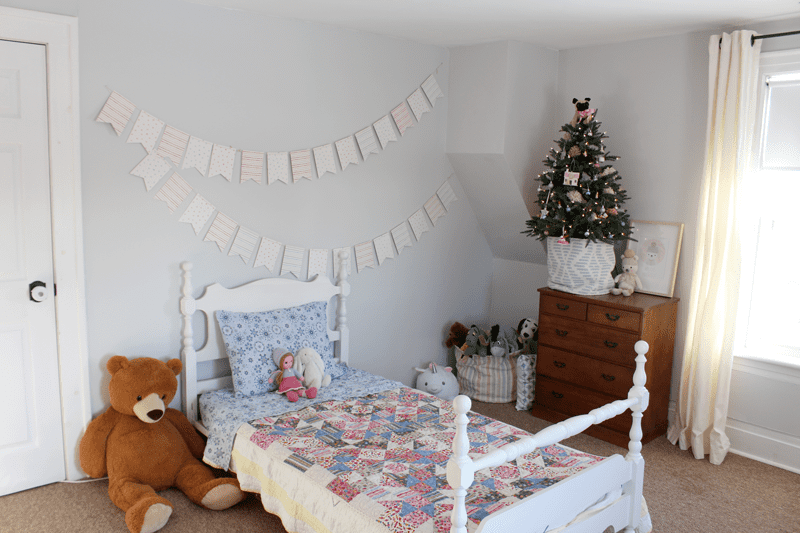 One room I was very excited to make feel Christmasy this year was Lucy's big girl room. We have yet to actually do anything to this room, aside from painting the bed and moving in the furniture. This is the room where both girls play when we're upstairs (and someday they will share the room), so I envision this as both their tree.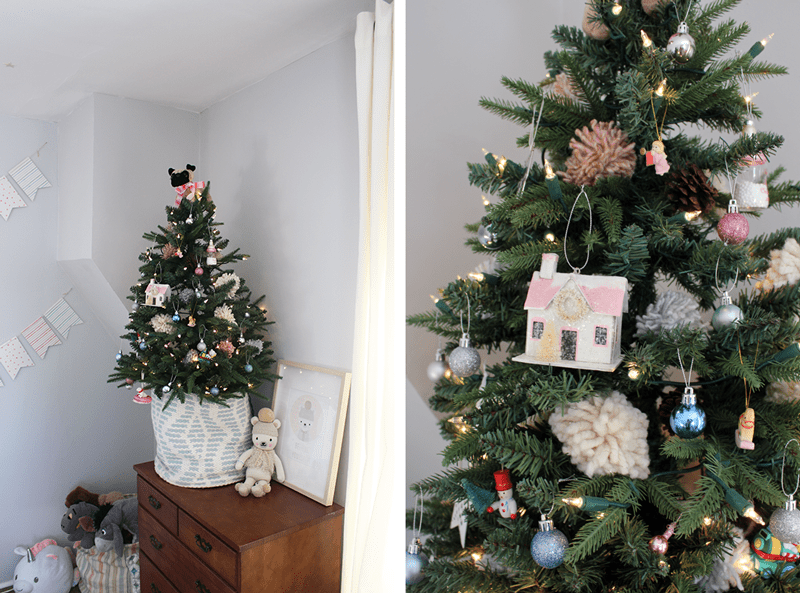 The tree itself is the tabletop one from our apartment, decorated with a mix of my childhood ornaments, Lucy and Rosie's ornaments and some handmade pom poms. The pug tree topper was Lucy's idea, ha!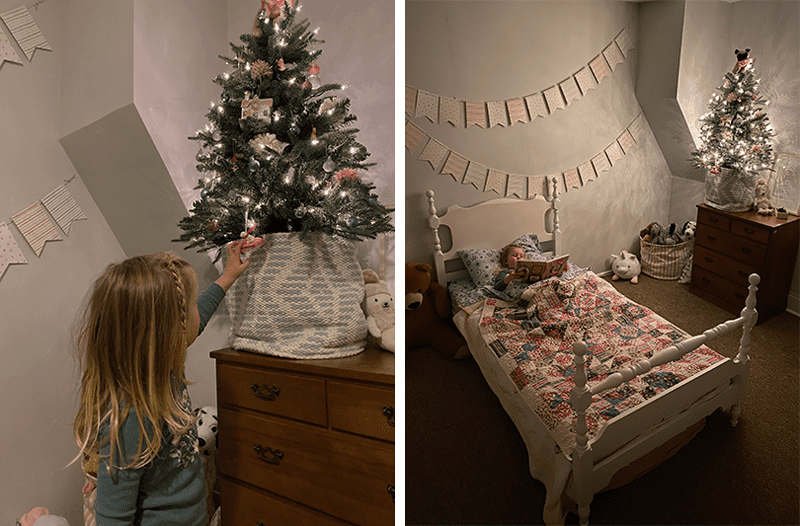 She had so much fun helping me decorate it and she insists on having it on every night (I slip in to turn it off after she's asleep). I can remember having a tree in my room as a kid and there is something so magical about it.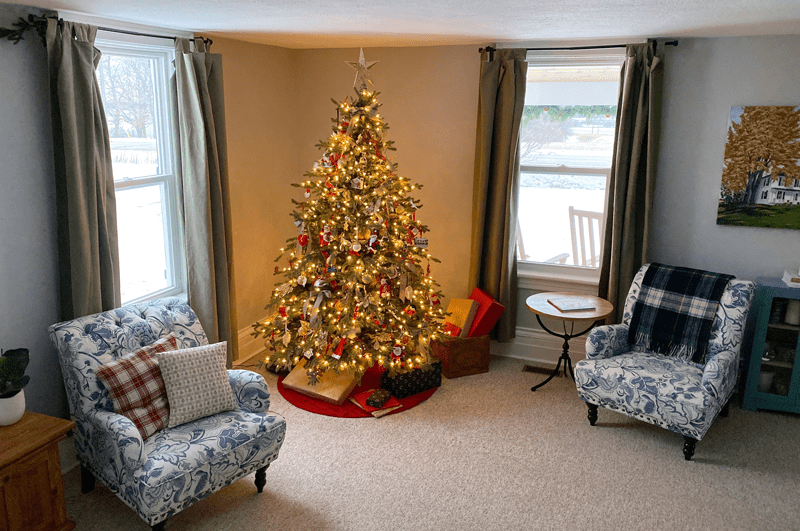 Thank you so much for joining me on a holiday home tour of our farmhouse. I hope you have a truly wonderful Christmas season with your loved ones. Merry Christmas!