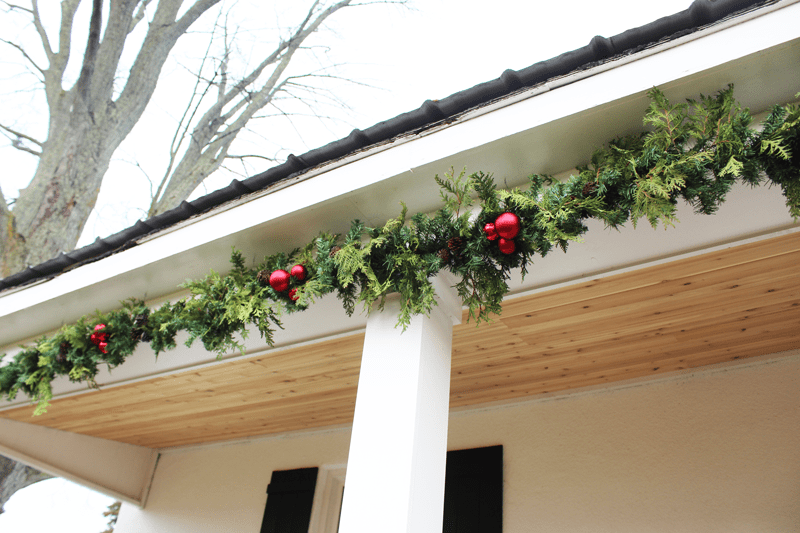 There is something festive and old fashioned about decorating with greenery during the holidays. The bright green colour and that fresh evergreen smell are the perfect combo for Christmas decor. I made this long garland for our front porch using real AND faux greenery, and I'm so pleased with how it turned out.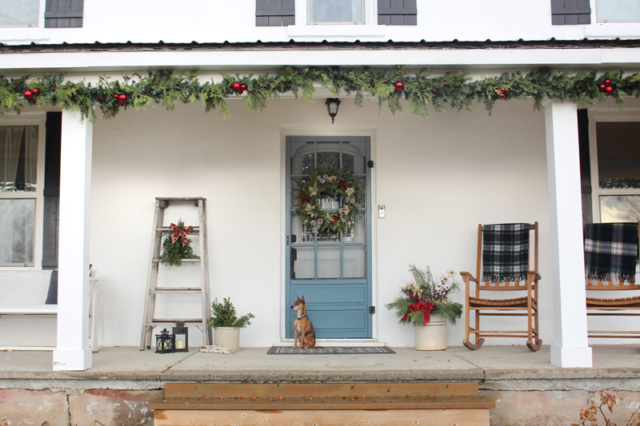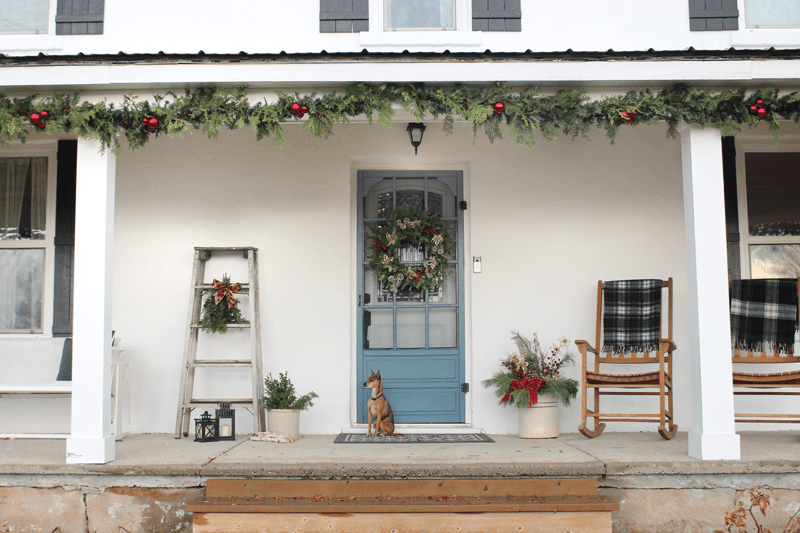 Earlier this week I featured the garland on my post about our Christmas in the Countryside Front Porch. The front porch of our 1903 farmhouse is over 36 feet long, so I knew it would take quite a bit of garland to stretch that span. Mixing the foraged greens with the faux garland I had was definitely more cost effective and took much less time than hand tying an entire garland.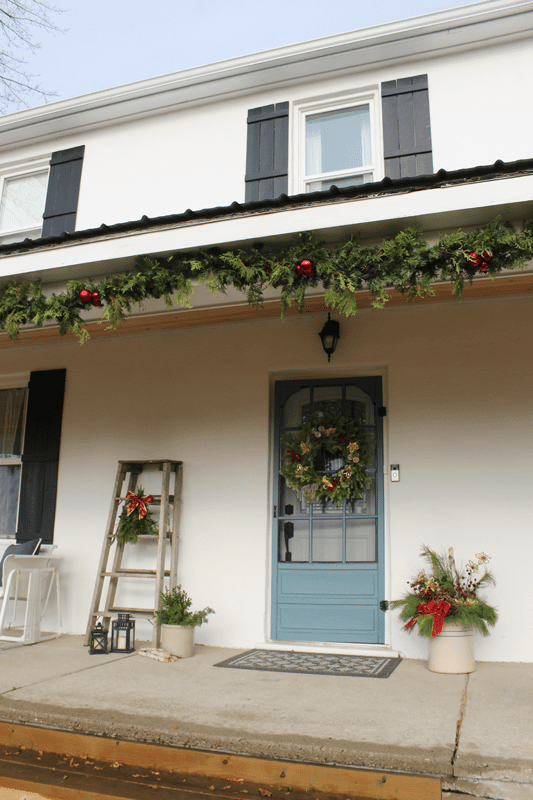 Unless you're standing directly under it, you can hardly see the faux branches in there. They help to add body to the garland, while the fresh cedar adds movement and texture. I also used wired pinecones and red Christmas balls to help tie the garland into the other Christmas decor I had on the front porch.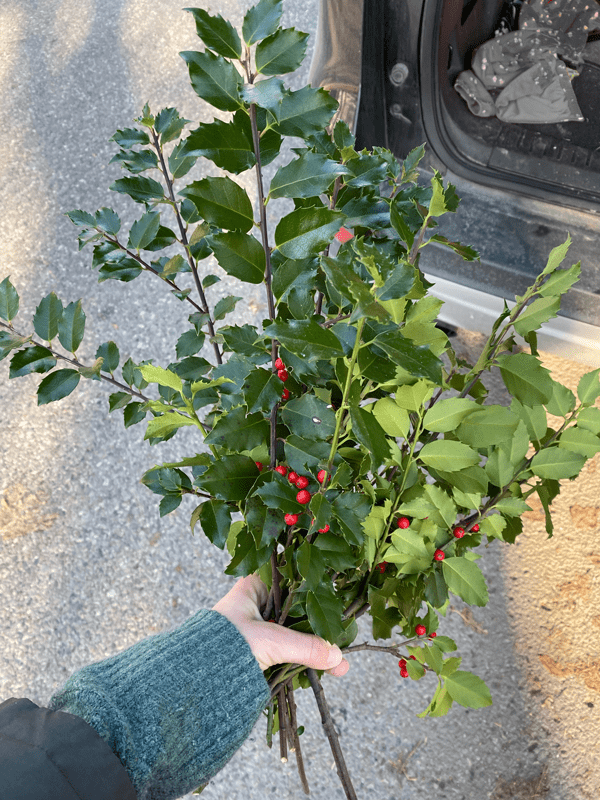 You can buy fresh greens this time of year, which can get quite expensive, or you can see what you can find for free. I was lucky to forage for all of my greens around the properties of family and friend's. ANd before you think this is because we live out in the country – all the houses were in town, within their garden shrubs and hedges. When you start looking around, you'll be surprised what you can find! I scored fresh cedar, juniper and even some holly with red berries. I used some of this for the garland and then the rest I'm going to use for decor inside too, including some floral arrangements. I have tutorials on how to make Christmas flower arrangements and even one that combines fresh and faux greenery too.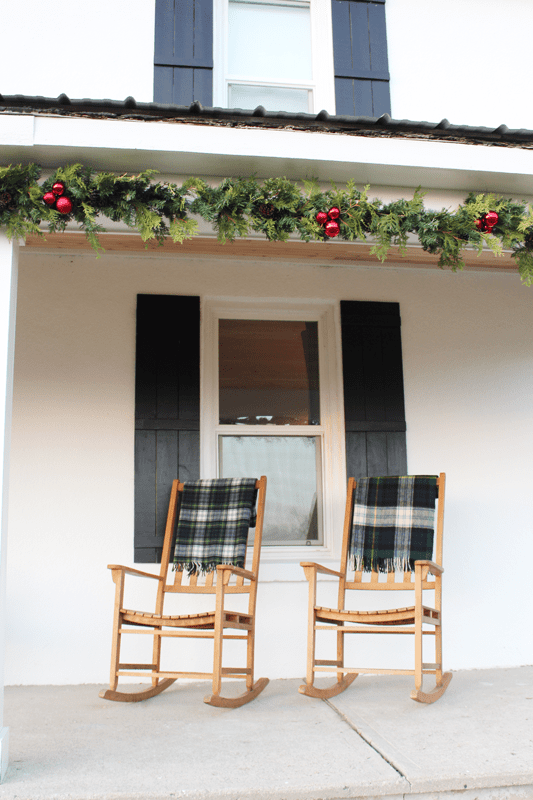 Making this Christmas garland with real and faux greenery was easier than you'd think. At the end of the season, you can cut out the fresh boughs and reuse the faux garland every year, with whatever fresh greenery available.
How to Make a Garland with Real & Faux Greenery
What you'll need: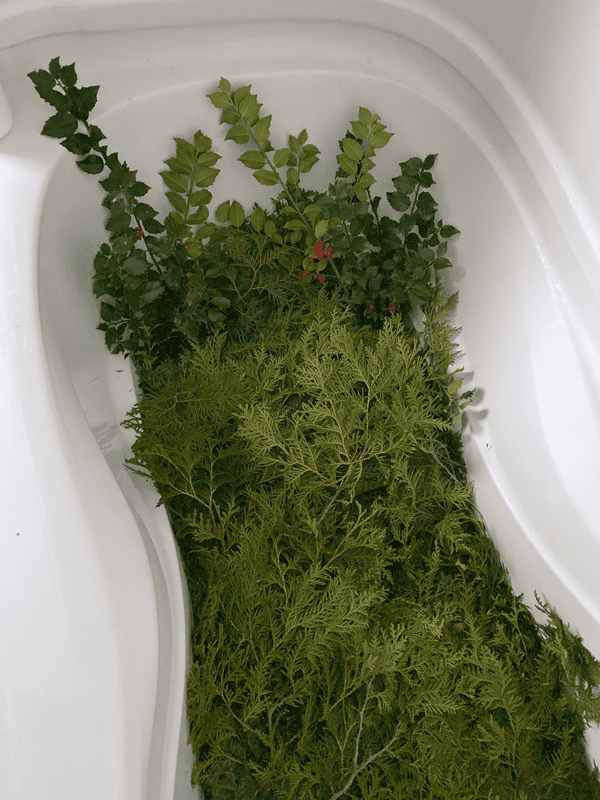 To start off, I gave all the fresh cut greenery good soak in the bathtub overnight. The idea is that you're hydrating the greens before you start working with them, and hopefully they'll last a bit longer for the season. I completely submerged the cedar, and for the holly leaves I just put the bottom of the stems into the water, to keep the berries from being under water.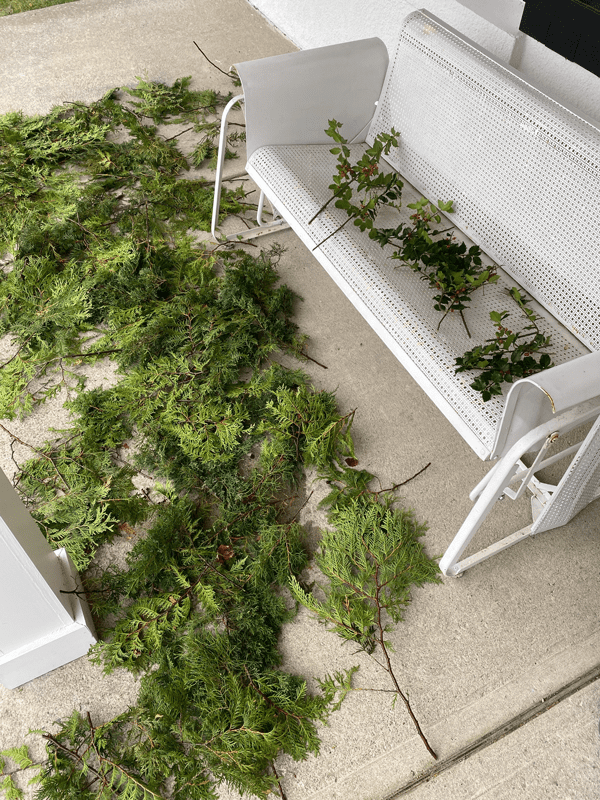 In the morning I drained the tub and then laid all the greens out on our porch to dry off a bit before I started working with them.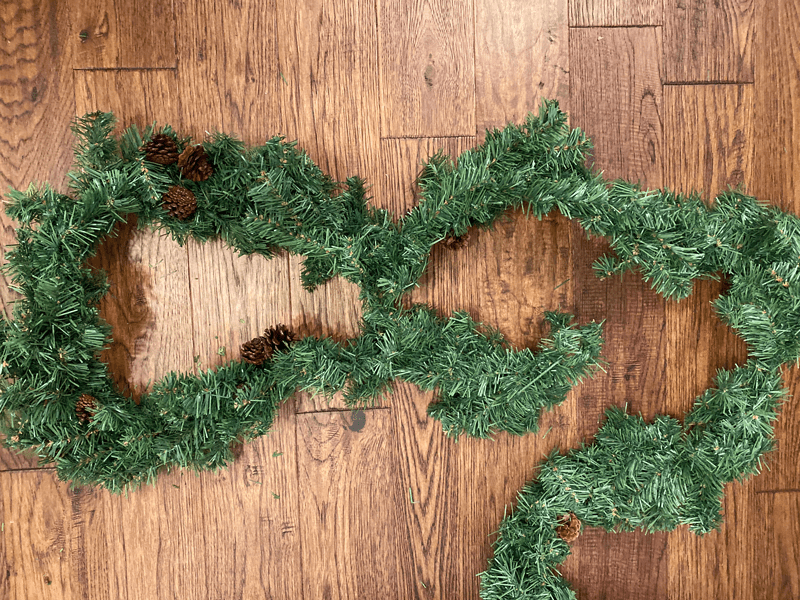 I used an inexpensive garland I already had on hand. It came with pine cones wired in, but if you don't have one like that, you can easily add them later on.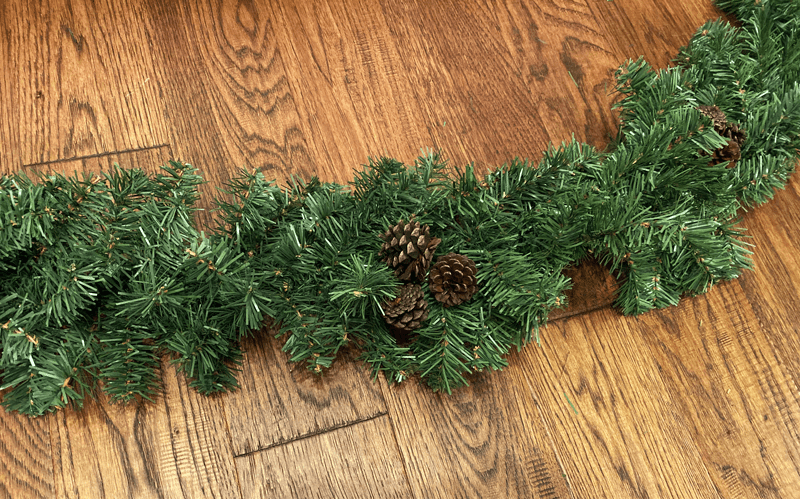 I started by fluffing up the garland and getting all the branch tips going in the same direction, like they would if the garland was real.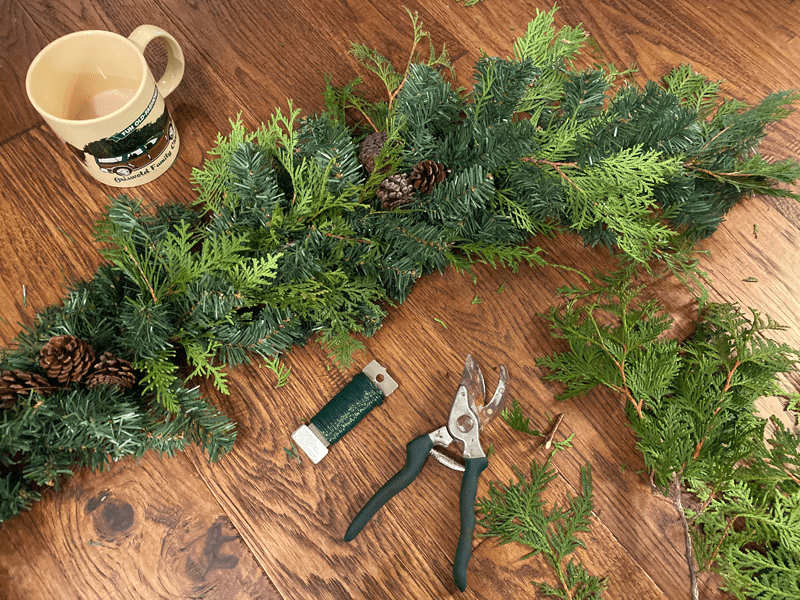 Now it was time to start filling in the faux garland with fresh greens. I used my garden snips to cut pieces of cedar, about 6″ long. Then I'd cut a piece of floral wire and use it to wrap the cedar onto the garland. I just kept going along and adding more pieces to the garland wherever I saw a hole.
After the garland was done and looking quite full, I added in the plastic Christmas balls. I strung up three balls onto a piece of wire and tied them onto the garland. I stuck with plastic ones so I didn't have to worry about them breaking if they fell off the garland in our high winds.
I had the sweetest little helpers with this part. They gathering up the balls into sets of three, while I wired them on. Teamwork makes the dream work, right? 🙂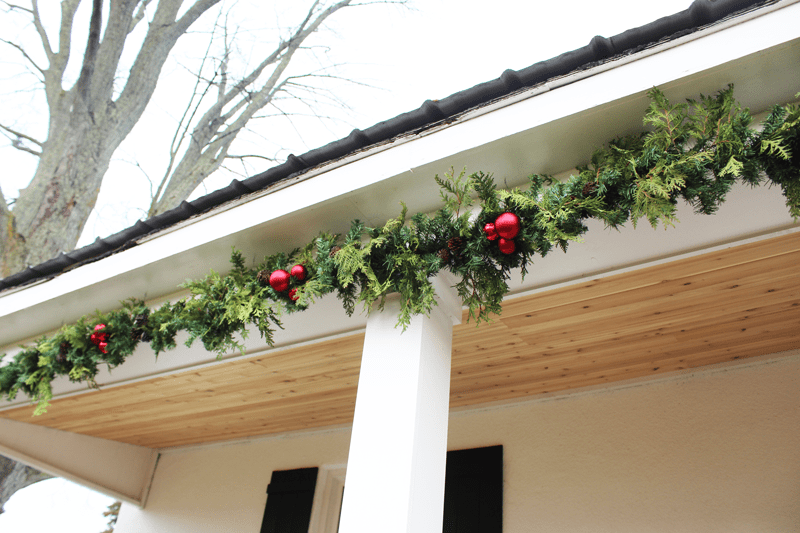 To hang up the garland, I had my husband drill pilot holes into our porch beam and screw in some eye hooks. These are permanent hooks, but we figured it'll come in handy for hanging up garlands or lights other years too. I used more floral wire to securely tie the garland to the eye hooks. If we get a nice day this week, I might try adding some Christmas lights into it too!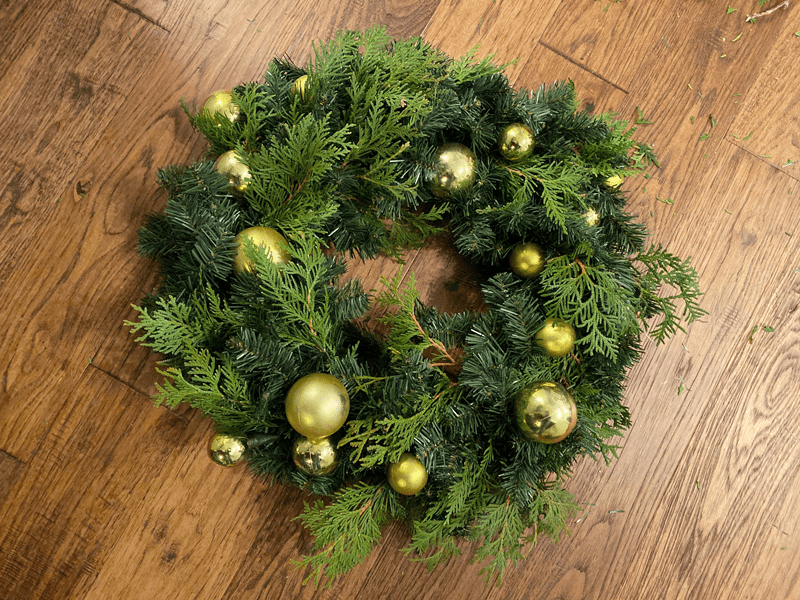 Using the same method a the garland, I decided to freshen up this old faux wreath too. I wired in some fresh cedar, along with gold Christmas balls we had from another year. Can you see the trend this year, that I'm trying to decor our home using things what we already have or are able to forage? 🙂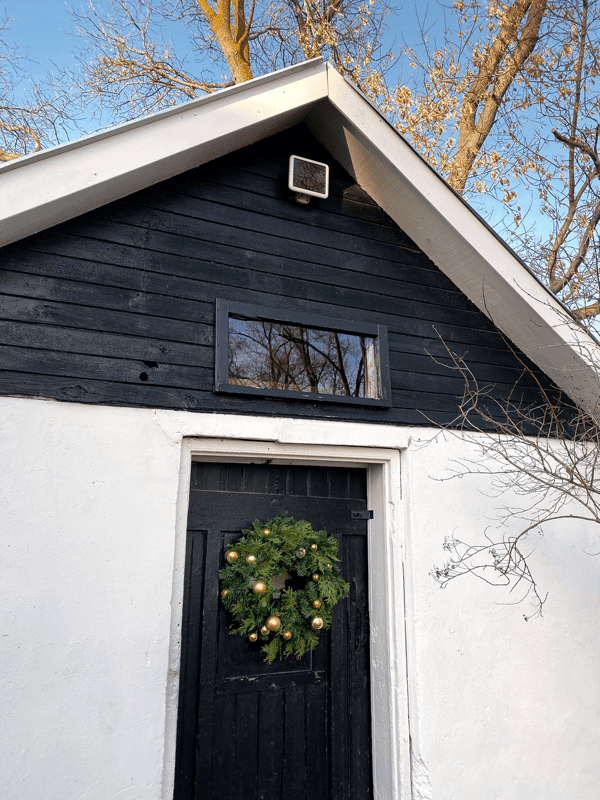 My upgraded Christmas wreath was just the right festive touch for our old springhouse door.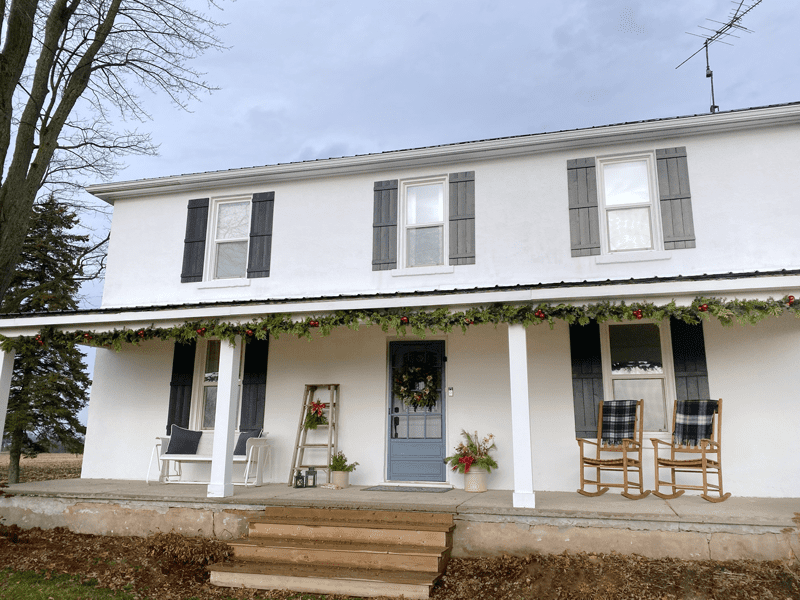 I hope my tutorial helps you create your own festive garland this year!
Happy Holidays Everyone!