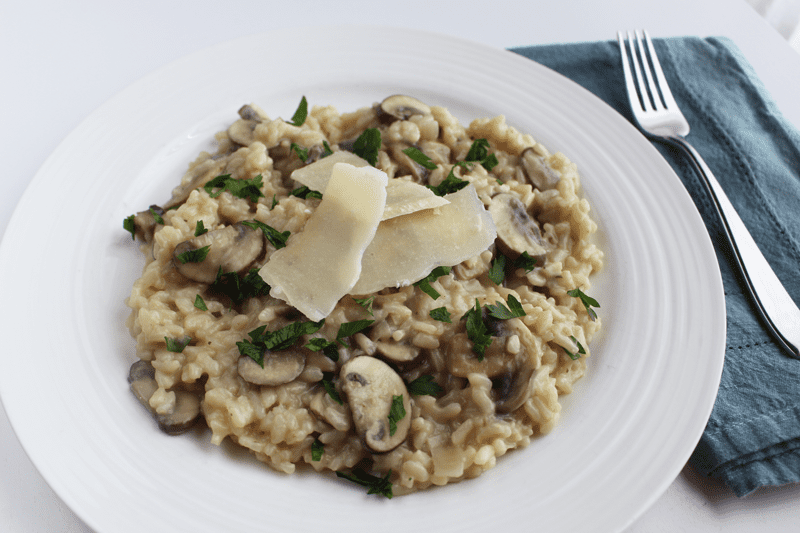 This Creamy Mushroom Parmesan Risotto is a classic Italian comfort dish, with all the flavour of restaurant-style risotto while being easy enough for a home cook to perfect. I've also put together some tips to help you get the best results and wow everyone at the dinner table.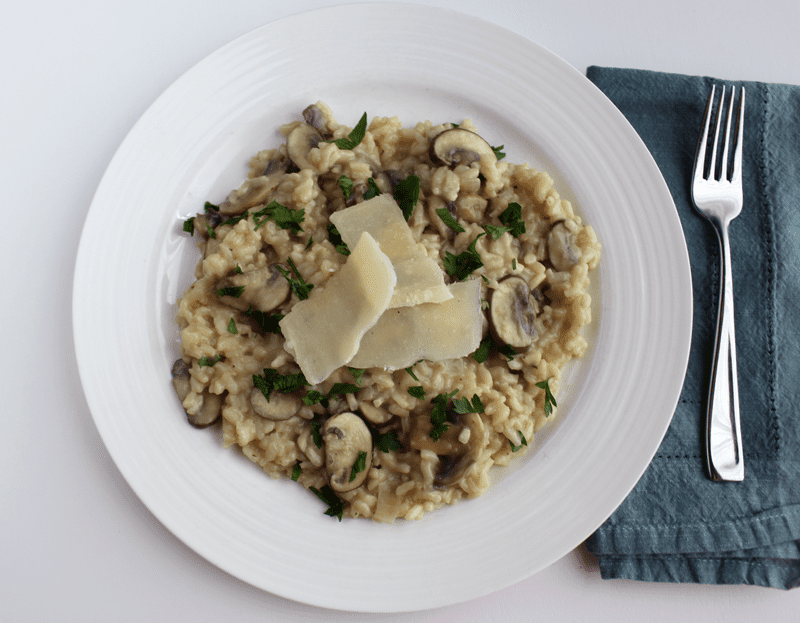 Risotto is a delicious meal that doesn't need to be enjoyed just in a restaurant. You can add all kinds of flavour combinations once you've got the hang of it. One of my favourites is a Summer Pea and Pancetta Risotto (the recipe is 10 years old, from my first year blogging!) but this Creamy Mushroom Parmesan Risotto is the best yet – I love the combination of golden mushrooms and salty parmesan cheese with the rice having just a bit of texture to it.
Tips for Making the Best Risotto
Risotto doesn't need to be complicated when you follow these easy tips to give you the best results.
Buy the Right Rice
Arborio rice or carnaroli rice are the best for making risotto, as they both keep that nice al dente bite, while the starch lends itself to a creamy texture. No need to wash the rice beforehand, as this will remove some of the starch that you'll need to make that classic creaminess of risotto.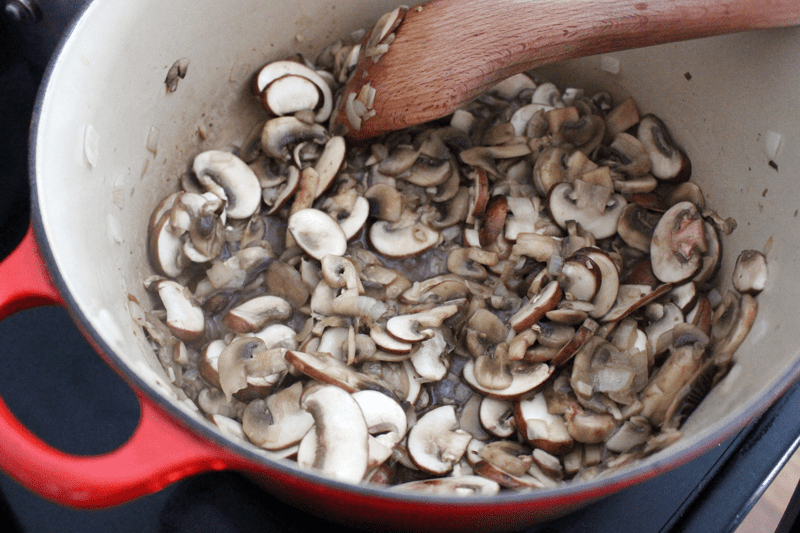 Choose a Wide Heavy Pot
A wide heavy pot keeps the heat evenly distributed, helping the rice to cook well throughout the dish. I like to use my Le Creuset Dutch Oven, which is a kitchen staple around here.
Use a combination of butter and oil
Butter adds a lovely depth to risotto, but can scorch easily. By using a combination of butter and oil in this dish, you get the best of both worlds. I like to use the oil for sautéing the ingredients and then add butter while toasting the rice. A bit of butter at the end of cooking adds extra creaminess too.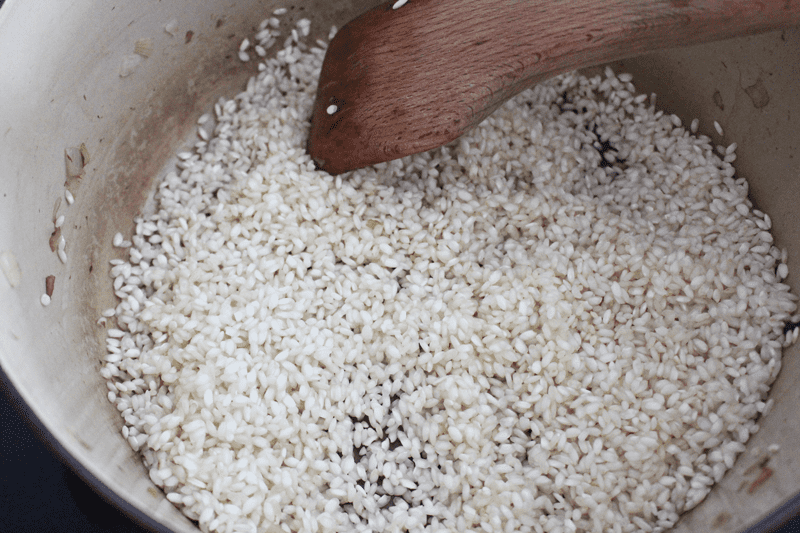 Toast the Rice before adding Liquids
To get a lovely depth of flavour to the rice, you'll need to lightly toast it in the pot before you add any wine or hot stock. It only takes two minutes, but this extra step is worth it. Just be sure to stir it frequently while toasting to prevent the rice from burning.
Keep the Stock Hot and Add it Slowly
If you add cold stock into the hot rice, it could shock it and leave you with undesirable results. The same can be said for pouring all the stock in at once. The key to getting a nice creamy risotto with the liquid well absorbed is to go hot and slow. Keep your stock hot in a pot nearby and add it in one ladle at a time, letting the rice absorb it before adding more liquid.
Use a low or reduced sodium stock, as the flavours will concentrate in the risotto and you don't want to make it too salty. I prefer to add my own seasoning as I go and adjust it as needed.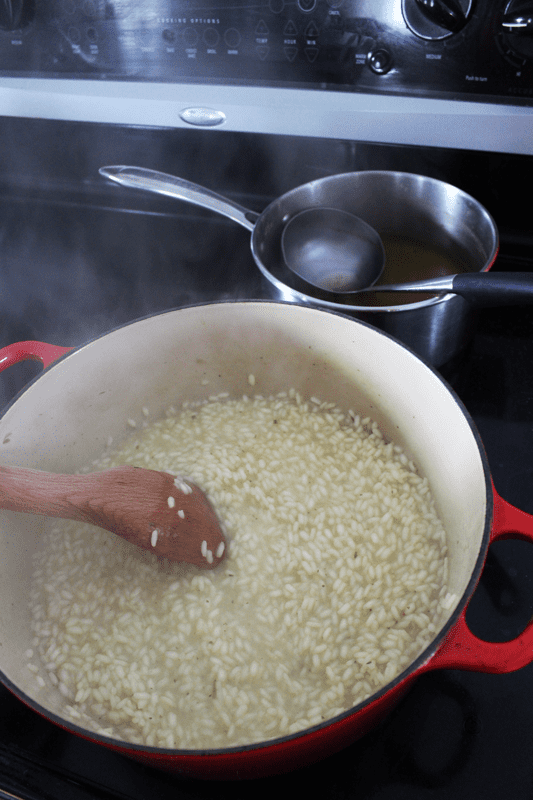 Stir Regularly
Risotto is a dish that you definitely need to be focused on for those 30 minutes while you're making it. If you rush it, you'll ruin it….and if you forget about it, letting it simmer unattended, you could ruin it as well. The trick is to stir it often to prevent the rice drying out or sticking to the pan.
Every 30 seconds is enough to prevent the rice from sticking to the bottom of the pan while moving around the liquid for it to absorb. Stirring is also part of what helps release the starch in the rice and give the risotto it's signature creamy texture
Don't Overcook or Add Too Much Stock
From the moment the first ladle of stock hits the pan, it should take maximum 20 minutes to absorb all the stock that the rice needs. Ladle by ladle, you'll add it in as the rice slowly absorbs it. You most likely will not need to use all the stock in this recipe. As you're getting to the end of the 20 minutes, check the risotto often. You want the outside to be plump and creamy, while the inside has a bit of bite left to it.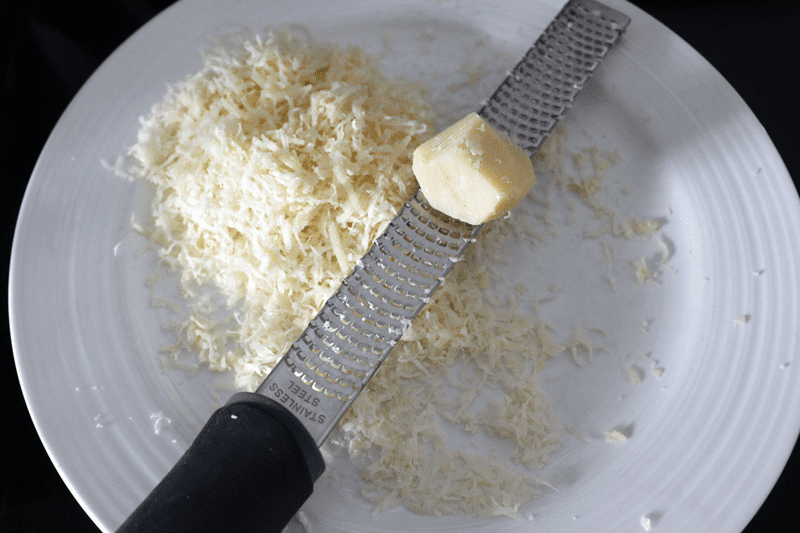 Use real Parmesan Cheese and freshly grate it
Do not, under any circumstances, use the stuff that comes out of a shaker for this dish. Do yourself a favour – buy the real deal. The flavour of real parmesan can't be beat and when you freshly grate it you get the best results. I like to use my microplaner to get perfectly fluffy grated parmesan in record time.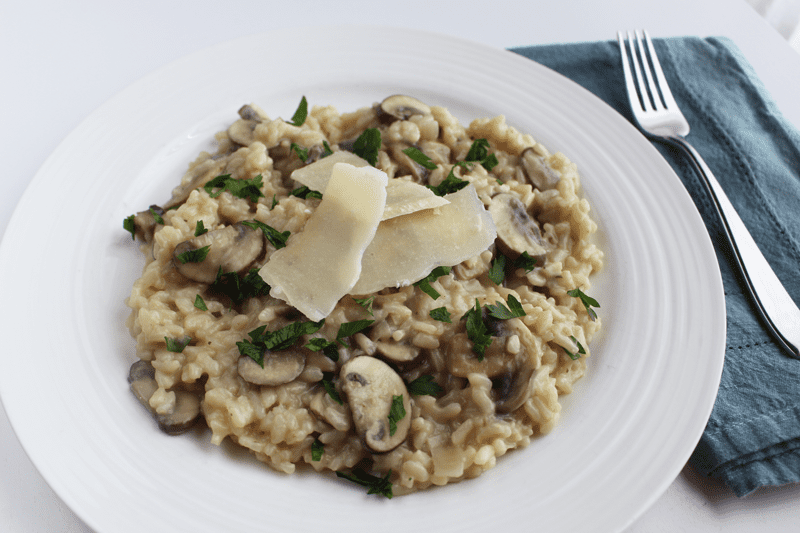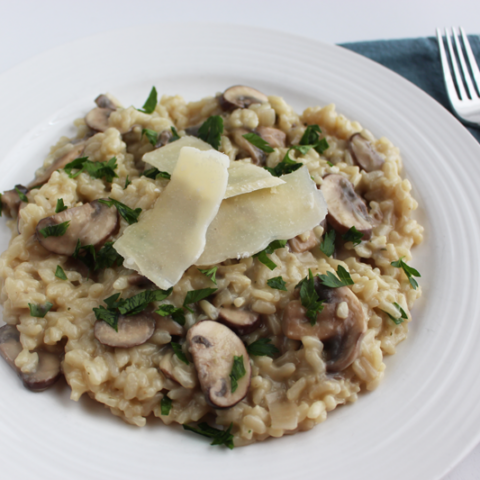 Creamy Mushroom Parmesan Risotto
Ingredients
8 cups chicken or vegetable stock
2 tbsp olive oil
½ cup chopped onion
1 clove garlic, minced
1 lb mushrooms, sliced (button and cremini work great)
2 cups arborio rice
½ cup dry white wine
½ tsp salt
pinch fresh ground black pepper
1-1/2 cup finely grated parmesan
3 tbsp butter, divided
garnish: fresh parsley & parmesan shavings
Instructions
In a large saucepan, bring stock to a simmer. Reduce heat to low to keep warm.
In a large dutch oven or saucepan, heat olive oil over medium heat. Add onions and saute until translucent, about 5 minutes. Add garlic and mushrooms, and sauté until mushrooms are soft and golden, about 4 minutes. Remove mixture and set aside.
Add 1 tbsp butter to pan to melt. Stir in rice, salt and pepper. Cook for 2 minutes, until rice is well coated and smells slightly toasted. Add in the wine and cook until absorbed
Using a ladle, add ½ cup hot stock at a time, stirring constantly. Wait until liquid is absorbed before adding more. Continue cooking and stirring the rice, adding stock ½ cup at a time. It will take about 20 minutes or until rice is tender with a firm centre and dish is creamy. You may not need all the broth.
Add mushroom mixture back into the pot and stir into the rice. Stir in cheese and remaining butter. Garnish with parsley and parmesan shavings. Serve immediately.