There is nothing quite as comforting as a steaming bowl of creamy Butternut Squash Soup on a crisp fall day. Serve it up with a swirl of cream, seedy crackers or crusty bread.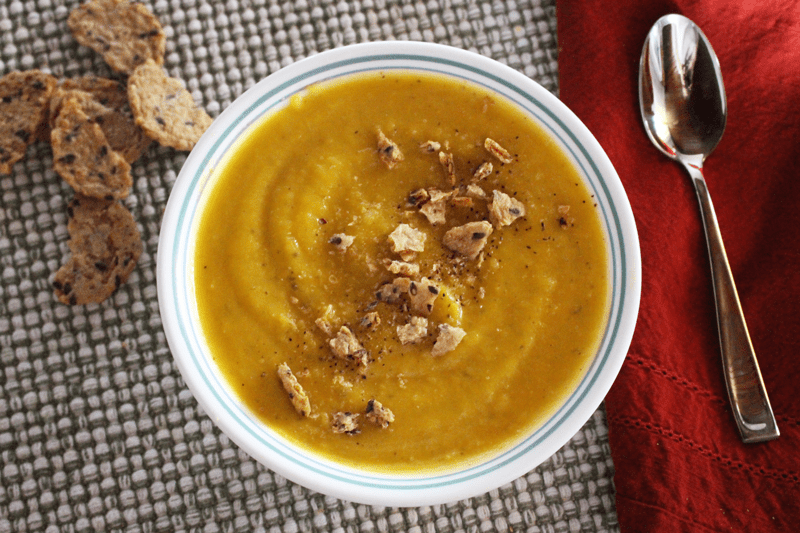 While there are many variations on this classic, I find I'm always drawn back to The Perfect Butternut Squash Soup. It's a little bit sweet, a little bit savoury – and absolutely delicious! I make it so much in the colder months, that I can do it by memory now, but after getting recipe requests after mentioning it on Instagram, I realized it was definitely time to share this family favourite. I like to make a big pot of it on the weekend when we're all home and then enjoy it for weekday lunches throughout the week. It freezes well too!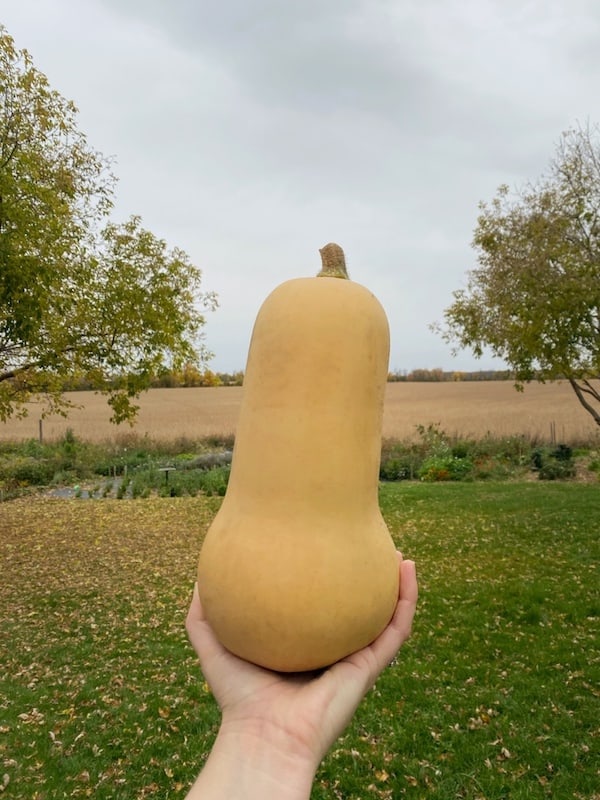 This year we grew our own butternut squash in the vegetable garden for the first time. I've never been as excited about a squash as I was when I pulled this big boy off the vine. We had a really great year in the garden (partly because we were home so much more to work on it), and I was able to make this soup using carrots, celery, garlic, sage, and butternut squash all grown in our backyard. Feeling like a regular ol' Laura Ingalls over here, ha! (that is, if they had electric stovetops and immersion blenders on the Prairie).
Butternut Squash Soup Can Be Very Versatile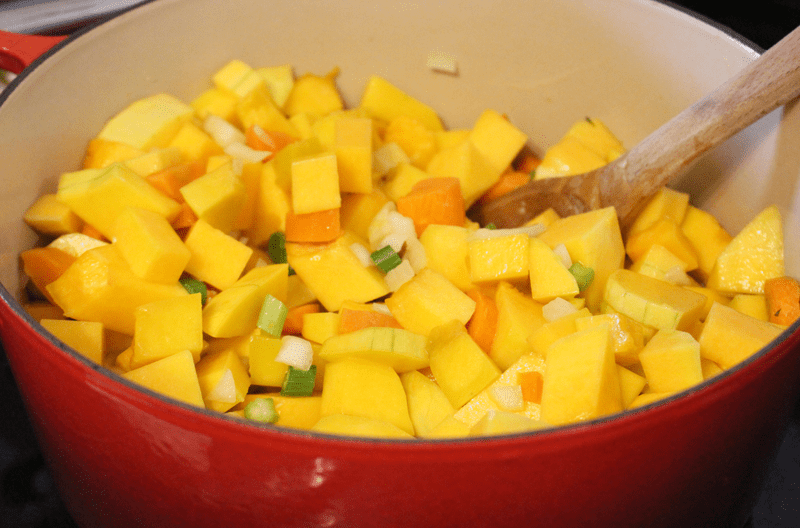 One of the things I love most about this Butternut Squash Soup recipe, is that it is incredibly versatile.
It can be easily made vegan and dairy free, or dressed up with a swirl of cream. You can blend it super smooth (how my dad likes it) or leave a bit of texture (how my kids like it). Adding some nutmeg brings a little sweet heat or crank it up a bit more with cayenne pepper for an extra chilly day.
The addition of the apple and carrots adds to the sweetness of the butternut squash, while the sage, celery, garlic and onion give the mellow savoury base.  
My Favourite Soup Making Tools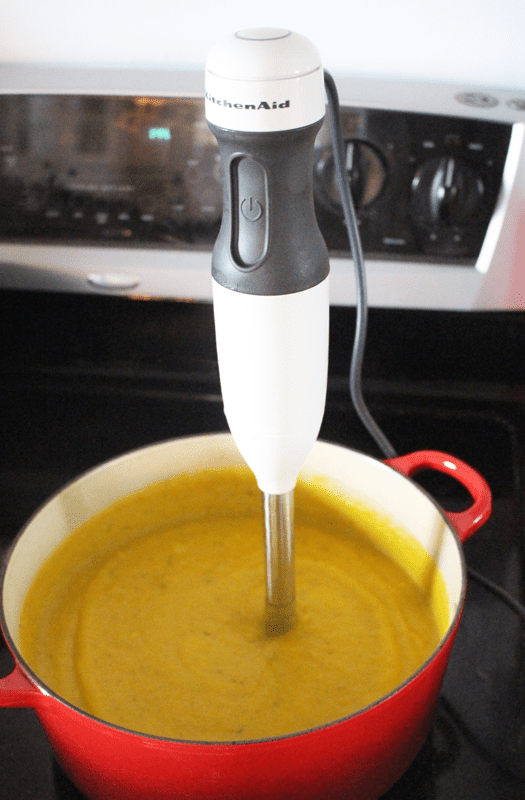 If there are two tools that I think are worth investing in when making soup, it's a high quality dutch oven and an immersion blender. My dutch oven pretty much lives on the stovetop throughout the fall and winter for soups, stews, roasts and sauces. The immersion blender is a quick way to blend without needing to dig out the big blender.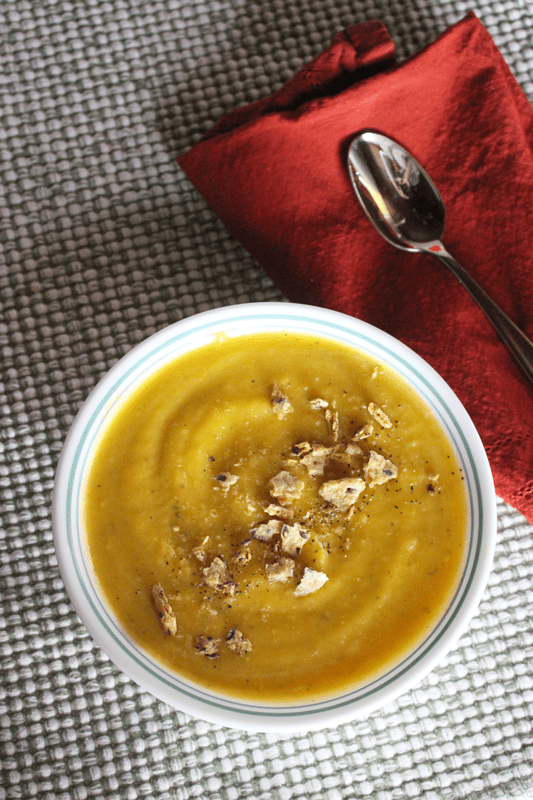 I hope you enjoy this Butternut Squash Soup as much as our family does!

Sweet and Savoury Butternut Squash Soup
Author:
Amanda - Life at Cloverhill
Ingredients
2 tbsp olive oil
1 medium (about 3 lbs) butternut squash, peeled, seeded and chopped
1 large apple, peeled and chopped (McIntosh or Granny Smith are what I usually use)
1 large onion, diced
1 large carrot, diced
2 stalks celery, diced
4 cloves garlic, peeled and minced
1 tbsp freshly chopped sage (or 1 tsp dried sage)
½ tsp salt
¼ tsp pepper
pinch of ground nutmeg
2 cups vegetable stock
optional seasoning: cayenne pepper for more heat
optional garnishes: cream, coconut cream, sour cream, freshly ground pepper, seedy crackers, pepitas
Instructions
Over medium heat, warm oil in a large dutch oven. Sauté squash, onion, carrot and celery for about 6-8 minutes. Add garlic and sauté for another minute.
Add in sage, salt, pepper, nutmeg and vegetable broth.
Bring to a simmer and cook for 20-30 minutes or until squash is tender.
Remove from heat and puree with an immersion blender or allow to cool slightly before pouring into a traditional blender.
Optional: Serve with a swirl of cream, coconut cream or sour cream. Sprinkle with freshly ground pepper, pepitas or crushed seed crackers.