Inspired by the much loved cookies baked at the Good Medicine Lodge in Montana, these Oatmeal Raisin Chocolate Chip Cookies are the perfect cookie for eating as a midday treat, packing in school lunches, making for new mamas or giving as gifts.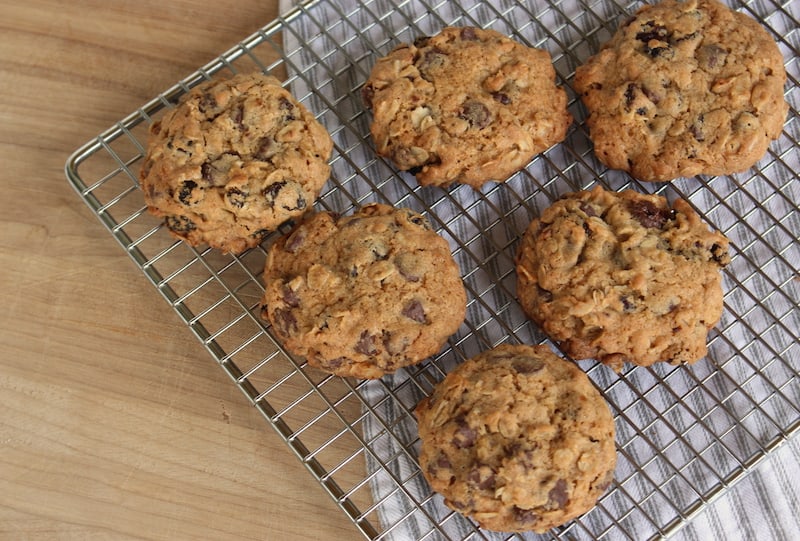 Ten years ago, one of my good blog friends Rachel sent me this cookie recipe from the Good Medicine Lodge in Montana. She and her husband had stayed there on their honeymoon and every evening these big "Montana sized" cookies were served up warm with refreshments. She went home, started making them and then passed them onto me. I immediately started making them back in 2011 for my boyfriend (now husband) and they became one of our go-to cookies. The original recipe called for walnuts but I have a nut allergy, so we've always made them with raisins – but you can add both if you'd like!
I often make a batch of these, popping half of them in the freezer for a quick midday treat. When we had our first baby in 2016, I made a big batch for the freezer as part of my "nesting" and they became one of my lifesavers when I was trying to navigate life with a newborn baby. I would eat one cold straight from the freezer and loved it, ha!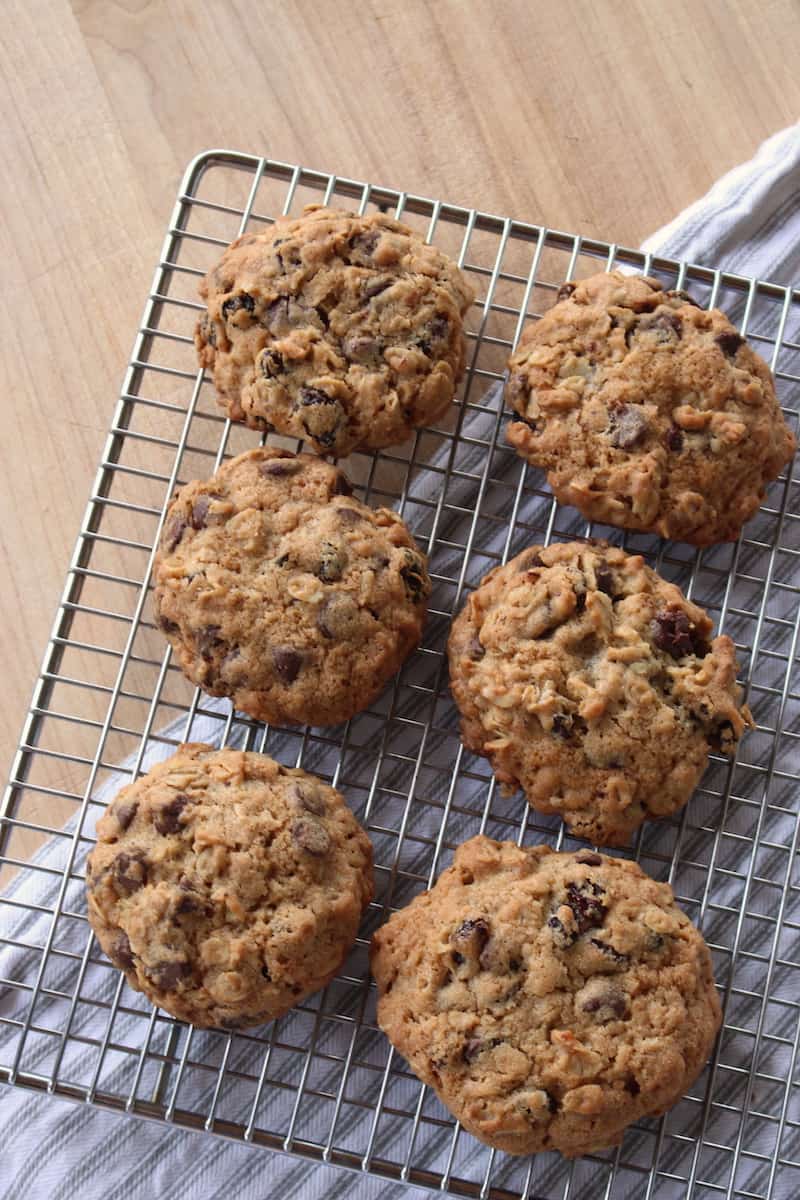 Then with our next baby, I made a bunch for the freezer again…and then when my sister had twins this spring I dropped off a bag of frozen dough balls for her to bake when she needed a pick-me-up. Now with our third on the way any day now, you better believe I have them in our freezer – some baked and others as dough balls for a "freshly baked" treat.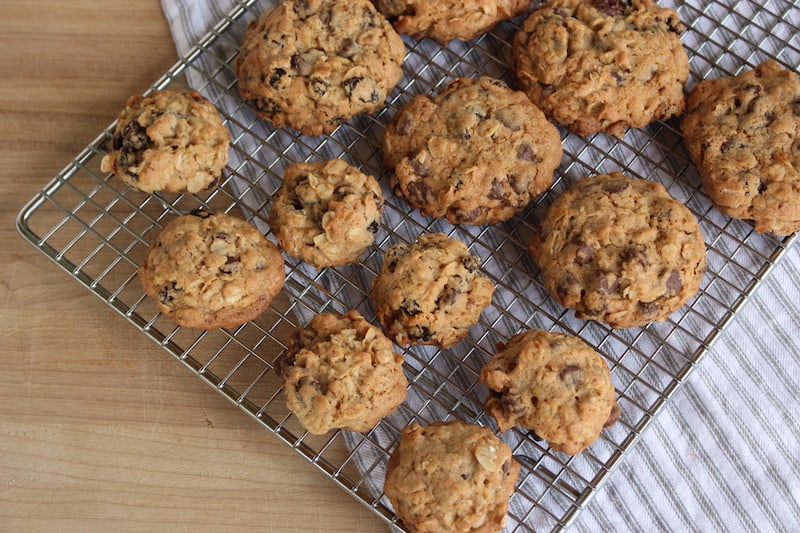 Now that we have the kids, I like to make them in two sizes: smaller kid friendly cookies and then the big "Montana sized" ones for us. They are great for packing in lunches or having as an after school snack.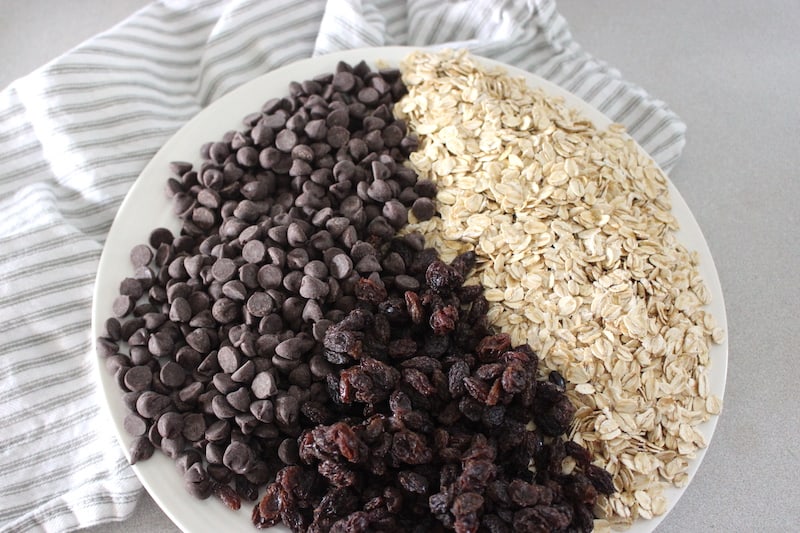 To Make Good Medicine Lodge Montana Cookies You Will Need:
Oats – I prefer larger flake oats for this recipe, but any kind will work
Raisins or Chopped Walnuts – the original recipe calls for walnuts, but I have a nut allergy so raisins are a yummy substitute
Chocolate Chips – Chocolates chunks are a yummy alternative too
Flour
Butter
Brown Sugar
White Sugar
Eggs
Vanilla
Baking Powder
Baking Soda
Salt
If you try this recipe, please come back to share using my 5 star rating in the comments below! Not only do I appreciate it, but I know other readers do too!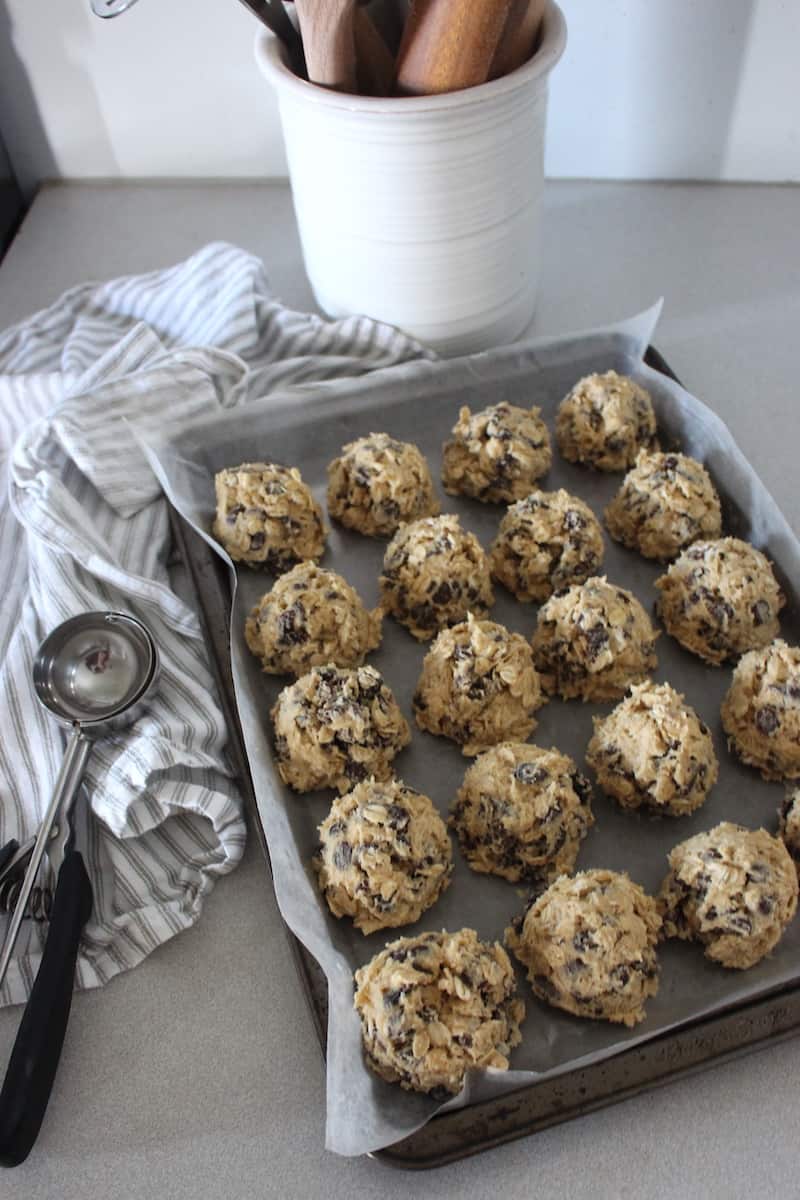 How to Freeze Cookie Dough Balls
It's easy to freeze cookie dough balls ahead of time, allowing you to pop them straight into the oven when you want freshly baked cookies.
Prepare cookie dough according to recipe.
Line a baking sheet with parchment paper or waxed paper.
Using a cookie scoop, scoop dough into balls and arrange in a single layer on the baking sheet.
Chill the cookie dough balls on the baking sheet in the freezer for 2-3 hours or until dough is firm.
Remove from freezer. and transfer frozen cookie dough balls to a large sealable plastic bag.
Label bag with cookie variety and baking instructions. Use within 3-4 months.
When it is time to bake cookies, remove them from the freezer and arrange on a parchment lined baking sheet. Bake according to directions. Add 1-2 extra minutes to baking time.
More Cookie Recipes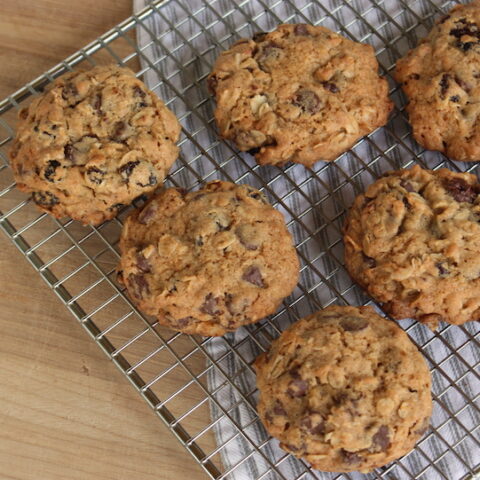 Oatmeal Raisin Chocolate Chip Cookies - Good Medicine Lodge Montana Sized Cookies
Ingredients
1 cup butter
3/4 cup dark brown sugar
3/4 cup sugar
2 eggs
1 tsp vanilla
2 cups flour
1 tsp baking powder
1 tsp baking soda
1/2 tsp salt
2-1/2 cups oats
1 cup raisins or chopped walnuts
2 cups chocolate chips
Instructions
Preheat oven to 350°F
Cream together butter and sugars. Beat in eggs and vanilla until light and fluffy.
In a mixing bowl, combine flour, baking powder, baking soda and salt.
Mix dry ingredients into wet ingredients until blended.
Sitr in oats, raisins/walnuts and chocolate chips.
Using a 1/4 cup cookie scoop, arrange dough balls on a parchment lined baking sheet.
Bake for 13-15 minutes or until gold brown on the edges.
Notes
Cookies can be frozen baked or as unbaked dough balls. To bake from frozen dough balls, add a couple minutes to baking time.