Disclaimer: This post was sponsored by Comfort Works. All thoughts and opinions are my own.
I'm so excited to finally share how our Comfort Works custom slipcover transformed not just our couch, but our whole living room. A few weeks ago I shared on Instagram that I was going through fabric samples from Comfort Works and so many of you asked to see how it turned out. The transformation is even better than I expected! 🙂 Drumroll please…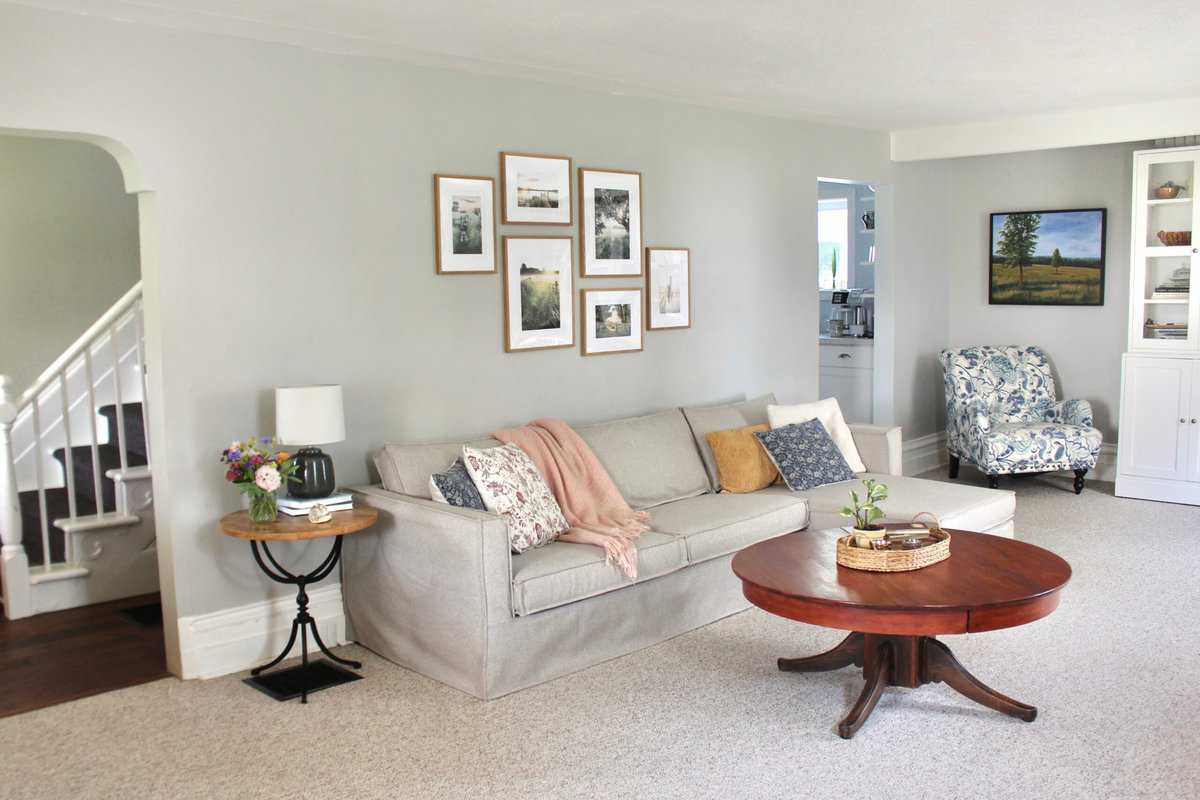 I'm in LOVE! I can't believe this is the same 8 year old IKEA Karlstad sectional we had before. Our friends and family keep thinking we've bought a whole new couch when they come over.
Want to see how ridiculously easy it was to do this couch makeover?
We still loved our couch and this slipcover has given it a whole new life. This is where we pile up for family movie nights, where I snuggled all our newborns, and the cozy spot for when I sneak in a few chapters of a good book.
Use coupon code LIFEATCLOVERHILL to get CA $25 off when you spend CA $300 at Comfort Works.
Our IKEA Karlstad Couch Before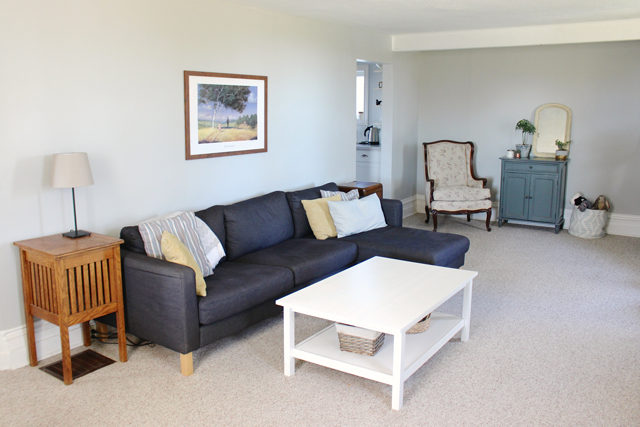 When we first moved to the farmhouse, we realized we needed a larger couch for our new big living room. Finally our dreams of having a sectional couch were coming true! In the eight years since we got the couch, we have really put it through the ringer with our busy family. The cover it came with was a navy denim material that was starting to show it's age. BUT the bones of the couch were still great and we loved it for our space. So what could we do?
Discovering Comfort Works Custom Slipcovers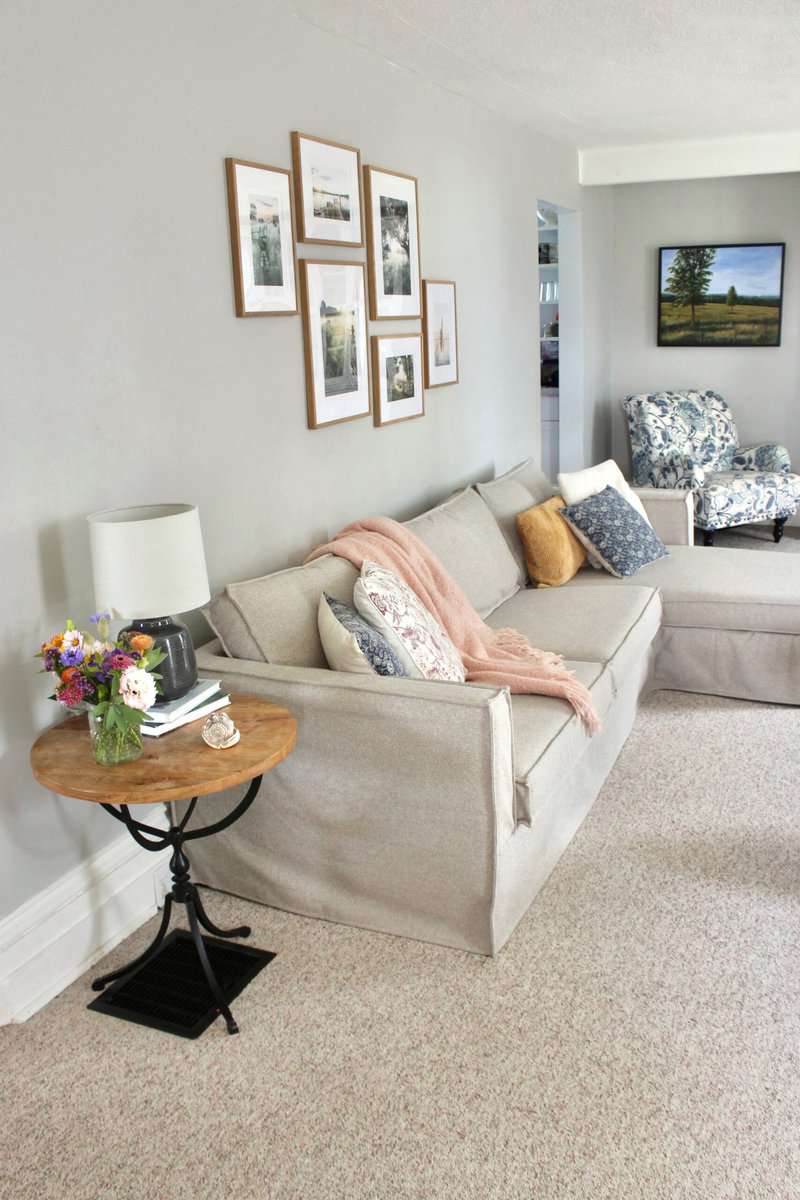 With luck, I came across a wonderful brand, Comfort Works. They make beautiful custom made slipcovers for not just IKEA couches, but also Pottery Barn, Crate & Barrel, Restoration Hardware, West Elm, Rowe sofas and more. Plus they ship worldwide!
Changing the style without changing the couch
When we first got our couch, there was only one style of cover. It was a basic modern silhouette with visible legs. Not my first choice, but it worked in the space at the time. Over the years, my style has evolved and I started to crave something with a skirted design, in a more neutral colour palette.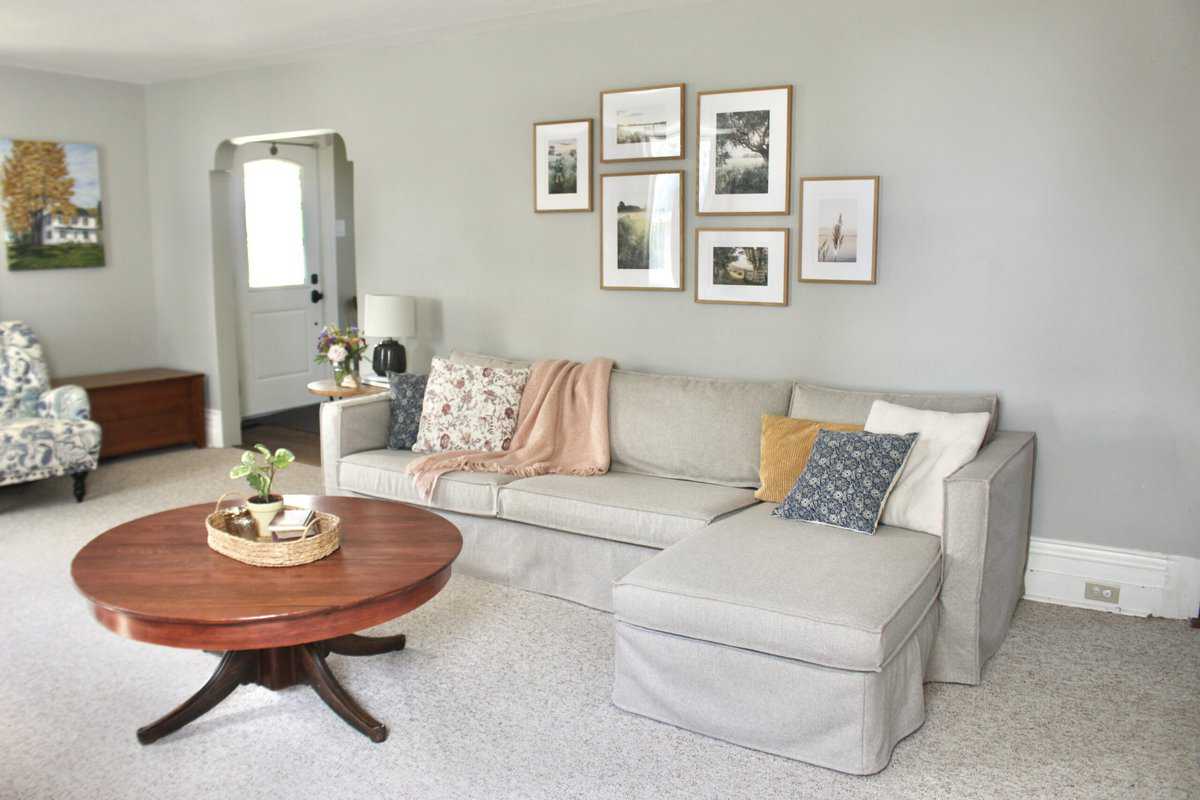 The wonderful thing about Comfort Works, is it can completely change the style of your couch, while only replacing the cover. I went with the Signature style, which has a sleek skirting on the bottom and adds structure to the cushions with piping all around.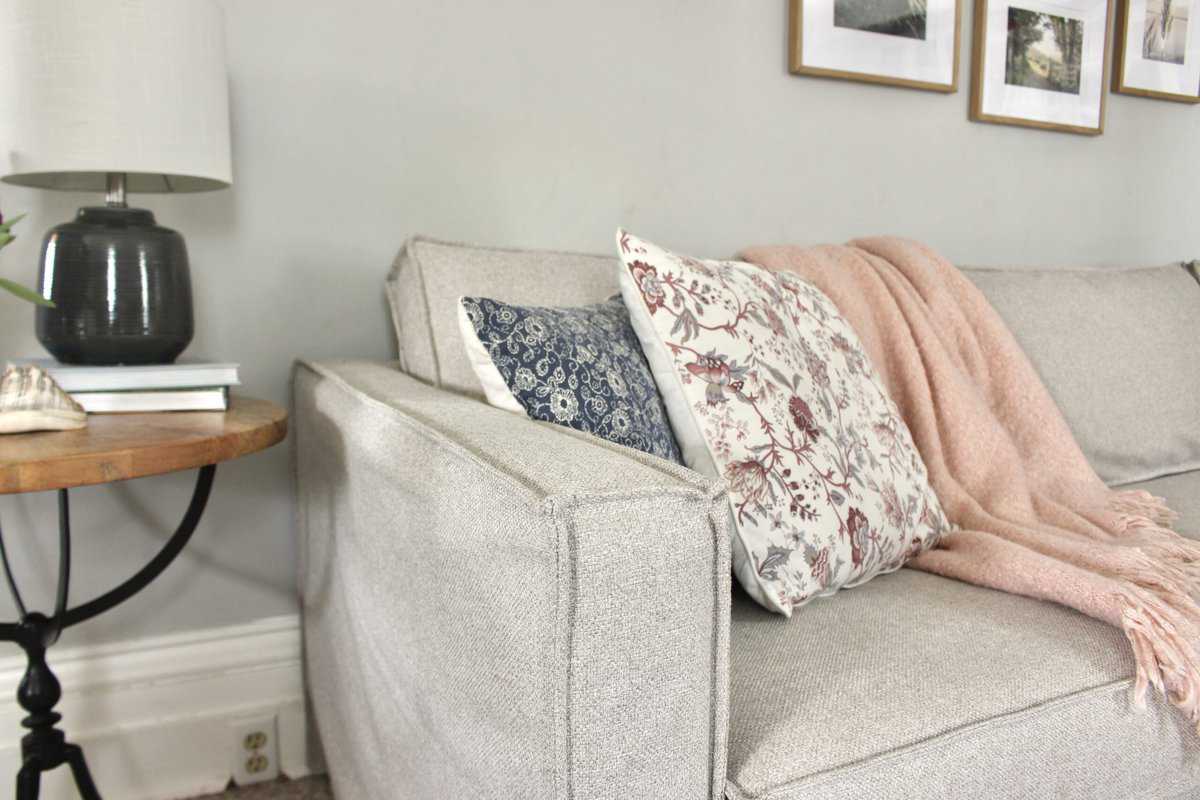 Five Easy Steps for Transforming Your Couch with Comfort Works
Select Your 8 Free Fabric Samples
Pick Your Favourite Fabric
Choose a Comfort Works Slipcover Style
Put on your Comfort Works Slipcover
Fall in Love With Your Couch All Over Again
Get Your Free Comfort Works Fabric Samples
The process to order the slipcover was super easy. I went to Comfort Works and ordered 8 FREE fabric samples. I was looking for a dramatic change for our couch, so I selected a variety of neutral fabric choices.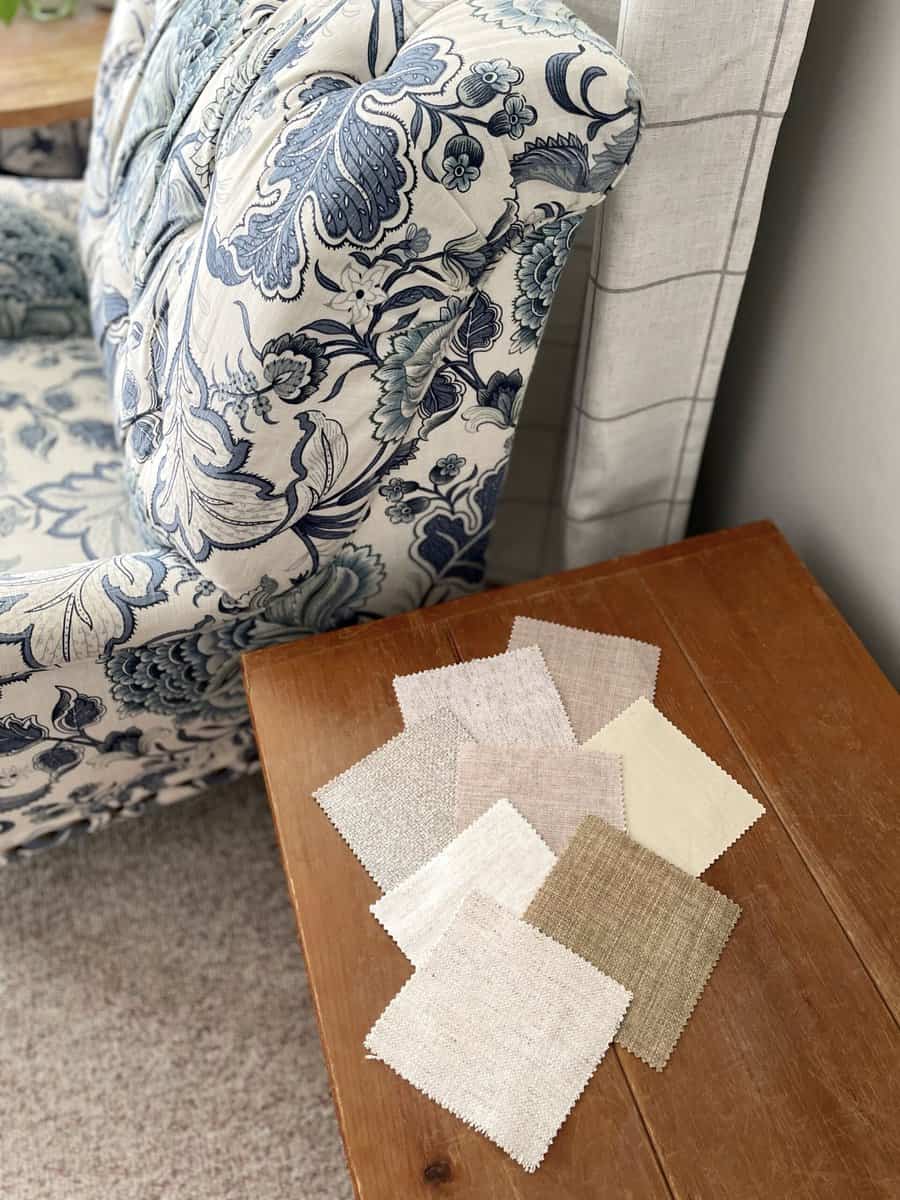 With our busy family there were three important criteria for the fabric I chose:
Machine Washable – Accidents happen and little hands get dirty, so I wanted to make sure that the fabric choice I selected was able to go in the washing machine whenever it needed to be freshened up.
Kid & Pet Friendly – With a busy family, I needed a fabric that could take a bit of a beating from rambunctious kids while still being nice, cozy and inviting when they want to cuddle up for story time. Plus we have a small senior dog, who loves to curl up with us on the couch.
Neutral & Calm Tones – After having a dark navy couch for 8 years, I'm ready to embrace a more soothing palette in our living room. During the day, it is where the family plays, but in the evening it is where my husband and I unwind from the day.
Pick Your Favourite Fabric
It was really tough to narrow down which fabric because there were quite a few that fit our criteria. I picked the Eco Basketweave in Oatmeal. It's a blend of recycled polyester and cotton in a distinctive grid-like weave. The natural colours and pattern give it a luxe upholstered look, especially paired with the Signature style's piping edge. I love how it has updated our couch while still being a comfortable, soft surface.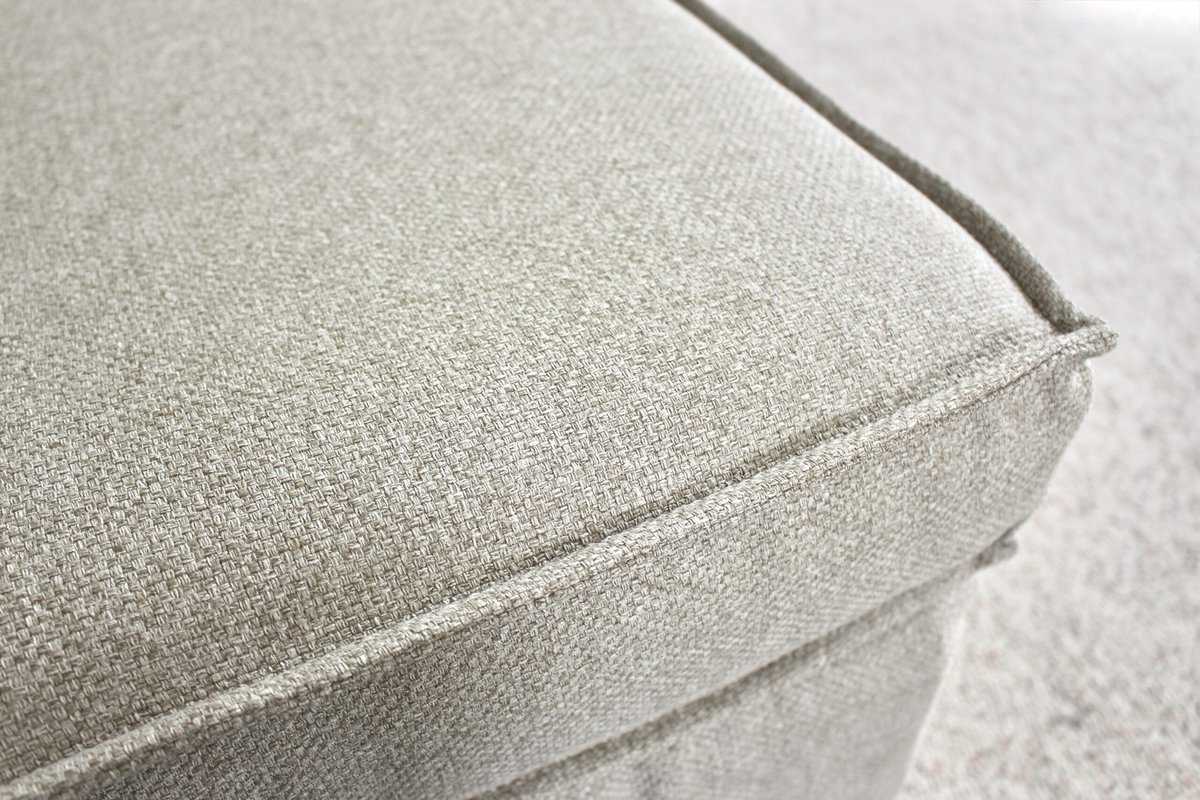 Eco Basketweave is also free from harmful chemicals and carries the Global Recycled Standard and Standard 100 by OEKO-TEX certifications. This gives me peace of mind when our littles ones are climbing all over the couch.
Picking a Comfort Works Slipcover Style
For our IKEA Karlstad couch there were two different styles to choose from:
Signature: a modern look with inverted seams and a long skirt
Original: The original Karlstad design with a snug fit and minimal seams
I went with the signature style as I loved the idea of hiding the legs with skirting and giving the couch a whole new profile. The accent piping with the inverted seams also helped give the couch an updated upholstery look.
Put On Your Comfort Works Custom Slipcover
I couldn't get over how incredibly EASY it was to put this Comfort Works custom slipcover on our IKEA Karlstad sectional couch.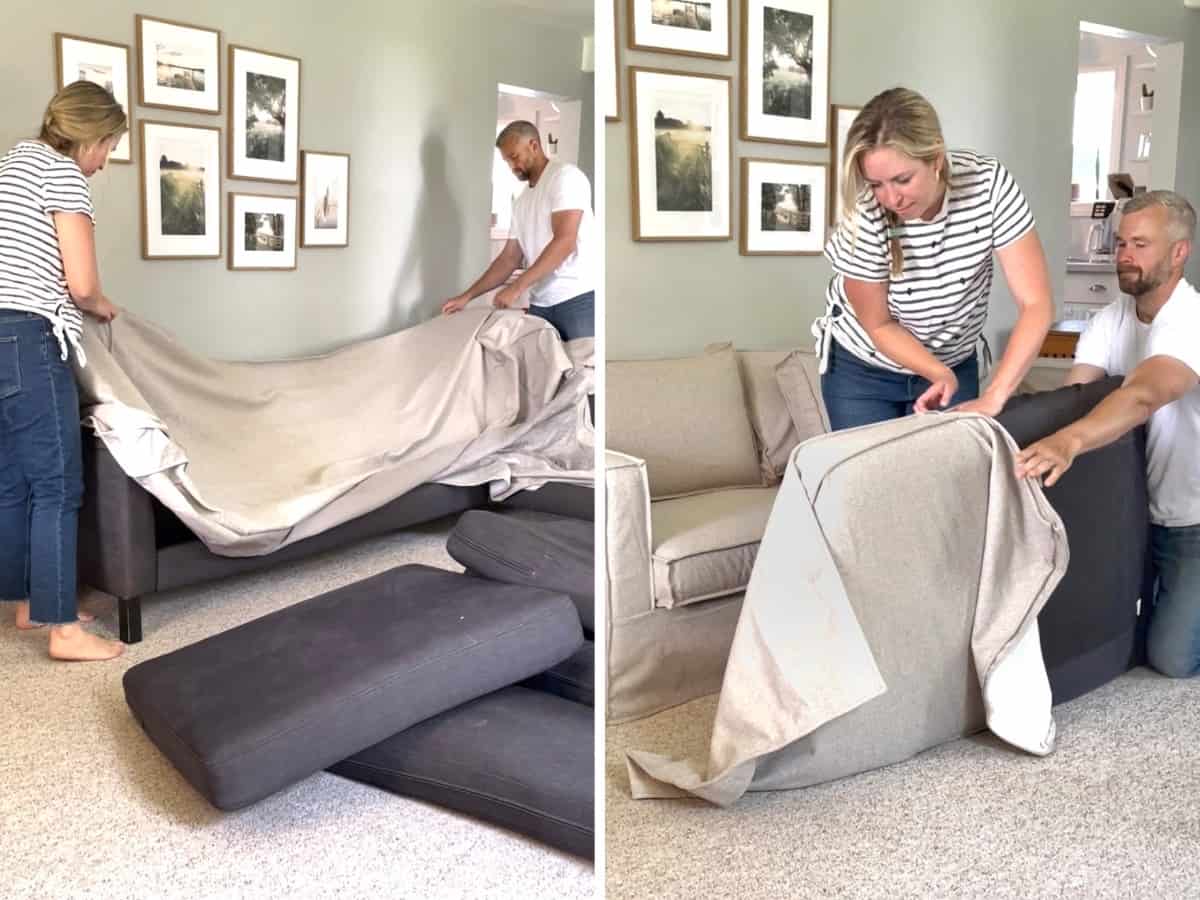 It took us just under 8 minutes to take our couch from sad and worn out – to fresh and updated.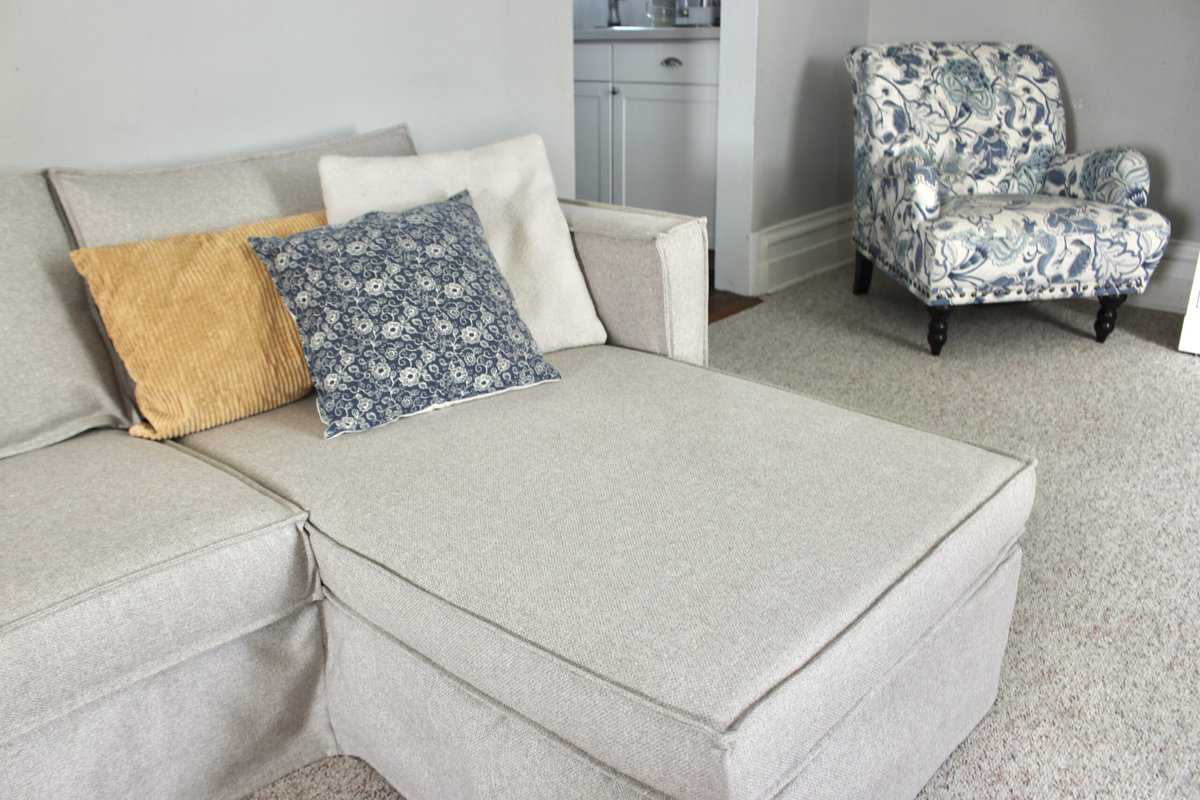 I still can't get over how our sectional couch feels more high end by just changing the slipcover. And to think that this is machine washable too!
Fall In Love With Your Couch All Over Again
Our whole living room has brightened up since we added this Comfort Works slipcover. It's created a more calm, inviting space for our family. Our couch can continue to be loved and enjoyed for years to come.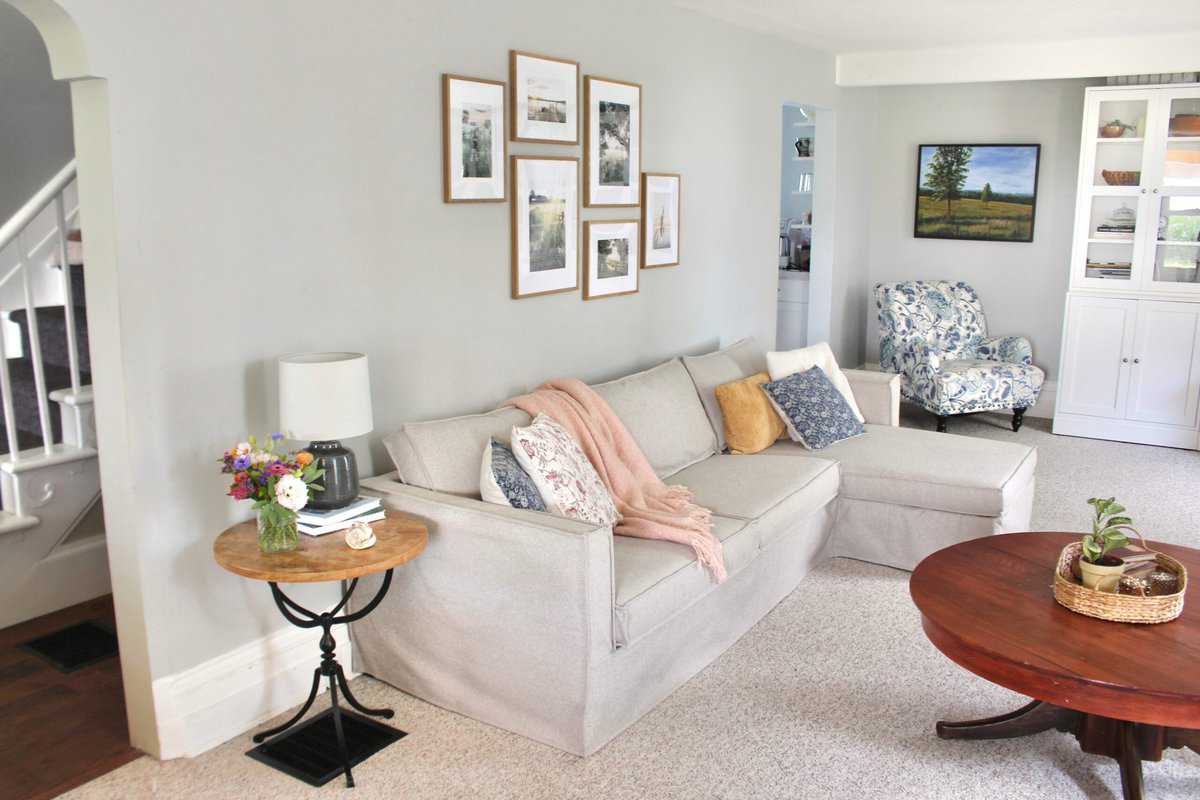 Head on over to Comfort Works to get your 8 FREE fabric samples, and find the perfect slipcover for your favourite pieces.