Disclaimer: This post was sponsored by the Town of Georgina. All thoughts and opinions are my own.
Embrace the bounty of seasonal food and create a beautiful sunset Summer Backyard Dinner using locally grown food from the stops along the Town of Georgina's Field to Table Farm Tour.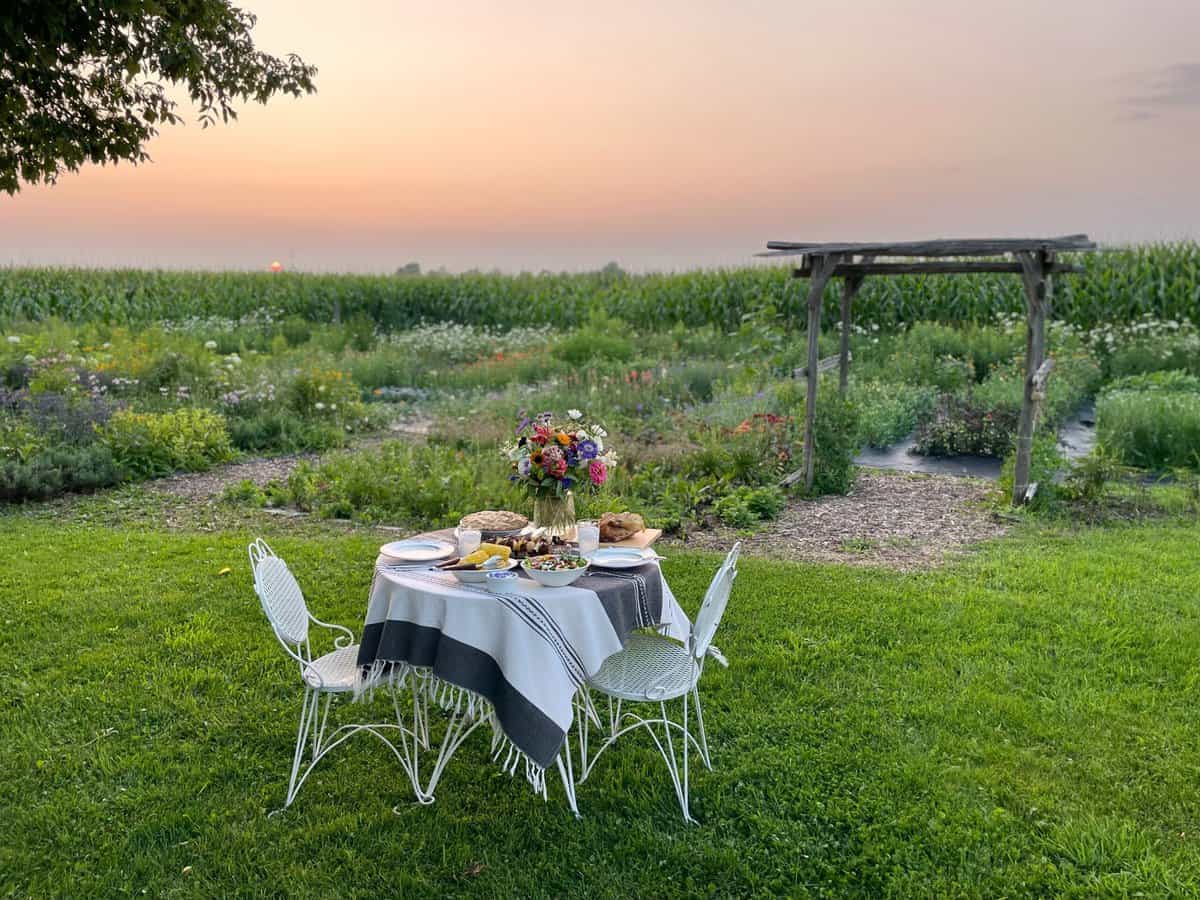 There is nothing quite like eating dinner al fresco with dishes made with delicious fresh local ingredients. In celebration of the 6th annual Town of Georgina Field to Table Farm Tour, I put together a Summer Backyard Dinner using ingredients from all the tour stops. You can't get any fresher than this!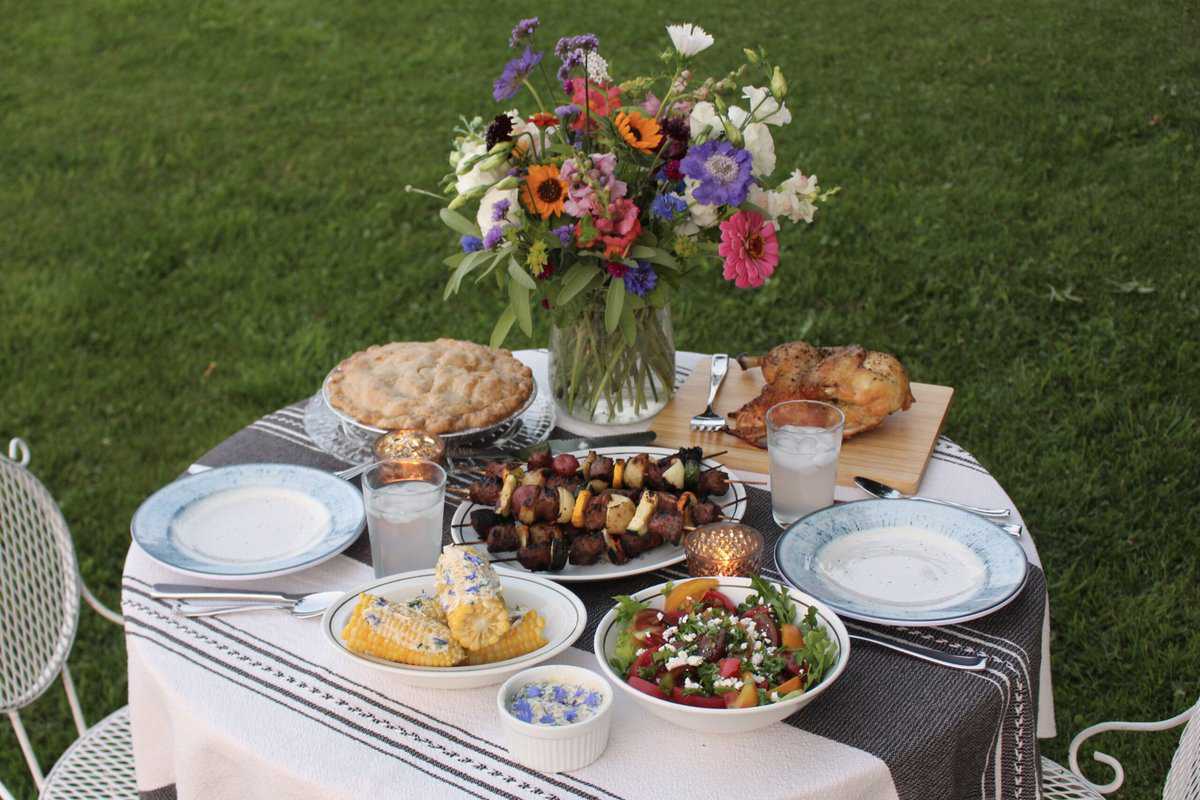 Field to Table is always a highlight of the summer. Local farmers and producers open up their farms for self-guided tours that offer visitors the opportunity to learn more about farming and experience the bounty that our local agricultural community offers. Mark your calendar for Saturday August 19th, 2023 from 10am-4pm!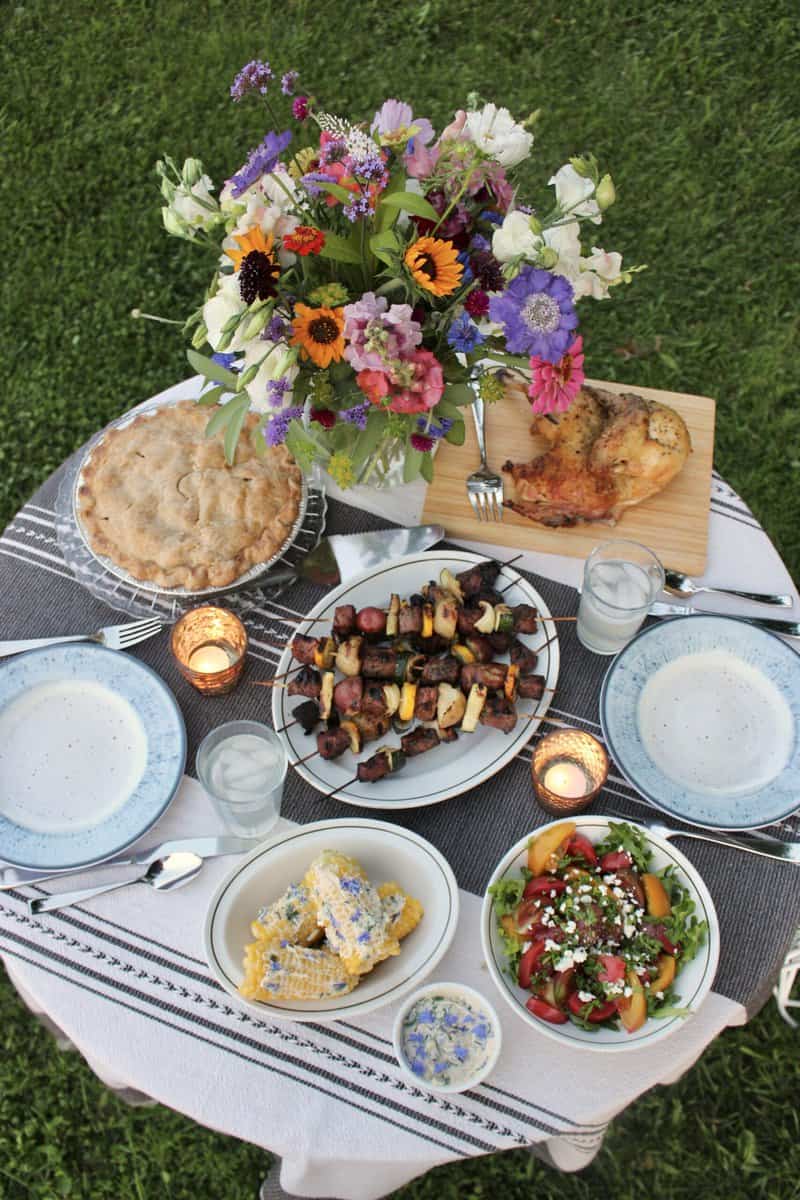 Entertaining in the summer always feels easier, when the evenings are longer, the weather is nice and the food is abundant from local farms and producers. I planned a simple summertime spread with recipes that focus on the beautiful bright colours and great flavours that summer has to offer.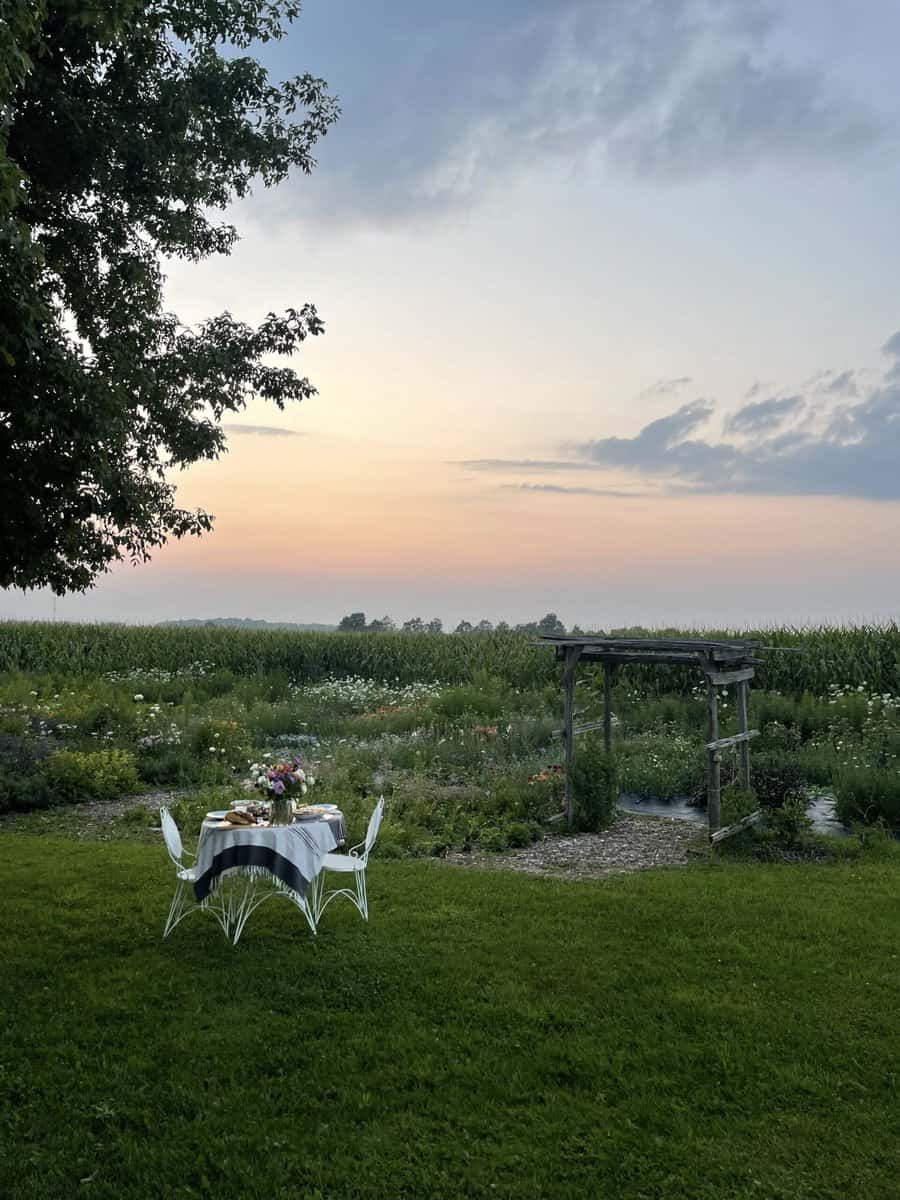 Summer Dinner Menu with Locally Grown Food
Grown in Georgina
With the exception of a few fridge and pantry staples, all the ingredients for these recipes came from the nine producers on the Field to Table Farm Tour.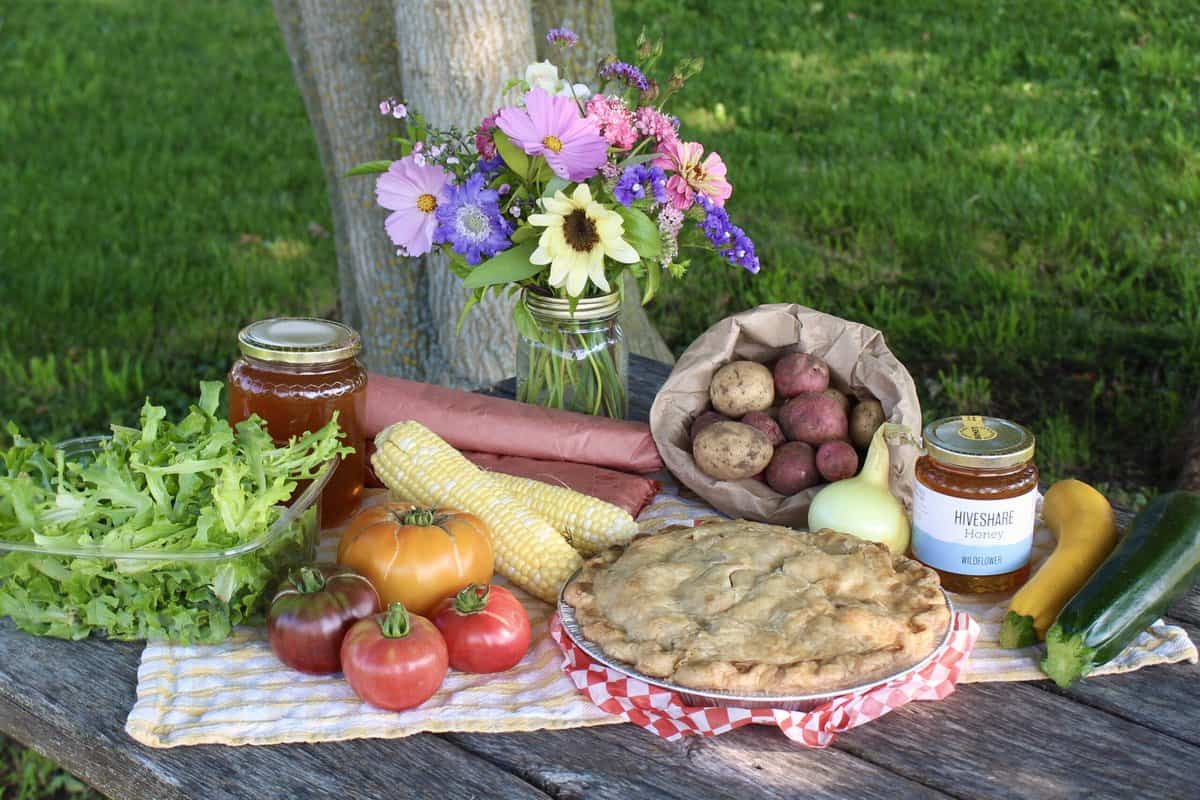 Locally Grown Food Shopping List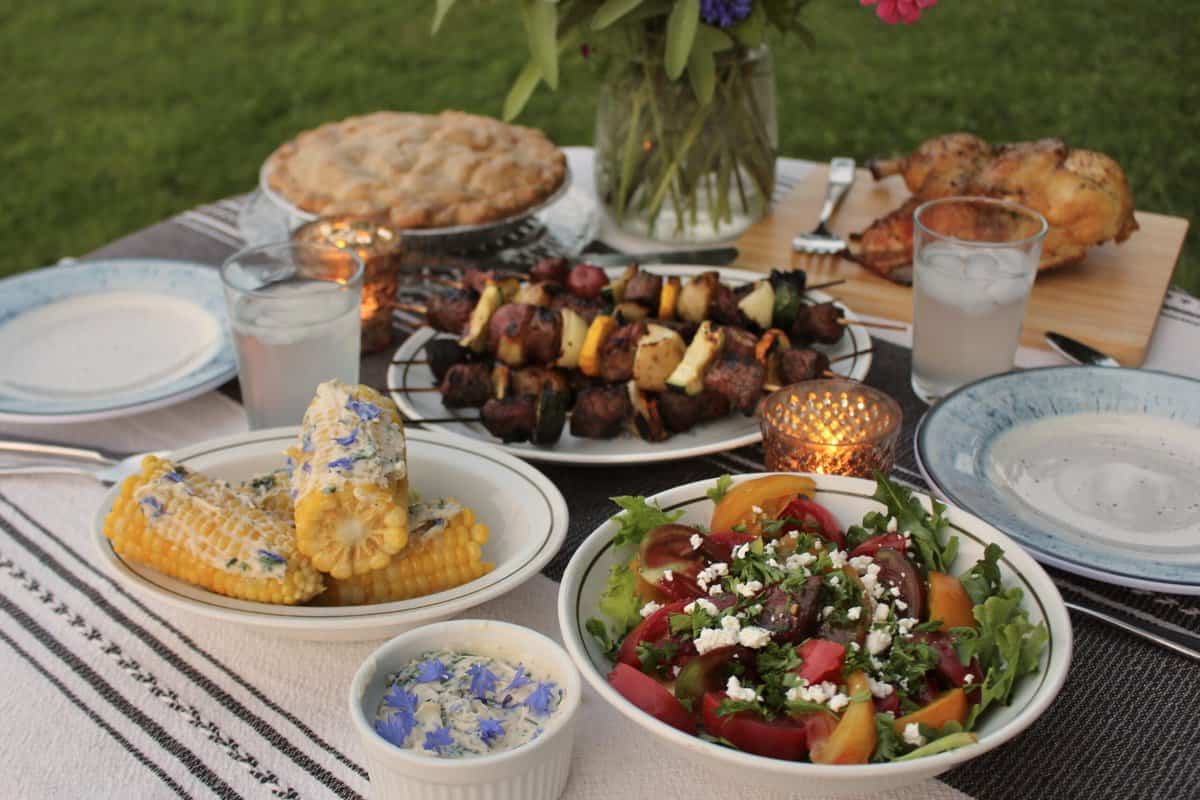 All the recipes used in this meal are below. Save them, print them, enjoy!
Grilled Beef & Vegetable Kabobs
These delicious kabobs are a summer classic and with good reason. The layered meat and vegetable skewers are colourful and packed with flavour.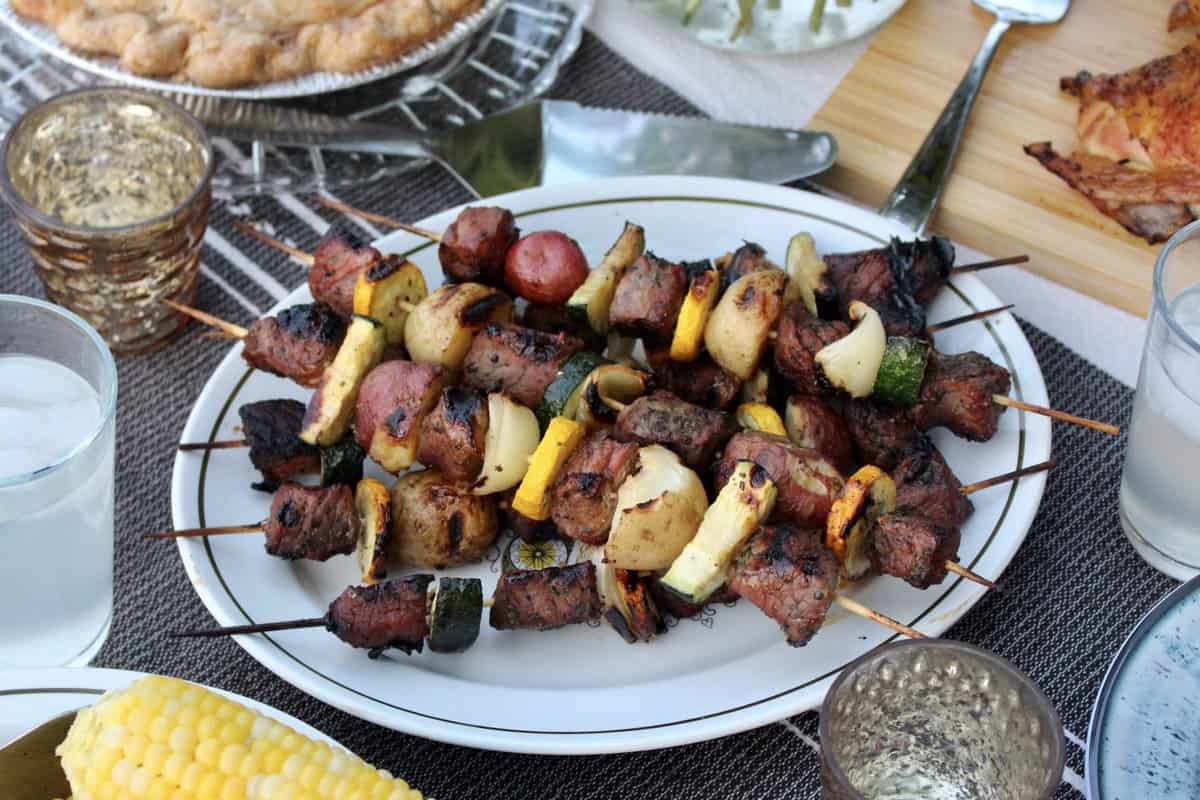 The eye of round steak come from the Rae Family Farm, on the same land they've been farming for over 200 years. The fresh vegetables I picked are just a few of the many offerings at Elmgrove Organic Collective, but that's the great thing about a kabob – you can use whatever veggies you have! Ditch the store-bought marinade and make your own using raw honey from Pollard Farm. It'll taste much better and be a fraction of the cost.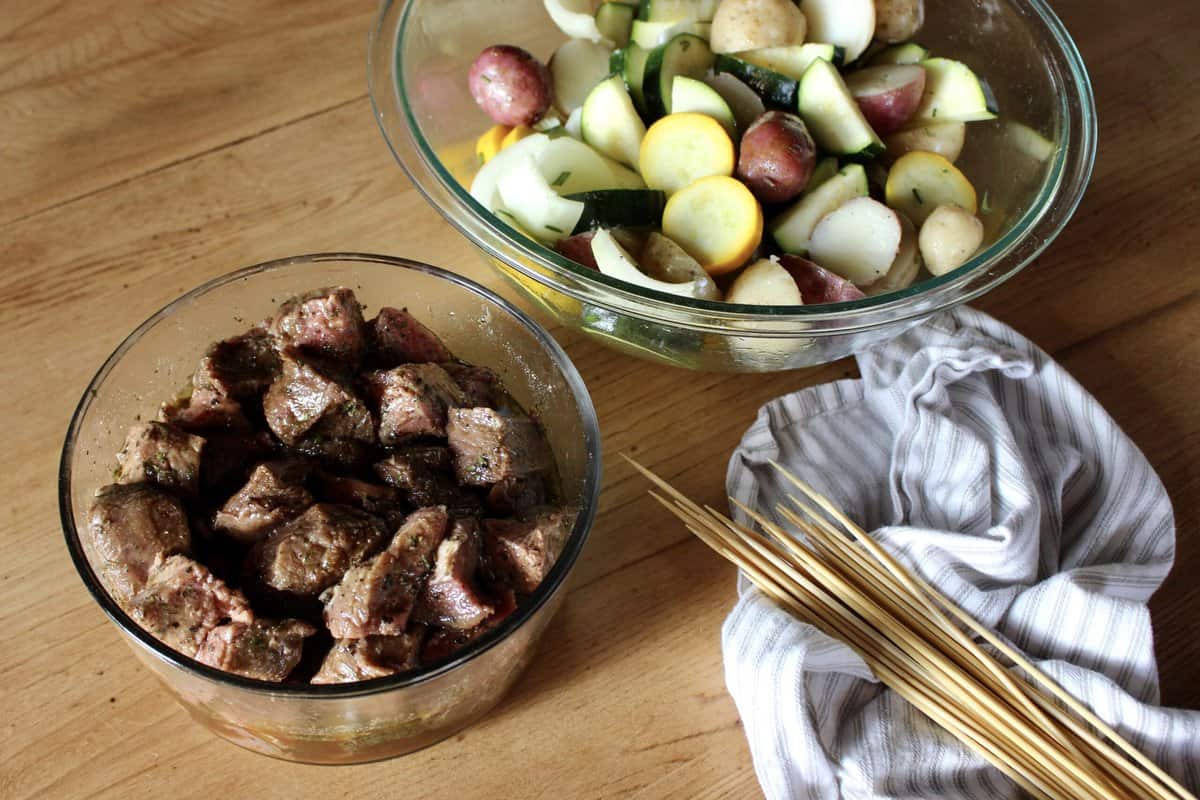 The trick to putting potatoes on a kabob is parboiling them first. Just long enough that they are tender on the inside but hold up their shape while getting nice and crispy on the grill. Tossing all the chopped veggies with olive oil and rosemary adds a little flavour and helps the veggies from sticking to the grill.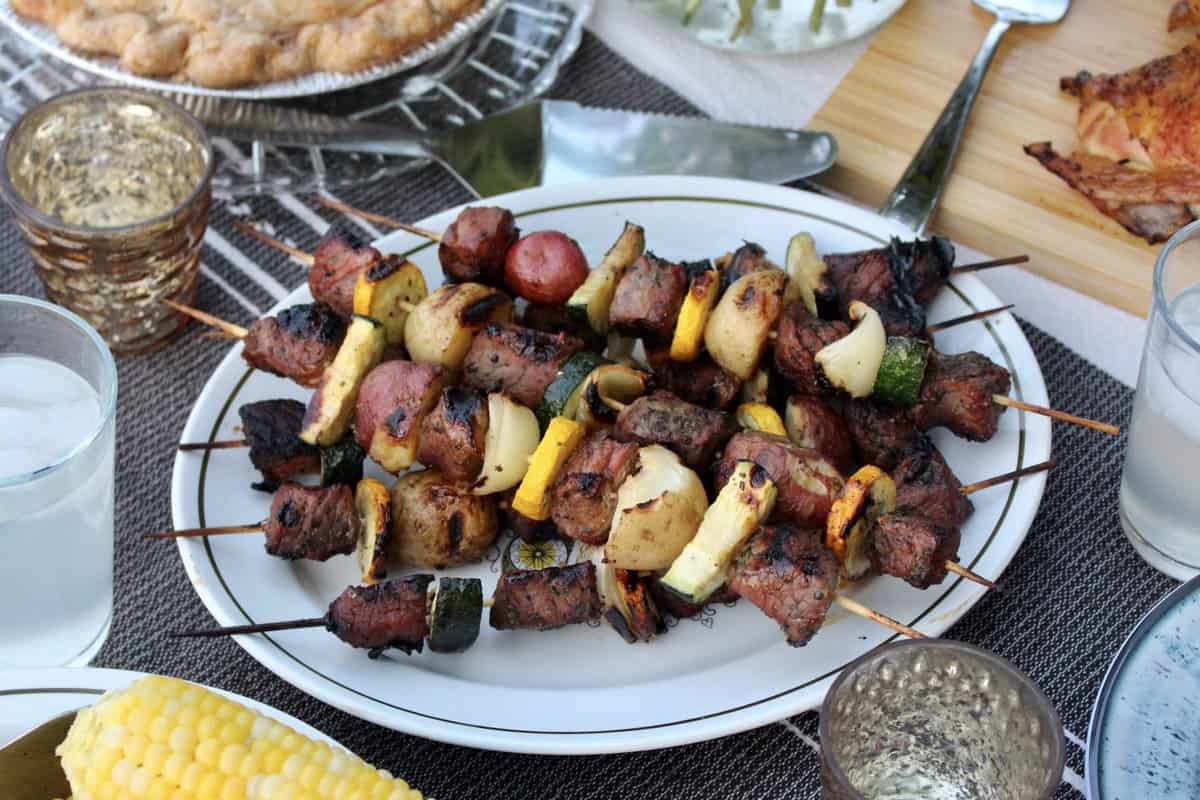 Grilled Beef & Vegetable Kabobs
Ingredients
Marinade
1/4 cup olive oil
1/4 cup soy sauce
1/4 cup worcestershire sauce
2 tbsp raw honey from Pollard Farm
1 tsp dried mustard powder or 1 tbsp prepared dijon mustard
1 tsp dried parsley
1 tsp dried basil
1/2 tsp black pepper
Kabobs
2 lbs eye of round steak from Rae Family Farm, cut into 1" cubes
1 lb potatoes from Elmgrove Collective, cut into 1" pieces
1 onion from Elmgrove Collective, cut into 1" pieces
1 zucchini from Elmgrove Collective, cut into thick discs
1 yellow summer squash from Elmgrove Collective, cut into 1" thick discs
2 tbsp olive oil
1 tbsp dried rosemary leaves, chopped
Instructions
In a medium bowl, mix marinade ingredients together.
Place beef in a large resealable plastic bag or container. Add marinade and toss to coat.
Refrigerate for 12-24 hours. The longer it marinates, the more tender and flavourful the beef with be.
When you're ready to assemble the skewers, set the marinating meat out to get to room temperature.
Soak wooden skewers in warm water for at least 30 minutes. This will prevent them from burning on the grill.
Preheat the grill to medium-high heat.
Meanwhile, boil potatoes in a pot of water until just tender enough to pierce with a fork. Drain and allow to cool.
In a large bowl, gently toss cooked potatoes and chopped vegetables with olive oil and rosemary.
Alternate threading beef and vegetables on wooden skewers.
Grill for 8-10 minutes or until beef is desired doneness and vegetables are tender-crisp. Turn kabobs occasionally, while cooking.
Serve warm.
BBQ Roasted Half Chicken
Slow roasting your chicken on the bbq is a game changer! I learned this recipe from Sandra at Hutchings Farm and it makes for a delicious moist, flavourful chicken.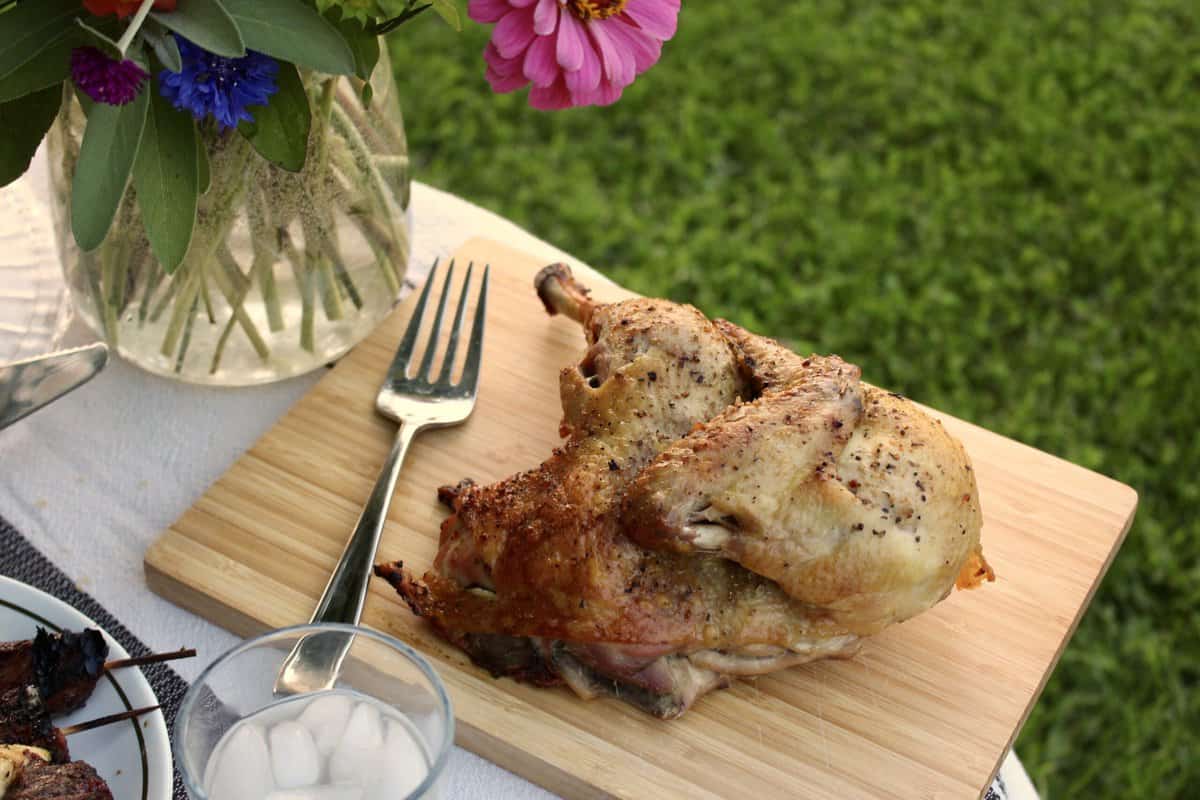 Perfect when it is hot in the summer and you don't want to turn on your oven. Going with a half chicken cut down the cooking time too. I went with a rub we had on hand, but you could use any chicken rub that you like.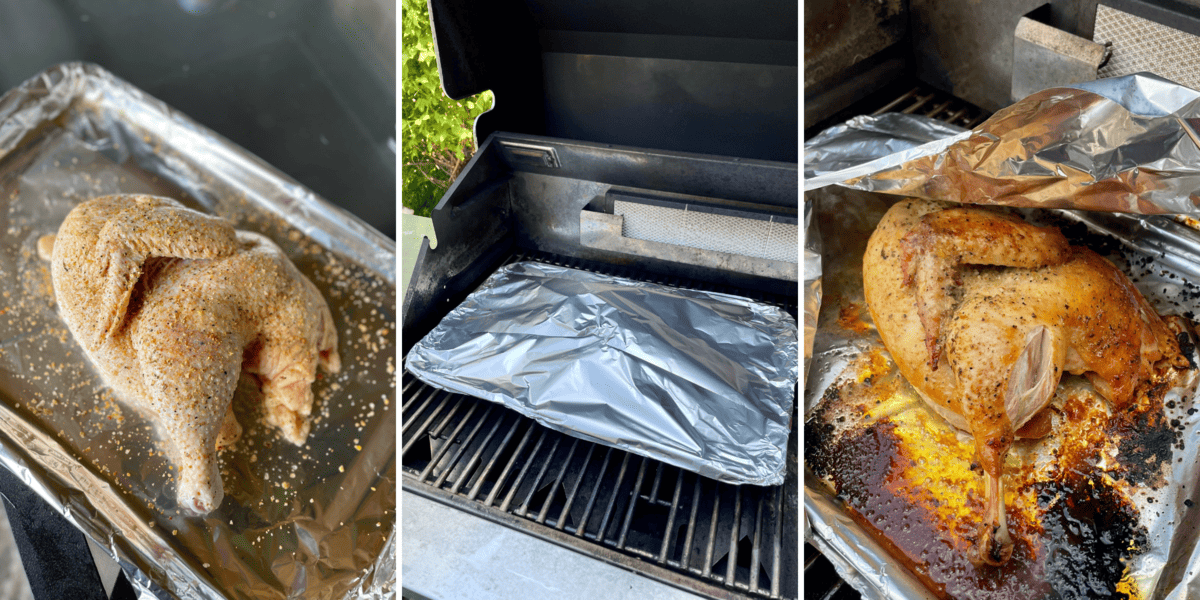 We had this on the grill while prepping the other food, and then kept it tented while the kabobs went on.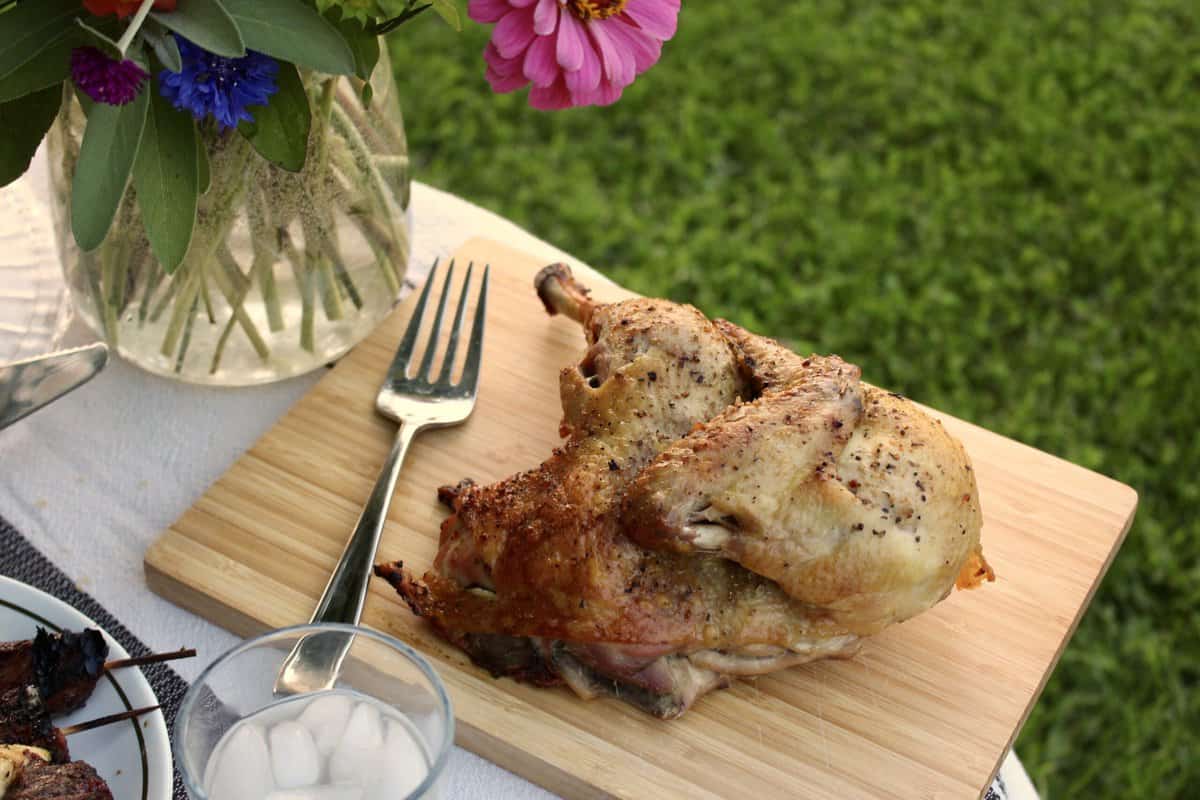 BBQ Roasted Half Chicken
Ditch the oven and fire up the BBQ for this delicious roast chicken recipe from Hutchings Farm.
Ingredients
Half Chicken from Hutchings Farm
Favourite Chicken Rub (MESSHALL Campfire BBQ Rub is a great local choice)
olive oil
Instructions
Preheat BBQ to 250°F.
Line a baking sheet with foil and place chicken on top
Rub chicken with olive oil and season with chicken rub. Cover baking sheet in foil.
Place on BBQ and cook "low and slow".
Check after 1 hour if done, using a meat thermometer in the breast to make sure it reads 165°F and is cooked throughout.
Heirloom Tomato Salad with Honey Vinaigrette
Don't bright, colourful tomatoes taste just like summer? Paired with crunchy greens, chopped herbs, salty feta and a subtly sweet honey dressing – it becomes a simple summer salad that packs a punch.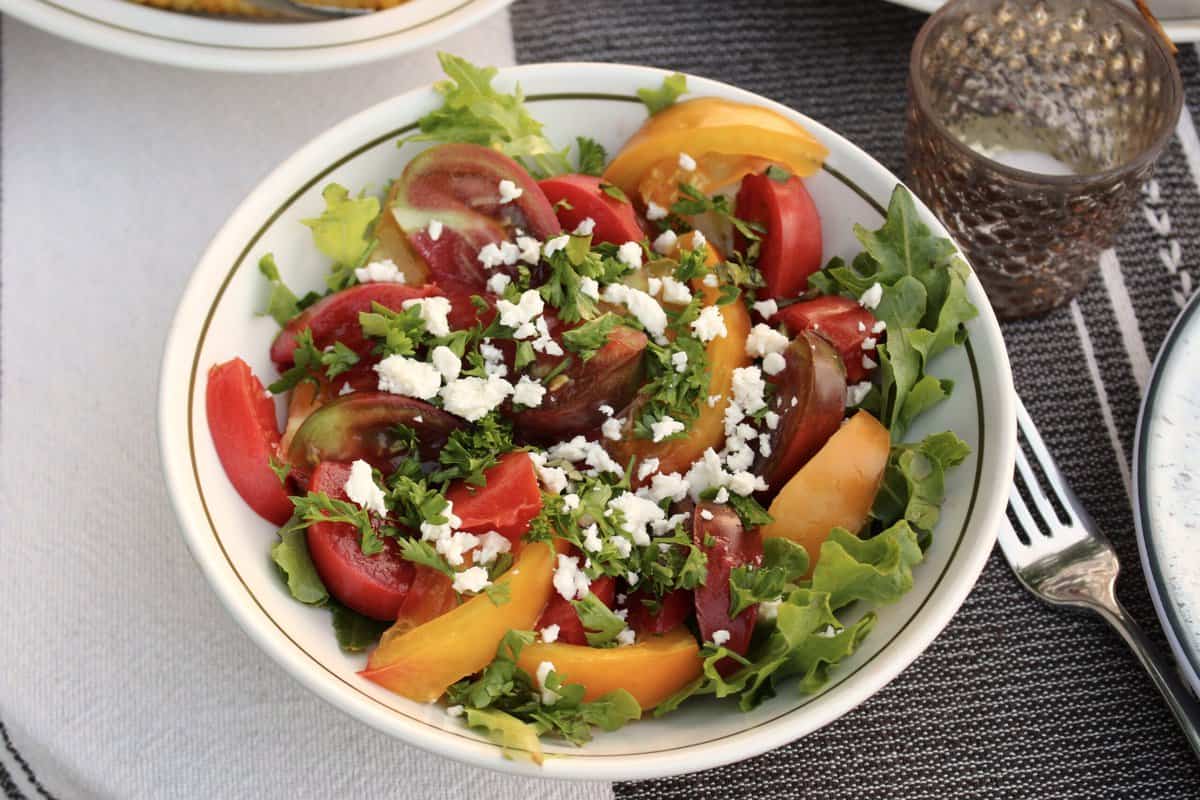 These beautiful heirloom tomatoes and salad greens are from ClearWater Farm, located on the shores of Lake Simcoe.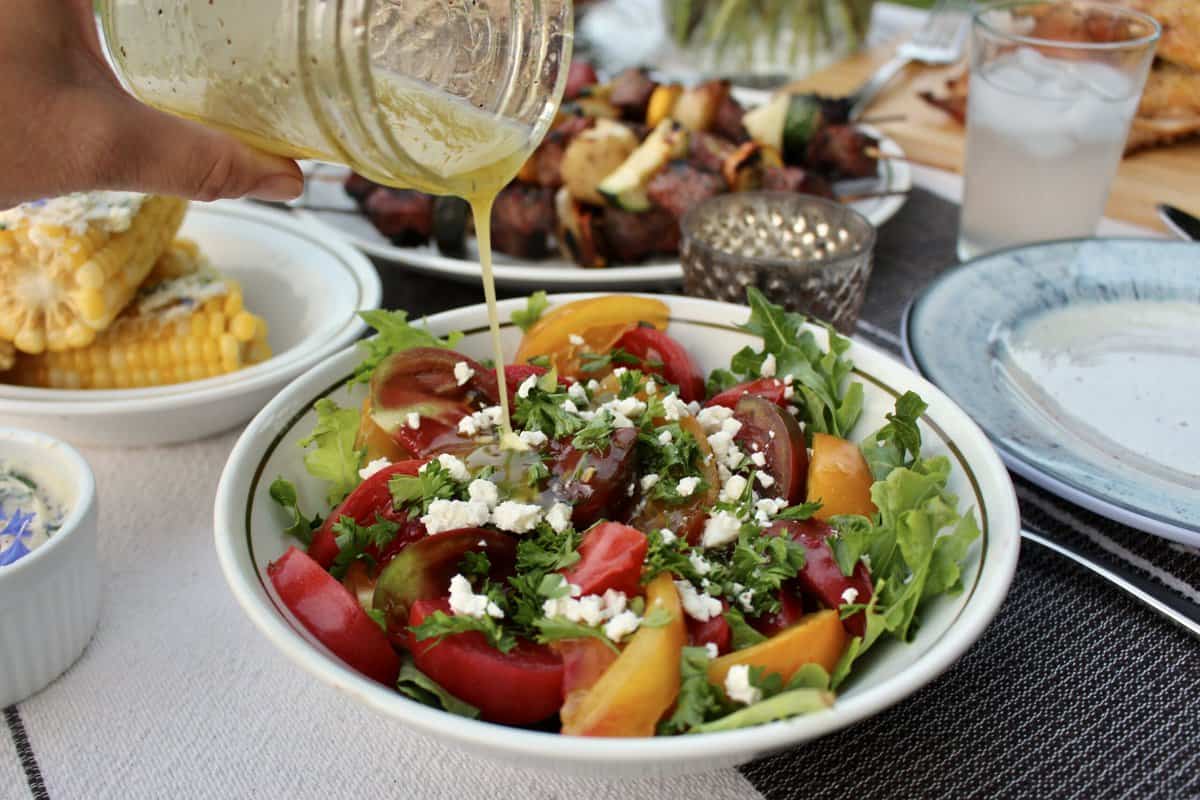 A simple Honey Vinaigrette dressing made with Hiveshare wildflower honey takes minutes to whip up and offers the perfect sweet flavour to compliment this salad. You can make it ahead in a small jar with a lid and keep it in the fridge for up to 3-4 days. Let the jar of dressing come to room temperature and shake vigorously. Drizzle over the salad just before serving.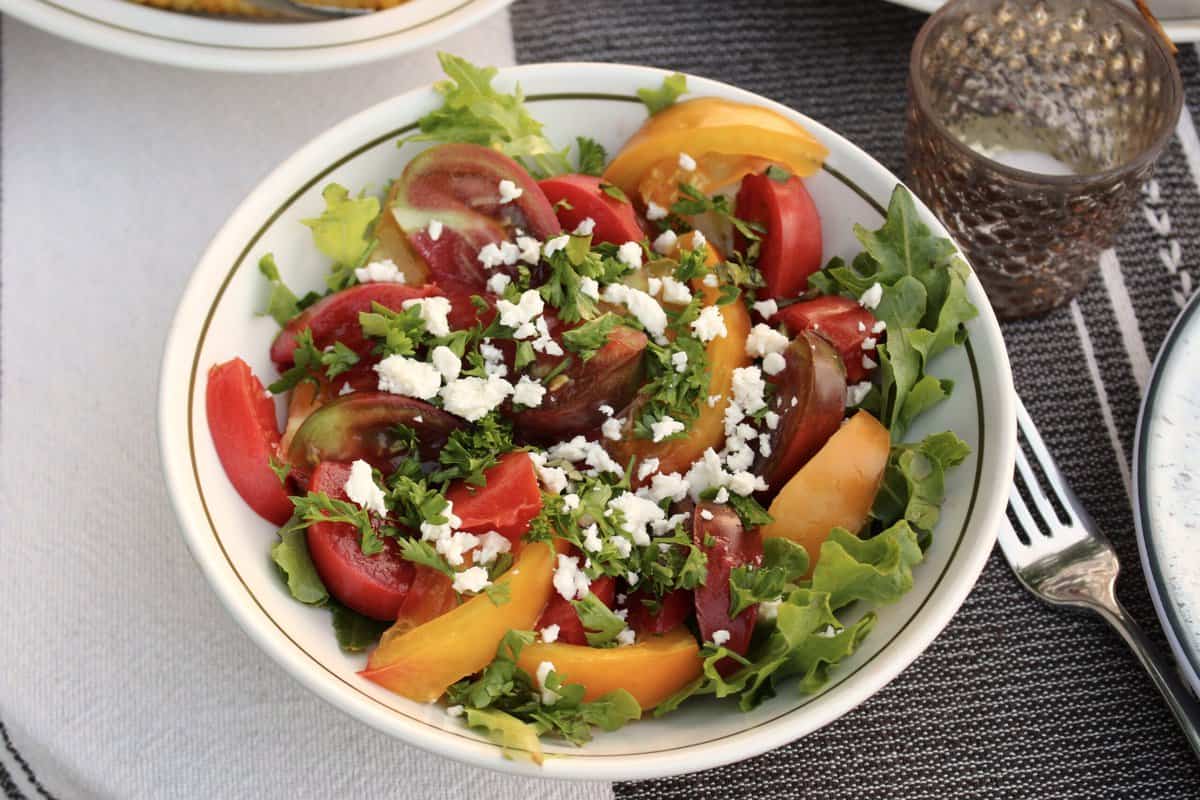 Heirloom Tomato Salad with Honey Vinaigrette
Bright and colourful Heirloom Tomato Salad is the perfect summer side dish. Colourful heirloom tomatoes from Clearwater Farm on a bed of greens and drizzled with a delicious vinaigrette made with Hiveshare wildflower honey.
Ingredients
2 lbs heirloom tomatoes from Clearwater Farm, sliced into 1" wedges
Georgina Gourmet Greens or arugula from Clearwater Farm
1/4 cup feta cheese, crumbled
2 tbsp fresh basil leaves
2 tbsp fresh parsley leaves
Honey Vinaigrette
1/4 cup olive oil
2 tbsp white balsamic vinegar
1 tbsp wildflower honey from Hiveshare
1/2 tsp salt
1/2 tsp black pepper
Instructions
Arrange a bed of greens on a platter. Place tomato wedges in a circular pattern, alternating colours.
Sprinkle tomatoes with feta cheese and chopped herbs.
In a small jar with a lid, add dressing ingredients. Close jar and shake vigorously to combine. Dressing can be made ahead of time.
Drizzle salad with dressing just before serving.
Corn on the Cob with Flower & Herb Butter
Summer wouldn't be summer in Ontario without delicious golden corn on the cob. It's possibly one of the easiest side dishes around. The best way to get juicy and tender corn on the cob is ridiculously easy – make sure to buy it fresh from a farm! Our favourite spot is Holtrop Farm.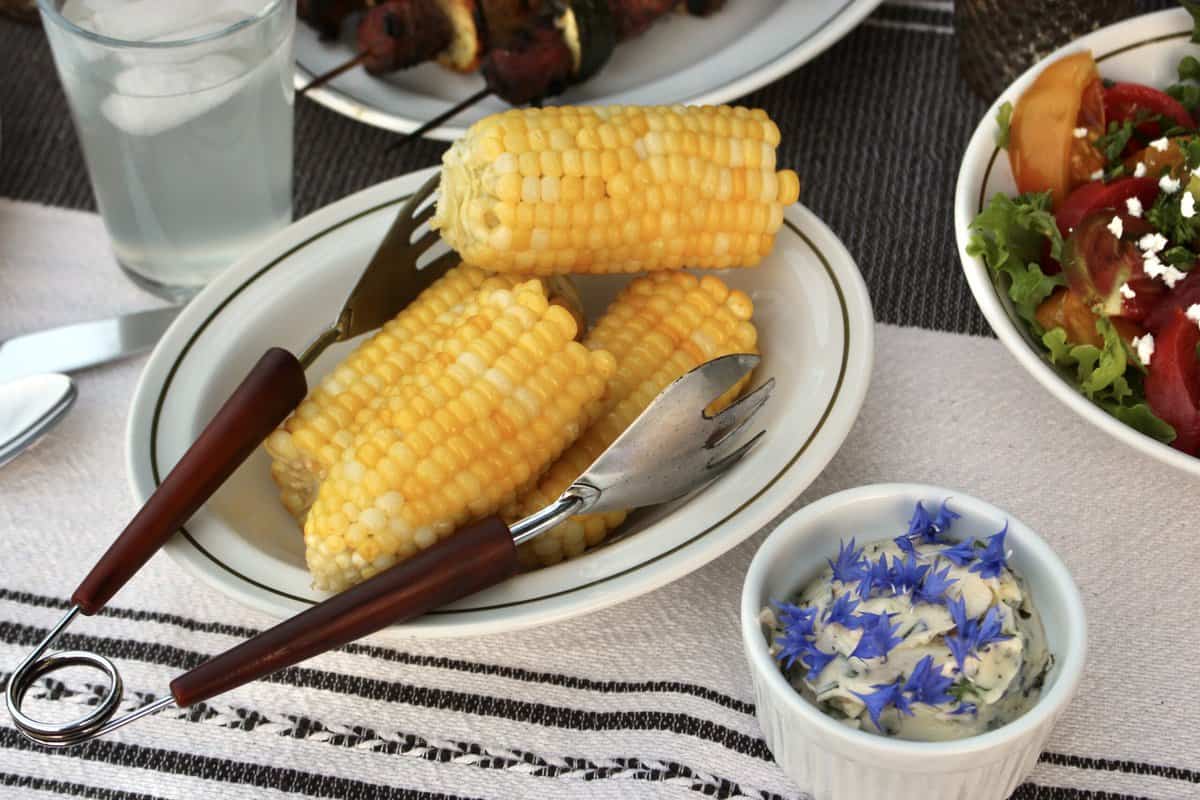 Boiling is a simple way to cook corn and this method produces sweet and juicy cobs of corn every time. Adding a bit of saltiness to the corn helps bring out the sweetness. You can go with the classic butter and salt method, or change things up and make a super simple Flower & Herb Butter.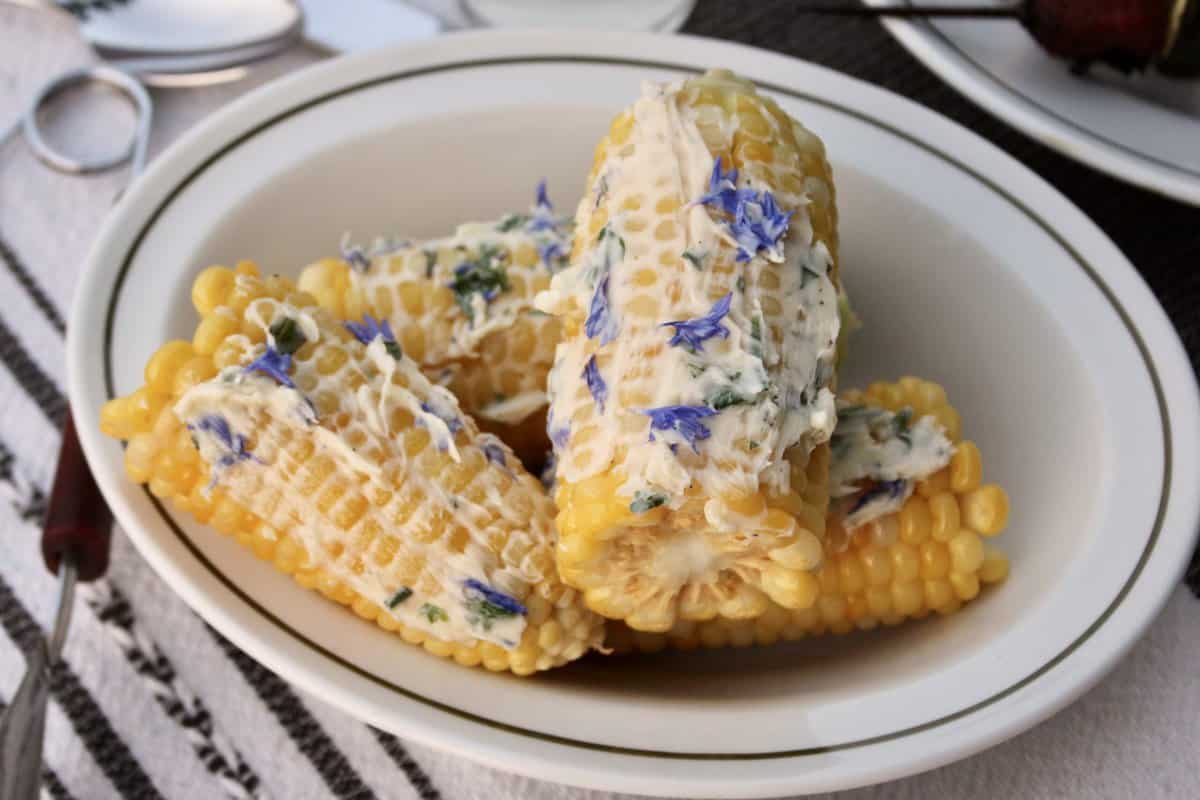 It uses a mix of herbs from the garden and delicate, colourful edible blooms from Cloverhill Flowers. These flowers are bachelor buttons, which offer a bright pop of colour without adding any strong flavours to the butter.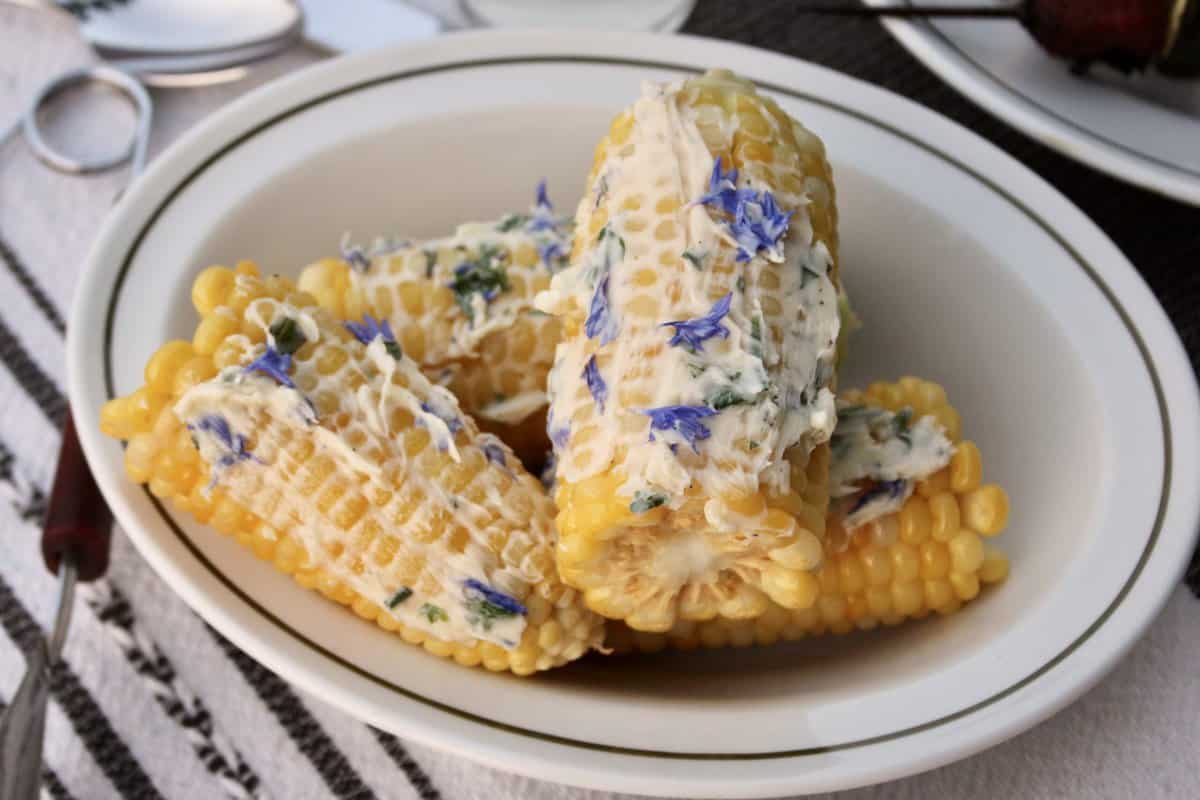 Corn on the Cob with Flower & Herb Butter
Fresh sweet corn from Holtrop Farm is a summertime classic and gets a fun twist with Flower & Herb Butter using edible blooms from Cloverhill Flowers.
Ingredients
6 ears fresh sweet corn from Holtrop Farm, husks and silks removed
Flower & Herb Butter
1/2 cup butter, softened
4 heads Bachelor Button Edible Flowers from Cloverhill Flowers
1 tsp fresh basil, finely chopped
1 tsp fresh thyme, finely chopped
1 tsp fresh parsley, finely chopped
1 tsp fresh rosemary, finely chopped
salt & pepper to taste
Instructions
Make Flower & Herb Butter
In a small bowl, stir together softened butter, chopped herbs and flower petals. You can reserve a few petals as a garnish on top of the butter.
How to Boil Corn on the Cob
Bring a large pot of water to a boil.
Add corn, making sure that all the cobs are submerged. Snap them in half if they do not fit easily in the pot.
Cook for 3-5 minutes.
Drain and serve warm with Flower & Herb Butter or plain butter, salt and pepper.
The Perfect Apple Pie
It's convenient to not only have a great apple orchard in the Town of Georgina, but also one that has amazing baked goods. Homestead Orchards make their own pies, cookies, apple brownies and cheesecakes. If I need a great dessert without doing the baking myself, you better believe I'll head over there for one of their delicious apple pies. They're the perfect dessert, served with a big scoop of vanilla ice cream.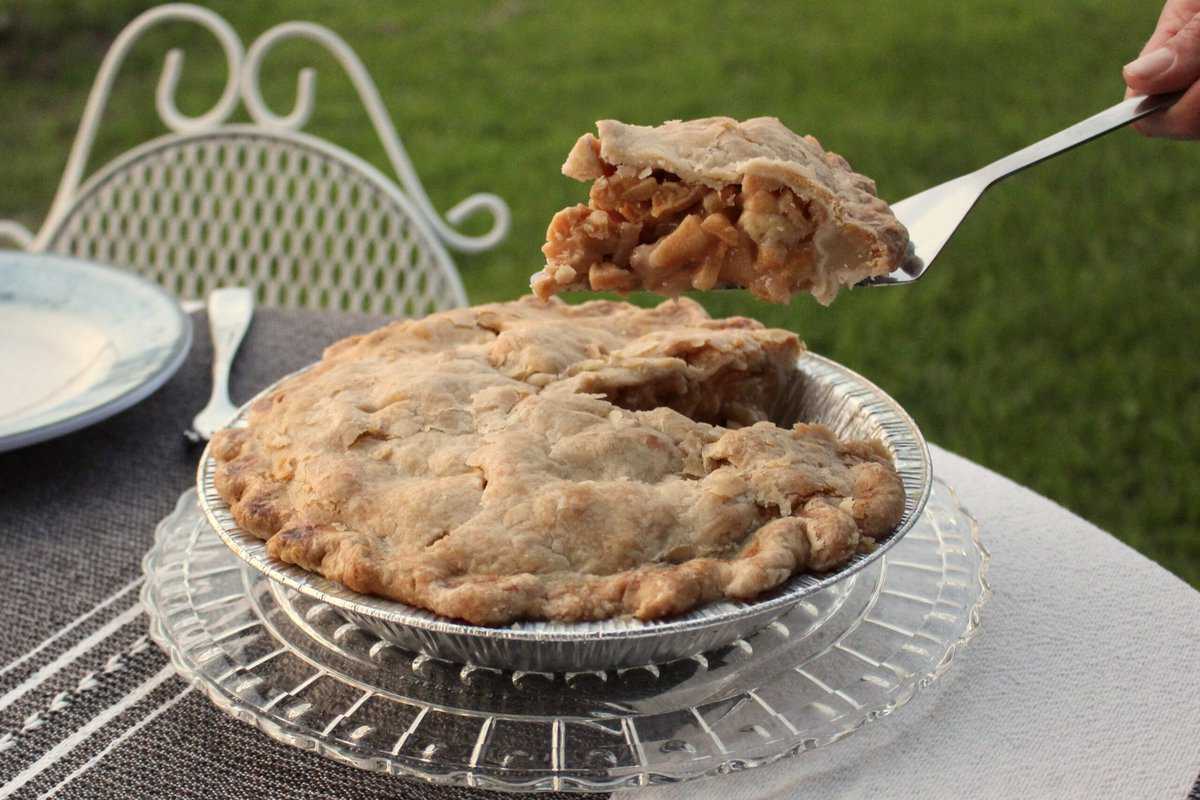 The pies come warm out of the oven at the bakery, but if you need to reheat it before serving, it is easy to do:
How to Reheat a Baked Pie
Preheat oven to 350°F and place the whole pie on a parchment lined baking sheet. Bake for 15 minutes, then check if it is heated through by poking a skewer in the middle for a few seconds. Remove skewer and touch the bottom. If it is warm or hot, your pie is heated through. If it is cold, continue to heat it in 5 minute increments until warm.
Fresh Flower Arrangement
A Summer Backyard Dinner wouldn't be complete without locally grown blooms that celebrate the natural beauty of the warmer months.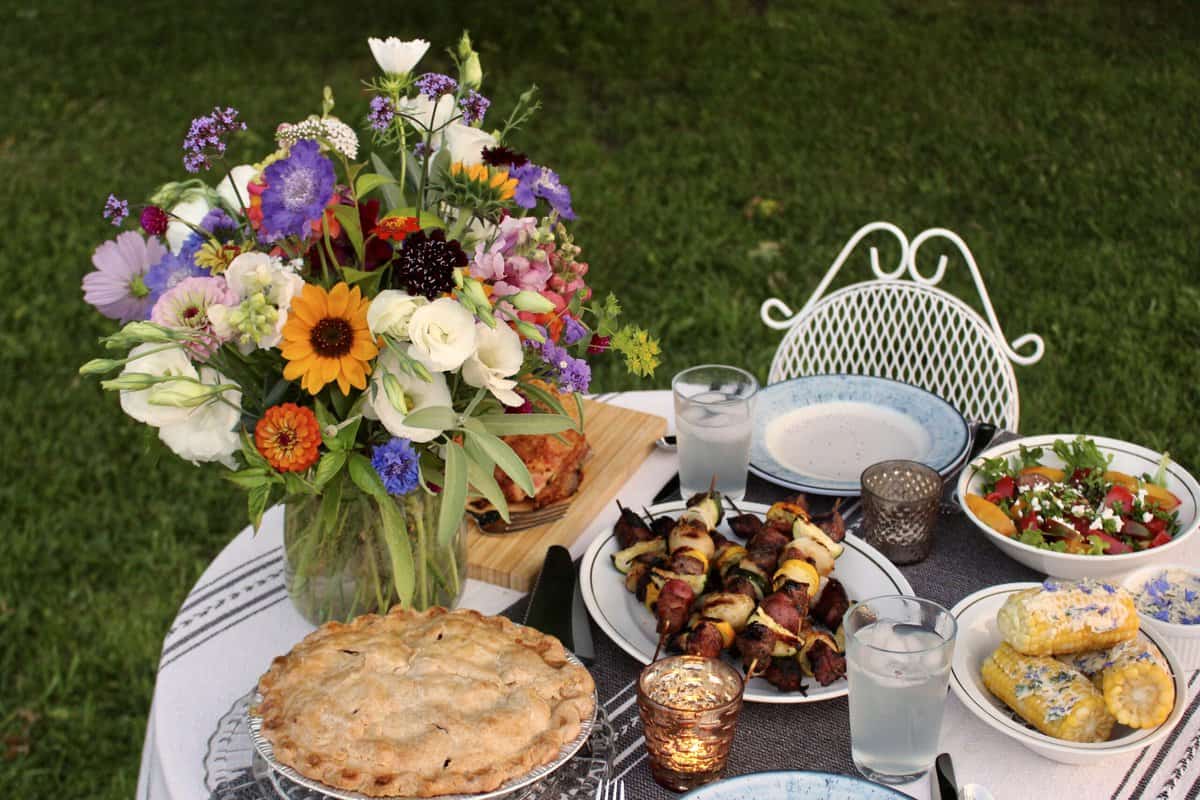 Just as we want locally grown food on our table, the flowers decorating it can be locally grown too! This arrangement from Cloverhill Flowers is full of chemical-free, sustainably-grown blooms.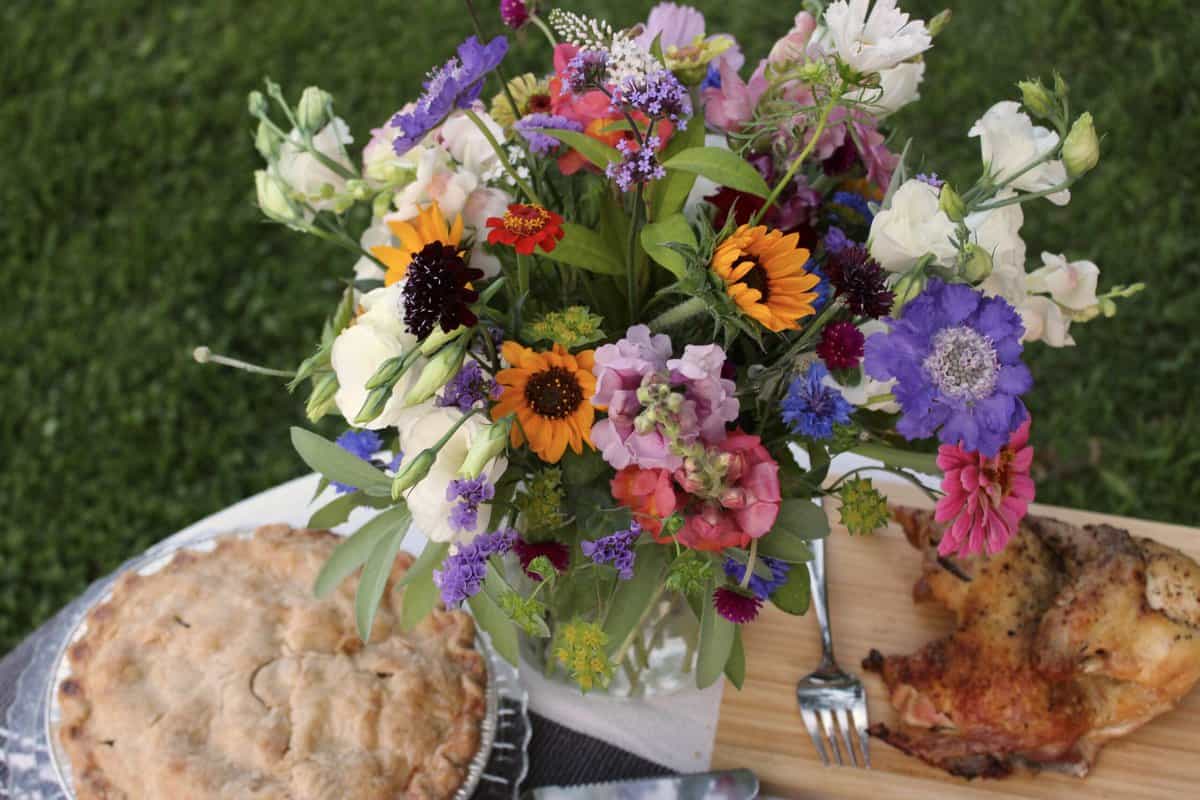 Enjoy a nice sunset dinner al fresco
I hope this has inspired you to pick up locally grown food and create a lovely summer backyard dinner. You can pick up everything in this post at the Town of Georgina's Field to Table Farm Tour on Saturday August 19th, 2023!