Easy No Cook Pumpkin Spice Playdough is a fun fall inspired sensory activity – and it smells fantastic too!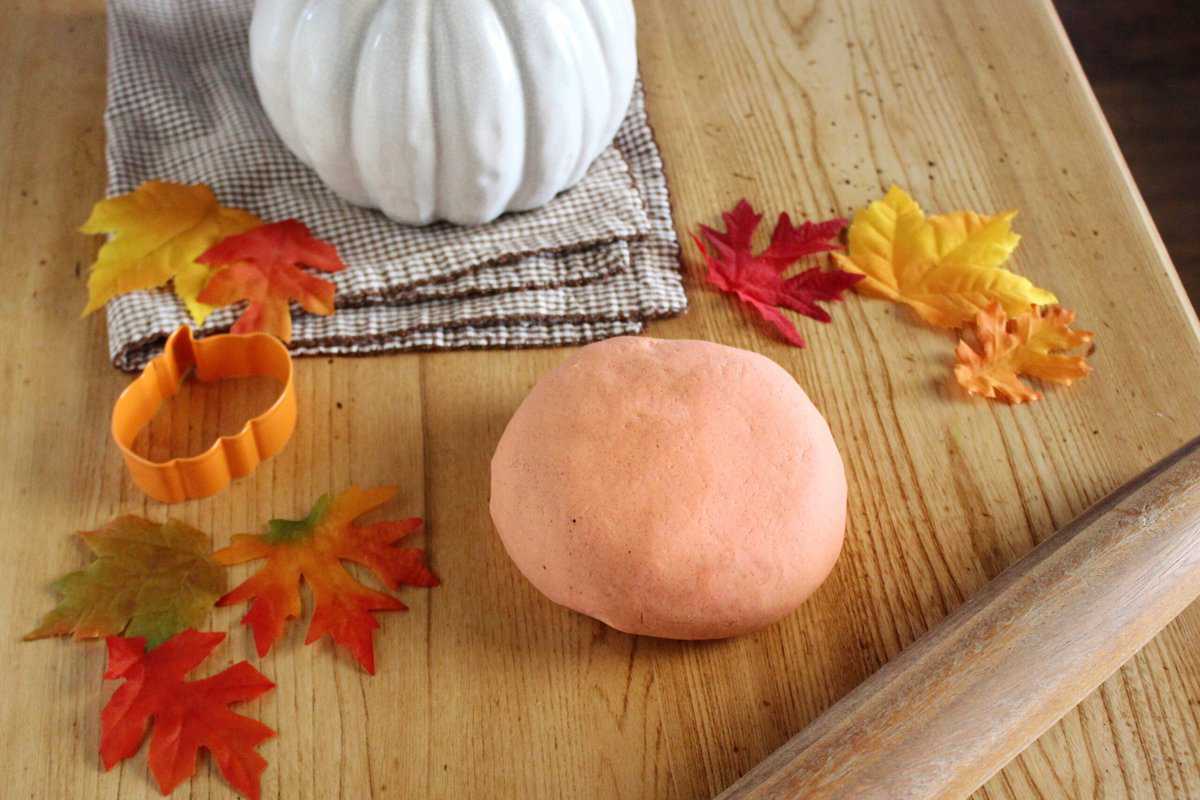 It never ceases to amaze me how much kids LOVE playdough. It can provide hours of fun and lets their creativity come out. Making homemade Pumpkin Spice Playdough is super easy, especially when you use this no cook method which takes less than 5 minutes to make.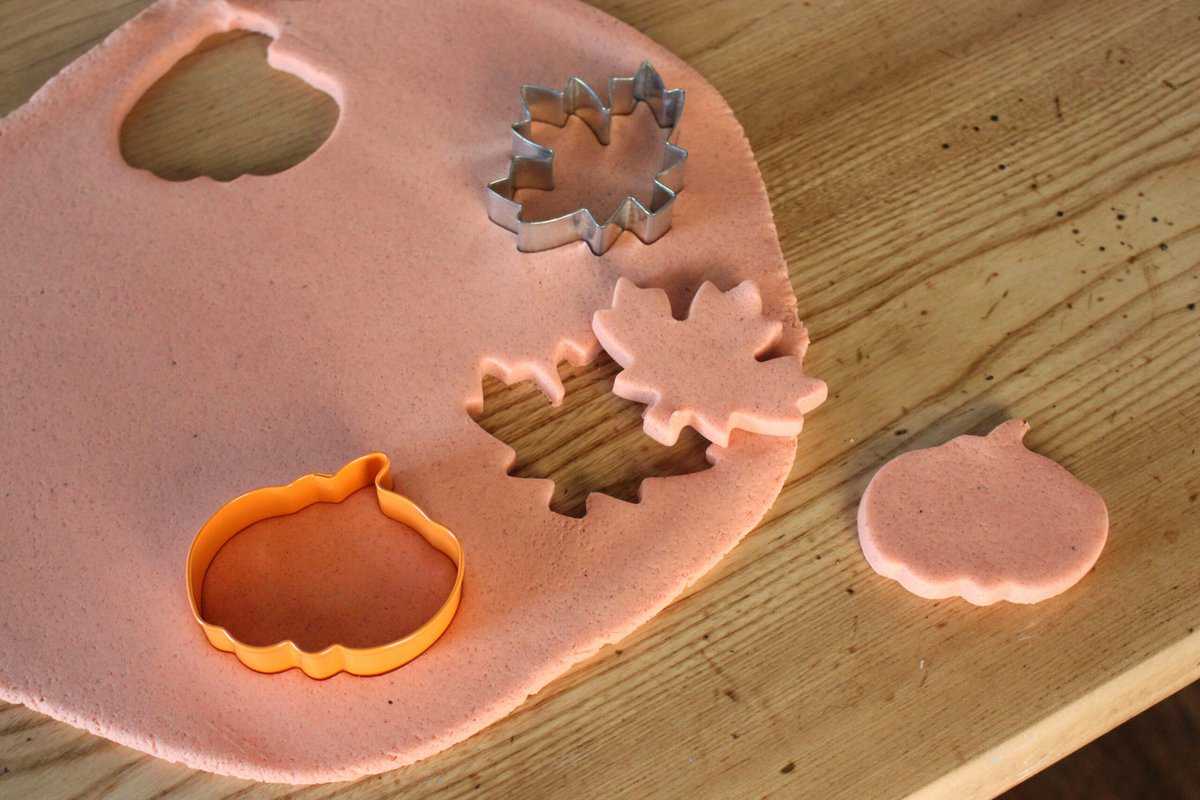 I love to create fun seasonally inspired batches of homemade playdough, like this autumn-inspired Pumpkin Spice Playdough. All my kids have loved being creative with playdough and it's a simple thing you can make at home.
Playing with the dough is great for building fine motor skills, imagination and creativity. The spices add aromatherapy and make it a fun seasonal activity to do together!
Why I love the no-cook method for homemade playdough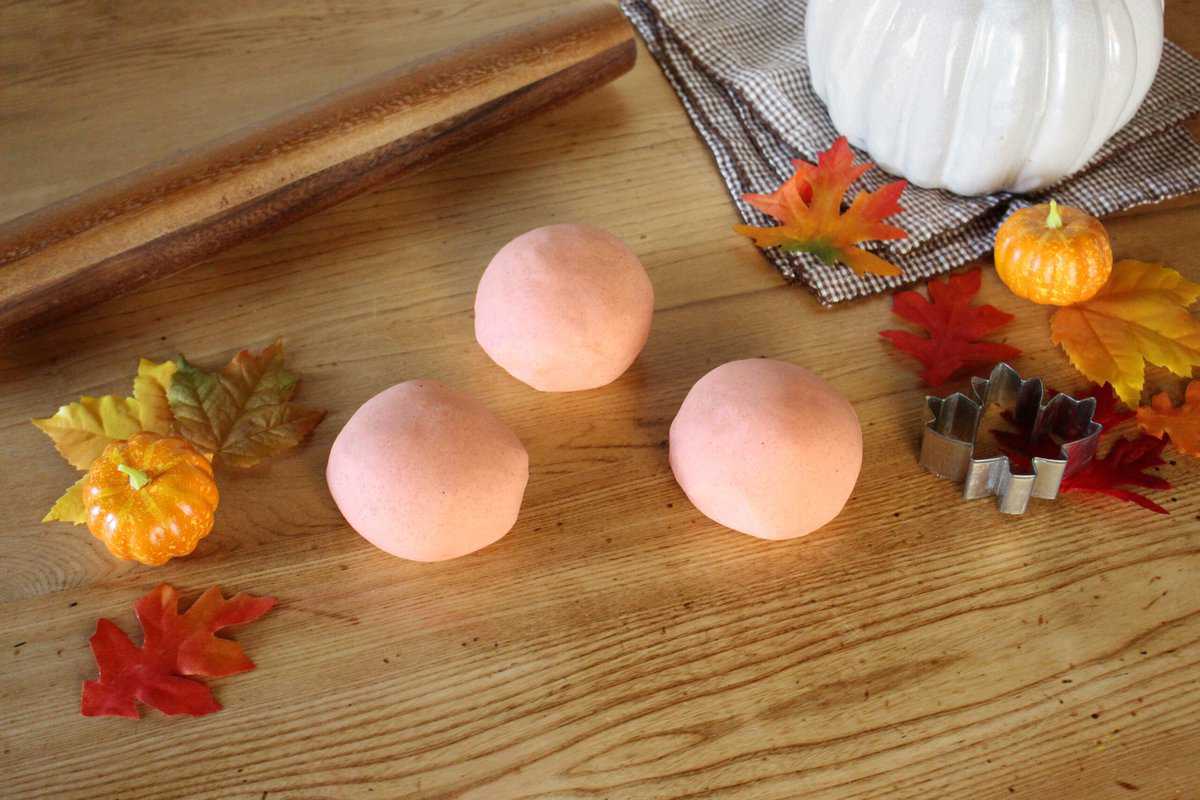 Typically homemade playdough is cooked on the stove, and takes awhile to cool down before kids can play with it. Using this no cook method is quicker and makes it easier to get kids involved.
What you'll need to make Pumpkin Spice Playdough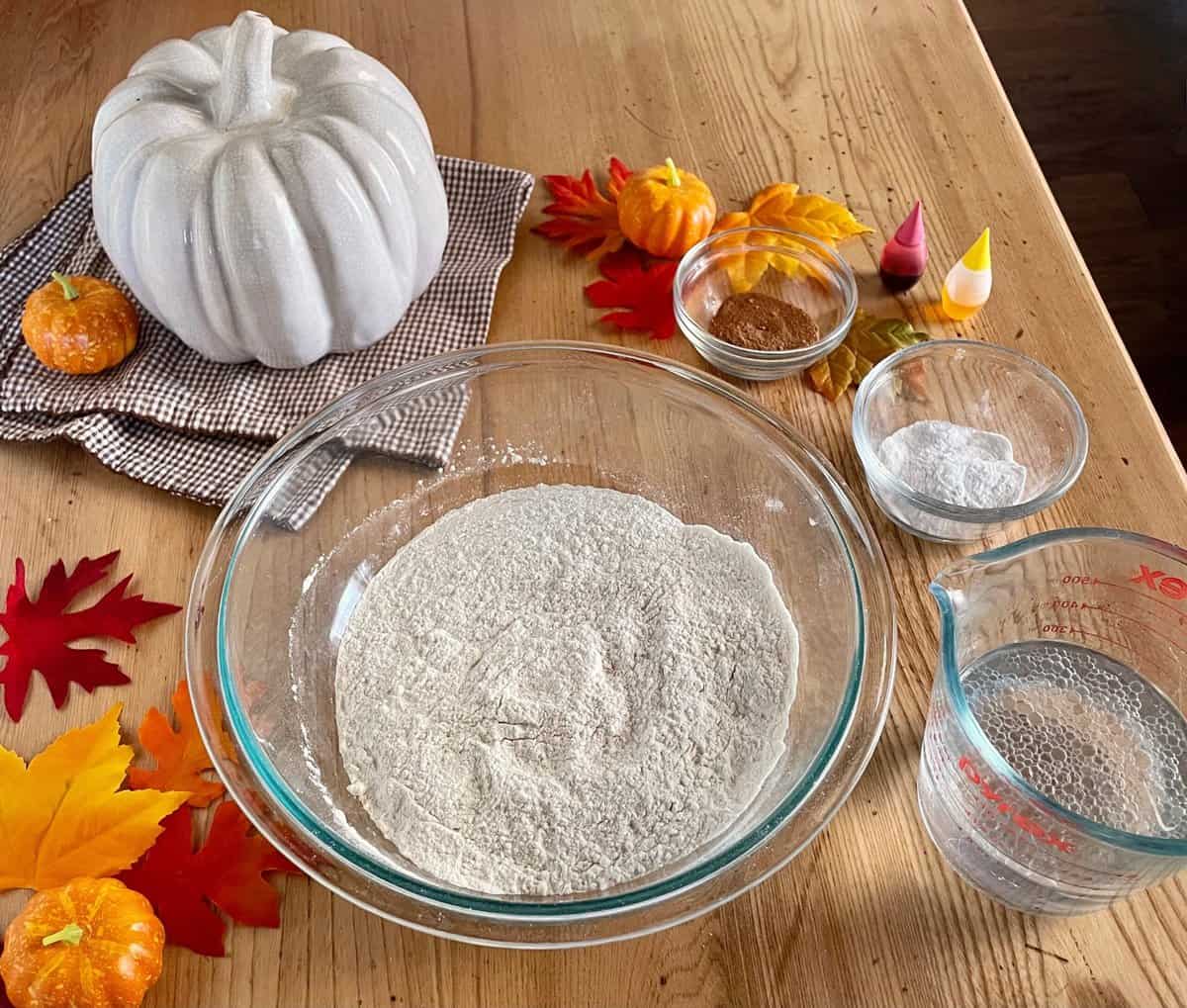 Flour – the proteins in wheat flour react to the boiling water and creates an elasticky texture.
Salt – a natural preservative and adds texture to the playdough. I used table salt but a finer salt will work too.
Cream of Tartar – this makes the dough softer and stretchier. Cream of tartar also acts as a natural preservative to help the playdough last longer.
Oil – lubricates the dough and adds to the soft texture. I prefer using coconut oil, but vegetable oil or baby oil works too.
Boiling Water – this is the part that requires adult supervision, but once the boiling water is mixed in, it will be cool enough for kids to help with kneading the dough.
Spices – you can use any combination of spices that you have. A traditional pumpkin pie spice is mostly cinnamon with any combination of nutmeg, ginger, cloves or allspice.
Food Colouring – I used liquid food colouring because it was what I had on hand, but for more vibrant shades, try gel food colouring.
How to Store Homemade Playdough
Homemade playdough, if stored correctly, can last up to 6 months. Store in an airtight container or plastic zip bag, away from heat and light. I keep ours in sealed containers in the craft cupboard.
Over time, as the playdough gets played with, it may start to lose its scent.
Creative & Sensory Play with Pumpkin Spice Playdough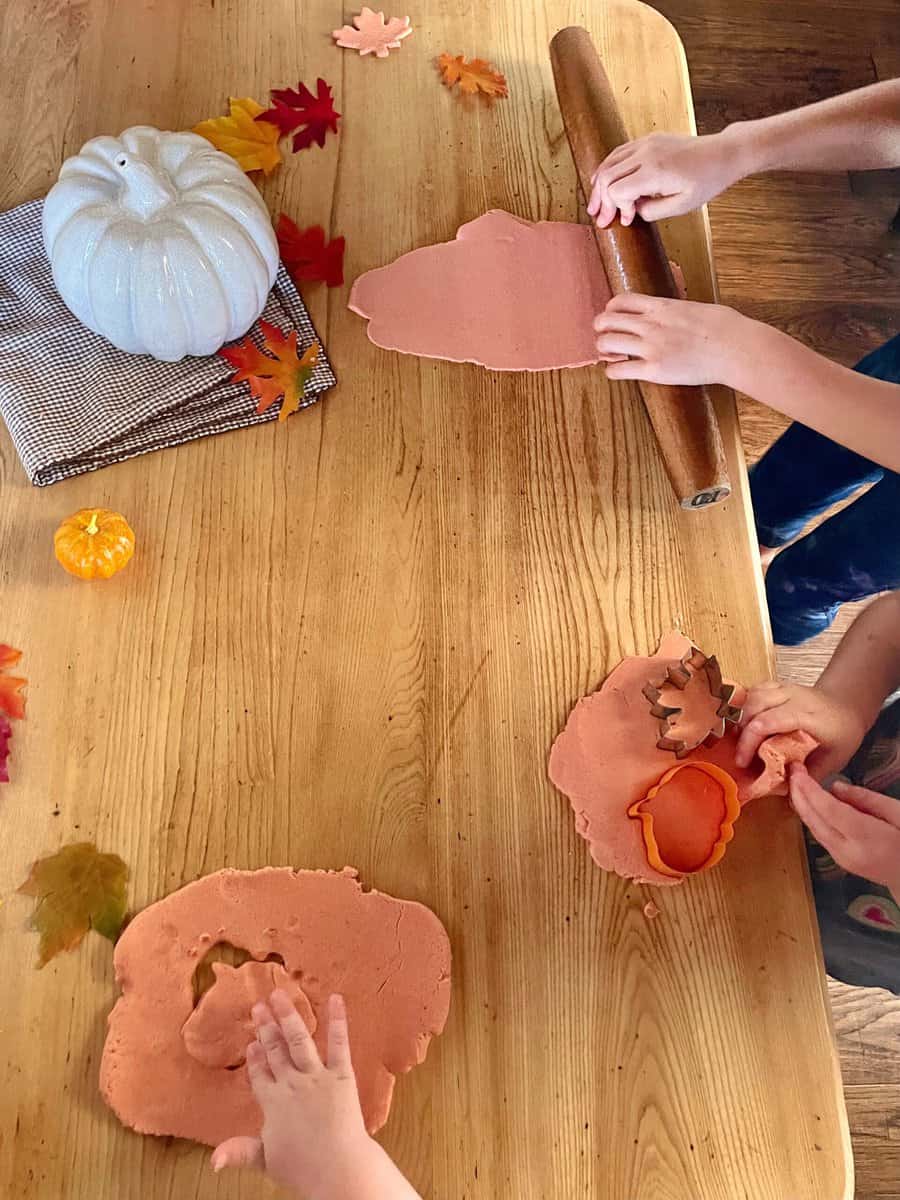 The ways that kids can play with Pumpkin Spice Playdough are endless and it can provide hours of entertainment. A few ideas to get the fun stared:
Roll out playdough and use autumn cookie cutters to make fun shaped "cookies"
Set out little tart pans to make "pumpkin pie"
Gather nature materials to play with in the playdough, such as sticks, leaves, seeds, etc.
Pumpkin Spice Playdough Recipe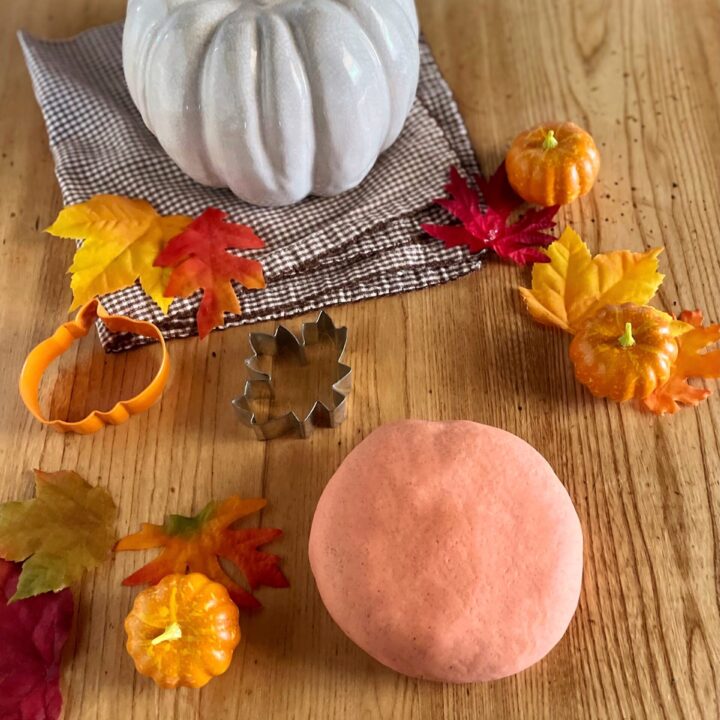 Pumpkin Spice Playdough
Materials
2 cups white flour
1/2 cup salt
2 tbsp cream of tartar
1 tsp pumpkin spice (or 1/2 tsp cinnamon, 1/4 tsp ginger and 1/4 tsp nutmeg)
1 cup boiling water
2 tbsp coconut oil (vegetable oil or baby oil work too)
food colouring (orange or red + yellow)
Recommended Products
As an Amazon Associate and member of other affiliate programs, I earn from qualifying purchases.
More Fall Activities