When we first moved into the farmhouse, I knew I wanted to turn the stairway to our basement into some functional kitchen storage.
I started by taking the old wooden cupboard from my grandfather's basement (previously used as our bar at the old apartment), and using it to store canned goods in the stairwell. It was working fine until sometime over the holidays when we had some pop cans that corroded on the bottom and leaked all over the cupboard and landing.
It was a HUGE mess, and I'm still hoping we're able to salvage the cabinet and just replace the bottom board. We scrubbed the floor, but there was still a stubborn stain that won't go away. Someday, when we potentially renovate the kitchen/dining room area, this little stairwell will be given new drywall, flooring and a fresh coat of paint, but for now we needed to get it back to being a functional storage space again.
There is a section of the wall that doesn't have drywall on it, and you can see the backside of the plaster wall in kitchen. I love getting these little glimpses of the house's construction and it helps us think about what we're going to do in the future.
You can see the big stain here on the floor and speckled paint from over the years. We gave everything a good cleaning and let it dry with some fans for a couple of days and then air dry another two weeks before we decided that it was best to give it a fresh coat of paint.
Garrett gave the floor two coats of paint using Behr Paint Premium Plus Ultra Interior Satin Enamel in Celadon.
Just painting the floor made the space so much lighter and cleaner looking (which says a lot for a dingy old farmhouse basement!)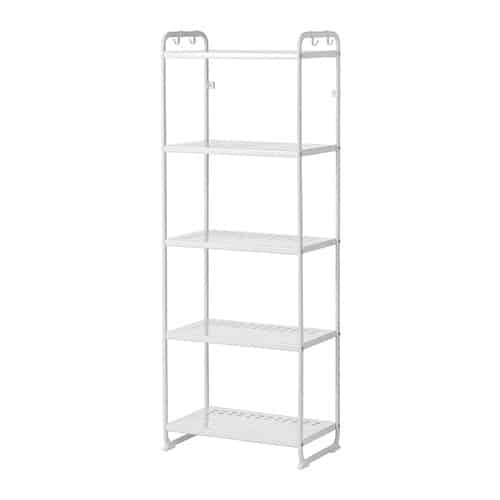 As much as I liked the rustic look of the old wood cupboard, it wasn't very practical for opening up each time we needed to get a canned good, so I started looking for tall skinny open shelving. We installed the larger version of the IKEA MULIG shelving unit in the basement to store paint and glassware earlier this year and loved it. It's very easy to wipe down and keep clean. Thankfully they have a tall one that was just the right dimensions for the stairwell. To keep it safe from tipping, Garrett secured it to the wall with screws after making sure it was level.
Then it was a matter of filling up the shelves with all our canned goods and supplies! There are even hooks along the side for hanging dust pans and our mop.
While I was taking the time to reorganize this space, I decided to start storing all our cleaning supplies high on the shelves. It will still be awhile before we need to start worrying about the baby getting into anything, but if I was already taking the time to rearrange things, it made sense to move the chemicals and cleaning supplies now. There is also lots of room for our slow cooker, a basket for our reusable shopping bags and a big bin to store any root vegetables like sweet potatoes, onions and garlic.
On the middle I added a smaller shelf divider to stack our canned goods, along with the pop cans and sparking water on the bottom. It will be much easier to see any leaks if they happen again with open shelving, instead of a closed cupboard (although I hope we never ever ever have to go through that again!)
I also added a little rug we already had for a little more traction on the landing and to protect the painted floor, as we didn't use specific floor paint for this project (maybe someday if we paint the stairs as well!)

In the end I was really happy with the results. It may not be the prettiest space in the house, but really only Garrett and I ever see, and it's nice to have it neat and organized.