Earlier this month, my sweet mother-in-law and mother hosted a beautiful Beatrix Potter themed baby shower to help Garrett and I celebrate our little girl on the way. They put together such a special party, full of good food and fun. These two are both going to be grandmothers for the first time, so there is lots of excitement as we all look forward to growing our families.
When I showed up for the shower, I couldn't believe all the little details they'd put into the decorations. Everywhere you looked there were little books, bunnies and signs of spring.
They hosted the shower in a local community centre, which gave us lots of space to have both sides of the family there, as well as some of my dear friends.
For each table, they used real linens with herb pot centrepieces and vintage Beatrix Potter books. They set up little booklets for guests to fill out with tips and words of encouragement for us, as we venture into becoming first time parents.
All along the walls of the hall, they had strung up this beautiful bunting, with phrases from the books…
…and cute little carrots and flowers too.
There were little bunnies tucked into baskets with paper mache vegetables and books, in every corner.
My favourite display had to be this adorable table at the front with all the party favours. Each guest got to take home a fresh potted herb plant and a little box of some of my favourite goodies (Hershey Kisses and Rockets!).
The little scarecrow was made to look like the one from Farmer MacGregor's garden when he gets Peter Rabbit's blue jacket. My mother made the jacket (using this template) and my mother-in-law found the sweetest suede booties.
For a guest book, they had everyone sign the inside cover of this Peter Rabbit Baby Book. I still have the one from when I was little and I love that I'll get to jot down everything for this little girl too.
In keeping with a traditional afternoon shower, there were plenty of refreshments, with real tea cups and a nice punch.
All the food was so delicious! They borrowed my aunts' huge chocolate fountain that is always a hit, with a selection of fruits and goodies for dipping.
My mother-in-law took note of all the fruit displays on her recent trip to Mexico and put together these great trays.
My sister is the master cupcake decorator in the family (just look at the ones she did for my bridal shower two years ago!). As soon as she came home for the shower this weekend, we had her icing cupcakes, ha! My mom baked three flavours – chocolate with buttercream frosting, carrot with cream cheese icing and lemon filled cupcakes (a family favourite).
I love these adorable little Peter Rabbit cupcake picks and the cute carrots made of icing. We always tease my sister that if this whole lawyer thing doesn't work out, she could definitely open a bakery, ha!
On the savoury table there were so many great classic petit sandwiches, cheese and crackers, and veggie trays. We all ate so well!
My sister handpainted these beautiful watercolour signs too.
All the little touches really made the theme come to life. I never knew there were so many things you can find with Beatrix Potter characters until now!
It was so great to have the room full of the lovely women I'm so lucky to have in my life. Everyone had great wishes and tips to pass onto us.
They truly spoiled us with such thoughtful gifts for our little one as well. I feel like we're definitely prepared for our little girl to make her debut!
How cute is this cloth diaper cake my mother put together? It made of 28 cloth diapers, 4 receiving blankets, 4 pairs of mittens, a cloth diaper cover and a sweet little doll (with bunny slippers) on top.
She also had the great idea of bringing some little gifts for all the kids that were coming to the shower, to keep them occupied during all the unwrapping. These little stuffed bunnies were a huge hit with the younger crowd.
I loved getting to have so many of my favourite little ones all in one place. It got me really excited for when our own baby can join the group!
I couldn't get over all the thoughtful gifts my friends and family gave us. A huge thank you to everyone who came and made this day so special.
At the back of the room, they had set up a clothesline to display all adorable outfits we received. It was a great way for everyone to see them!
My sister-in-law gave us this massive teddy bear and right away he was swept off by my friend's sweet little guy. It looks like he made a new buddy 🙂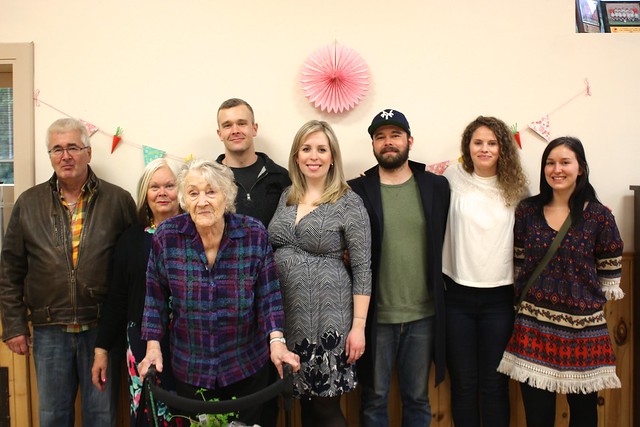 At the end of the day, Garrett, his dad and his brother came by to help load up all the gifts to bring back to the farmhouse. It was a great chance to get one last photo before this family grows. These people have welcomed me into their home with open arms and I just know they're going to make this little girl feel so loved too.
And a big thank you to my own mother and sister for all their hard work in making this day so special.