In this age of instant communication and technology, there is something to be said for getting real mail…besides bills. It's that tangible piece of good news in your hand that gets you eager to open it all the way from the mailbox to your home. Right before Lucy was born, I was talking to my great aunt while she went through a lifetime of cards and pictures she had tucked away safely in her closet. In there she had a small little card with my mother's birth announcement, nestled in beside my own, and it got me thinking about doing some for Lucy as well. Not only is it a great memento for her to look at when she is older, but it's a thoughtful way to celebrate this joyous occasion with our loved ones.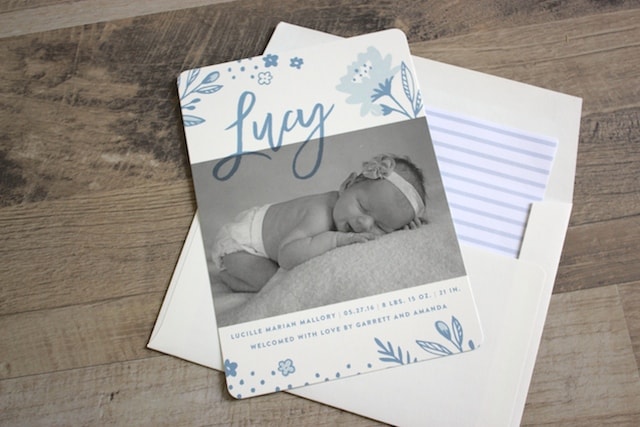 The folks at Minted generously offered to make these beautiful birth announcements to send out. I've used them in the past for our Christmas cards and artwork, and I really love their designs and the quality of the work.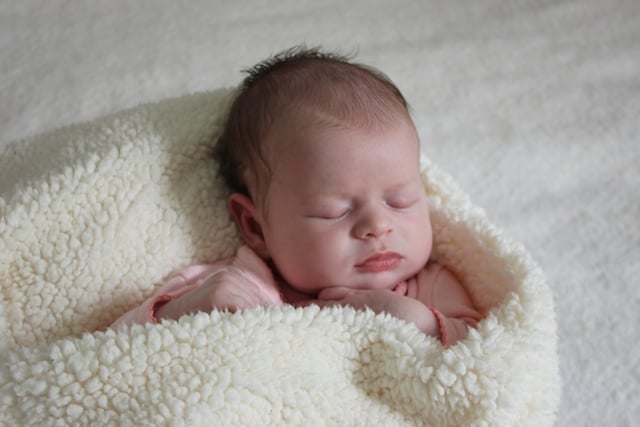 When Lucy was about three weeks old, I attempted to do some newborn photos of her. Although I had a phone full of pictures we'd taken since she was born, I was excited to get out the big camera and capture some shots of this precious time. When I look back at these photos (that were only three months ago!) I can't believe how much she has already changed.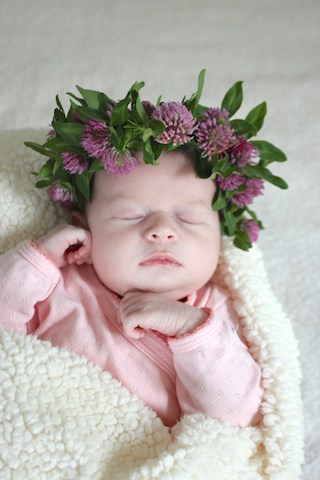 The red clover that grows around our farmhouse is its namesake, so it was fitting that my mom used them to create this beautiful flower crown.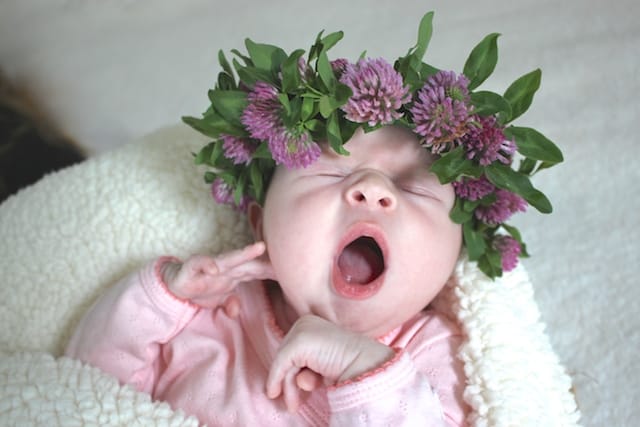 It was so sweet…but still a wee bit too big for her back then. I hope to make another one next spring when the clover is back.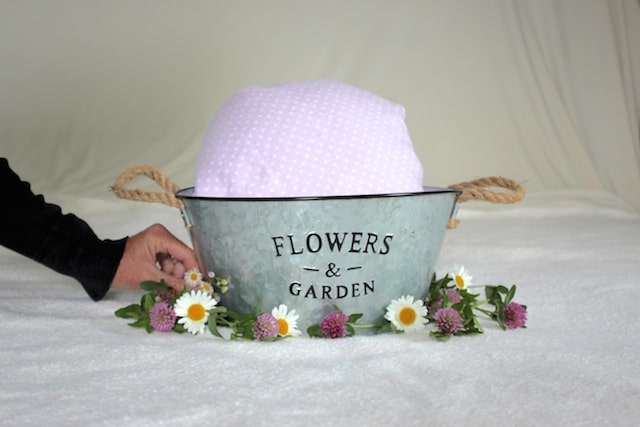 Next up we tried to create a little flower scene – a nod to our new Cloverhill Flowers business at the farmhouse. We picked daisies, asters and red clover from around the property and set up a big soft flannel blanket and pillow in one of our galvanized buckets.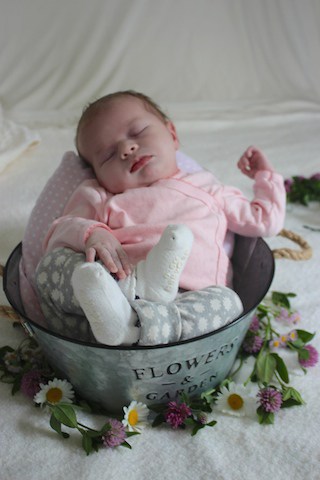 But we quickly learned that my long legged babe wasn't going to fit!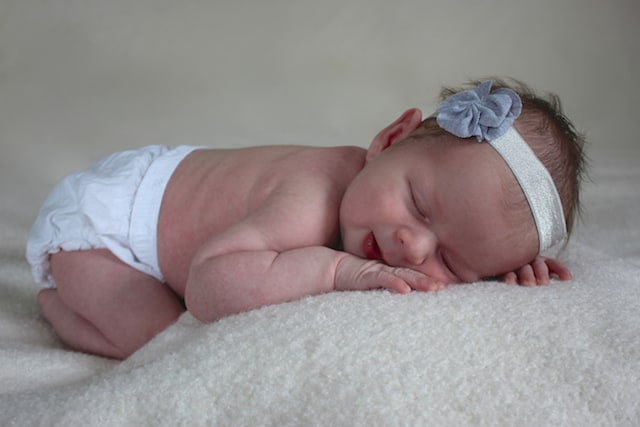 In the end, I fell in love with this simple shot of Lucy on a fuzzy blanket with the sweetest little smile.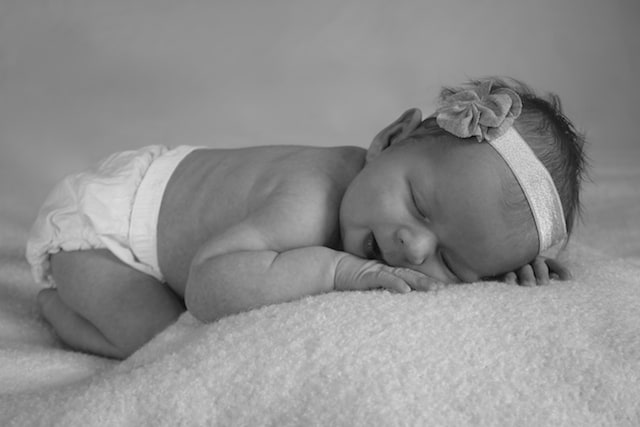 When I loaded it up onto Minted, I realized I could change it to black and white using some of their online photo editing features. I love how it catches those dark tufts of hair before it started to change to the strawberry blonde it is now.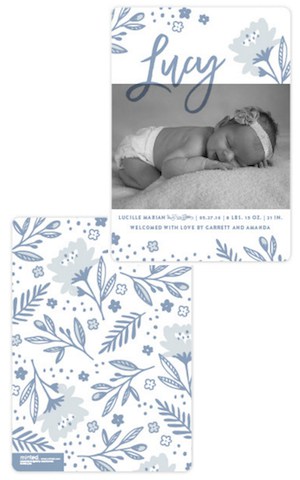 Then there was the truly difficult part – narrowing down to just one design for the birth announcements! Minted has over 600+ designs to choose from, including foil pressed, letterpress, and multiple photo options. I went with this cute "Little Bud" design because it let me share her nickname at the top and her more formal name at the bottom. I loved the detailed flower pattern on the back as well.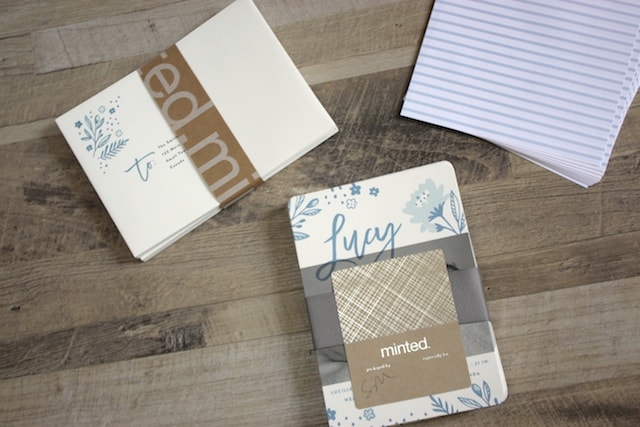 I was so excited when the package arrived in the mail! The birth announcements, addressed envelopes and envelope liners were all nicely bundled up and ready to be assembled.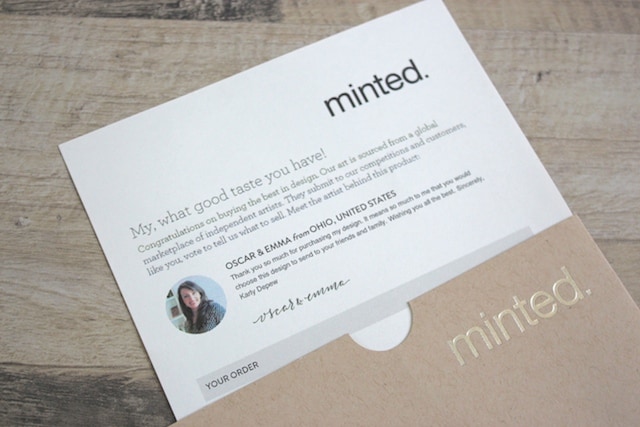 I also love how Minted includes a bio of the artist in your order. This design was created by Karly of Oscar & Emma from Columbus, Ohio.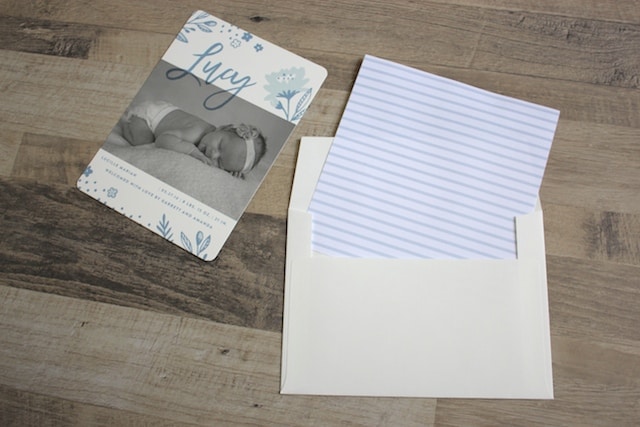 Once everything arrived it was just a matter of putting the cute blue striped envelope liners into the envelopes, tucking the announcements inside and adding a stamp!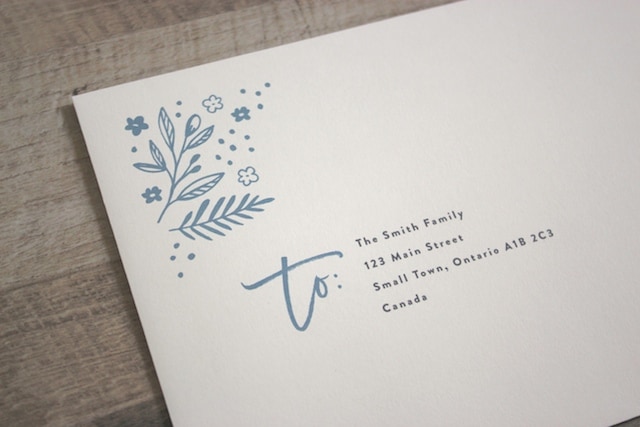 It's a miracle that I got these announcements out at all with a busy little baby, so I'm incredibly thankful that Minted offers to address your envelopes for you and add your return address to the back. I chose this cute pattern that matches the birth announcement design.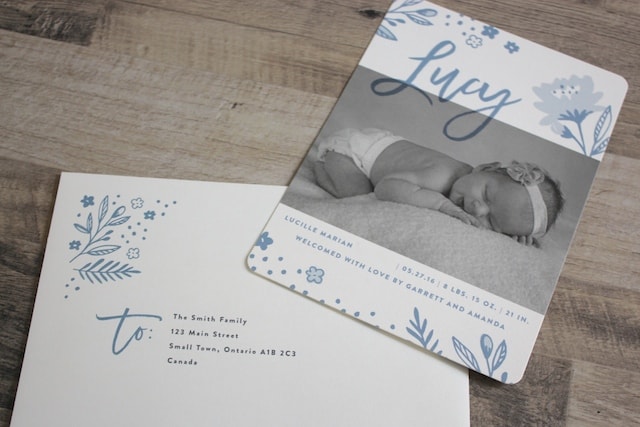 I am so excited for our family and friends to open up these little cards and see this beautiful keepsake.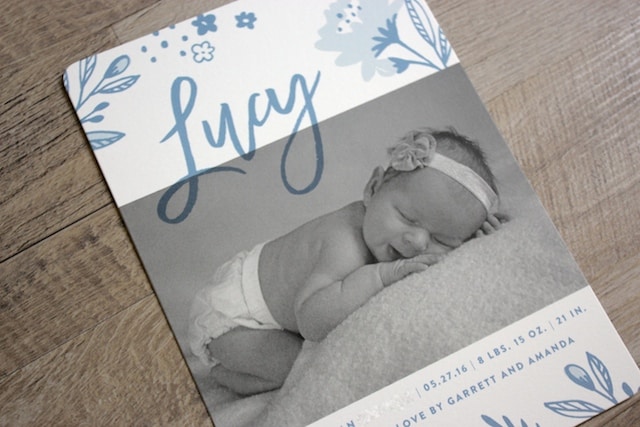 I've added one to Lucy's baby book already and am thinking about having another one framed for her nursery.
Disclaimer: Minted provided me with these beautiful birth announcements but all opinions are my own. I love everything we've ever had from them and am happy to recommend their great products!