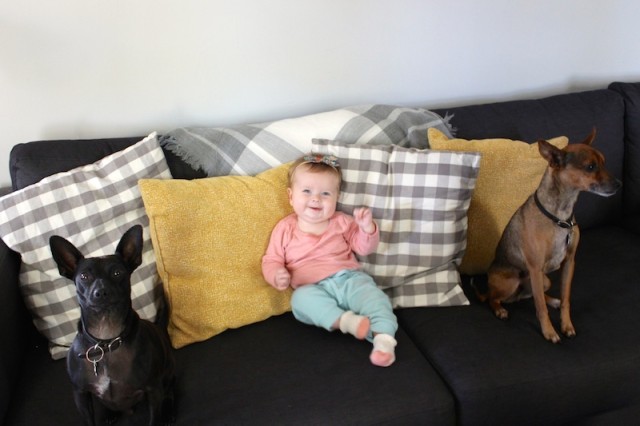 We had the best Thanksgiving weekend. It was full of family, food, flowers and beautiful fall weather – what more could we ask for! It was Lucy's first big family holiday and although she may not remember it, I know I will! 🙂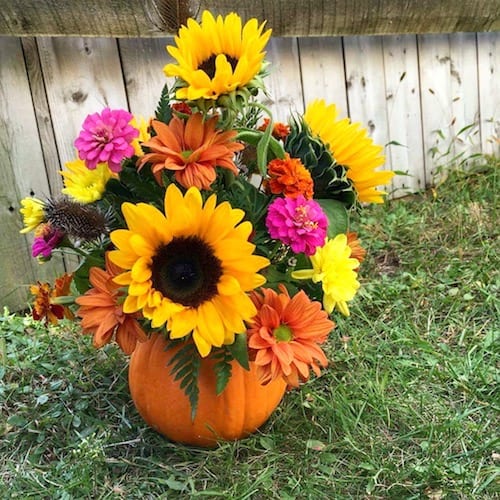 The weekend started off with making 50 Cloverhill Flowers pumpkin arrangements. My mom (and business partner) has made these for our own Thanksgiving table and as hostess gifts for as long as I can remember, but last year we started selling them as well.  (Psst – there is a tutorial here on how to make your own)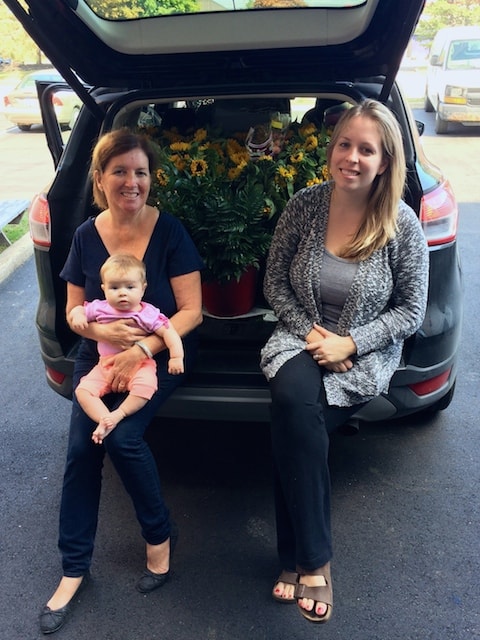 On Wednesday morning, we drove to Mississauga to pick up sunflowers, daisy mums, carnations and greenery. It filled up the car!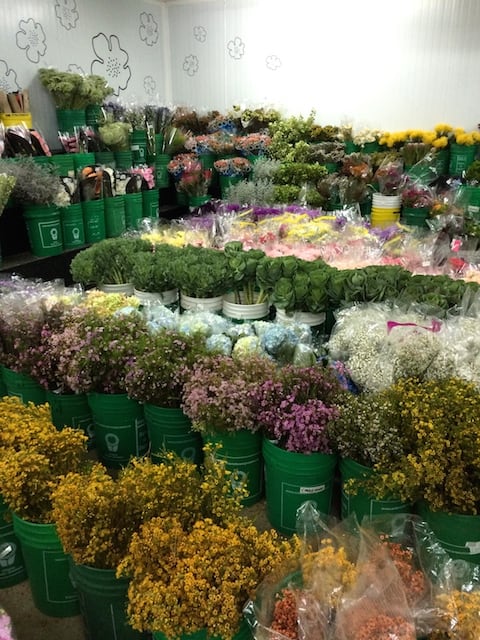 For large orders like this where we can't grow all the flowers ourselves, we go to Can Mex. They're the same wholesale supplier we used for my wedding flowers.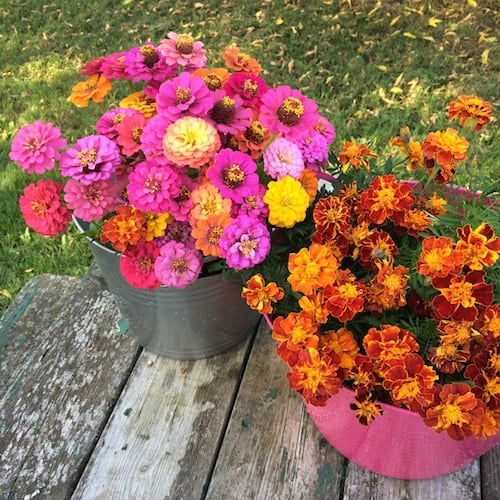 We usually get frost early in October, but thankfully this year it held off until after Thanksgiving, so we still had plenty of our own colourful zinnias and marigolds to add to the arrangements.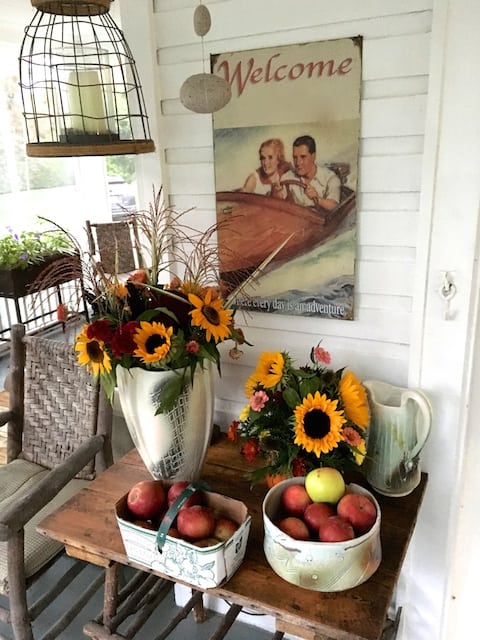 After three days of flowers, it was nice to be done and focus on family time. Our first (of three) Thanksgiving dinners was at my aunt and uncle's cottage.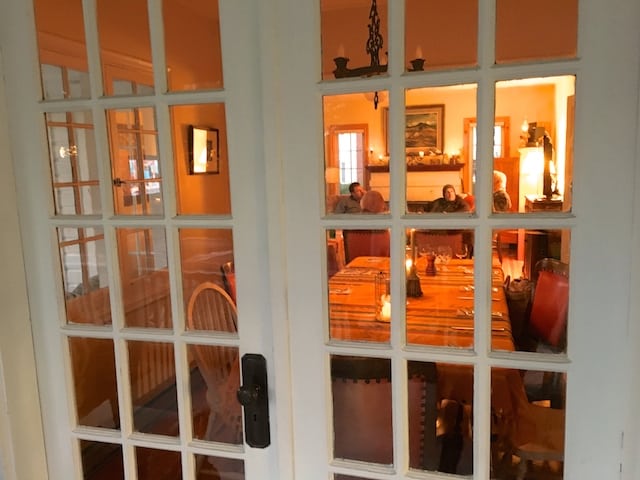 It's one of my favourite places to celebrate Thanksgiving – there is usual a nip in the air coming off the lake, they get a nice fire going in the living room and we all pile in there while the smell of the turkey roasting wafts through the cottage.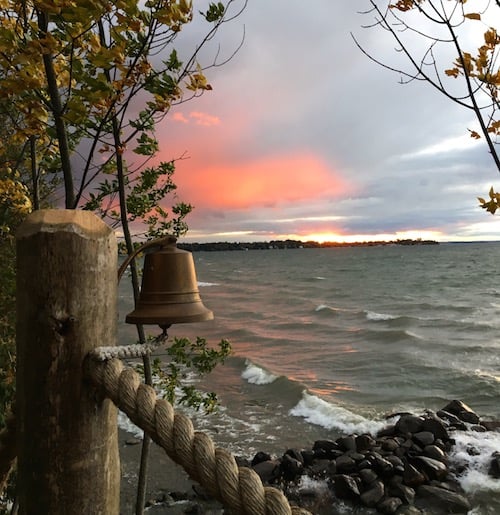 Before dinner, Garrett and I bundled up Lucy to take her for a walk down to the lake and catch the beautiful October sunset over the water.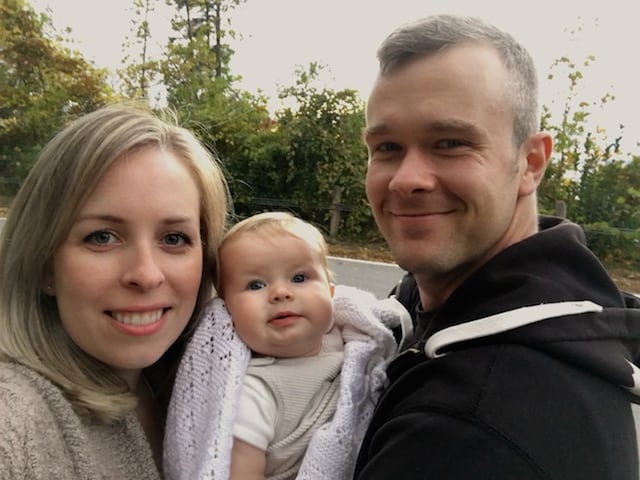 Our little cutie is getting so big! It's hard to believe she is already four and a half months.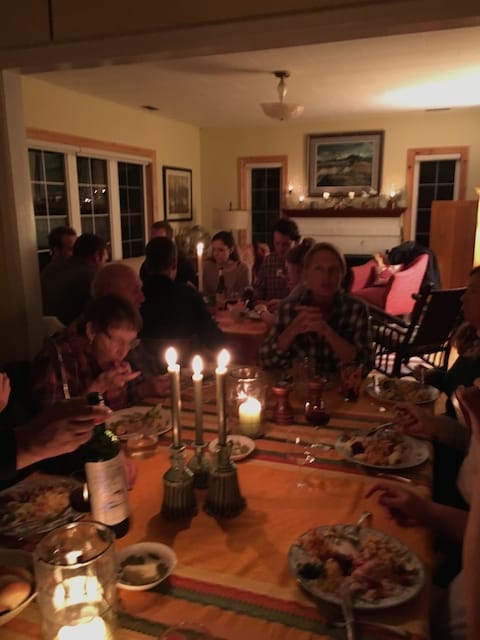 This same weekend last year, we sat around this table while Garrett and I announced that we'd be having a baby.
Now a year later she is sitting up at the table with us!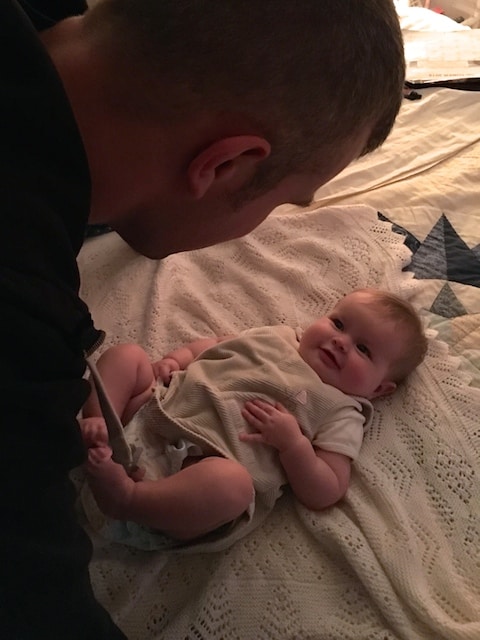 Despite us keeping her up past her bedtime, she was a happy jolly baby…especially when we'd sneak away for a feeding or to change her diaper, and we could hear the hum of the party downstairs.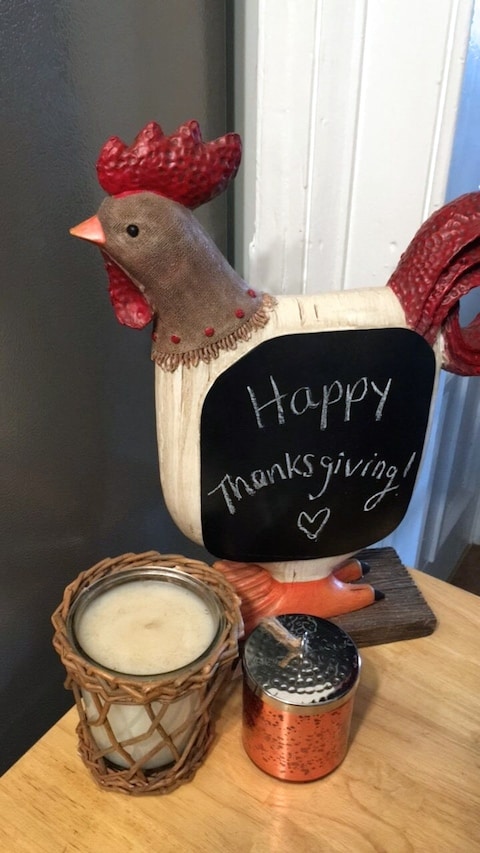 On Sunday we woke up early to get working on our Thanksgiving dinner with Garrett's side of the family. This was our very first attempt at a real holiday dinner with family and it went surprisingly well! I guess all those years of helping my mom and great aunt in the kitchen paid off! I consulted with them many times in the week leading up and all their tips and suggestions on what to do were running around my head, so in a way they were in that kitchen with me too. (And at one point my mom was…when I called her to come out to the farmhouse and help me arrange some flowers that I was struggling with!)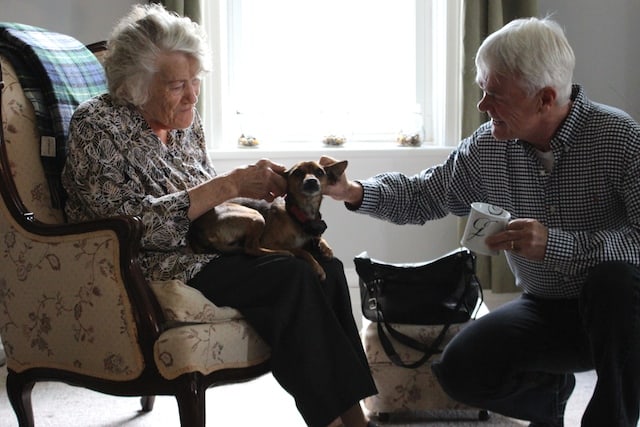 The dogs were just as excited as we were to have company over. So much attention for two little pooches!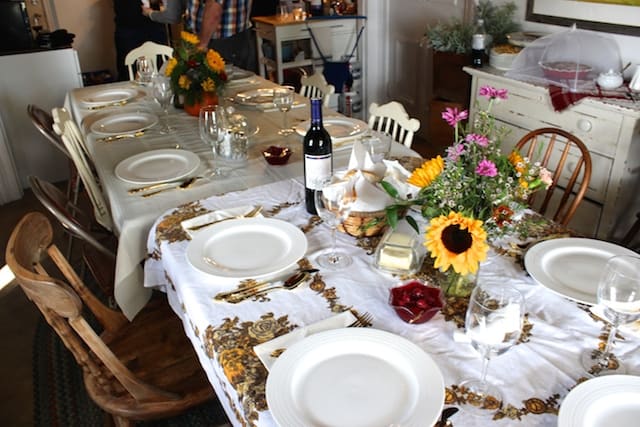 We were able to fit all twelve people around two tables in our dining room so we could eat together. We brought up a bottle of red wine from the cellar that we'd saved from our wedding day to celebrate the occasion.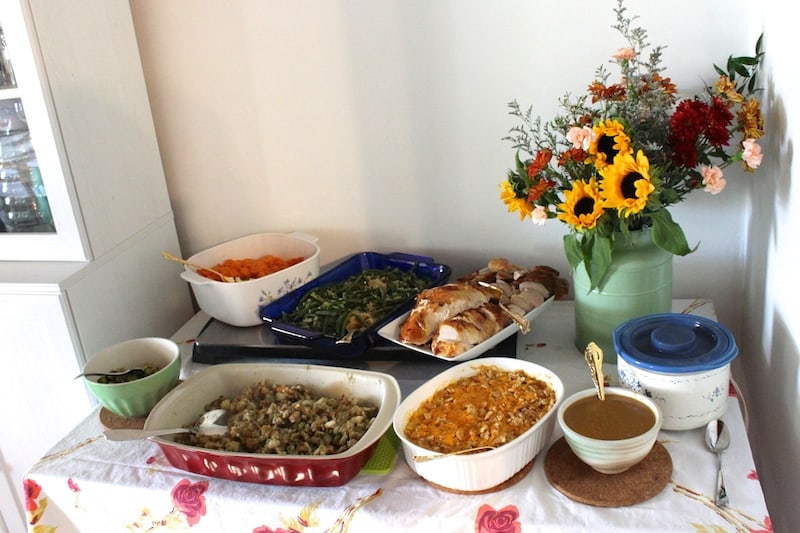 I made some of my favourite recipes from my family's holiday dinners – Bacon Wrapped Turkey with homemade gravy, Vegetarian Stuffing, Macaroni and Cheese and Homemade Cranberry Sauce. All our guests brought delicious side dishes too – carrots, green beans, brussel sprouts, beets, roasted potatoes, mashed potatoes, vegetarian gravy and warm rolls. We ate very well!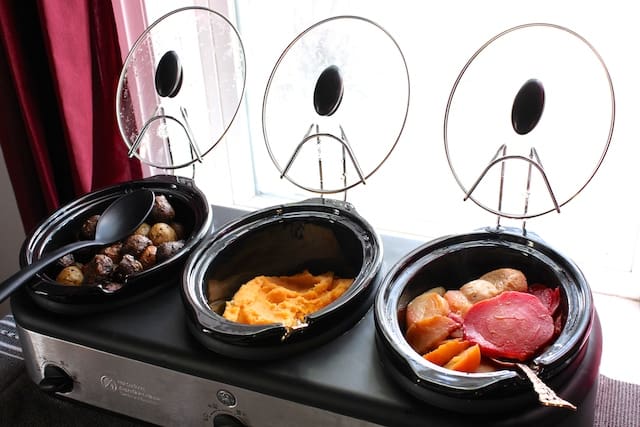 I borrowed my parents' warming tray and triple slow cooker, which were great at keeping the dishes warm while we worked to get everything ready for the meal. They are the best tools for some of my favourite Holiday Dinner Slow Cooker Shortcuts.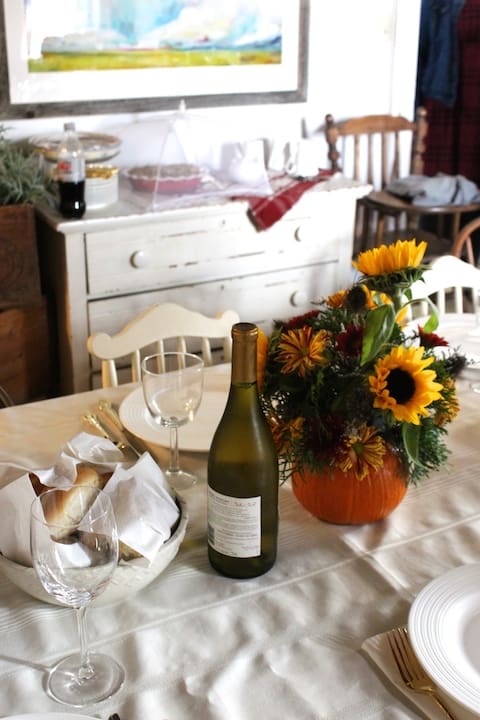 For dessert my mom and I had traded tasks. I made a Dutch Apple Pie for each of the meals and she made Pumpkin Pies from Scratch. It saved us from both having to make each one!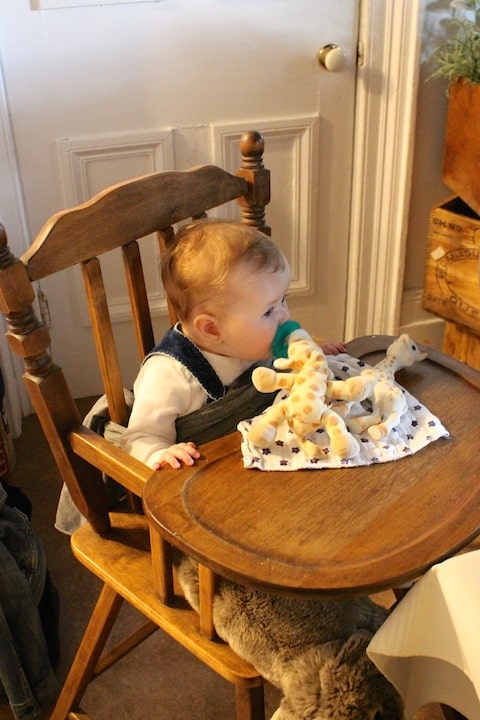 We let Lucy sit up at the table in her vintage highchair for the very first time (propped up with stuffed toys) and she loved it. However, we very quickly figured out that she not only wanted to sit at the table, she wanted to eat there too. She's been a bit food obsessed lately, especially since we started her on solids a couple of weeks ago, so I made her a little bowl of rice cereal that she happily gobbled up like the rest of us. It may not have been the most exciting Thanksgiving dish but she was happy!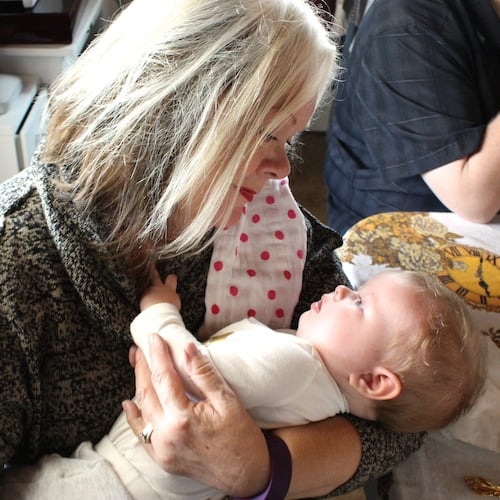 One of the great things about having a house full of family around – there is always someone who is happy to hold the baby while we get things done.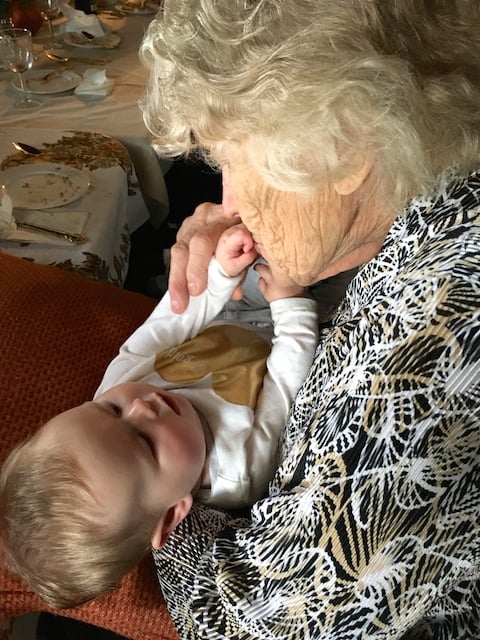 There was lots of cooing, singing and finger/toe nibbling going on.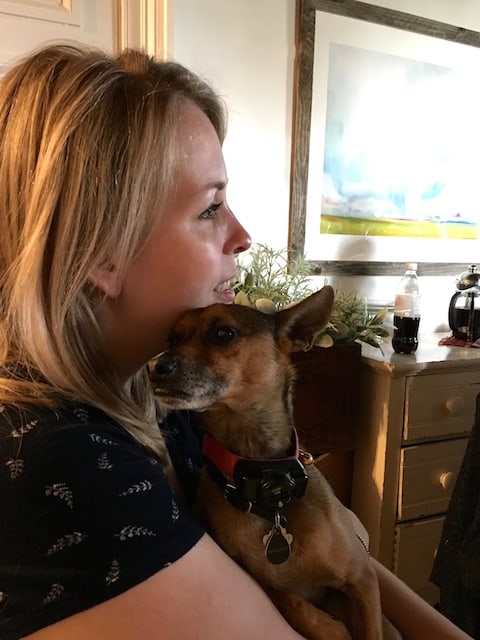 And with my lap freed up, Whiskey was happy to take up the occupancy for a little post-dinner cuddle.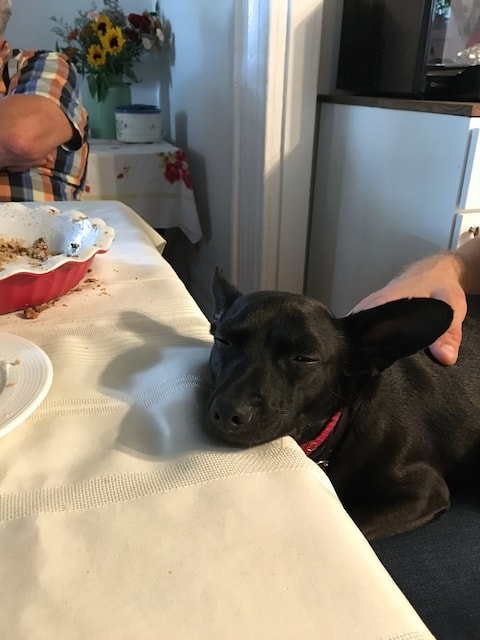 While Cola commandered Garrett's nap for a snooze at the table after dessert.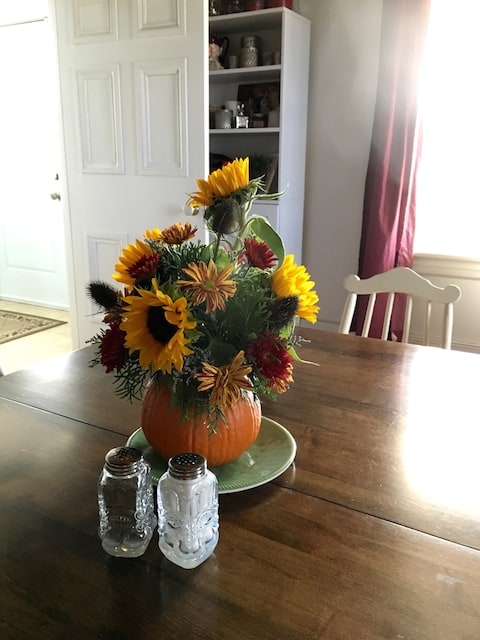 The next day we woke up to a clean house – one of the perks of having company over!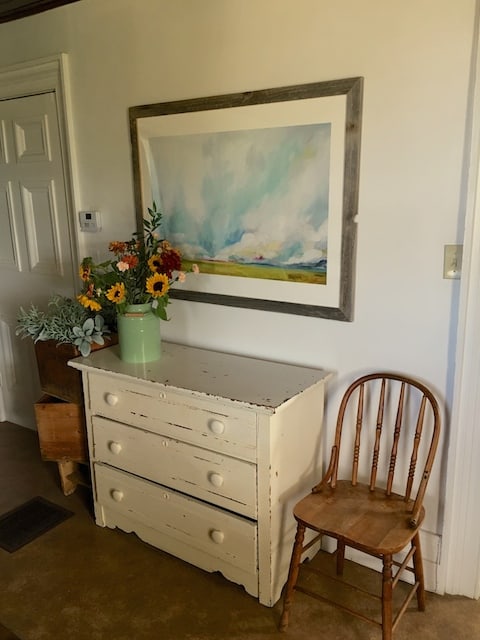 Whenever we have company over, we do a big clean up and thankfully the house usually stays clean for a little while after that.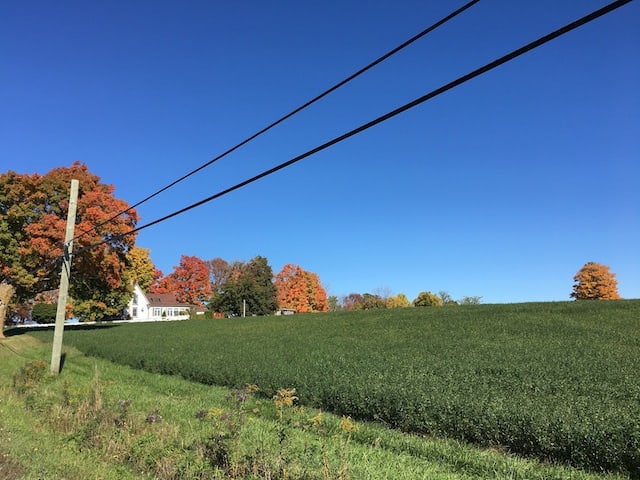 Thanksgiving Monday was such a beautiful fall day that we couldn't pass up going for a drive around the country to look at the brightly coloured leaves.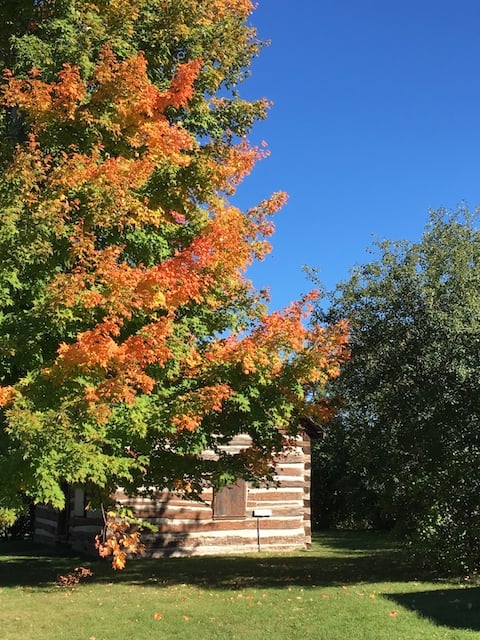 We loaded up Lucy and the dogs to head out on a hike by the lake.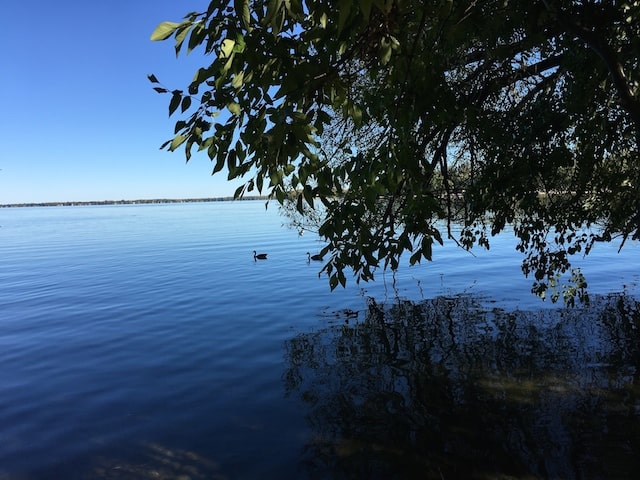 It was so peaceful and serene, with the sun out and only the slightest chill in the air.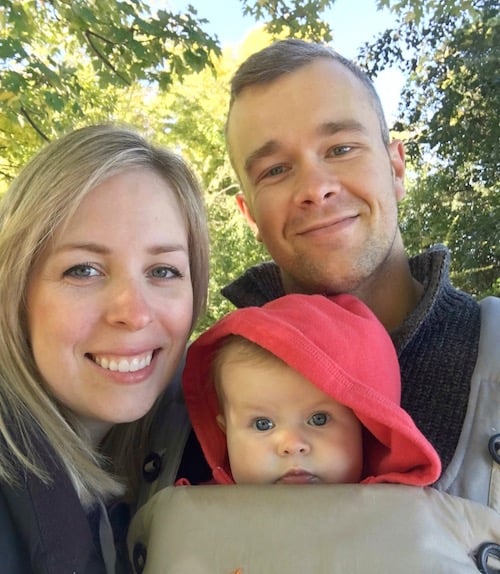 It was the first time we've taken Lucy in her Ergo 360 Carrier for a hike and she loved being able to look out and see the world. I can definitely see us using this more often now that she is older.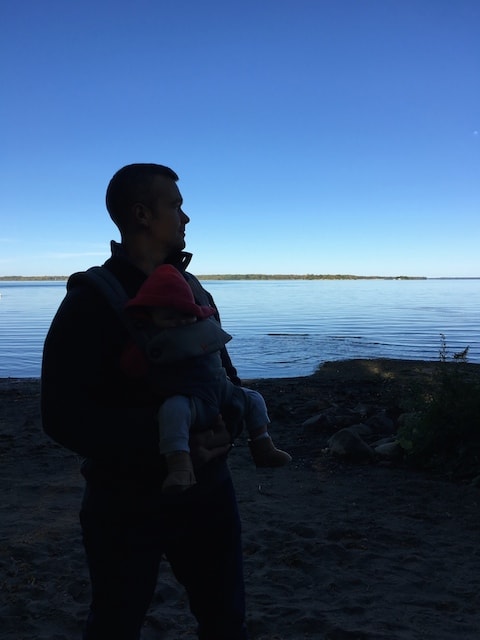 It was the perfect Thanksgiving weekend and as I crawled into bed on Monday night I felt so thankful for this life…and especially for these two. This was not only Lucy's first Thanksgiving, but our first one as a family and I look forward to many many more together.
Disclaimer – This post contains affiliate links, which means if you click on the link and purchase something, I receive a small commission, but the price is the same for you. This helps support this website and my family. Thank you!