We just got back from Florida late Saturday night and it's been nice to take the time to unpack and settle back into our routine (if you can even call it a "routine" with a six month old). Lucy and I headed down to my parents' house in Southwest Florida in early November and Garrett joined us a couple of weeks later for our own little family vacation. I've never been away on vacation that long but it seemed like the right time to do it being on maternity leave this year and with Lucy still at a good age to travel.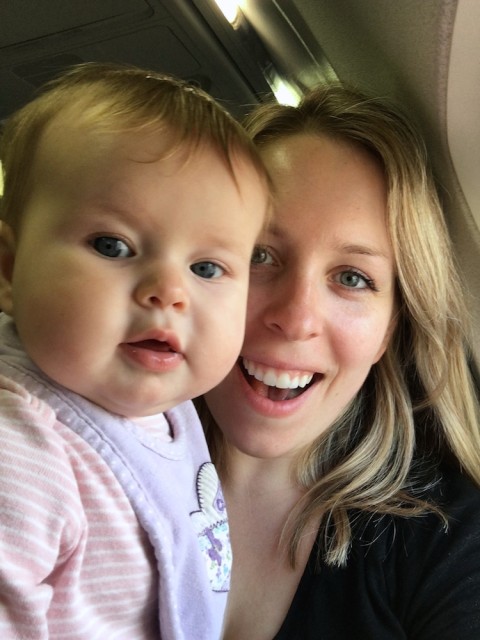 On the way there, I flew alone with her and was prepared for the worst, but thankfully she was really great throughout the whole flight. She even slept for part of it and I was able to read a magazine and watch part of a movie. Score! (Although the flight back with Garrett was a different story. More on that at the end).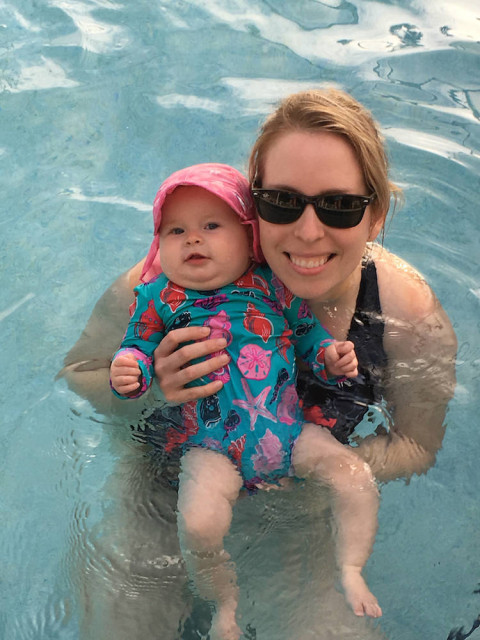 If you were to ask Lucy, I bet she'd say the highlight of our trip was swimming in my parents' pool almost every day. We've had Lucy in the water since she was three weeks old and I've been taking her to our public pool all fall. She very comfortable with water, and loves to "jump" off the side, kick on her back and go underwater. Within our first day of getting there, my dad taught her how to splash the water with her hands and that was a HUGE hit throughout the trip. Everyone was completely drenched after taking a turn holding her. (I seriously regretted not bringing waterproof mascara #pandaeyes)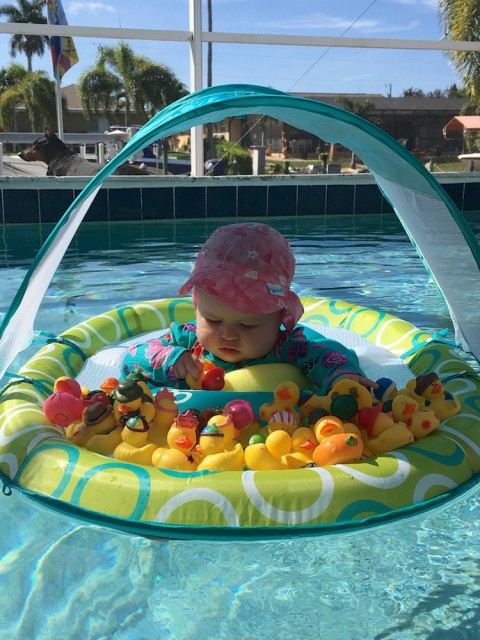 Lucy fell in love with my dad's rubber duck collection. He used to get one every time he stayed at this hotel he'd go to for work and he's kept them all. We dumped them all in the pool one day and she was fascinated. (This pool floatie was great too. She could float around under the canopy, and it gave my arms a break too)
We also went to the beach a few times, to walk along the shore and fish with my dad on the pier. I was able to find a barely used jogging stroller for sale that had big tires that were perfect for walking along the beach. It was a nice way to get in some exercise and enjoy the warm weather.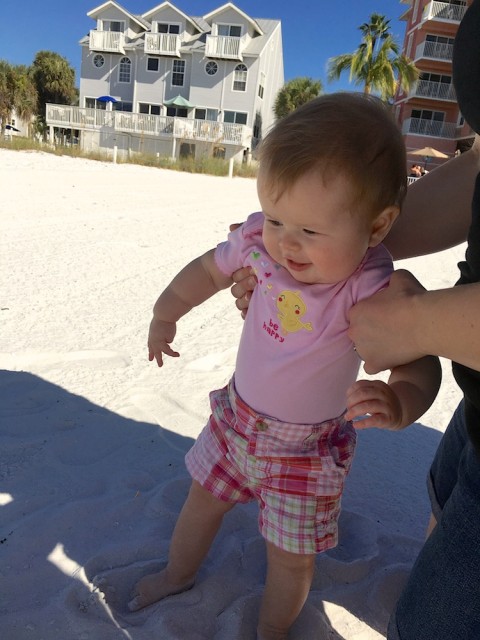 Lucy absolutely loved the beach, especially kicking the soft sand. I can see us spending lots of time playing here when she gets older.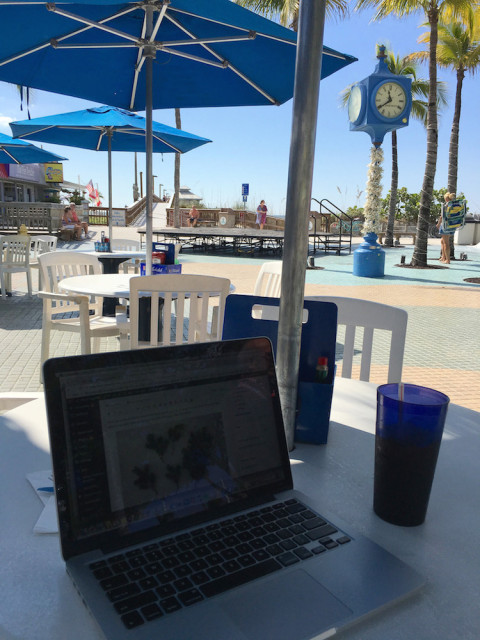 Leading up to the holidays is always the busiest time of year for bloggers and as much as I tried to do most of my writing before I left Canada, there were still times that I needed to work on the trip. Although I can't complain when this was my "office" one day!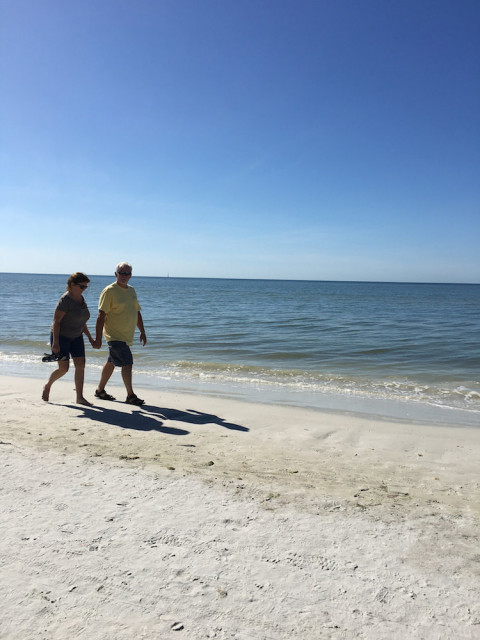 All the sand and sun was great, but the best part of being in Florida was spending time with my parents. My dad recently retired and my mom has had a busy fall, so this was the first chance I've had to just hang out with them in a long time.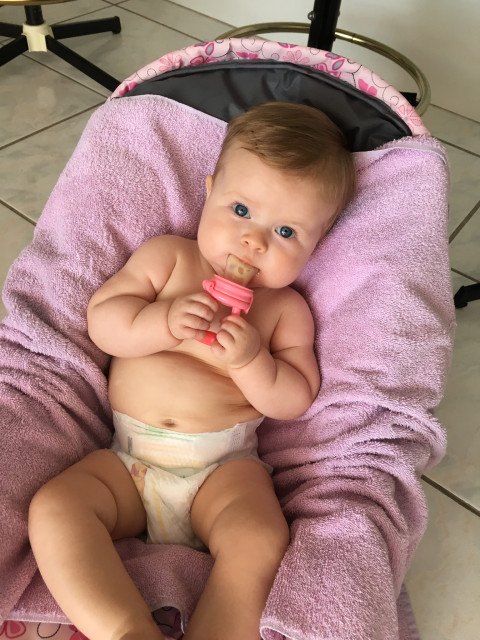 I was also so thankful to have them around because within 24 hours of landing, Lucy started cutting her first tooth and then a few days later her second one. Combine that with daylight saving and sleeping in a strange place – needless to say, we didn't get much sleep that first week. They were so great about taking Lucy in the mornings so I could go back to sleep for a couple hours after those particularly exhausting nights. I had packed her favourite teething ring, a silicone feeder (to put frozen puree in) and baby tylenol just in case and I'm so glad that I did. It was a really rough week and I was glad to have all the help!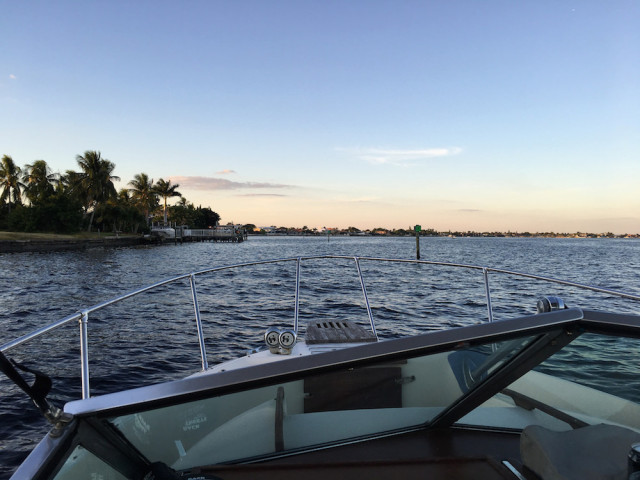 Even though teething did put a damper on that first week, we still managed to have lots of fun. I particularly loved going out for evening boat rides along the river and canals.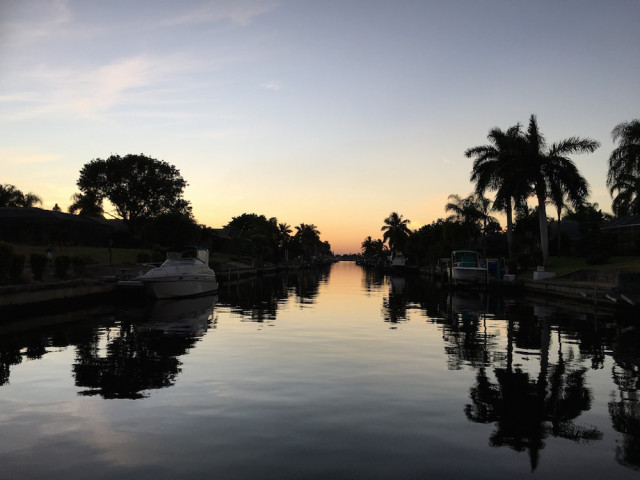 I can never get enough of those Florida sunsets.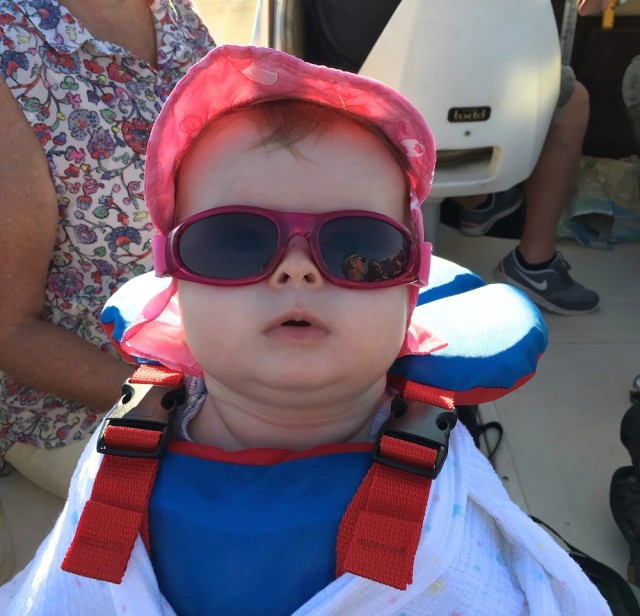 Just like in the summer, Lucy was quite happy to be on grandpa's boat. My coworker gave her these sunglasses and they finally fit, so I brought them along on the trip. Lucy LOVED them. We couldn't stop laughing at her looking at everything through them. It's so bright down there that she was always squinting, but with the sunglasses she could see everything. Plus they're super cute.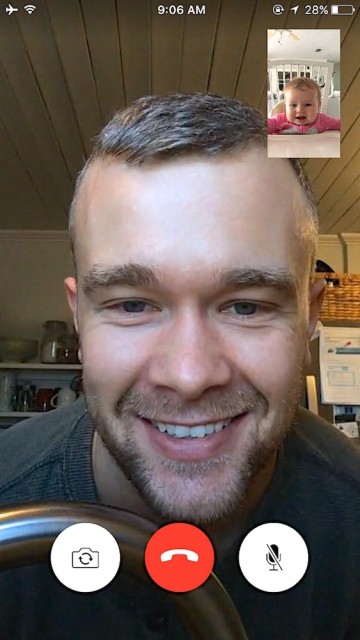 Meanwhile, Garrett was back in Canada hanging out with the dogs and chickens. We did video chats every day and my heart burst every time I saw how excited Lucy was to see her daddy. She was already asleep on the night he flew in, but when she woke up for a middle of the night feeding, she did a complete double take when she heard his voice. She kept looking from me to him and back again, as if she couldn't believe he was there.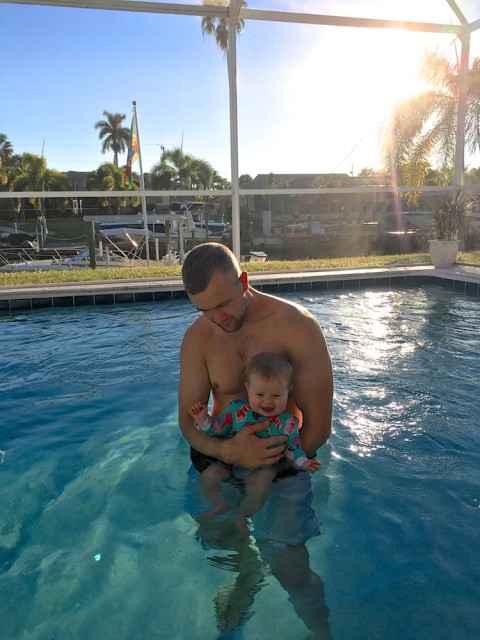 There was lots of swimming the next day and showing Garrett how good her swimming was getting.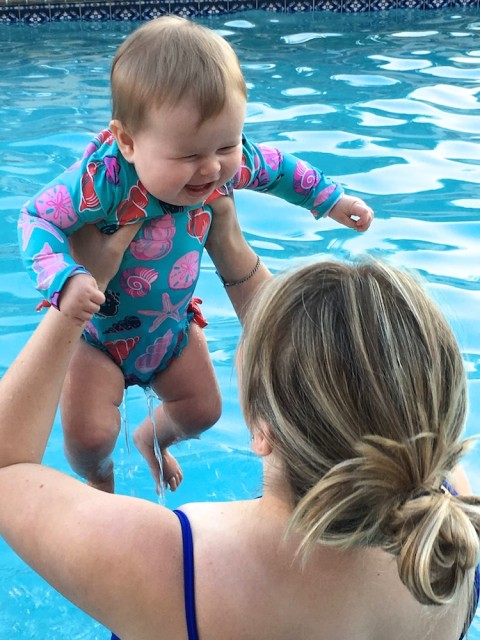 Even on her grumpiest days, a swim would change things around.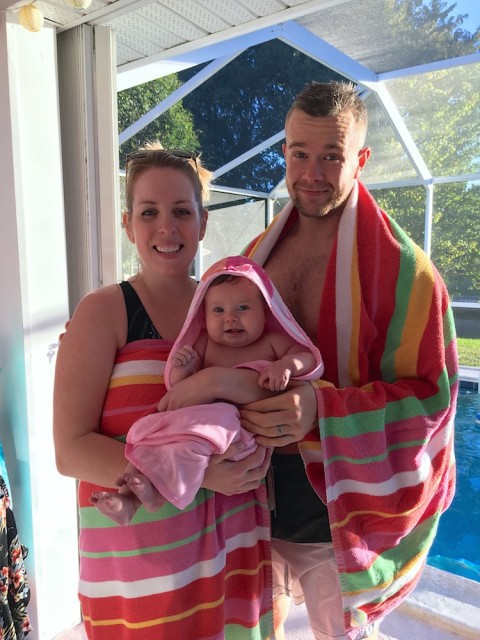 And I was happy to have our little family back together again.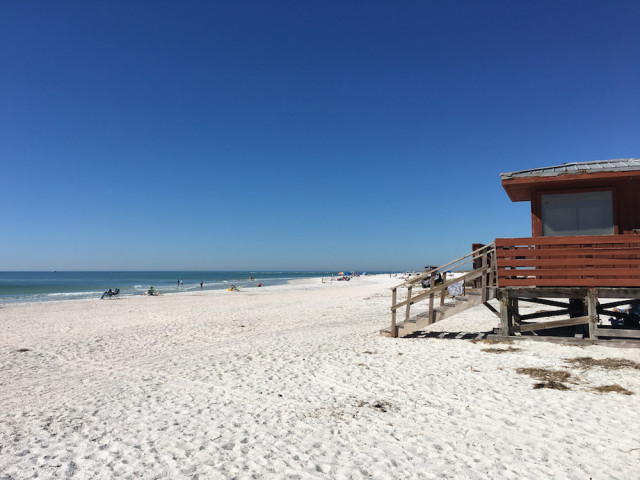 We took a little side trip, driving up to the Sarasota area for a few days. We spent some time checking out the attractions in town and lots of time at the beach in Lido Key and Siesta Key too.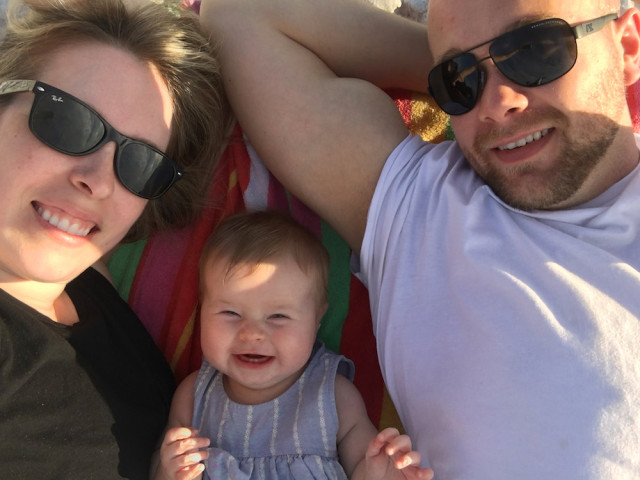 Our happy little beach baby 🙂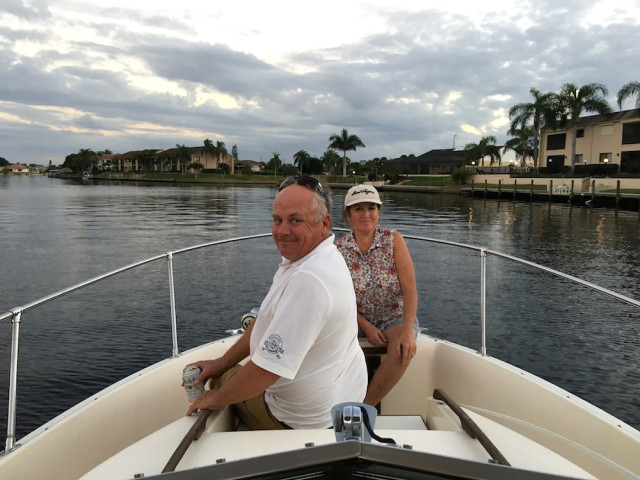 We got back to my parents just in time to celebrate the American Thanksgiving dinner. My aunt and uncle came into town for the last few days we were there and it was really nice to get to spend time with them too. My mom and uncle are so close and I hope that I can have that kind of life long friendship with my own siblings.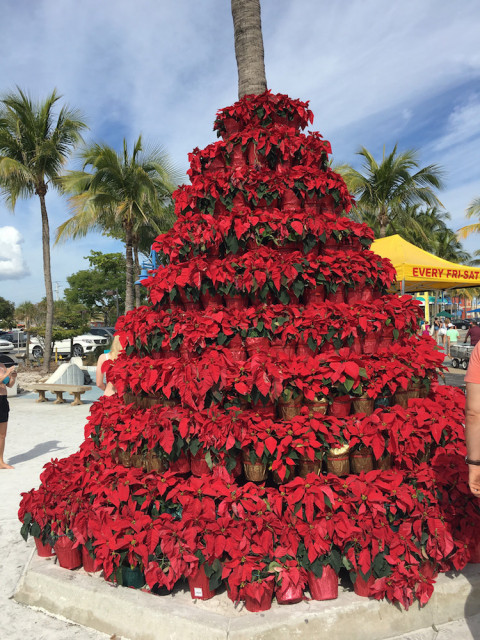 Being in the Florida around Thanksgiving was really fun. We watched the Macy's Thanksgiving Parade, went for a swim and had a big dinner with family and friends. There was some Black Friday shopping too and then our last trip to the beach, just in time to see the poinsettas being set up all around the palm tree.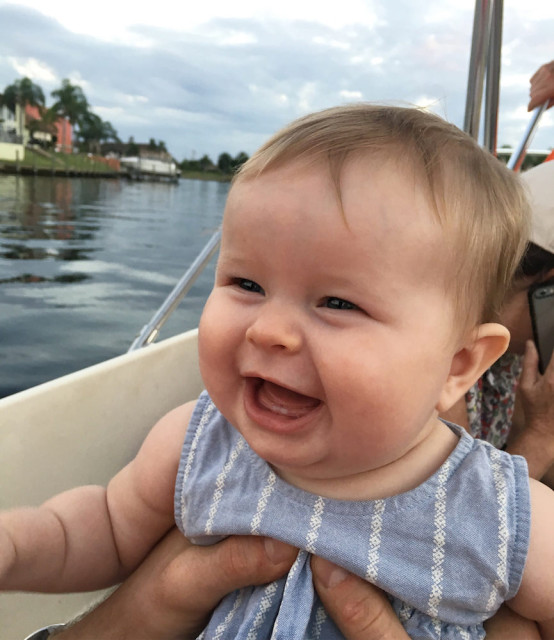 I'm so glad we took the time to have this trip. It was good to get away from regular life for a bit and have some fun in the sun. Our trip home was a little
Our trip home was a little rough though. We flew out of Florida at 8:30pm in hopes that Lucy would fall asleep on take off and sleep through most of the flight home. Nope. The plane kept coming in and out of the clouds the whole time, making our ears pop constantly, so I can just imagine how she was feeling. She wouldn't nurse, wouldn't sleep, wouldn't take a soother. In the end, Garrett had to bounce her up and down the aisle. She finally fell asleep in the last half hour before we landed…only to be woken up again to get off the plane. Poor baby…and poor fellow passengers. I now have a new sympathy for all those parents I've heard with babies on planes before – it's not easy!
Now that we're back home in our big cozy sweaters again, I'm in full Christmas mode now. I've been decking the halls, wrapping gifts from our trip and playing all my favourite Chirstmas songs for Lucy. Vacations are great, but being home is great too 🙂