When we first decided to take on renovating our downstairs powder room, we had no idea what we'd find behind the walls of our 1903 century home, Cloverhill. I shared my Farmhouse Powder Room Makeover Mood Board earlier this month, but even then we really had our fingers crossed about what we'd find once we started pulling down drywall and ripping up the flooring. We still have lots of work to do but I thought I'd pop in today with a little update on how the demo has been going.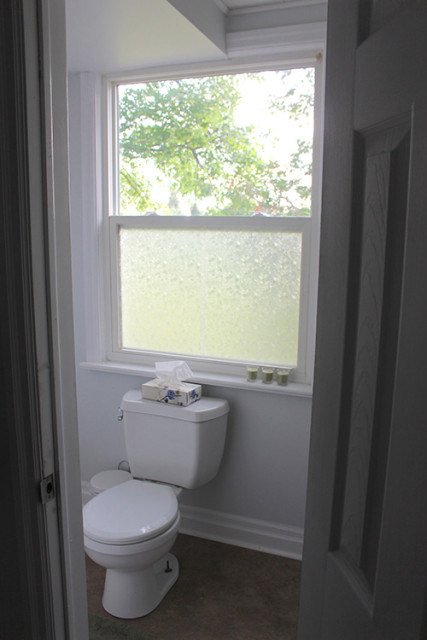 At first glance I'm sure you'd wonder why we decided to do anything to this room to begin with. It had a functioning toilet and sink, but the layout was so tight. The walls were a patchwork of repairs, with the drywall sinking in at some places and popping out in others.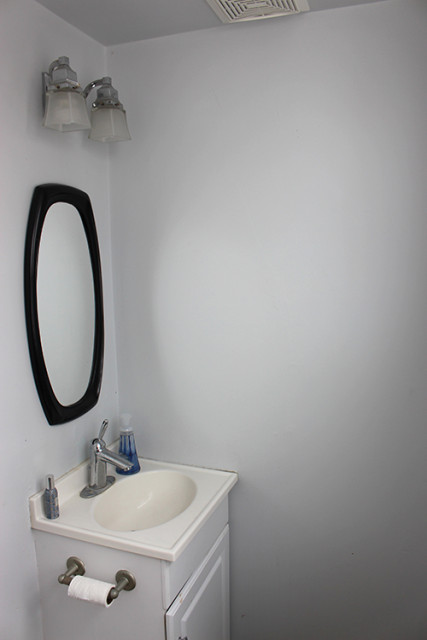 When you go in the room, the toilet is straight ahead of you under the window, and then to the left is this vanity. What you can't see in this picture is that under that sink, the cabinet was almost half full of spray foam. It made it completely useless for any storage.)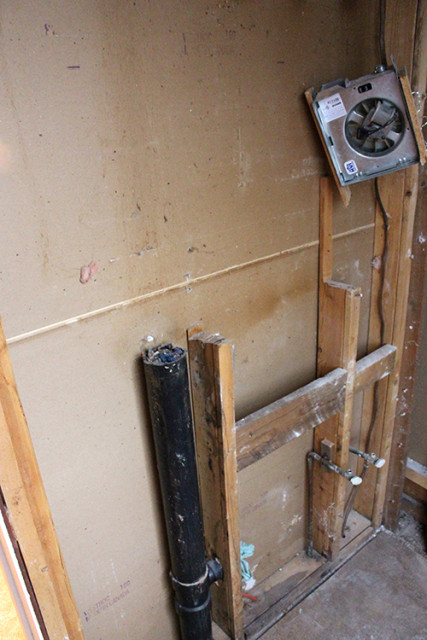 When we tore out the vanity and brought down the wall, we could see that there was a window cut out in this wall at one point, leading into the kitchen area. That pipe on the left was cut in two places, meaning it was completely useless. Our plumber believes it was a pipe from when there was possibly a bathroom once in what is now our bedroom.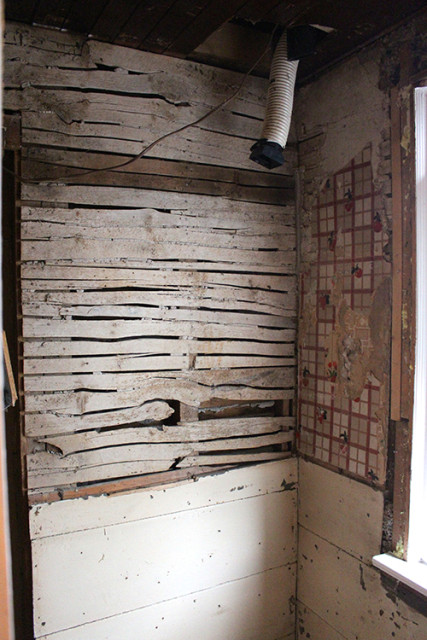 On the wall right beside the powder room, we pulled down two layers of drywall and another sheet of faux tile until we found the original wall. It has 1″ thick and 12-18″ tall shiplap boards on the bottom half and very rough lathe and plaster on the top. I loved being able to peek into the walls and see the old wood structures that hold up the house. To the right you can see some of the many layers of wallpaper we uncovered.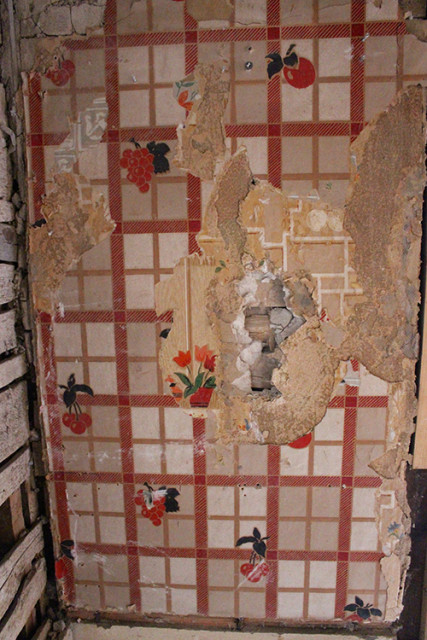 Once we started to get into the last few layers of drywall and wallpaper, we started to find some great vintage patterns. I showed this to my great aunt and she said it reminded her of wallpaper from the 1940s, which means that the wallpaper we saw peeking out through that could be even older.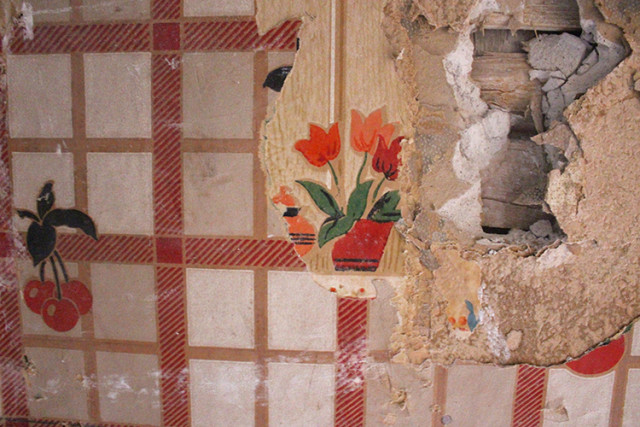 I was so tickled when I saw the little tulips peeking through! It felt like such a nice nod to our Cloverhill Flowers.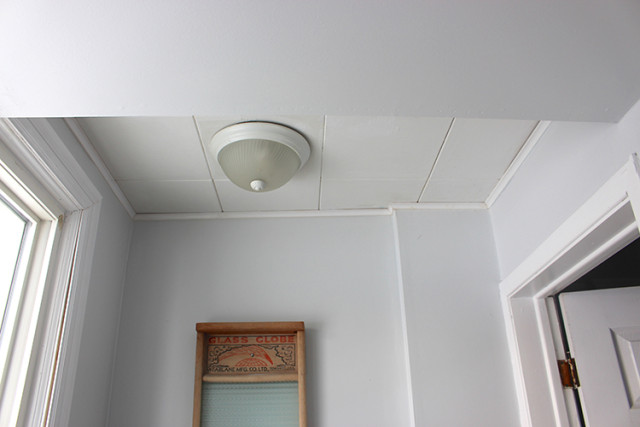 When we originally planned on updating this space, we had hoped to just drywall over this tile and connect it to the dropped drywall ceiling bulkhead you see in the forefront. Then we found out about that cut off black pipe that was sticking out in the wall (a few pictures up) and realized that half of that bulkhead was holding that dead end pipe and the other half was for the exhaust fan. So we decided to pull it down and see what we're dealing with up there.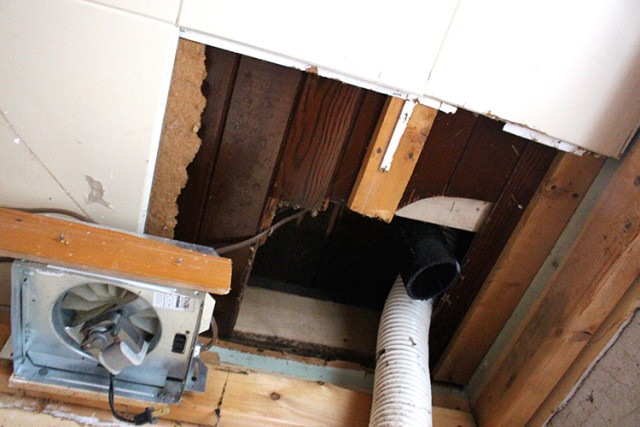 As Garrett was pulling this all down, he excitedly called me in to see what he'd found under the tiles – the original tongue and groove ceiling!
(I should really point out that 95% of this demo work has been Garrett. He is awesome for rolling with my crazy ideas, ha! I've kept Lucy happy, handled logistics and made the meals while he uses his brute strength to bring this room back to basics. When we get into the painting and the finishing work, I'm sure we'll be switching places then.)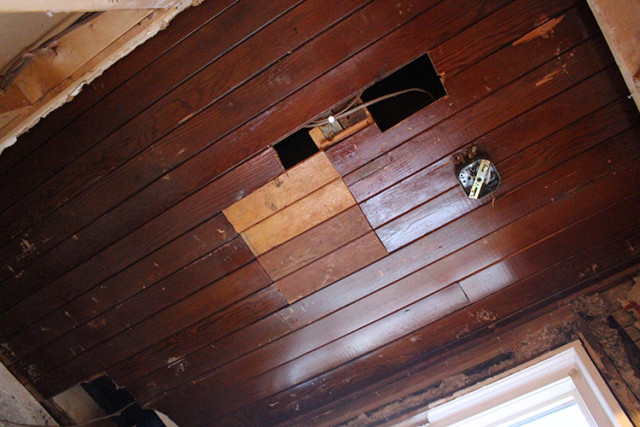 After pulling out a million nails and staples, he got it all exposed. It's the same thing we have in our dining room and kitchen. We're planning to paint it like in the kitchen and make it match the new trim we're putting in. We have a few repairs to make and some new electrical to run, but overall, it's a super exciting surprise. I love that we'll get to restore a long forgotten piece of this space.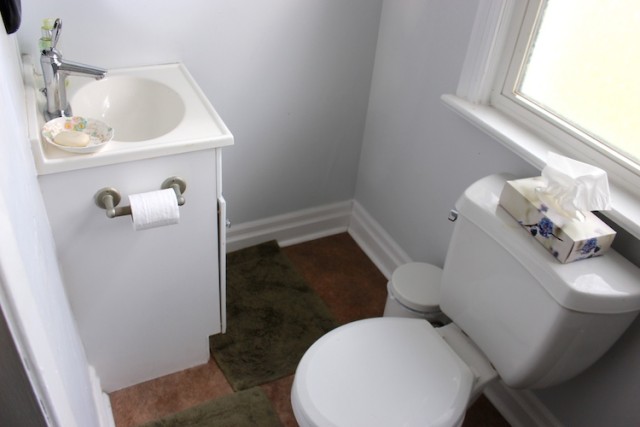 You can see here just how cramped the layout was. The toilet will be moving to the right of where the vanity was on that far wall, and the new vanity will be on the opposite wall. This means rearranging the plumbing from the basement and laying down new flooring.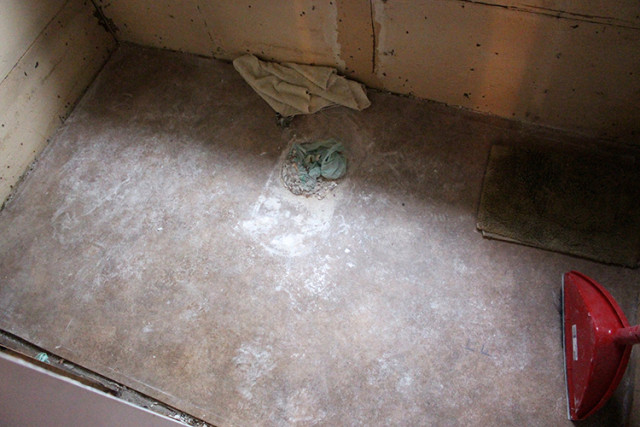 We'd hoped it was just one piece of vinyl to lift up…but we quickly realized it was many layers of vinyl glued to particle board and plywood. As layer upon layer was brought up, we were soon back to the original wooden floorboards.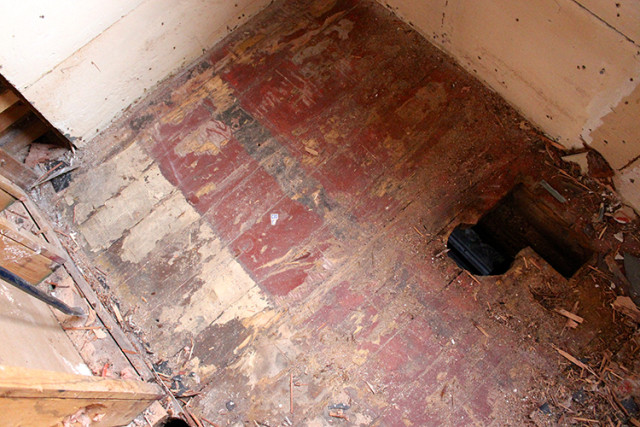 While I would love to restore these, there have been too many holes and patches over the years, making it much more practical to add a new subfloor and lay down fresh vinyl. Although the floor was not without a few final surprises…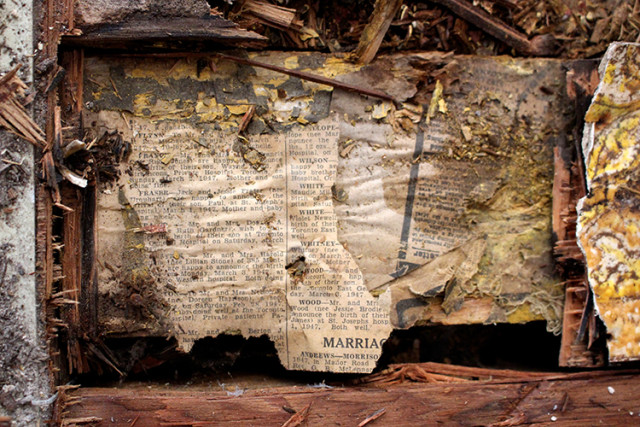 On one piece of wood to repair a hole, we found birth and marriage announcements from 1947.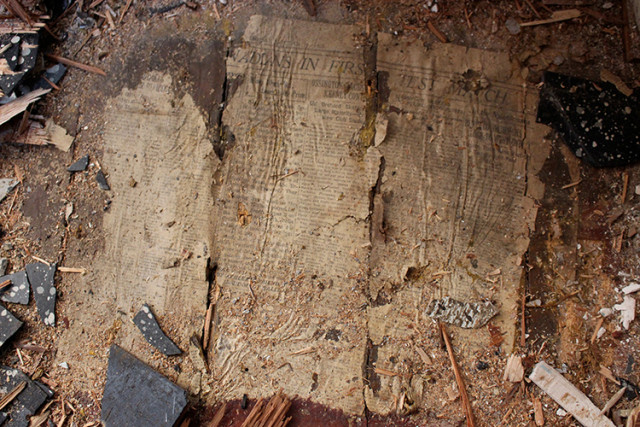 On another area of the original floor, it was covered in newspapers from March 1926.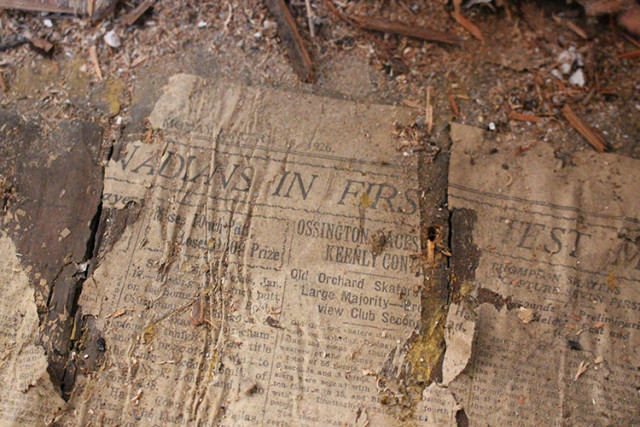 I've said this before, but while our time at this house is a big part of our family's history, we're just a small piece of this house's 114 years. We are it's caretakers for the time being and it's our intention to do everything we can to leave it in better shape than when we found it. We took the same approach to the exterior renovation when we moved in and we'll continue on this path as we work on the interior spaces. It's a labour of love, but we feel so lucky to have this home to raise our family in and we want to help it last for another century.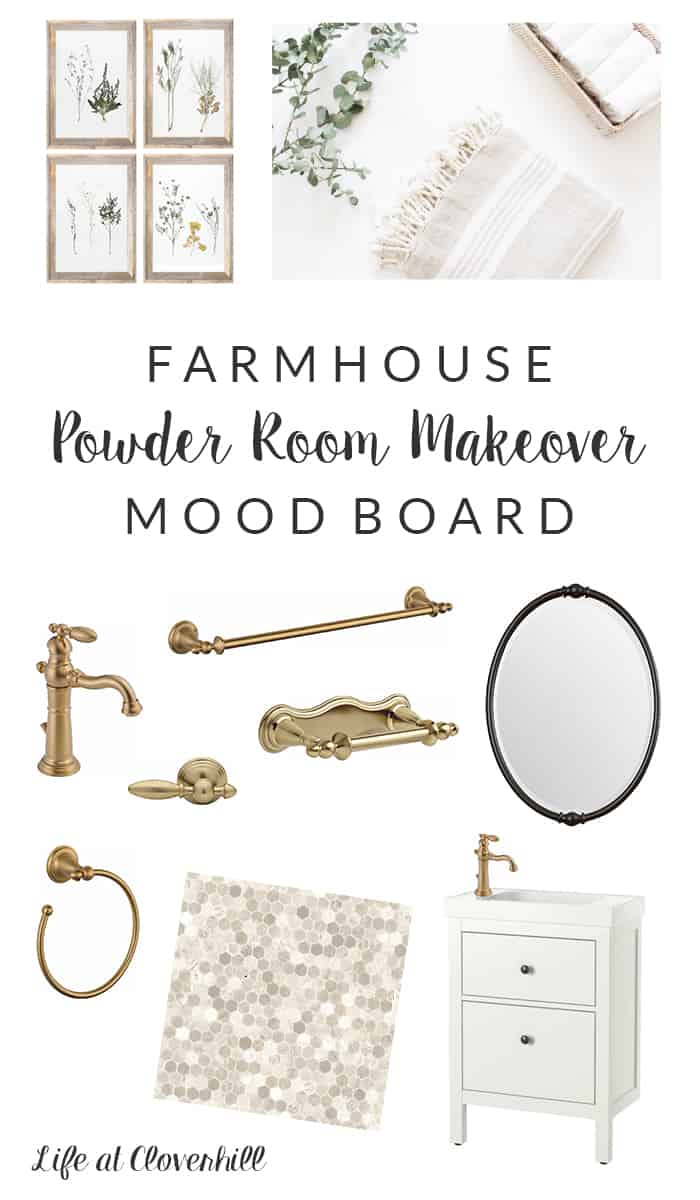 To see more of what we're hoping to accomplish in this space, check out my Farmhouse Powder Room Makeover Mood Board.