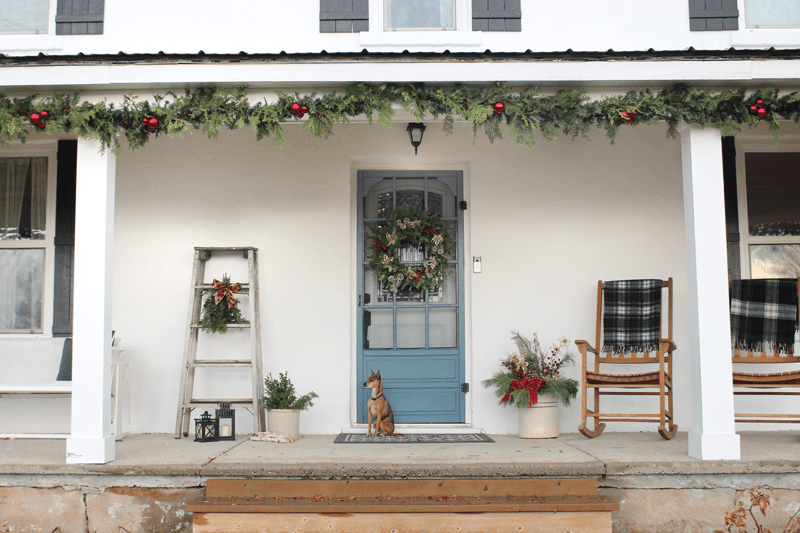 We got back from our mini vacation last week and I jumped right into decking the halls of Cloverhill Farmhouse for the holidays. This is our fifth Christmas out here in the country and I love how we really see the seasons changing. You may remember that in October, I teamed up with some lovely bloggers to share our Fall Front Porches. Now we're back with a series of Holiday Front Porch inspiration with my gals Skye Cecelia Designs, Pearls & Latte and Marcy Mussari. Today is my turn to share how I'm decorating our farmhouse front porch. If you're coming over to visit from their blogs, check out my holiday section for more festive decor ideas, along with recipes, crafts and tips & tricks for staying organized too.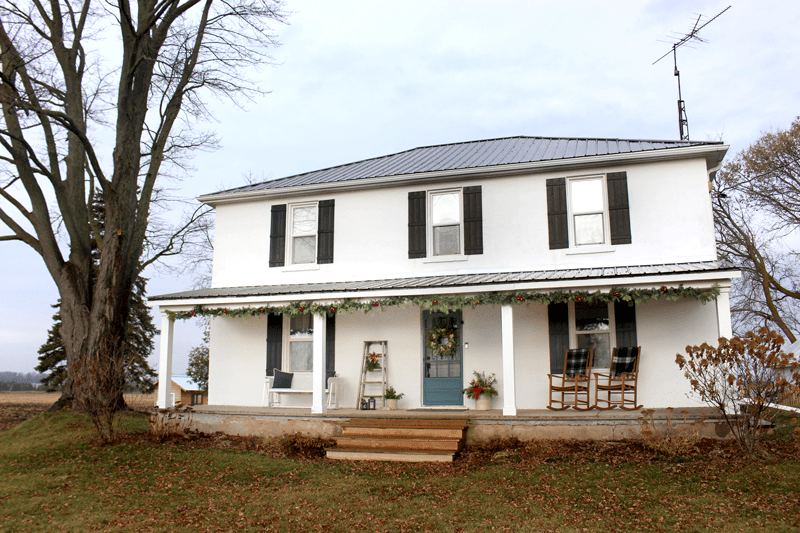 I'm happy with how our front porch turned out, but I wish the snow we had earlier this month had stayed! I may even try to retake them if we get a nice snowfall before Christmas. My inspiration for our front porch this year was from the historic homes we've seen decorated over the years at pioneer villages and in small towns we've travelled to.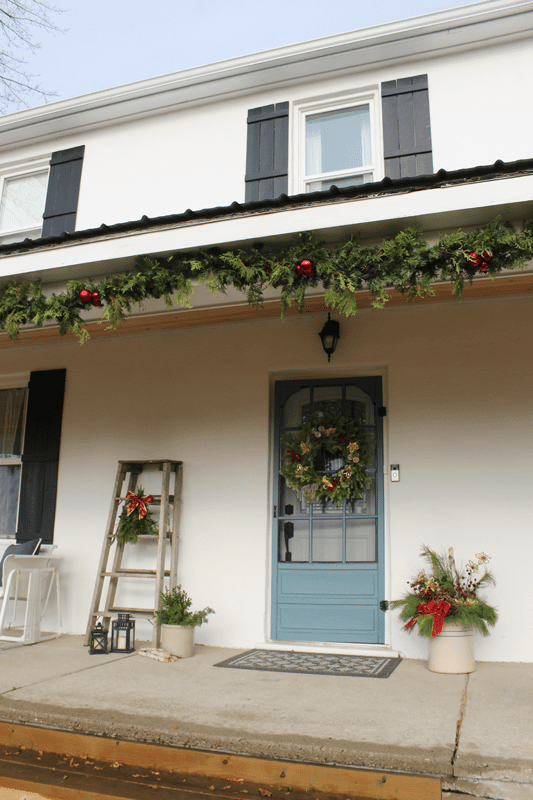 Our farmhouse was built in 1903 and the classic Old Fashioned Christmas elements suit it well – fresh greens, garland and tartan. With the exception of the wreath and urn insert, everything else were things we already had on hand, making this a low budget update for the holidays too.
Our New Tongue & Groove Cedar Porch Ceiling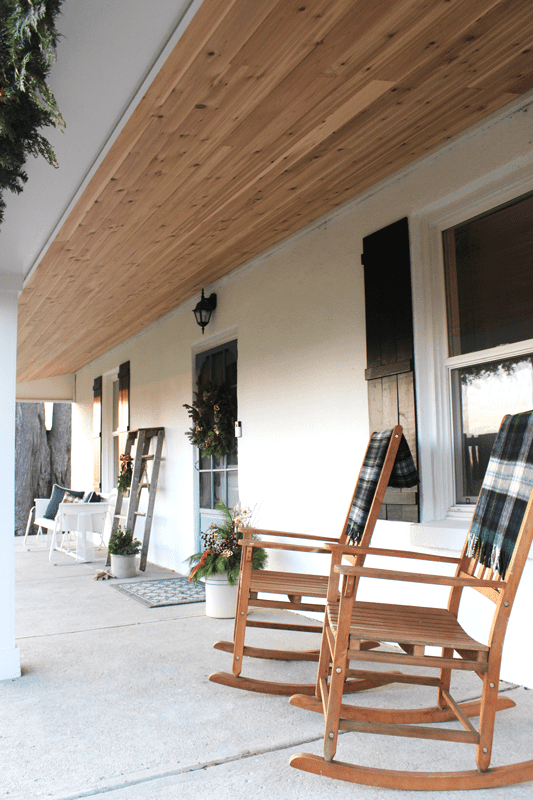 The biggest update we've had to the front porch recently was adding this cedar tongue and groove ceiling this fall. Back in 2015, we replaced the porch posts and beams, but had never gotten around to doing the ceiling. I'm so glad we finally took the plunge!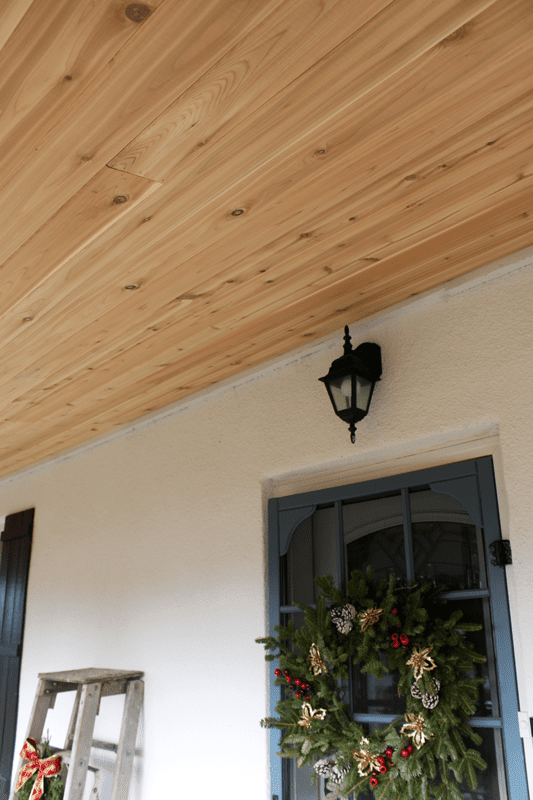 We still need to seal it next spring and add some trim around the edges, but it's already made a dramatic improvement to our outdoor living space. I love that you can see it when you look outside the front windows as well. Much nicer than the old beams and nails we saw before.
Real & Faux Evergreen Garland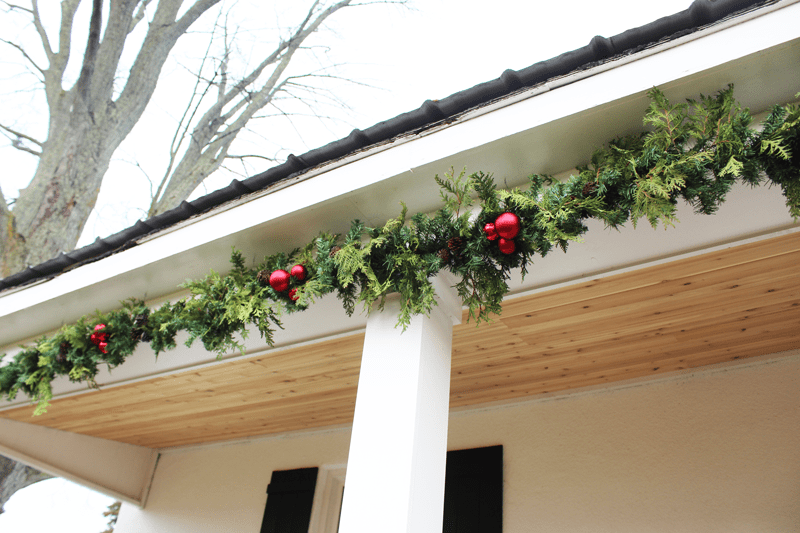 Our porch is over 36 feet long, which meant it needed LOTS of garland. To help fill it out, I used a combination of faux garland and fresh greens, along with pine cones and Christmas balls. Check out my post on how I was able to make this garland on a dime!
Fresh Evergreen Urn & Wreath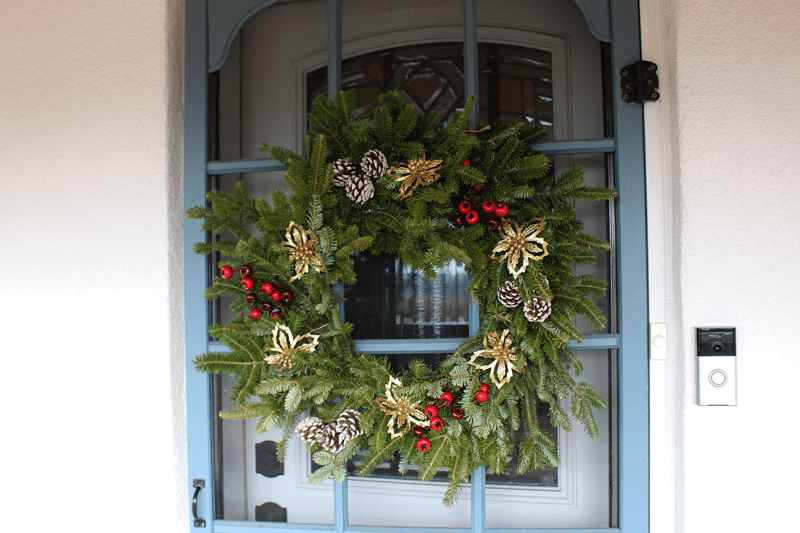 In the past I've made my wreath and urn, but when I came across some really lovely fresh ones at Costco recently, I jumped at the chance to have that part of the decor done. The wreath ($20) came with berries and pinecones, but I added in a few glittery gold flowers I had from decor another year.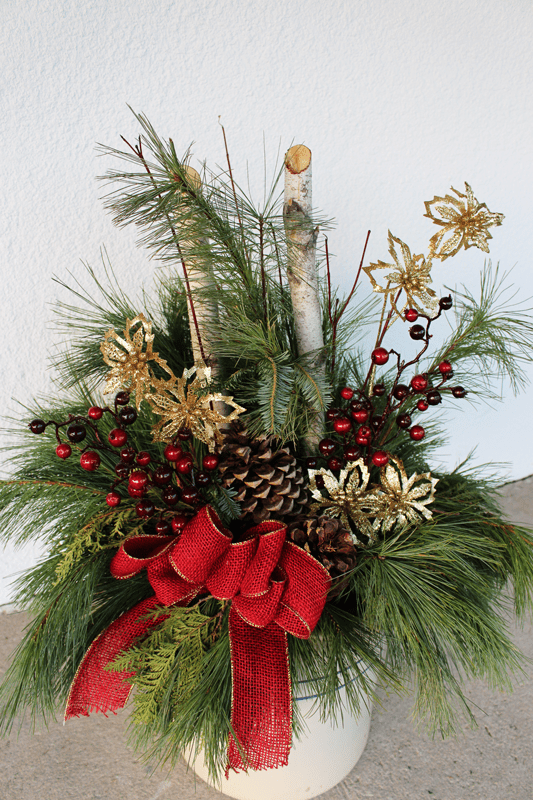 I popped the urn pot into a vintage crock I already had to make it stand a bit taller. The urn came with the pinecones, ribbon, berries and birch logs, so I just added in a few of the gold flowers for a little glitter.
Rocking Chairs & Vintage Tartan Blankets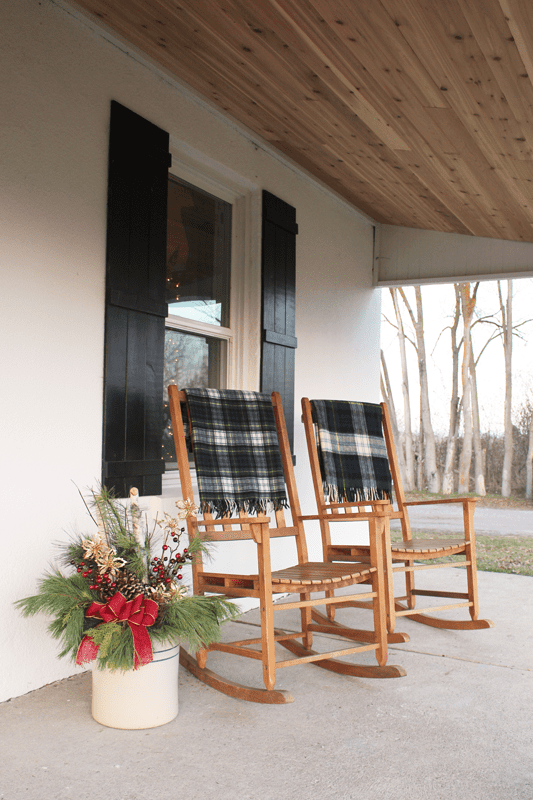 Our big rocking chairs are used all summer long, and normally get tucked away for winter, but I decided to keep them out for a little longer this year. We've had a few fairly mild days and it's been nice to still sit out here while the kids play in the yard.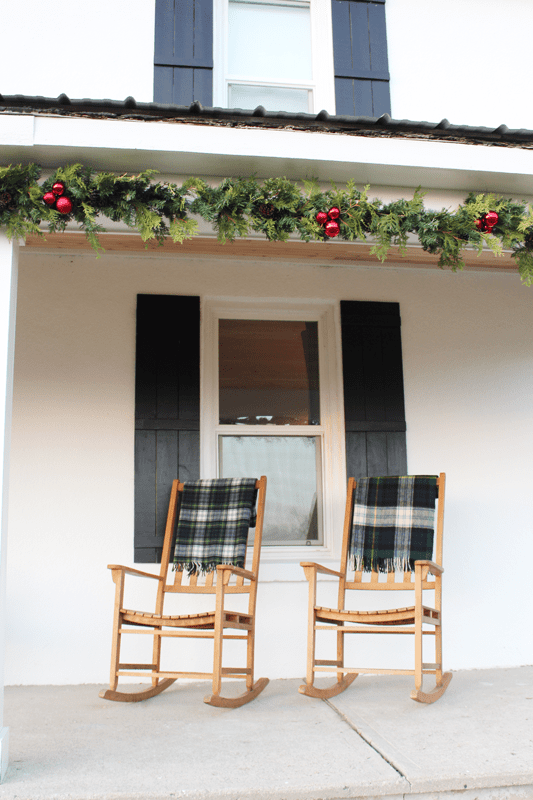 I collect vintage "Dress Gordon" tartan wool blankets (it's my maiden name) and a couple of them tossed along the back of the rocking chair is nice for a little extra warmth. In previous years, I've used them for my Christmas tree skirt too!
Antique Ladder, Lantern & Crocks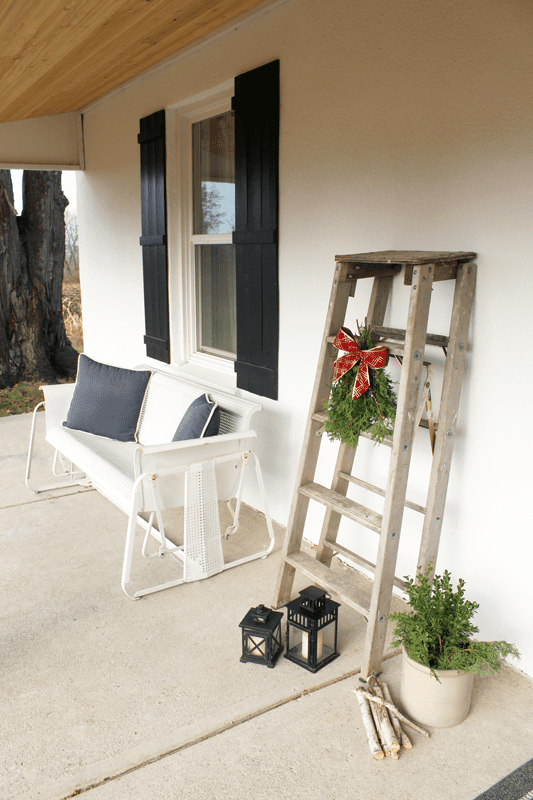 Our porch glider is very heavy, so it is spending the winter parked on the porch. We found it this summer (thanks to a helpful reader!) and we're hoping to paint it next year. I kept my navy summer throw pillows on it for now. The large (and also heavy) wooden ladder was being tossed by the guys building the Craftsman Summer House. It's perfect for displaying things down by the flower shop when we have events, but for now it's holding a little Christmas swag on our porch.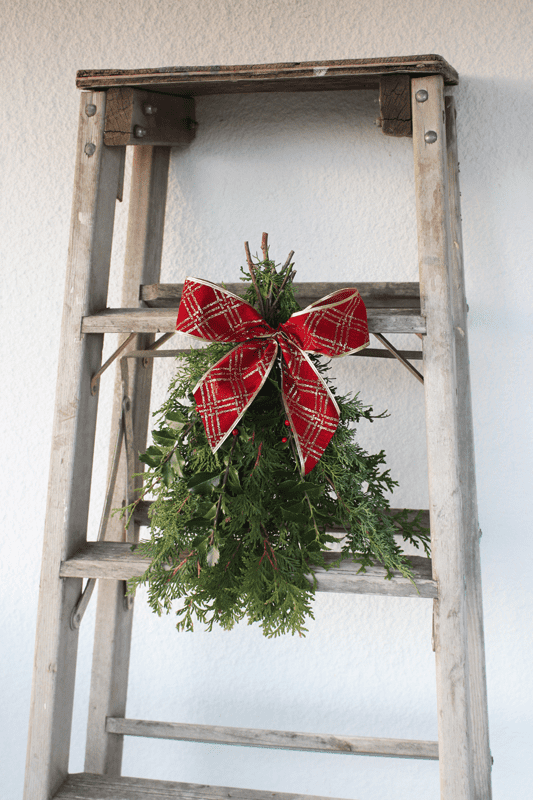 I used a combination of juniper from my in-laws, cedar from our backyard and holly from our uncle's house. I love getting fresh foraged greens when I can find them!
Life With Chickens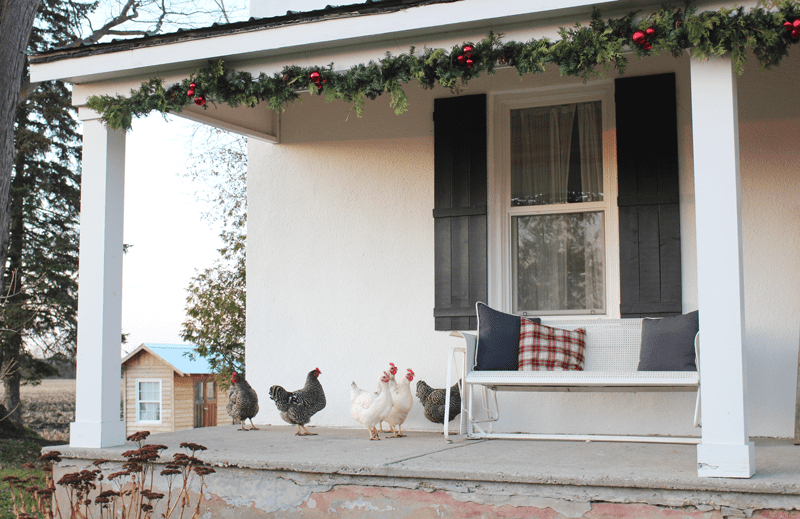 I had to laugh because as soon as I started decorating the porch, our six chickens came running around the house to see what on earth I was up to. They are such nosy birds, ha!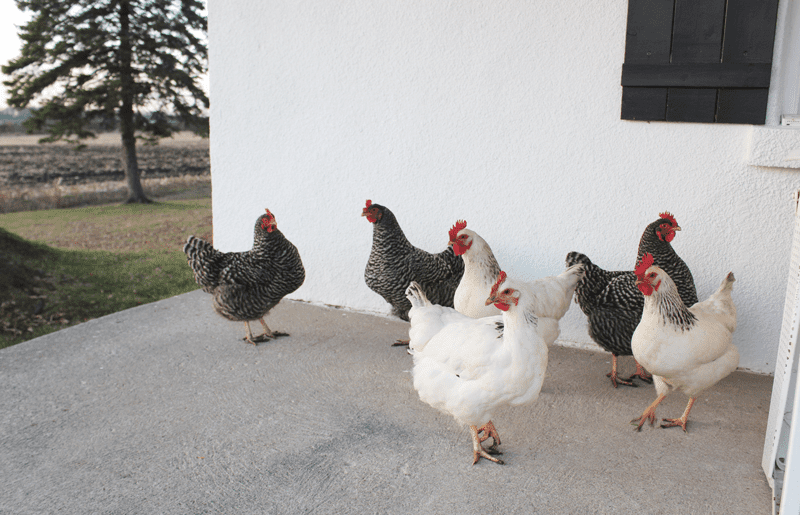 I often get asked what we do with our girls in the colder months. I've written a whole blog post on how we keep our backyard chickens warm in the winter. This is the first winter we will have had these particular ones around and so far they're doing well. We let them wander the yard during the day and then put them back in the coop before nightfall.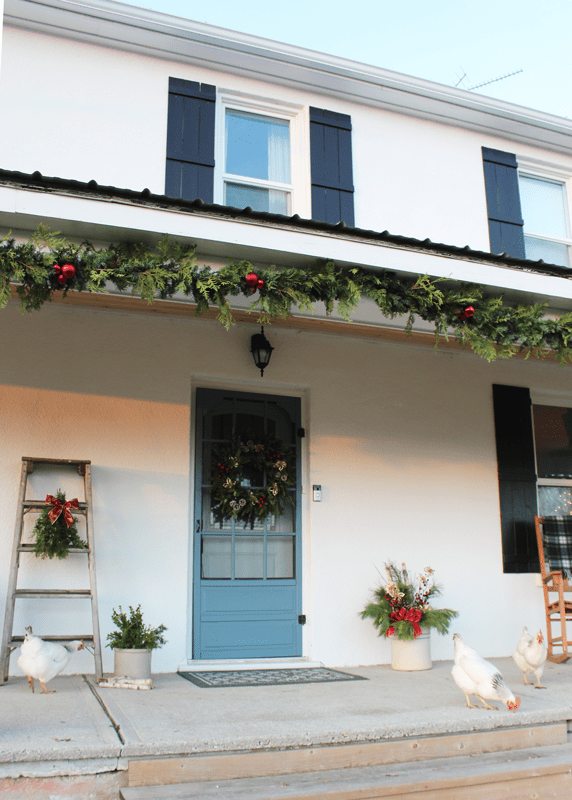 These girls love to hang out on our porch and occasionally hop up on the window sills to look inside. They try to come in the mudroom door any time I leave it open and I'm sure they would love to come join us into the warm farmhouse for winter if I'd let them, ha!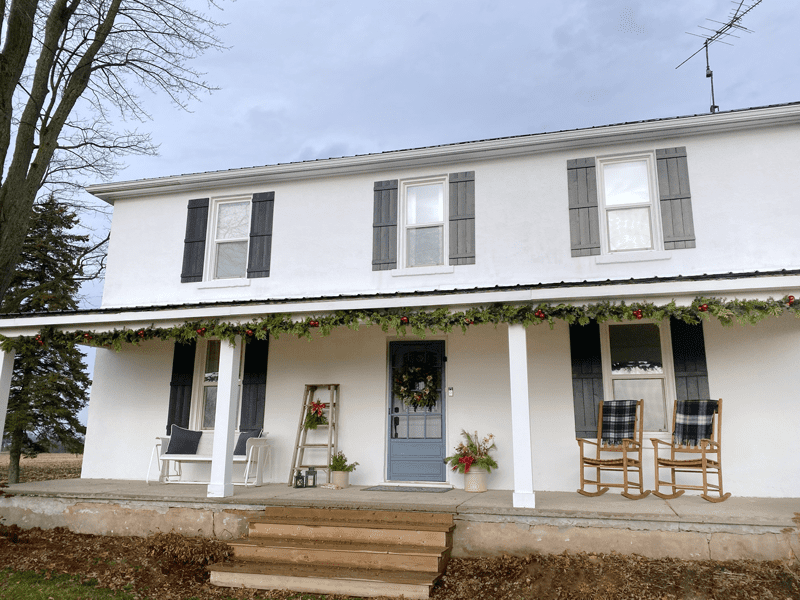 I hope you've enjoyed our front porch decor for the holiday season this year. I'll be sharing the our inside Christmas decor next week and you can see previous years of holiday decor in the holiday section.
Merry Christmas Everyone!