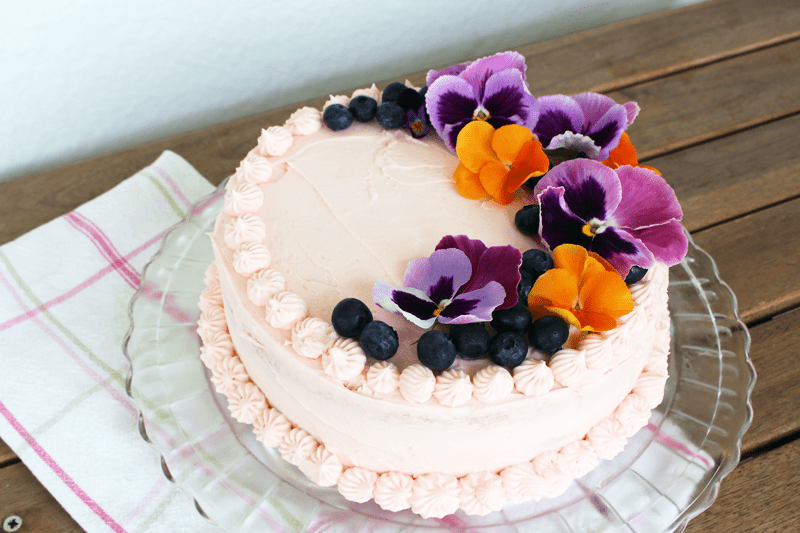 My favourite way to decorate a cake is with fresh berries and edible flowers. It lends such a beautiful, feminine touch to a simple cake and there couldn't be an easier way to decorate either. I'm a big fan of using edible flowers in cooking and presentation, such as How to Make a Charcuterie Board with Edible Flowers and my easy recipe for Chive Blossom Butter. I'm excited to finally share how I use fresh blooms to elevate cakes and cupcakes, along with suggestions on which edible flowers work well and my decorating tips.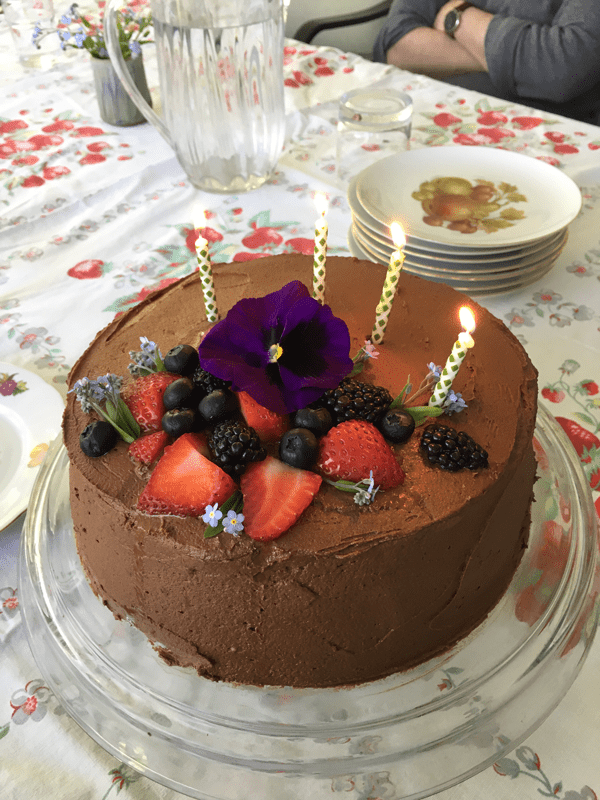 Decorating cakes and cupcakes with edible flowers is a big tradition in my family and my mom has done it for years. She is a florist-by-trade and we currently run our own specialty cut flower business, Cloverhill Flowers, so it should come as no surprise that blooms end up on the dessert table often.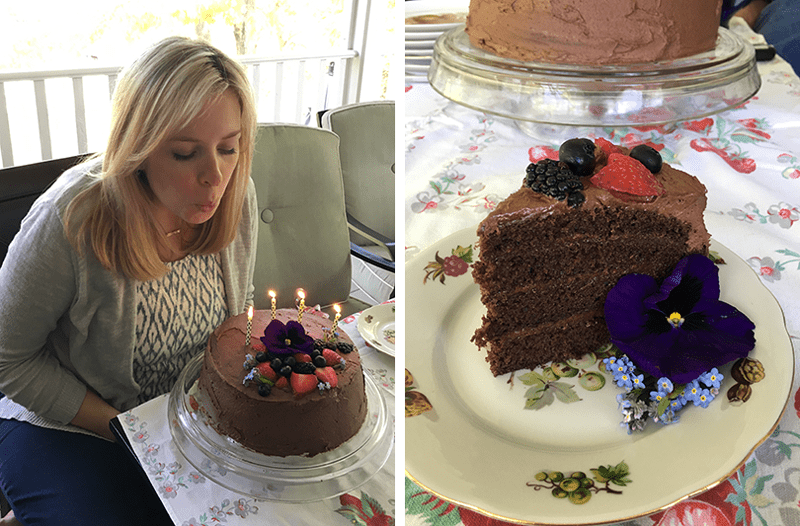 With my birthday being in late May, I've always been lucky that it's a great time for spring flowers here in Ontario. There is usually a bouquet of lilacs on the table at my birthday dinner and a decadent cake (usually made by my baking expert sister) decorated with delicate spring flowers such as pansies, forget-me-nots and fresh berries. After a long winter, these blooms are a welcome harbinger of summertime.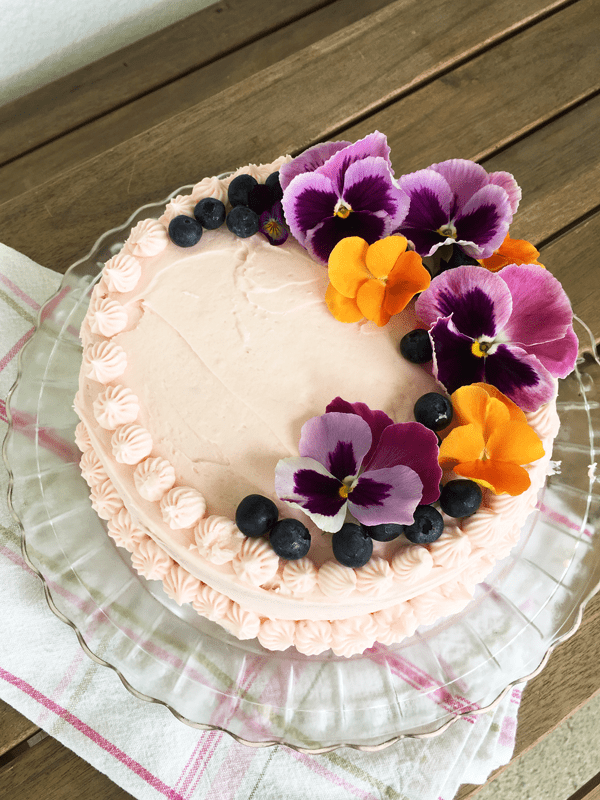 Selecting Edible Flowers for Decorating Cakes
Whenever you're adding edible flowers, you need to always make sure that they are indeed edible, as some flowers can be poisonous. Anyone who sees flowers on your cake or cupcakes will assume that they're safe to eat, so it's important to check that they are before serving them up to your guests.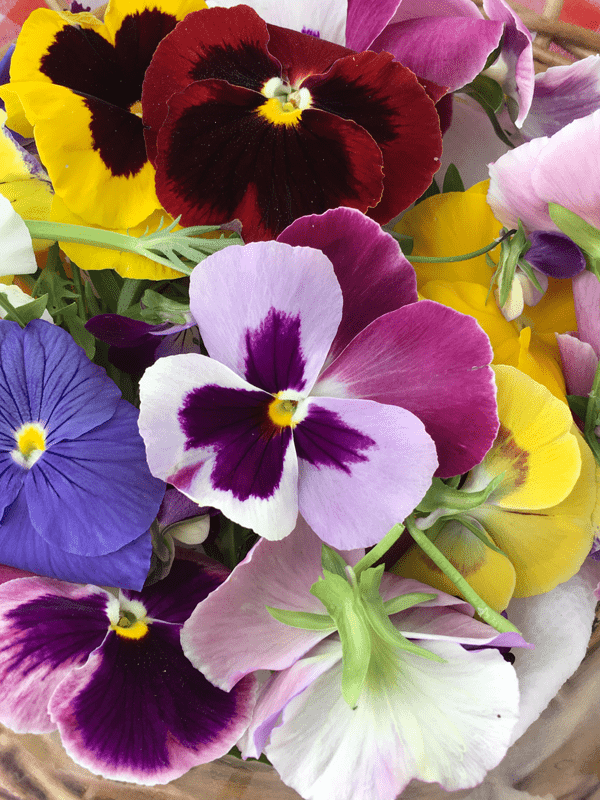 Here are some of most common varieties of edible flowers that we've grown and used, but always check before using any blooms:
Bachelor Buttons
Blossoms (apple, peach, pear, raspberry, strawberry, zucchini)
Calendula
Chamomile
Clover
Dahlias
Dandelion
Forget-Me-Nots
Herbs (rosemary, basil)
Lavender
Lilacs
Marigold
Nasturtiums
Pansies
Roses
Dill, cilantro and chive blossoms are nice edible blooms too, but aren't great for decorating cakes, as they can leave an unpleasant herb or onion flavour on a sweet cake.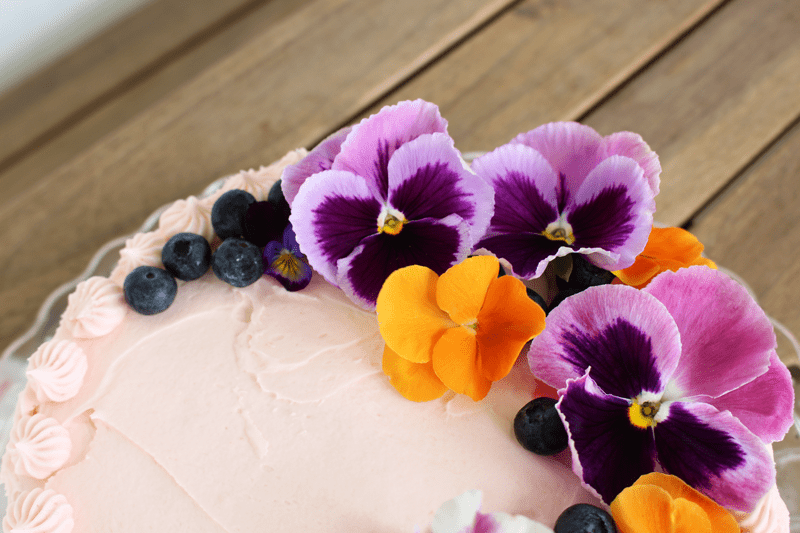 If you can, I suggest growing your own edible flowers. Many of theses flowers bloom from spring into early summer, which makes them a really special seasonal treat. And how cool is it to decorate a cake with flowers YOU GREW? 🙂
If you're buying your blooms, it's very important to not only check that they are an edible variety, but also that they've been grown without the use of pesticides. In our Cloverhill Flowers field, we are chemical free and try our best to source out only non-GMO seeds. However, many flowers grown commercially are sprayed with pesticides and fertilizers, especially those found in florist shops and grocery stores. Always ask your florists or farmers market vendor how their blooms have been treated before using them. Your best bet may be reaching out to a local flower farmer to see what they have available. Don't be tempted to pluck a few blooms grown on the side of the road either. Not only can they have run-off from the roads, but they may also have been sprayed with chemicals.
Tips for Decorating With Edible Flowers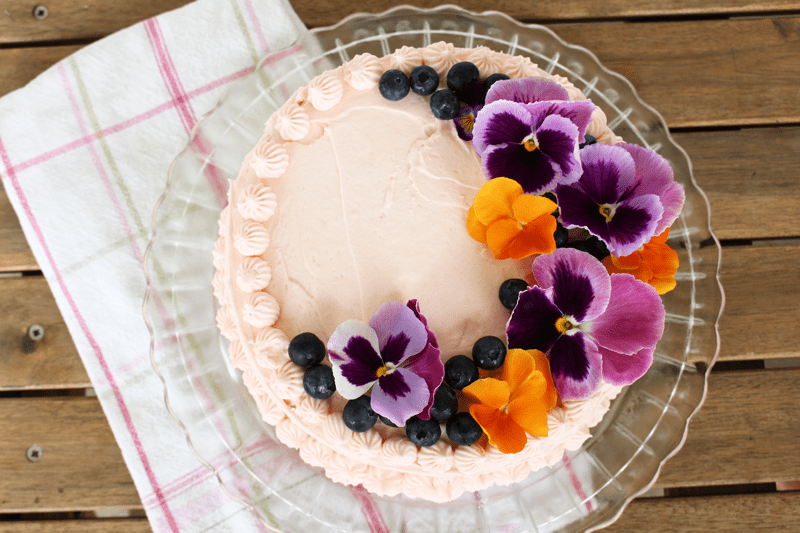 Buy or harvest flowers on the day you intend to use them, so they're at their freshest – Flowers can start to wilt and discolour after a day or two, especially for more delicate blooms. Give the stems a trim and keep them in a glass of clean water until ready to use.
Carefully wash flowers before you use them – The easiest way to wash flowers without damaging the blooms is to submerge them in cool water and swish around gently. Carefully shake off the excess water and allow to dry on a clean tea towel.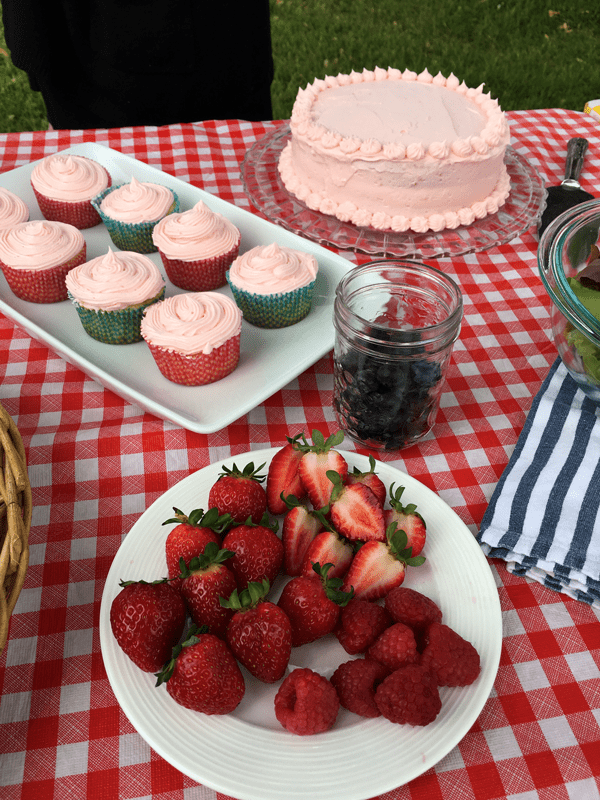 Frost the cake ahead of time and wait to add the flowers just before serving – The fat in the frosting may make some flowers wilt, especially as they come up to room temperature. I've found this especially true with smaller more delicate flowers, such as forget-me-nots or bachelor buttons.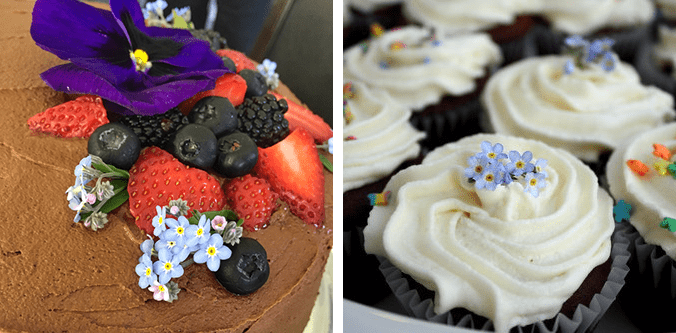 Play Around With Flower Placement – There are many different edible flowers you can use while decorating and there are numerous ways you can use them, from larger blooms for accent flowers to smaller petals scattered throughout to create a painting-like effect. Try arranging them in a half moon shape or create a floral wreath design around the top. Even a few small blooms set on the top of a cupcake can make them stand out.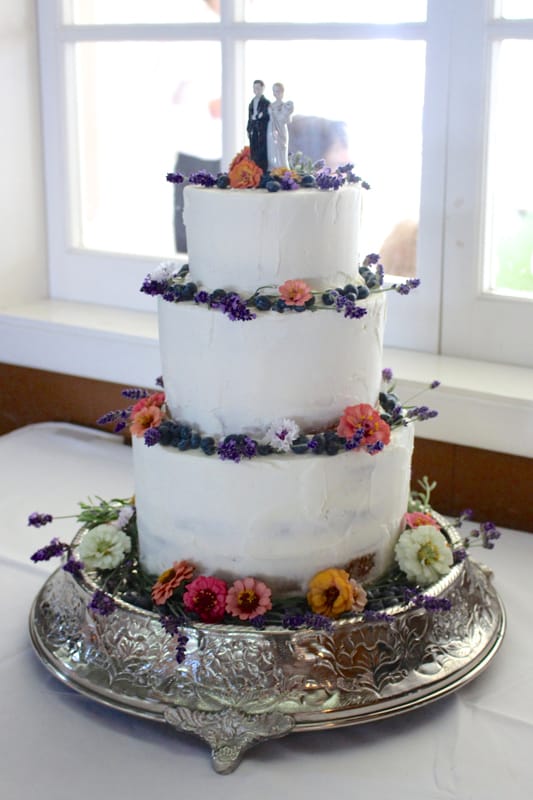 Add edible blooms to a bakery cake – You don't need to bake the cake to add a personal touch. For my cousin's beautiful lakeside wedding she had a local baker make a tiered naked cake and we decorated it with blooms from our flower field. We used a combination of bachelor buttons, zinnias, lavender sprigs and blueberries to create a floral design along the tiers.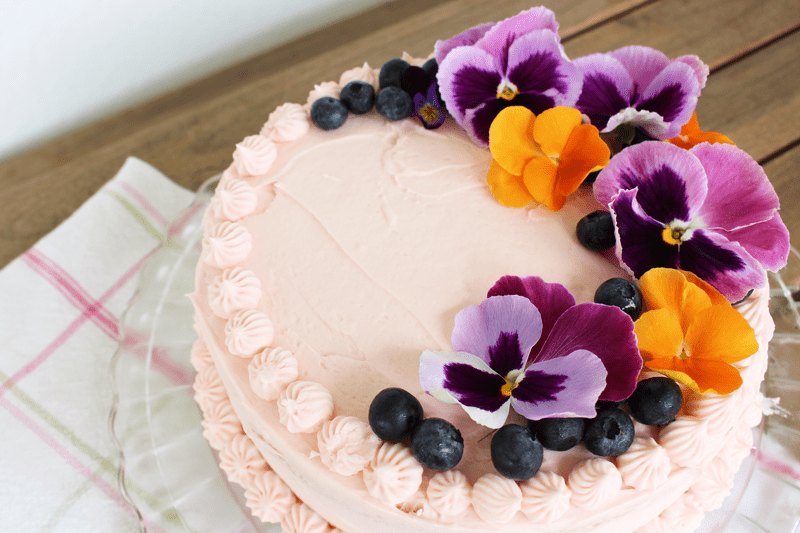 I hope this inspires you to decorate your own cakes and cupcakes with fresh flowers and delight your guests. Get creative, have fun and eat cake! 🙂
More Ways to Use Edible Flowers