Anyone else getting stumped about what to make for dinner lately? I swear my children have developed hollow legs since we've been social distancing. Keeping everyone fed while being somewhat creative is a stretch most days, so I went back through almost 11 years of blogging archives to pick my 25 All-Time Favourite Dinner Ideas. Not just to inspire others, but to motivate myself to change up the meal plan too! Most of these recipes are made with pantry staples or fresh produce that you can get in the stores right now.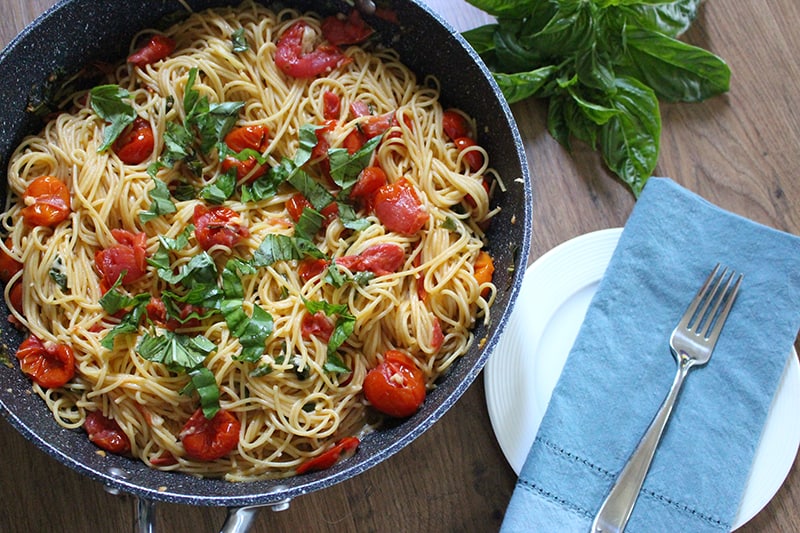 Easy Cherry Tomato Pasta – a delicious and quick vegetarian pasta that works great as a side dish or on it's own.
Creamy Mushroom Parmesan Risotto – Italian comfort food at it's finest, and the leftovers can be panfried into deliciously crispy risotto cakes the next night
Northern Italian Bolognese – I liked to make this the day before I need it, to let the flavours develop fully while it sits in the fridge. Leftovers freeze well too.
Healthier Chicken Marsala – a lighter version of my favourite dish to order at Italian restaurants.
BBQ Chicken Pizza – we liked to make pizza on Friday's and call it "take-in" these days. Made with the Best Pizza Dough recipe I was gifted at my bridal shower.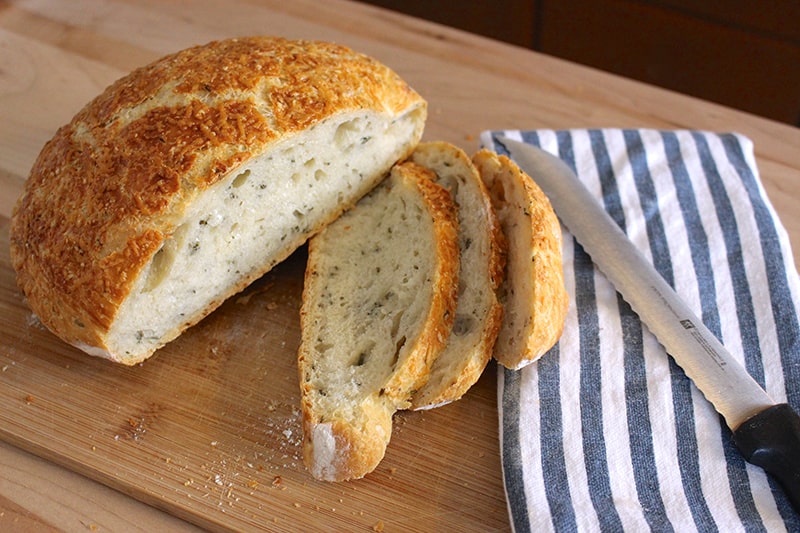 Rustic Rosemary Parmesan No Knead Bread – the perfect low-fuss bread to go with any soups and stews for dinner. Or even on its own with a generous pat of butter.
Cheddar Bacon Twice Baked Potatoes – a great make ahead side dish that freezes well too. I like to add crumbled bacon, cooked using the oven method for perfectly crispy bacon while preheating the oven.
Homemade Perogies – my half-Polish husband loves this recipe and says it reminds him of the ones his grandmother made growing up.
5 Grain Power Salad – keep a simple grain salad prepped in the fridge as a dinner side dish or easy work-from-home lunch idea.
Dill Bean Salad – another easy side dish that uses pantry staples and fresh herbs from the garden.
Classic Macaroni & Cheese – Better than anything you can get in a box. I make it for our girls some days without baking it, but if you have the time to bake with a crunchy topping, it's even better.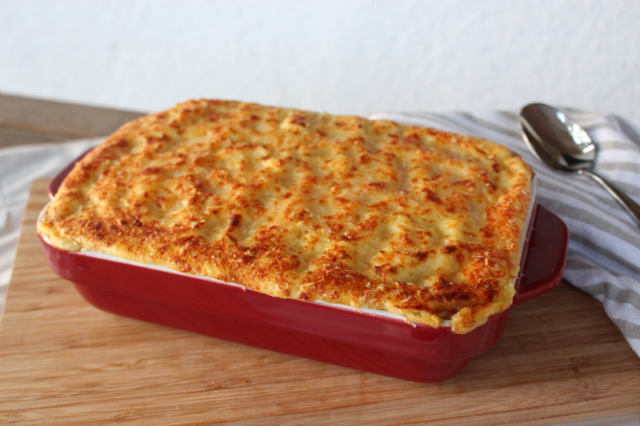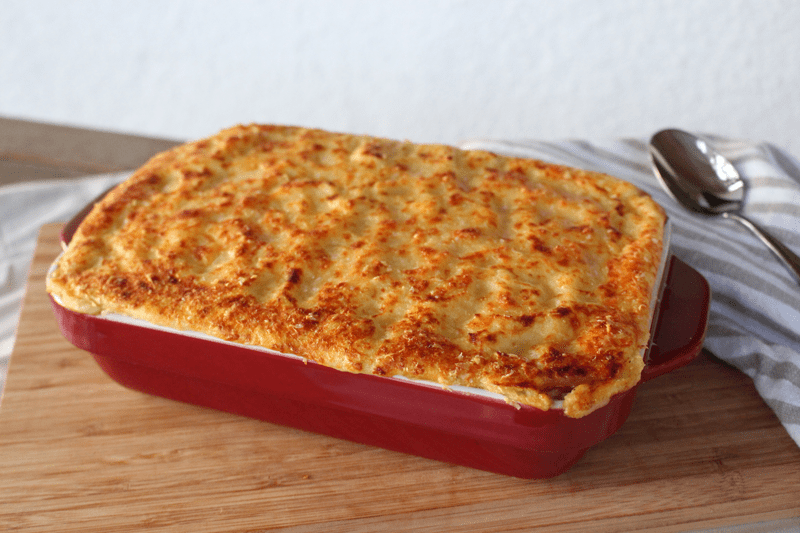 Perfect Roast Chicken – such an easy, classic way to roast a chicken and I always roast two at the same time. The leftovers are great for sandwiches, quesadillas, salads, soup, casseroles, etc., and you can freeze it chopped in the right measurements for future meals.
Gordon Ramsey's Shepherd's Pie – another great comfort food classic. This British recipe calls for traditional lamb, but I also like making it into a cottage-style pie using ground beef, as is typical here in Canada.
Roast Beef with Yorkshire Puddings – if there is one meal that always makes me think of my mom's home cooking, it's a traditional Sunday roast beef dinner with all the fixin's. Tender meat, rich gravy, creamy mashed potatoes, honey glazed carrots and the star of the show is always mom's Yorkshire Puddings. I make them now for my family and they're always a big hit. They also reheat in the oven well the next night for leftovers (if you have any!)
Chicken Pot Pie – Simple, easy comfort good, that can be made ahead when you have some time during the day, then popped in the oven closer to dinner.
Ginger Beef Stir Fry with Mushrooms and Kale – my go-to Asian dish when I don't have any bottled sauce in the pantry. Great way to use up the kale in the garden too.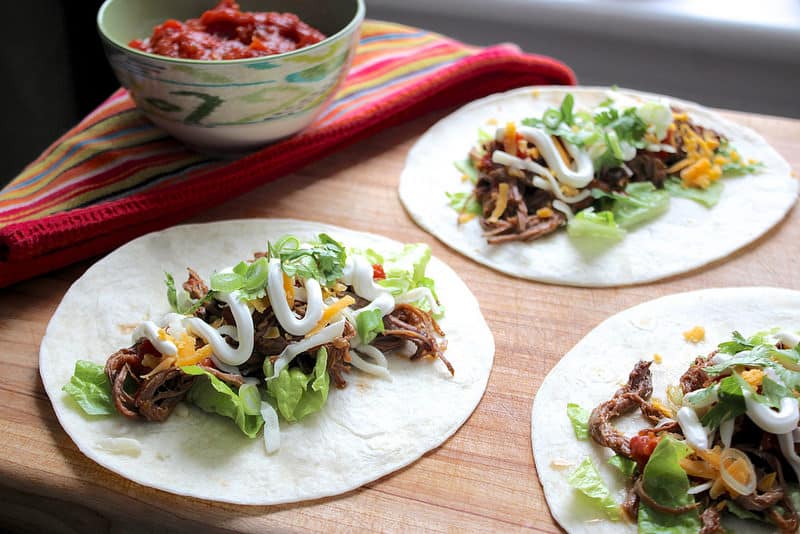 Tex Mex Slow Cooker Shredded Beef – the beef cooks away and then when it's dinner, you just set up a taco bar with all the toppings.
Loaded Potato & Buffalo Chicken Casserole – another recipe given to me by a friend at my bridal shower and it has become a classic around here.
Sizzling Chicken Fajitas – loaded with flavour and bright colours
BBQ'd Nachos – great way to use up leftover taco meat and toppings. Can be done in the oven or on the barbecue.
Perfectly Seasoned Homemade Burgers – a summertime staple that will beat anything you find in the freezer section, I guarantee it.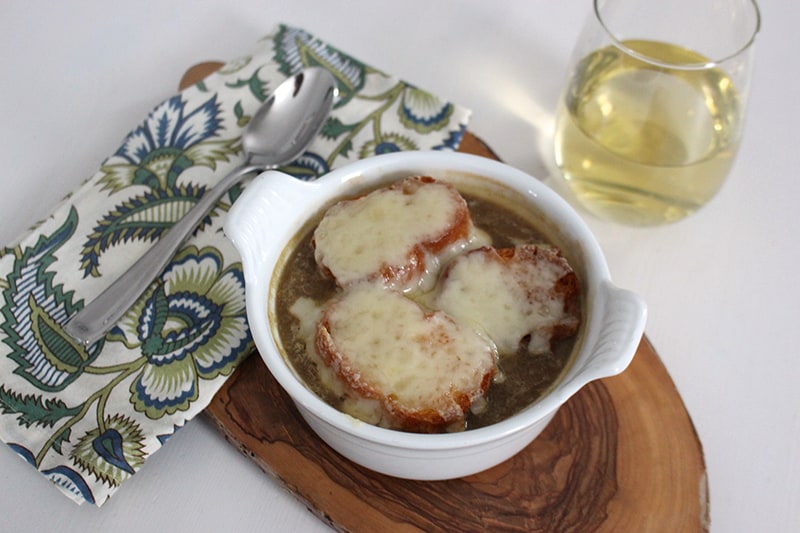 Classic French Onion Soup – a big savoury bowl of soup, with cheese melted over cheese – YUM!
Mushroom Beef Barley Soup – I made this hearty and flavourful soup last week with a big loaf of homemade bread and the whole family enjoyed it.
Sweet Potato Vegetarian Chili – Easy to do on the stove or slow cooker and the leftovers freeze really well. I usually freeze it into individual size portions for quick lunches when I don't want to eat the same thing as the kids.
Apple Cheddar Soup – so creamy and delicious, this makes a great meal with some crunchy crackers and a crisp salad.
Cheese Fondue – for when all you want is cheese for dinner, and lots of things to dip in it (bread, apples, peppers, broccoli, more bread, lots and lots of bread.)
I hope these recipe ideas inspire you in the kitchen this week. It's definitely got me looking at our pantry and fridge with some new enthusiasm! If you try a recipe and share it on social media, pleas tag me! I always love to see others enjoying our family favourites too 🙂