This Chicken Caesar Pasta Salad is perfect for summer gatherings as a side dish or made into a 20 minute meal that can be prepped ahead.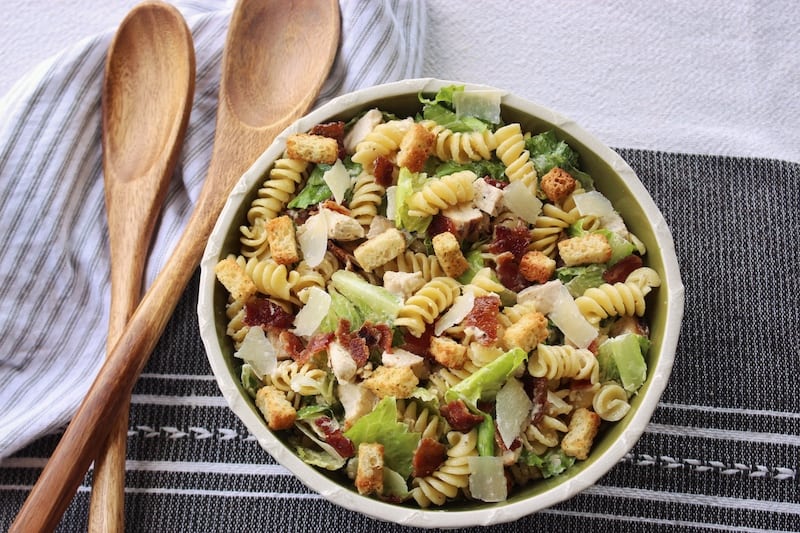 Caesar salad might just be my favourite salad…and then you go and make it into a pasta salad? I'm ALL IN.
I love a good summer pasta salad with some of my favourites being Mediterranean Pasta Salad, Summer Snap Pea Pasta Salad and Greek Orzo Salad.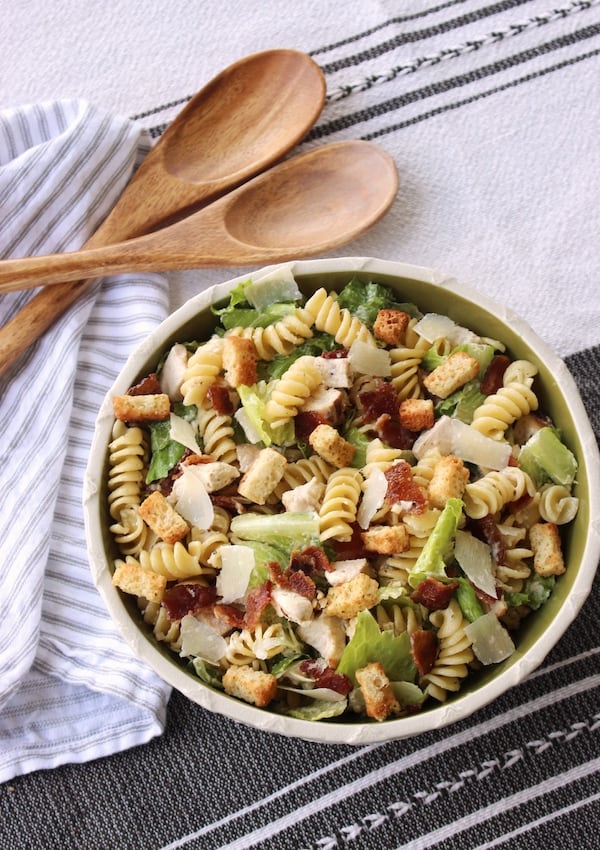 We often have salads for dinner during the summer months, and this Chicken Caesar Pasta Salad is a great one for enjoying as a meal or serving as a side at your next gathering. The best part is that all the ingredients can be prepped ahead and then tossed right before serving – making this perfect for a quick weeknight meal too.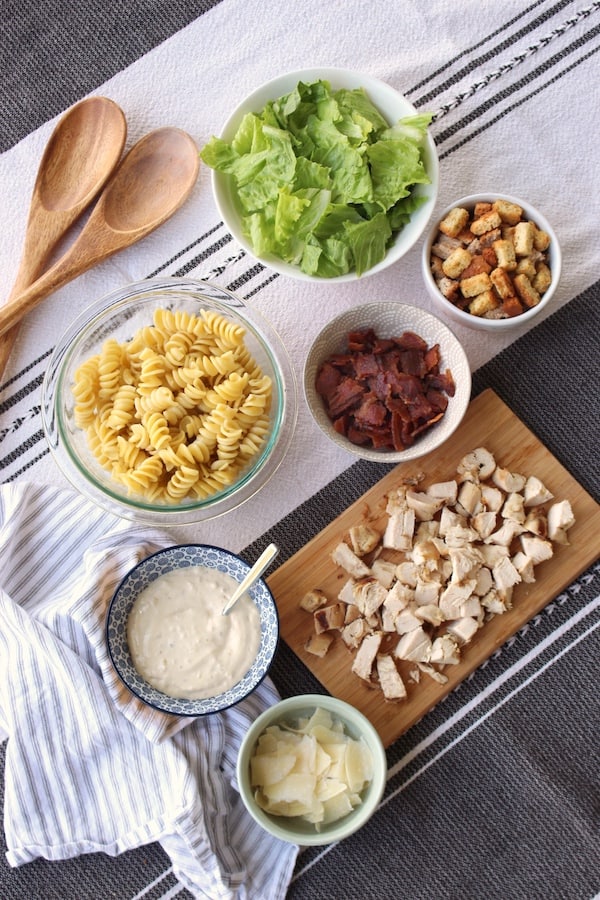 Chicken Caesar Pasta Salad is full of delicious summer flavours with grilled chicken, crisp romaine lettuce, crunchy croutons, parmesan cheese shavings, salty bacon and rotini noodles, all tossed in a creamy caesar dressing.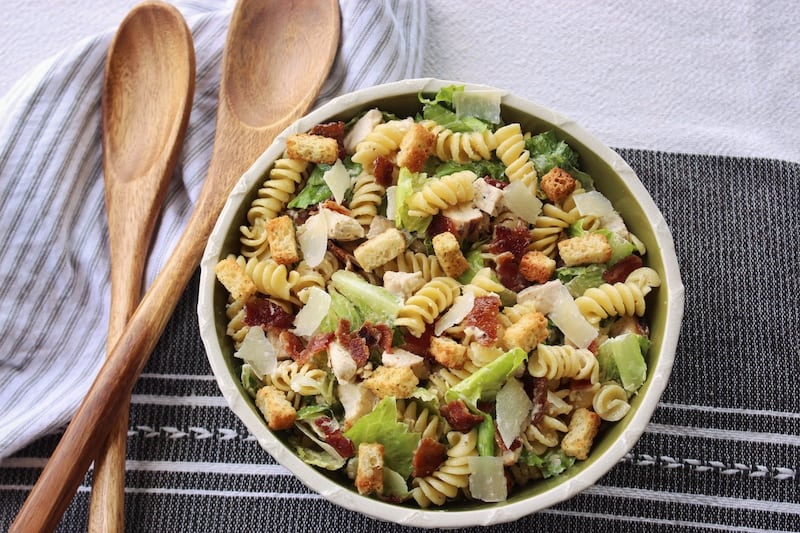 Tips & Tricks for Chicken Caesar Pasta Salad:
Crunched for time? You can pull this recipe together super quickly with store bought rotisserie chicken, pre-grated parmesan, pre-made dressing and croutons. You can even buy cooked bacon and chopped lettuce, leaving you with just the pasta to cook.
Need to prep ahead? I love that you can make all of this ahead of time and then toss the ingredients together when you're ready to serve.
Using leftovers? If I know I'm going to make this, I keep grilled chicken and bacon on hand as leftovers from other meals, then chop the lettuce and shave the parmesan while I cook the pasta.
Feeding a bigger crowd? This recipe can easily be doubled or tripled.
Change up the pasta! I used rotini because my kids love the shape, but you could use penne or bowtie too.
Don't rinse your pasta! Rinsing cooked pasta washes away all the good starches that help the pasta bind to your dressing. If you're looking for a quick way to cool down pasta, start by draining it, then spread it out in a single layer on a sheet pan and toss with a drizzle of olive oil. Spreading it out will help the pasta cool much faster and the oil will keep it from getting sticky.
Shave your parmesan for a nicer flavour. I'm all about cutting corners when you need to, but I do love freshly grated or shaved parmesan. A block of parmesan keeps in your fridge for ages (I buy the big ones at Costco), and you can make perfectly curled shavings using your regular ol' vegetable peeler. When the block is done, I keep the rinds in the freezer to add into pasta sauces for some extra flavour!
Not up to grilling chicken? You can use pan-fried chicken, baked chicken, rotisserie chicken, leftover roasted chicken or even baked chicken fingers for this dish.
Got time to make homemade? A homemade caesar dressing and homemade croutons would take this whole dish up a notch.
Change up quantities. The ingredients I've included in the recipe are a rough guideline, but you can add/remove whatever ingredients you like.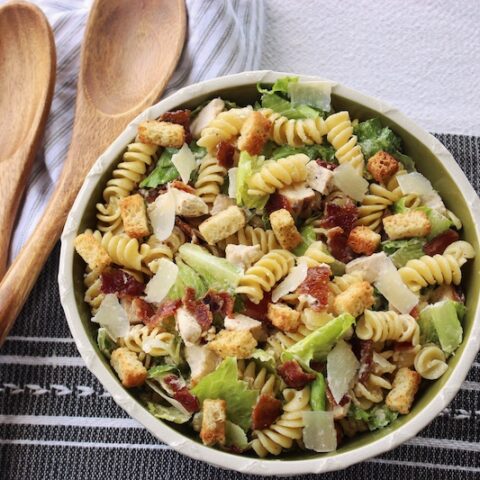 Chicken Caesar Pasta Salad
Yield:
4 main dish servings or 8 side dish
Ingredients
2 cups uncooked rotini pasta
1 heart romaine lettuce, chopped and washed
1-2 large grilled chicken breasts, chopped (or use pan-fried, baked or shredded rotisserie chicken)
5 strips of bacon, cooked and crumbled
1/3 - 1/2 cup Caesar salad dressing, or more to taste
1/2 cup parmesan cheese shavings
1 cup croutons
olive oil
Instructions
Bring large pot of water to a boil. Heavily salt water and add pasta. Cook until al dente, about 10 minutes. Drain pasta, toss with a drizzle of olive oil to prevent sticking and set aside to cool.
In a large serving bowl, toss cooled pasta, lettuce, chicken and bacon with caesar dressing. Top with parmesan cheese and croutons.
Serve immediately.
Summer Pasta Salads