This month has really made me feel like humans were meant to hibernate in January. I've been feeling slow and sluggish, with the urge to stay under the covers (with two cozy little dogs) as strong as ever. But life still goes on (even in the bitter cold months) and we all need to find ways to keep us motivated. Here are ten ways that I keep myself organized and on track, even when it's really busy or out of control. Taking 10-15 minutes here and there to try any of these exercises will help get you not only motivated but clear your mind as well.
/ / /
1. Never Leave a Room Empty-Handed
One of the easiest ways to stay on top of the clutter is to make sure that you always take something with you when you leave the room. If I really need to tidy up, I'll grab a basket and toss in everything that doesn't belong in a room, and go around to return it. If you live in a two storey house, leave a basket at the bottom of the stairs to toss in anything that needs to go back upstairs, and do the same at the top. It will save you many trips up and down to return things.
2. Do a Brain Dump
On any given day I have hundreds of things I need to do, appointments to schedule, ideas that I'm worried I'll forget or just any kind of general mind clutter. It can leave you feeling stressed, worried and disorganized.
The easiest thing is to do a brain dump. Take a pen and paper (or open a word document on your computer) and write it ALL down. Even little things that you don't think are that important and break it down into steps if you need to. I usually do this about once a month and it always shocks me how many things I come up with that weren't right in the forethought of my mind.
Now take that list and break it up into how you're going to accomplish these thing: If they're errands you need to do, book them in your calendar. If it's a list of ideas, add them to a notebook. If it's something crucial, highlight it and make it a priority. I usually pick 5 things from that list that I can do right away that day.
Releasing all that mental clutter will help free up your mind, and it gives you a solid list in front of you of things that need to be done. It can be daunting to see that list (and you probably can't finish it all in a day!) but now you can break it up into manageable pieces and create a game plan to accomplish it.
2. Clean Out Your Purse and Wallet
Whenever I get really busy and stressed out, one of the first places that gets disorganized is my purse. Getting it back in shape is like a deep breath – and I usually find something in there that I didn't even know I was looking for.
Take five minutes and empty everything out from all the pockets. Throw away gum wrappers, organize your lip balms, hair elastics, tissues etc into one pouch and file away any receipts you need. I also take this time to reorganize my wallet, putting together any gift cards, taking out loose change to go in our jar, double checking if coupons have expired and throwing out anything I don't need.
Every time I do this, I'm always shocked by how much comes out of there. I did it the other morning and had a stack of receipts that I could throw out. I'd been dragging them around town all this time!
4. Look at the Next Month
Take a look at your calendar, phone or diary and look ahead at the next 30 days. Update your calendar with any appointments or upcoming events, and think about what tasks you need to accomplish for each thing.
Do you need to buy a birthday present? Get your dress dry cleaned? Bake cupcakes for a bake sale? Schedule times when you can do them. I even look ahead and see if there are parties where I need to bring a dish with me, and book the time in my calendar for making it the night before.
5. Menu Plan for Today
I usually try to have a
meal plan
for the whole week, but sometimes things come up or I get so busy and forget to do it. Rather than waiting until the end of the day to figure out what I'm going to make (and possibly making a poor decision), I take a couple of minutes in the morning to figure out what I'm going to make.
Check the freezer for any leftovers or meat, and allow them to thaw in the fridge during the day. Look up a quick recipe and make note of any ingredients you need to pick up while you're out. Having a game plan for that night will help to alleviate that stress of "what's for dinner" from your day.
6. Set a Timer
Setting a timer is one of the easiest ways I've found to keep myself motivated. If I only give myself 15-20 minutes to tidy up the house, I'm much more likely to get it done when I'm racing the clock to accomplish it.
This also helps with how much time you use online. If I know that I have to get a bunch of stuff done, but I want to check my email or social media, I'll set a timer on my phone for that as well. After a 15 minute social media break, it's back to work.
I do the same thing with paying bills or filing documents for my taxes. If I break it down into 30 minutes sessions, I'm more likely to accomplish a lot in that limited time, than procrastinating and drawing it out. When you know that you only have to do a menial task for a short period of time, you're more likely to focus and get it done!
7. Tidy Up Your Desktop and Computer Files
One of my biggest pet peeves is a messy computer desktop. When I've got many projects on the go, it can start to look crazy and chaotic – which is usually how my mind is feeling at that time. If I'm really busy, I sort everything into a TO FILE folder or keep it on the desktop if it's in use. Then when I do have time I go through the folder and file everything where it needs to go.
Lately I've been using
this computer background
from
Moritz Fine Designs
to help me organize all the stuff on my desktop. It has different sections for Personal, Business, In Progress, File & Archive and Miscellaneous (there is also a blank version where you can personalize it). I just drag all the files on my desktop in the appropriate section so I know what I'm working on in each area.
8. Clean Out Your Phone or Tablet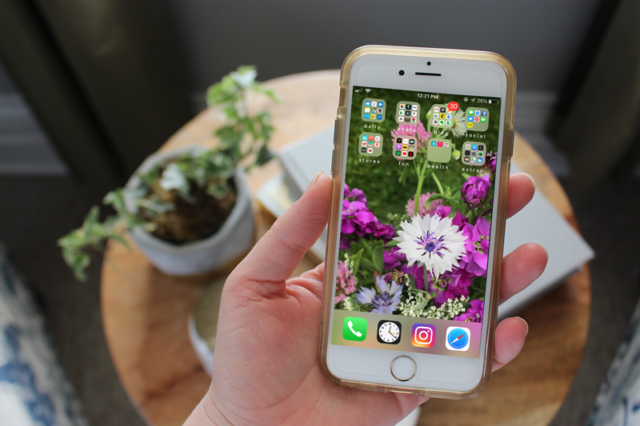 Just like with my computer, I take the time to organize my phone too. Delete old contacts, photos apps and downloaded files. I usually do a reset on my phone then and it will start to run better too. Give yourself a new phone background photo while you're at it, to really make it feel fresh and new again!
9. Fix One Thing That's Been Driving You Crazy
We all have some thing that is broken, that drives us crazy but we just keep ignoring it because we don't have the time to fix it. Make time to fix it this week.
A couple of years ago ours was the garbage bag holder. The screws we used to install it were too short and it popped off, so we spent months with a bag hanging on the door knob because we hadn't gotten around to fixing it. One day enough was enough – all we needed was two longer screws and about five minutes to measure and reinstall in. I can't believe we'd left it so long! Now if something is bothering me, I make a note to take care of it THEN. If it's something that I can't fix – I either ask someone else for help, take it in for repairs or replace it.
10. Do a 10 Minute Clean Sweep Before Bed
Taking 10 minutes to tidy up before you go to bed can work wonders for giving you a good morning the next day. I take the time to double check my calendar for anything I need for the next day, put things in my bag that I'm taking with me, make a note of any blog photos I need to take in the morning, plug in my phone and laptop, clean off the counters, fold up the blanket on the couch and pick up any of the thousands of dog toys strewn around the living room. It really makes a huge difference and I can go to bed feeling more relaxed about what I need to do the next morning.
/ / /
I hope that you find these tips helpful and if you have other suggestions, I'd love to hear about it in the comments below!