When we first started planning out how we would turn the third bedroom (our storage room for the last 10 months) into a nursery for the baby, I knew I wanted a large dresser. Something that could hold a changing pad and a few bins on the top, while storing all the baby's clothes, diapers, etc below. I even included a picture of what I was going for in the Baby Girl Nursery Inspiration.
I debated using the Hemnes dresser ($300 from IKEA), but kept hoping we'd come across something secondhand that could be painted for the nursery. I even had my mother-in-law on the lookout at estate sales.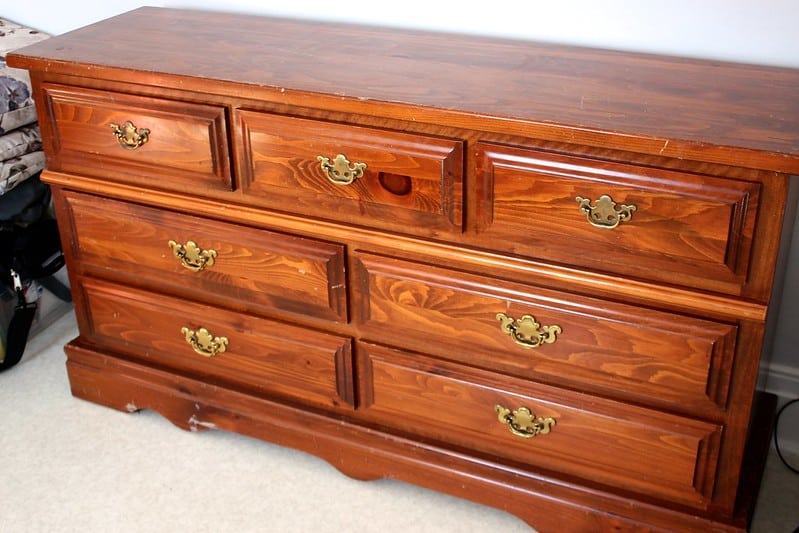 Then this huge solid wood Canadian made dresser showed up for sale in our town…for $25! Score!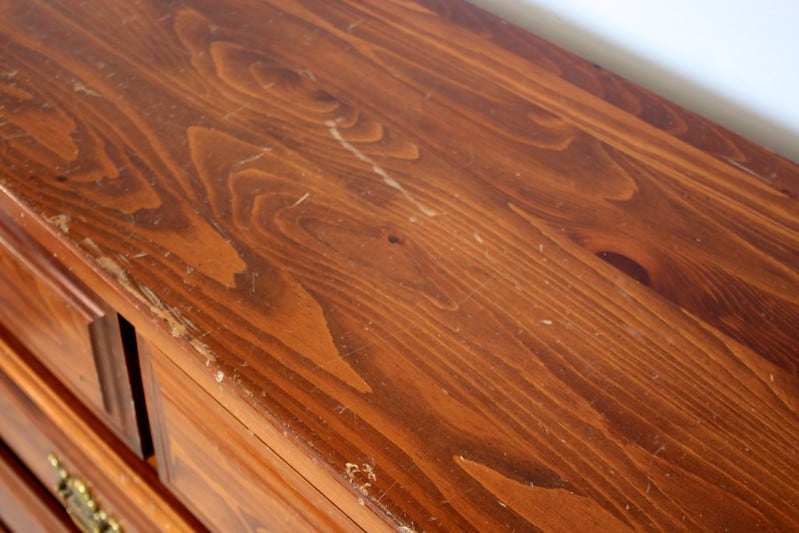 It was pretty beat up with gouges and scratches all over, but we weren't too worried about the finish as we planned to sand and paint it anyways. Plus a little bit of wear and tear was just going to add character!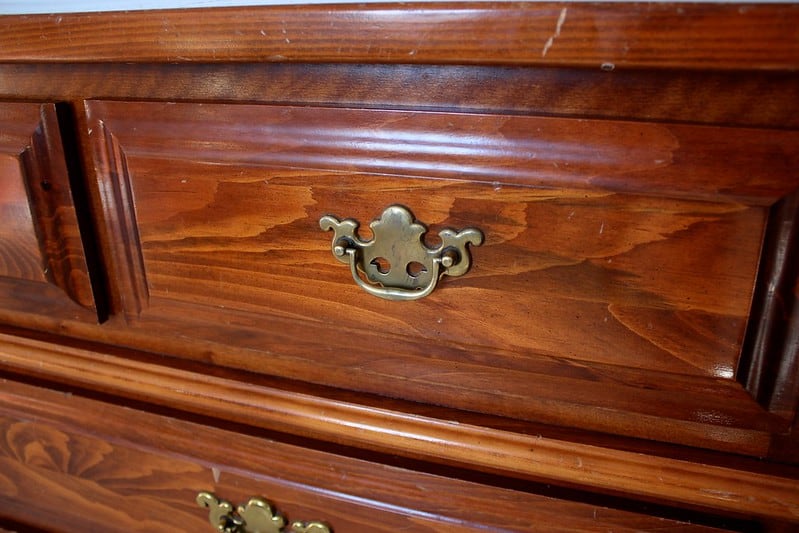 I started to prep it by removing all the brass hardware and was surprised to find them stamped on the back that they were made in Canada too, which made me question whether I wanted to replace them like I originally planned.
By some miracle, I was able to squeeze into my old painting jeans from renovating the exterior of the farmhouse last summer. At 30 weeks they thankfully fit over my legs and hips, but there was no way I was going to be able to button them up without the help of a couple of hair ties!
We were having an unseasonably warm day a couple of weekends back, so Garrett and I took advantage of the good weather to get the dresser out front and finish it before the cooler spring weather came back. He did most of the sanding with a palm sander, while I took smaller piece to do more of the detail work by hand. Everything got a light sanding to scratch up the surface a bit, followed by wiping it all down with a damp cloth.
(Please note Cola in the background basking in the sunshine on the porch – the dogs hung out with us outside for the entire day. They were just as happy as we were for the warmer weather!)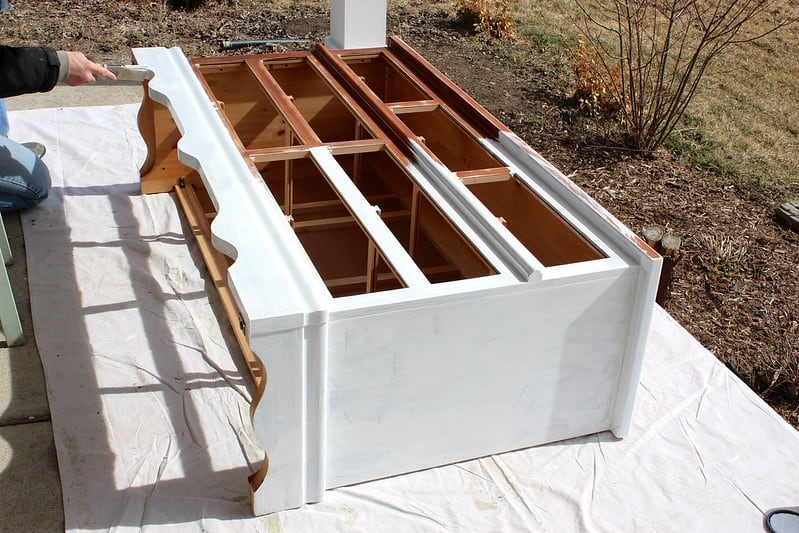 Next up Garrett gave everything a coat of primer. This was to prevent any old stains and finishes from leaking through and to give the new paint something to adhere to. We let it dry for a couple of hours before coming back to paint it.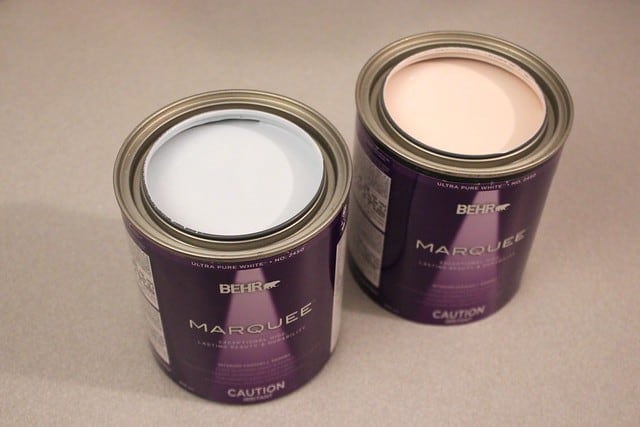 Back when I made the Gender Reveal Christmas Ornament, Behr paint sent us two colours to use – Sky Light View if it was a boy and Stolen Kiss if it was a girl. I kept the cans tucked away anticipating a future project to use them for and there was more than enough in a quart can to paint this entire dresser. We chose the light pink for the dresser, but I'd still like to use the light blue for a few accent pieces in the nursery as well.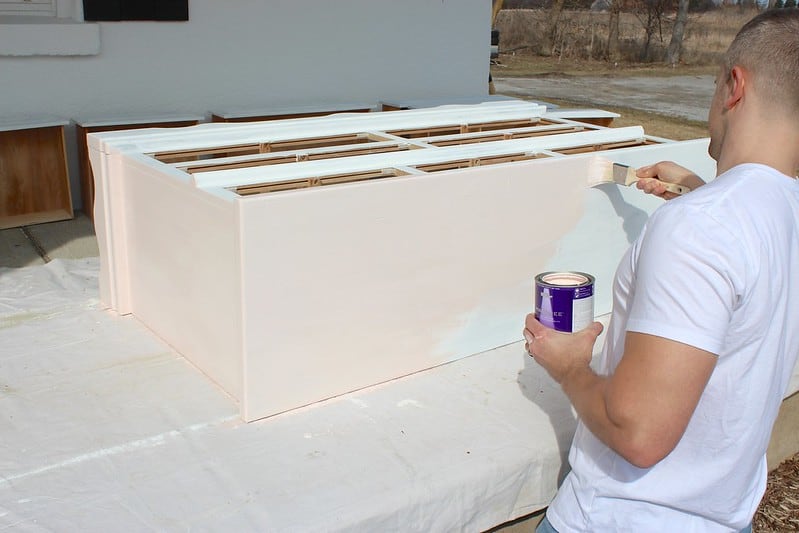 We did two light coats of the paint for good coverage. The first time Garrett went around with a brush and the second time I did it with a small roller for an even finish.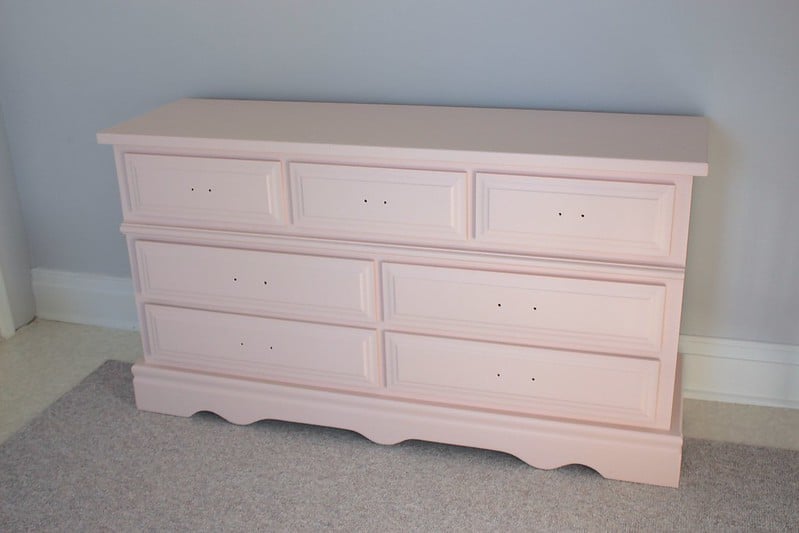 We let the dresser dry out on the porch for the rest of the afternoon and then carefully carried it into the dining room to continue to dry for the rest of the week before we took it back upstairs. Thankfully this dresser is deceivingly light, so I'm able to carefully help Garrett maneuver it around and we had a friend stop by to help him get it back up the stairs. With the drawers back in, it looked like a whole new piece of furniture!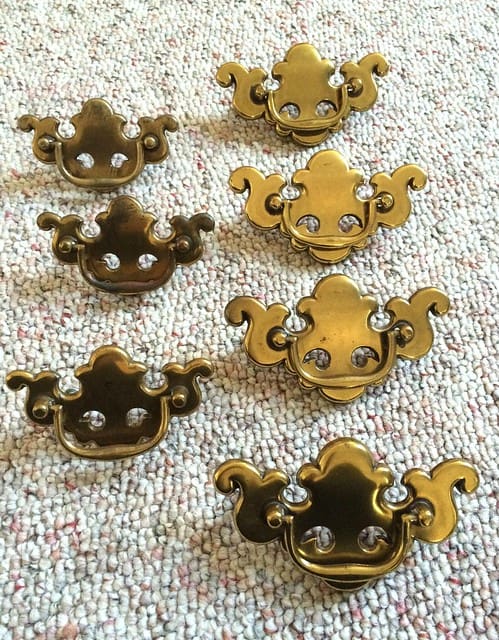 I debated getting new hardware for the dresser, but after giving the old brass handles a quick cleaning, they came out much better then I expected.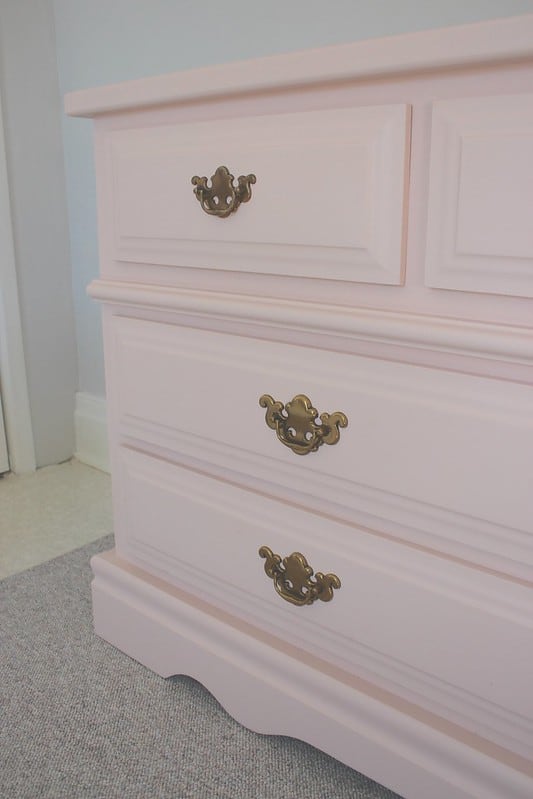 It was easy to screw them back into place and I surprised myself with how much I liked how they look. They provide a bit of an old-fashioned feminine touch which I'm hoping to incorporate into the room.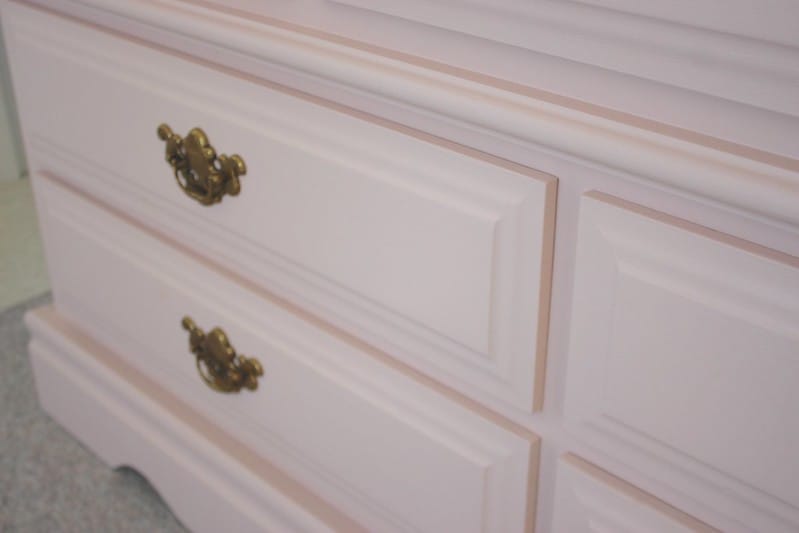 I'm so happy with how the dresser turned out! It's a subtle eggshell finish, which is nice for such a big piece like this in the room.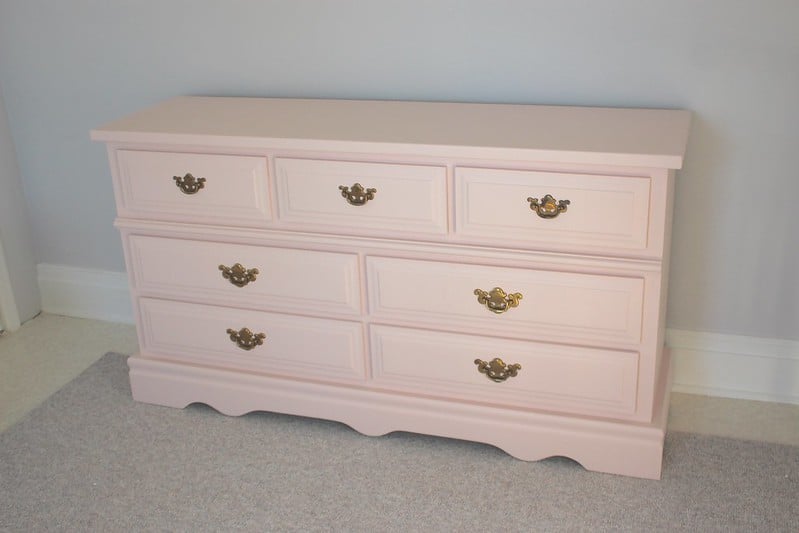 Now I need to start filling up the drawers with baby clothes and add a changing pad, some bins and a few trinkets to the top. It's exciting start to pull this room together in anticipation of the baby coming – less than two months until my due date now!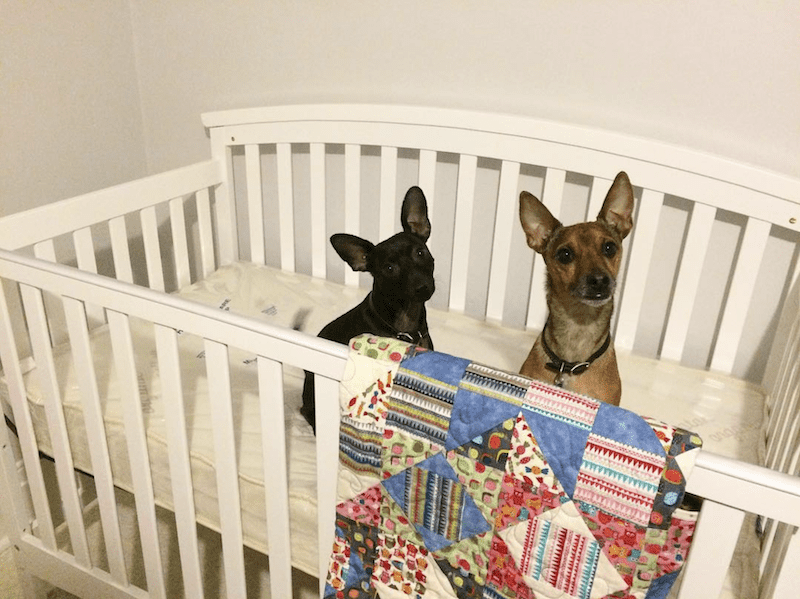 With the dresser and rug in place, we couldn't resist putting the crib together too. I shared this picture on Instagram on Saturday night of our two buddies testing out the new digs for the baby (don't worry, the plastic is still on the mattress). So far these two seem to approve of the room, coming in every time we're working on it to sleep in sunbeams on the new rug too. We'll see how they feel about it when a little someone is crying in there!