This post and giveaway are sponsored by Hamilton Beach Canada. All thoughts and opinions are my own.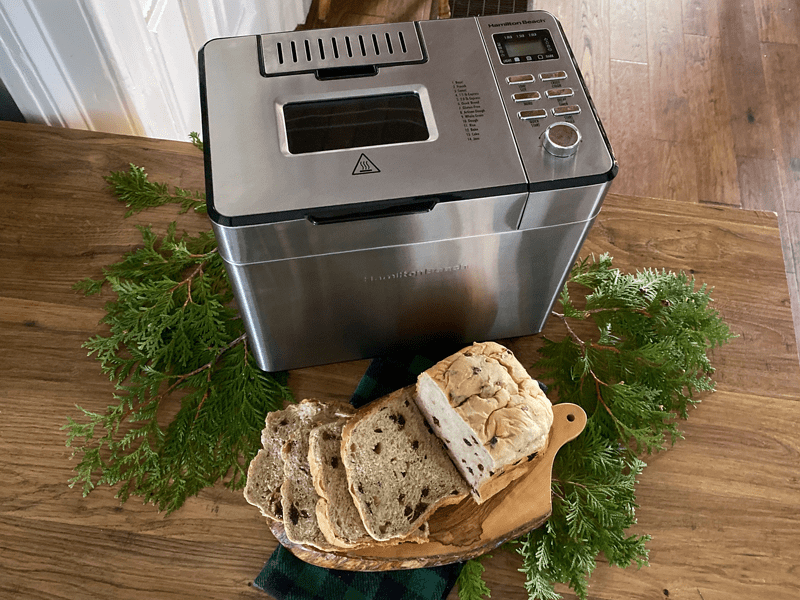 Earlier this month I shared the Hamilton Beach Dough & Bread Maker in my guide on Practical Gifts That They Will Love. I'm so excited to be back again with a great recipe to make Cinnamon Raisin Bread in the bread maker and you can use it to make homemade french toast too. I also have a GIVEAWAY where one lucky reader will win their own bread maker for the holidays!! (Entry details at the end of this post)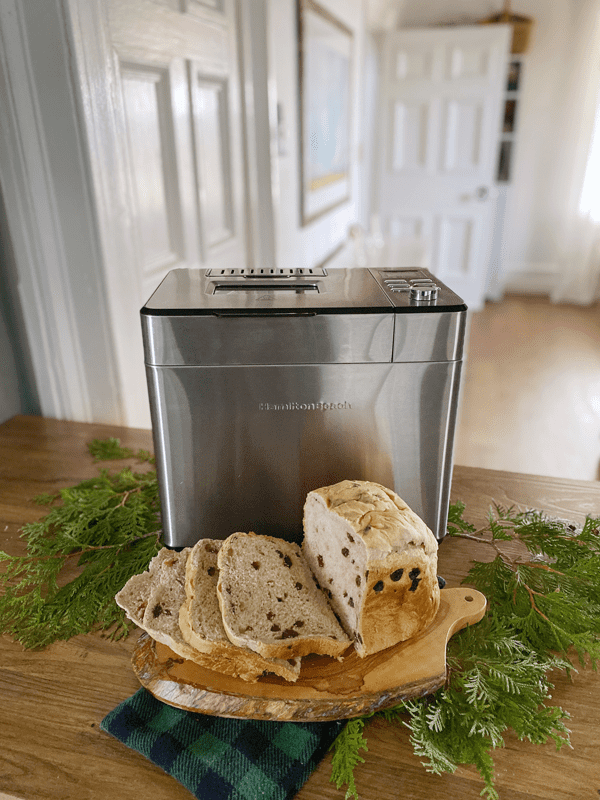 My Hamilton Beach Dough & Bread Maker has been wonderful for making homemade bread, and with little ones around I greatly appreciate that it only takes a few minutes of prep. The machine does the rest of the work and then a few hours later we have a warm loaf of delicious bread ready to enjoy. This isn't your grandmother's bread maker either – I can remember loaves that were like bricks, but this maker creates bakery-worthy bread. I've used it to make soft sandwich loaves and savoury cheesy bread or create dough for artisan bread and french baguettes that I can bake in my oven. It's incredibly versatile and easy to use.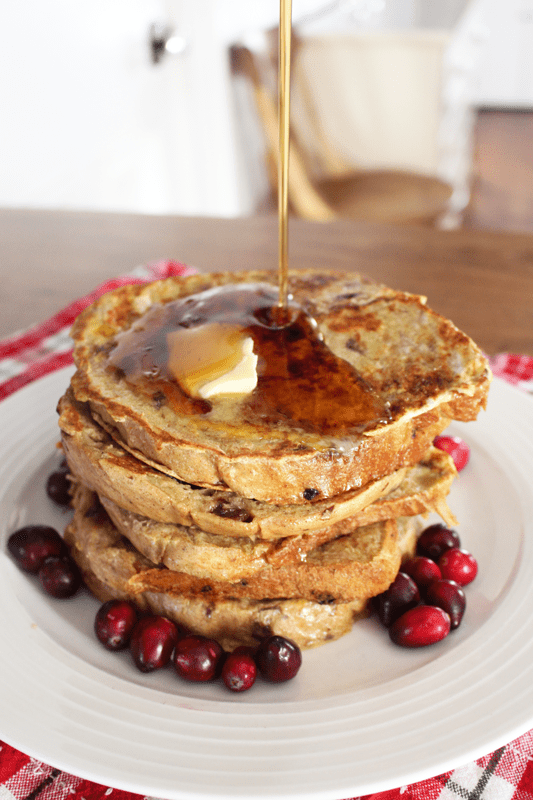 This week I made a nice loaf of fragrant Cinnamon Raisin Bread that we enjoyed fresh and then the next day I used the leftovers to create the festive Cinnamon Raisin French Toast.
Easy Homemade Cinnamon Raisin Bread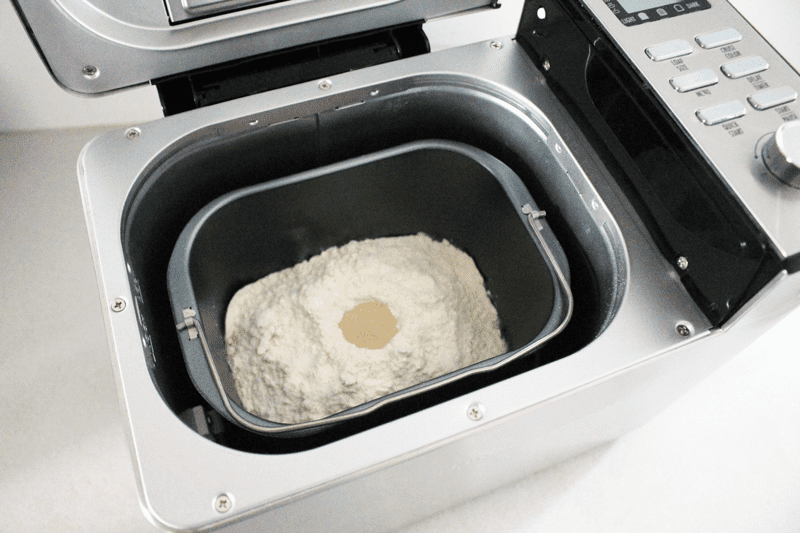 Using the Hamilton Beach Dough & Bread Maker is as easy as adding the ingredients in the order recommended. I've had great success when I add the liquids/sugars/seasonings first, followed by flour on top and lastly I make a well for the yeast. This keeps the yeast separate from some of the ingredients that may affect the yeast during the mixing stage.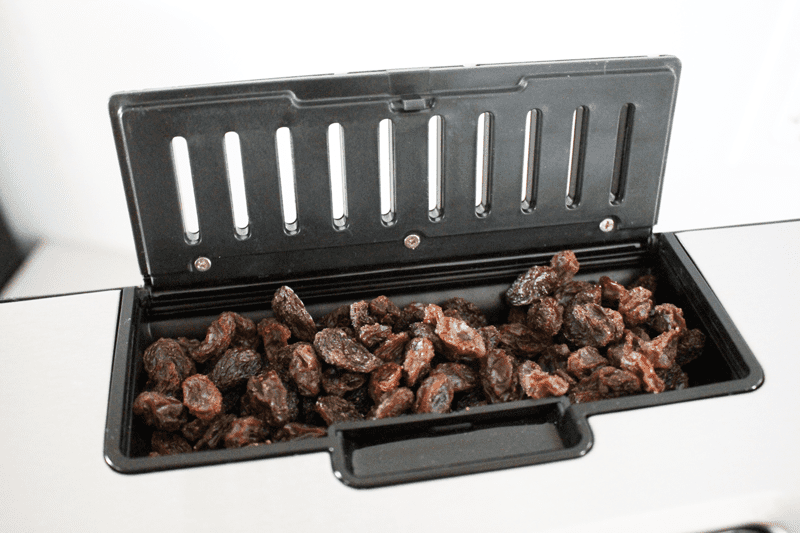 There is also a handy compartment at the top to put any add-ins, like dried fruit and nuts. I added the raisins for this bread in there and the machine mixed them in at the optimal time, with good distribution throughout the loaf.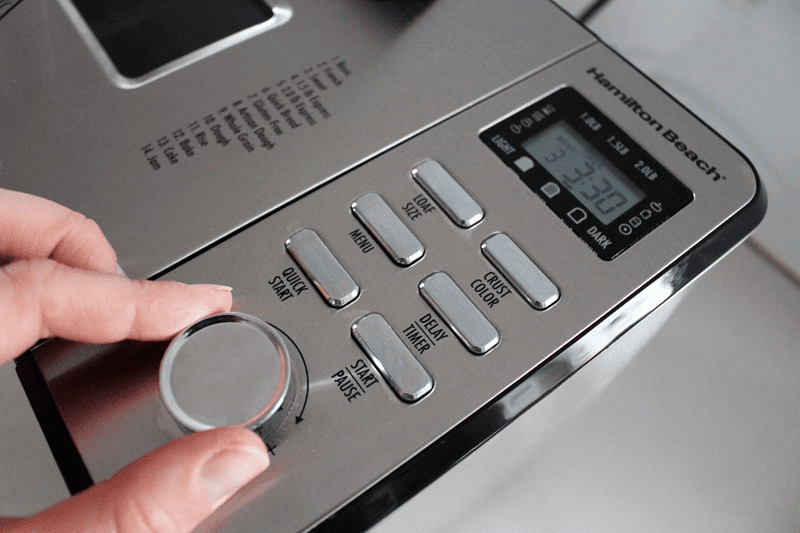 There are 14 settings on the bread maker, with options for loaf size and crust colour. For this Cinnamon Raisin Bread I used the "Sweet" cycle for a 1.5 lb loaf with a light crust.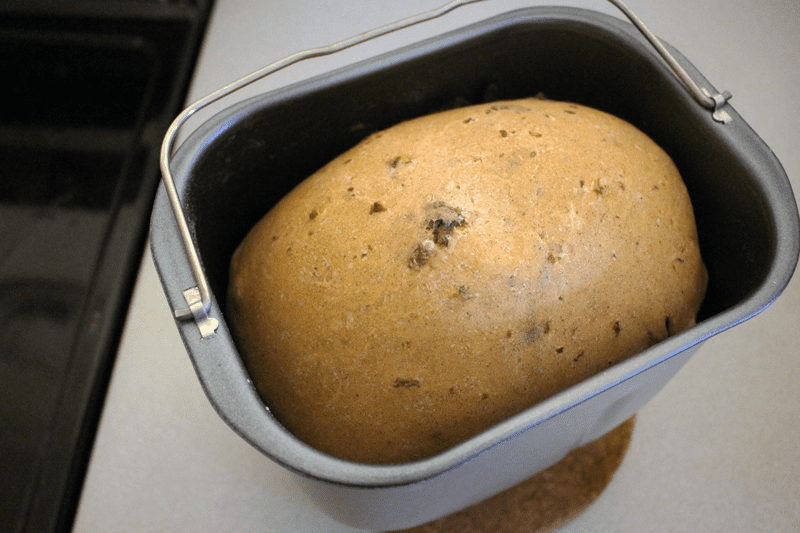 Three and a half hours later we had warm and fragrant Cinnamon Raisin Bread that I popped out of the loaf pan to cool on a rack. The hardest part of this whole thing was waiting for the loaf to cool before we cut it!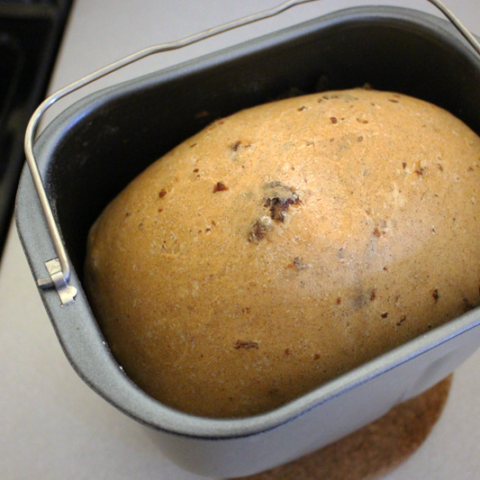 CINNAMON RAISIN BREAD
Cook Time:
3 hours
30 minutes
Total Time:
3 hours
35 minutes
Ingredients
1 cup water
3 tbsp brown sugar
1-1/2 tsp cinnamon
1-1/4 tsp salt
2 tbsp butter, softened
3 cups bread flour
2- ½ tsp bread machine yeast
¾ cup raisins
Instructions
Place all ingredients, except the raisins, in the bread machine in the order recommended by the manufacturer. In this case, I added, water, brown sugar, cinnamon, salt and butter, followed by the flour, and then made a small well for the yeast to sit on top.
Add raisins into the "Add-Ins" compartment at the top.
Select "Sweet" cycle, for a "1.5 lb" loaf and "Light" crust colour. Remove baked bread from pan and cool on wire rack.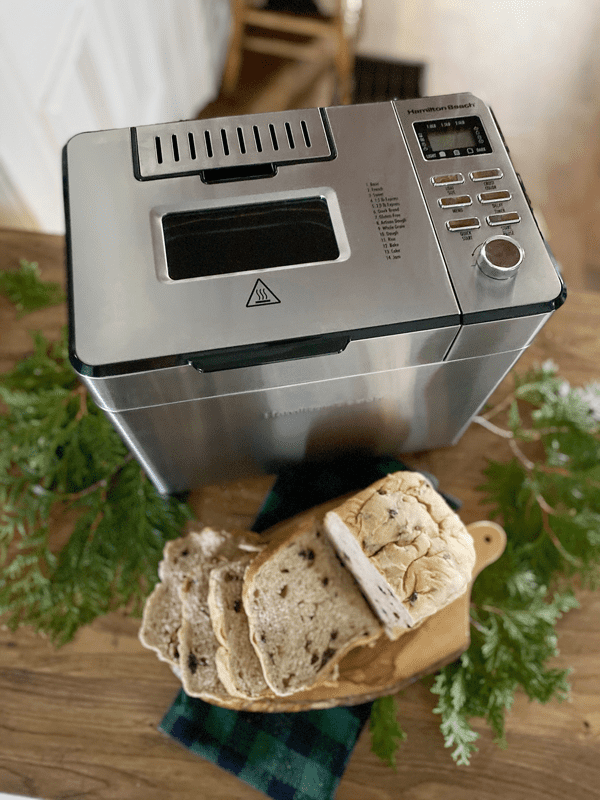 This Cinnamon Raisin Bread was so good, it inspired me to create a fun festive brunch idea for my family…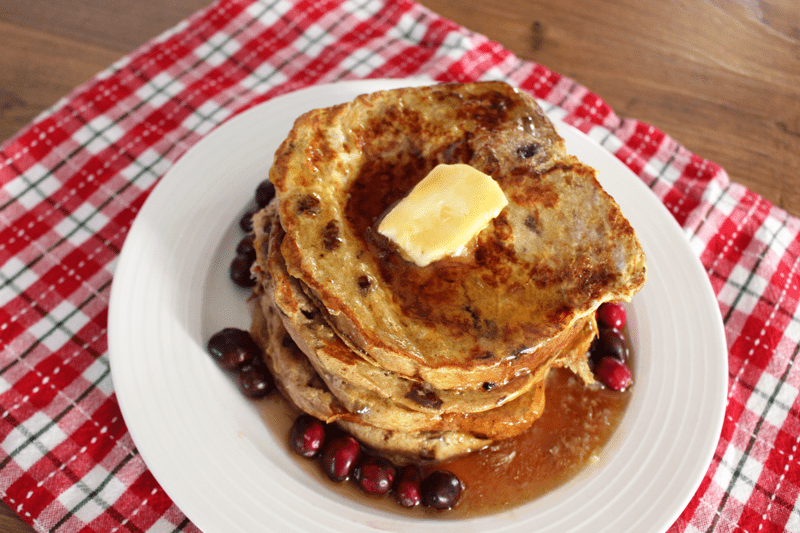 Cinnamon Raisin French Toast!
French toast is a classic breakfast staple and with good reason. It's a great way to use up day old bread using two simple ingredients (milk and eggs) to create a custard for dipping before you pan fry them to golden.
How to Make Cinnamon Raisin French Toast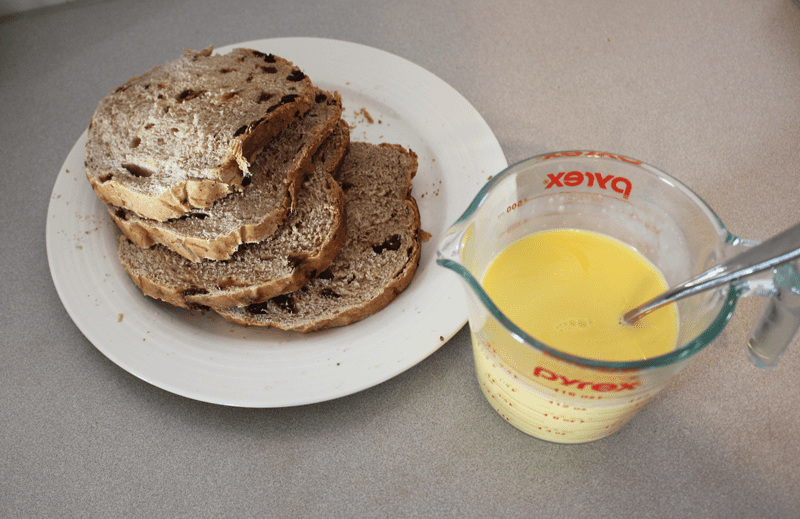 As a general rule, the ratio of milk-eggs-bread is 1/4 cup milk and 2 eggs for every 2 slices of bread. I whisk mine in a small measuring cup first to get the eggs and milk fully incorporated. This makes more of a custard-like flavour instead of just scrambled eggs around the toast.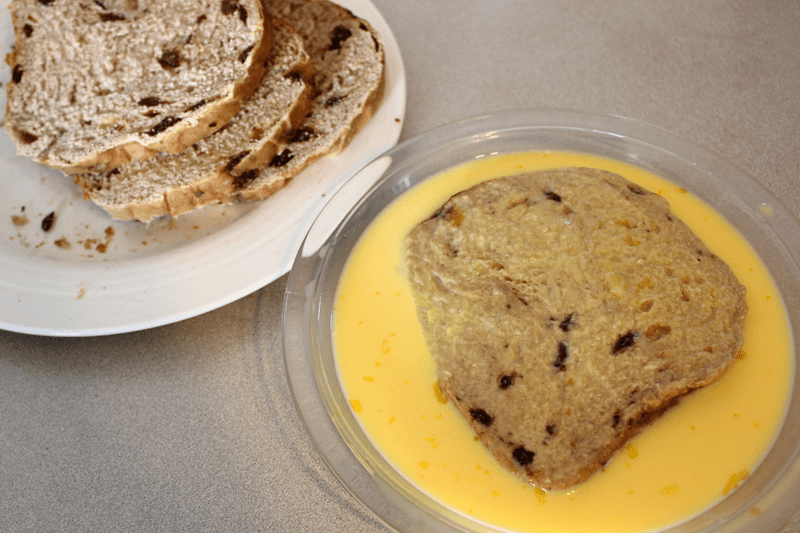 While the pan is heating up on medium heat, you dip the slices into the custard mixture and let the bread soak it up a bit. Then each piece is pan fried in a little butter on each side until it's perfectly golden.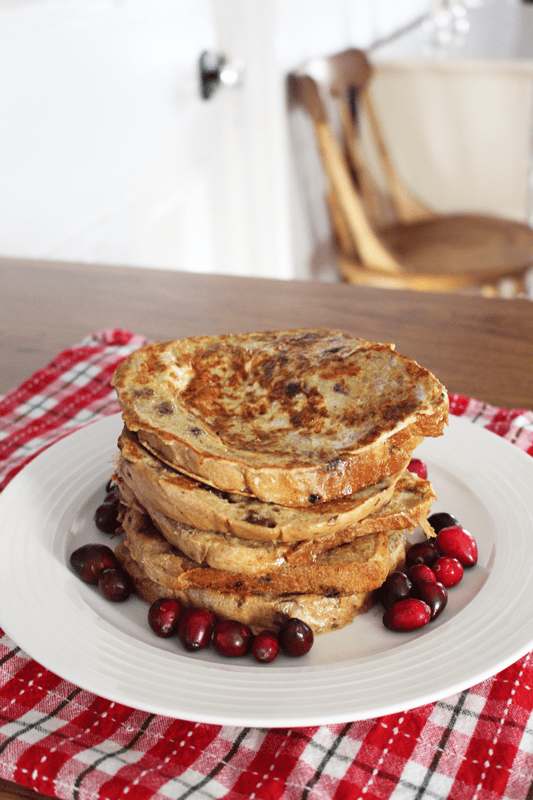 Serve up with fresh berries, maple syrup, whipped cream, icing sugar – whatever toppings you like!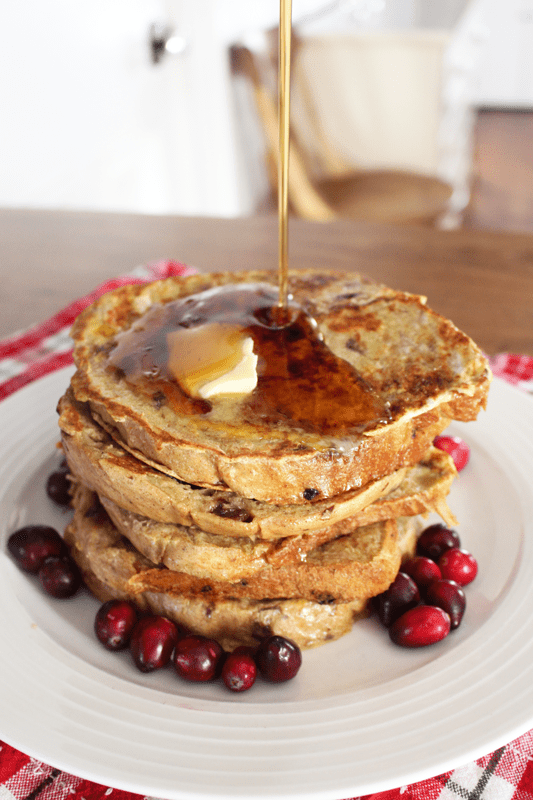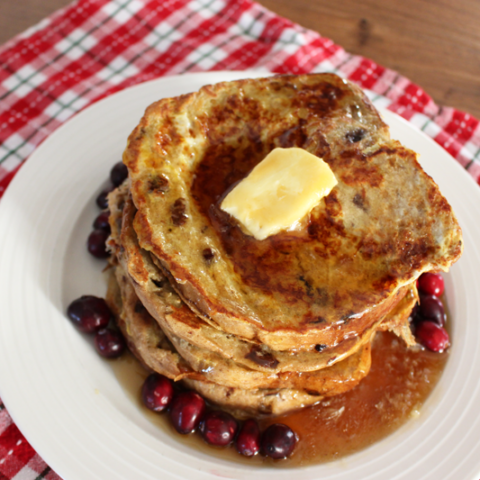 CINNAMON RAISIN FRENCH TOAST
Ingredients
4 thick slices of homemade Cinnamon Raisin Bread
4 eggs
½ cup milk
2 tbsp butter
Instructions
In a small bowl or measuring cup, whisk together eggs and milk until well combined.
In a large skillet, melt butter over medium heat.
Pour egg mixture into a shallow dish such as a pie plate or platter. Dip each slice of bread in egg mixture, soaking both sides.
Place in pan, and cook on both sides until golden.
Serve hot with your favourite toppings: maple syrup, butter, whipped cream, icing sugar or fruit.
Hamilton Beach Dough & Bread Maker Giveaway!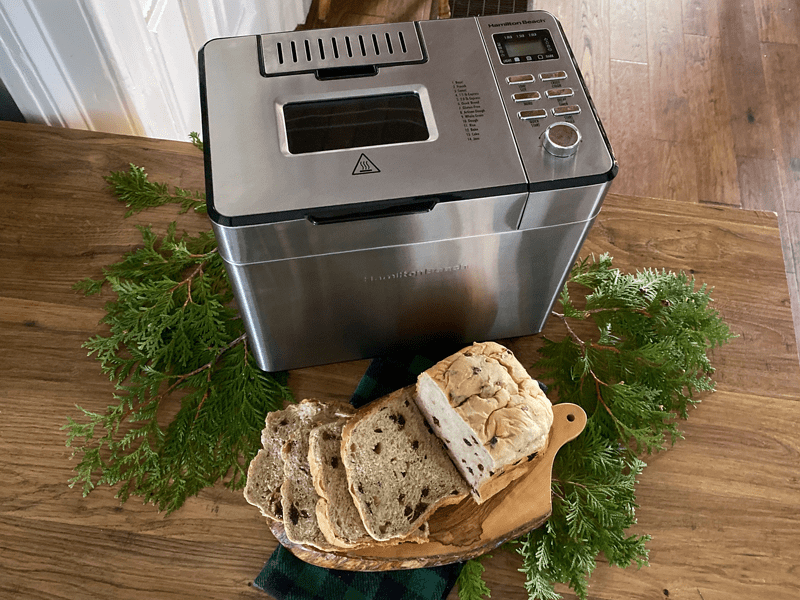 I've found this Hamilton Beach Dough & Bread Maker to be such a handy tool in the kitchen for my family and I'm over the moon to be able to give one away to a lucky reader too! Just picture having homemade bread with Christmas morning brunch. Yum!
Enter below for your chance to win a Hamilton Beach Dough & Bread Maker ($150 value)!
GIVEAWAY CLOSED – THANK YOU TO EVERYONE WHO ENTERED!