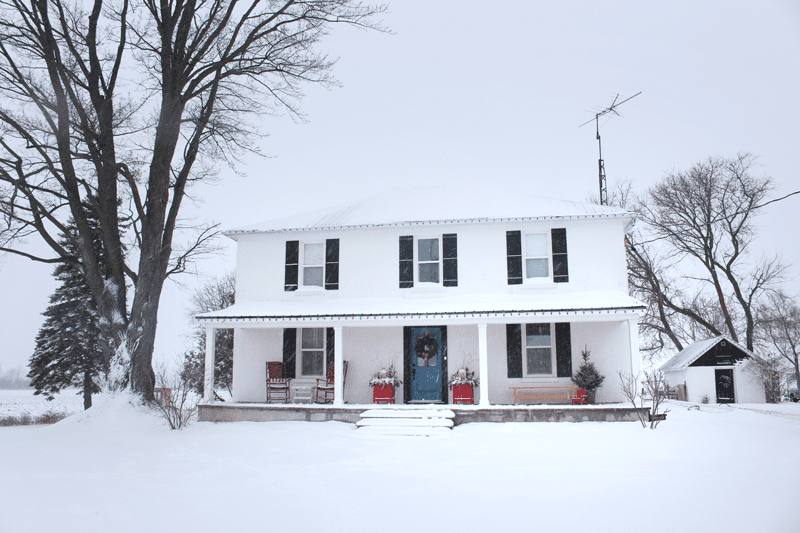 On the first of December, we woke up to a winter wonderland! Cloverhill, our 1903 farmhouse in rural Ontario was blanketed in snow and it felt like we were living inside a real snow globe. Our two little girls were thrilled! What a magical way to start the month and kick off the Christmas season!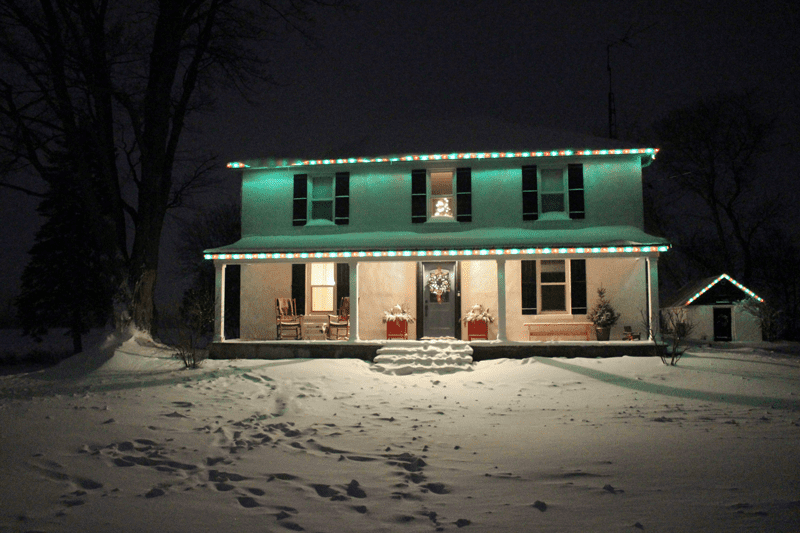 At nighttime, it was just as magical with the Christmas lights glowing – a first for us this year because two little girls are very excited about lights now.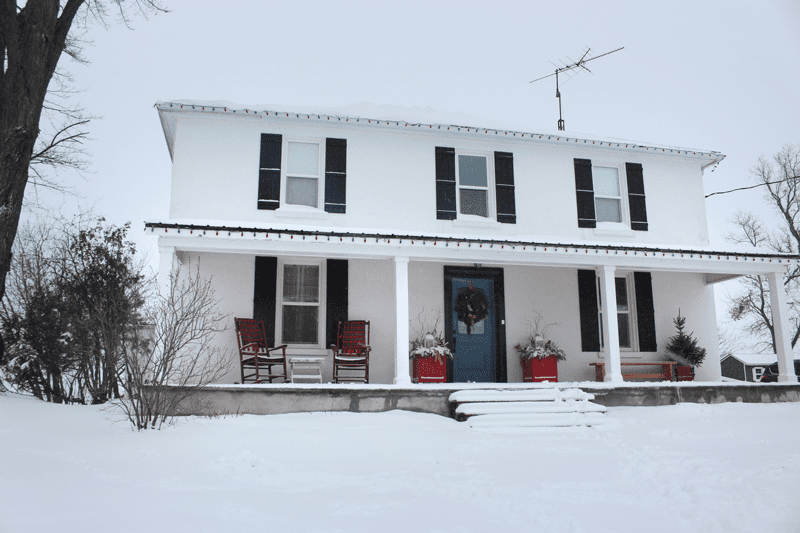 Our front porch has changed quite a bit from the first Christmas we spent here back in 2015. Every year we work on something new, but this past year the porch has gotten quite a few updates with a tongue-and-groove cedar plank ceiling, a parged facade to the front of the concrete, the newly added wide trim around the door and a fresh door colour.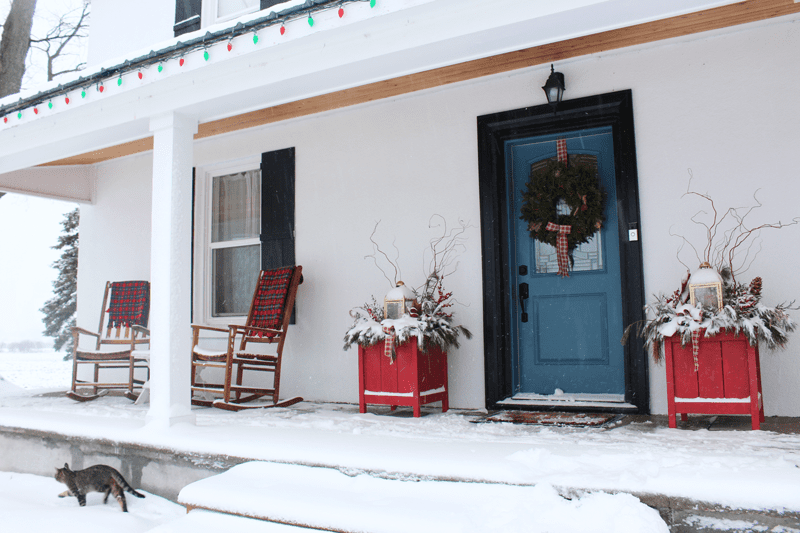 Decorating our front porch for the holidays is one of my favourite things to do every winter, but especially on a year when we're not having people in our home. It's a way for us to share the holiday season with family, friends and neighbours who pass by or stop in for a front porch visit. I have the DIY No Sew Fleece Blankets ready in the front hall for snuggling up on the big rocking chairs.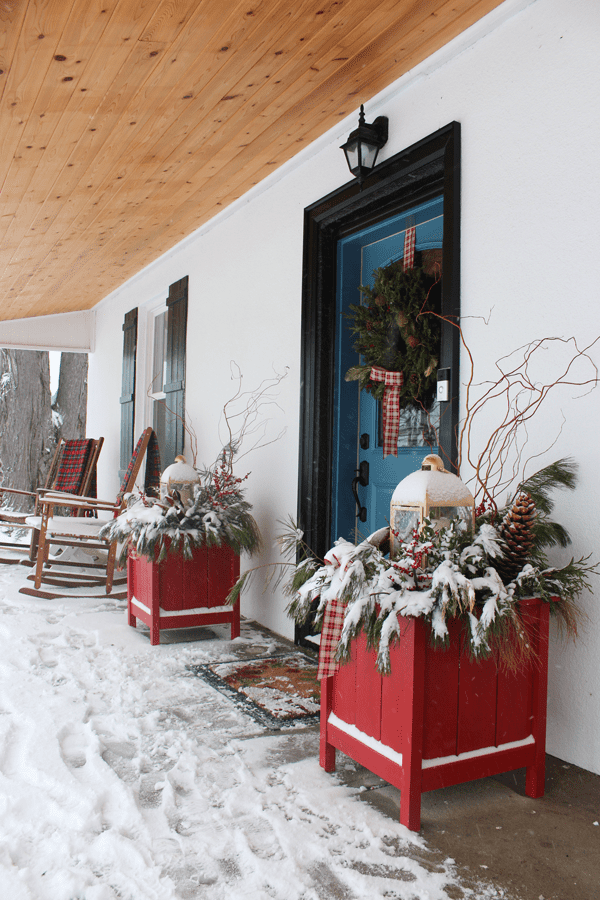 To decorate the front door, I made these Outdoor Lantern Planters using the red Holiday Wood Planters that Garrett made for me years ago. The big gold lanterns have twinkly lights inside, as does the evergreen wreath. I've been using these little indoor/outdoor lights throughout the house too. (They are waterproof, battery powered, come with a remote and a timer – find them on Amazon Canada // Amazon US)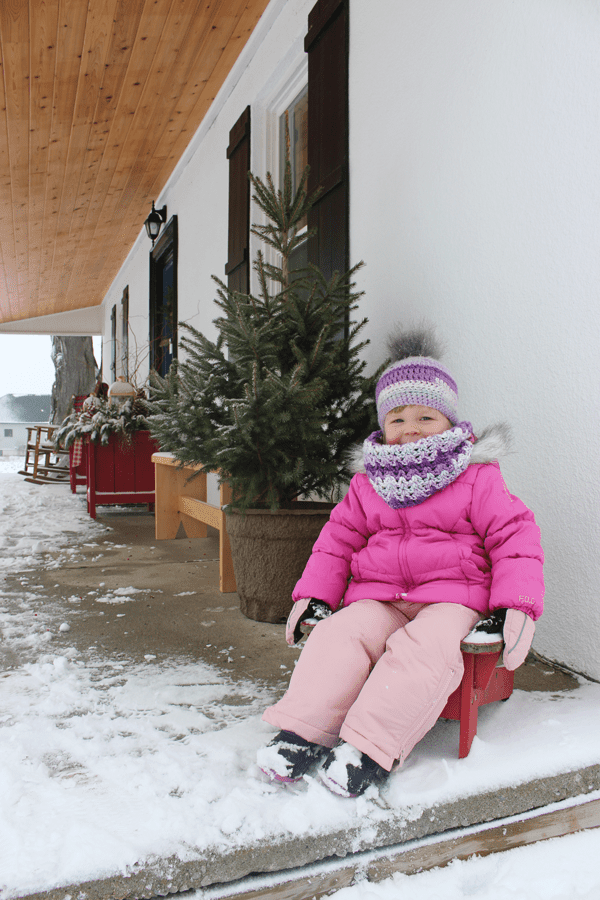 On the other end of the porch I have a big bench Garrett made me this fall using a simple garden bench plan that only used two boards. We also have Rosie's tree that we're planting after Christmas (we dug the hole before the ground froze!) and she loves to sit on her little red chair on the porch by her "twee" ha! My parents gave Lucy a Neon Blue Spruce when she was little and Rosie's is a Weeping Serbian Spruce. I love to think of them being adults someday and visiting their trees. There is a red maple "Amanda Tree" planted at my grandparents' old house in Thornbury and even though we don't go up there often, I love knowing it's there.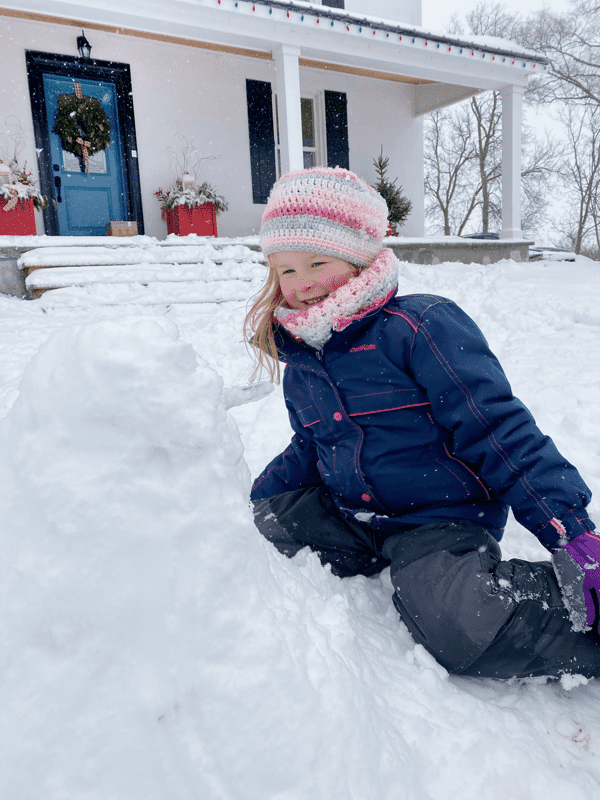 With all this snow, the girls could hardly wait to get outside to make a snowman. At four and two years old, they are such a fun age for playing outside and are both very excited about Christmas.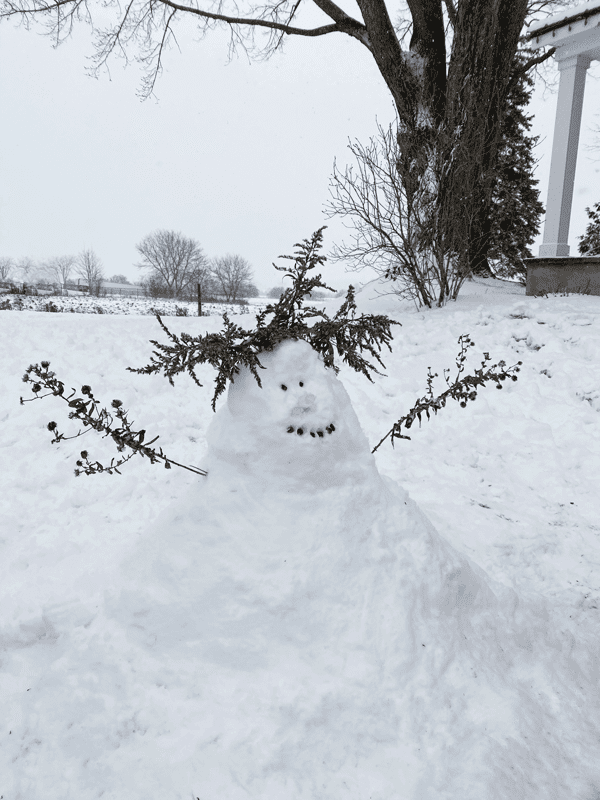 Lucy added pebbles for eyes and a mouth, Rosie found an icicle from the porch for a nose and I helped them find branches and dried flowers from the wildflower meadow to make the arms and hair. I think he looks a bit like Flemmingrad the festive troll from Olaf's Frozen Adventure, ha!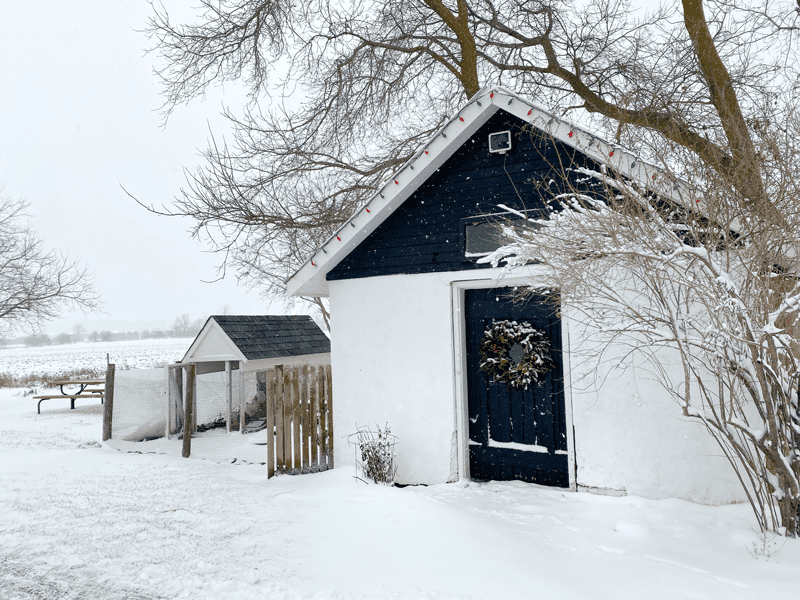 Even the old springhouse got some festive updates with Christmas lights and a fresh evergreen wreath.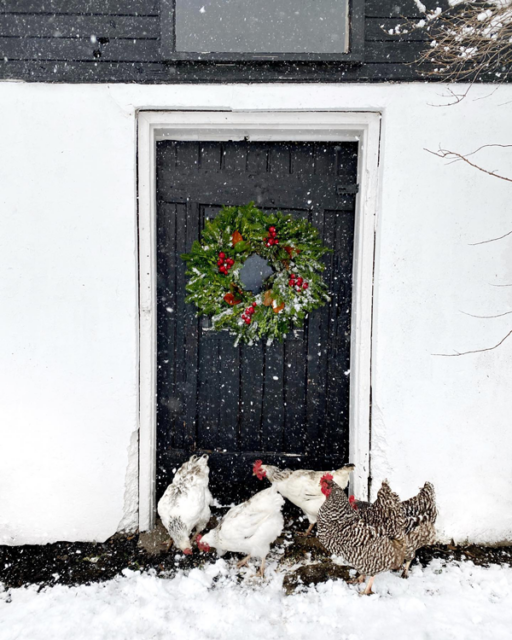 With the colder weather, you'd think the chickens would stay cooped up all the time, but usually you can find them around the yard scratching up the dirt looking for treats. We do what we can to keep our backyard chickens warm and happy in the winter months.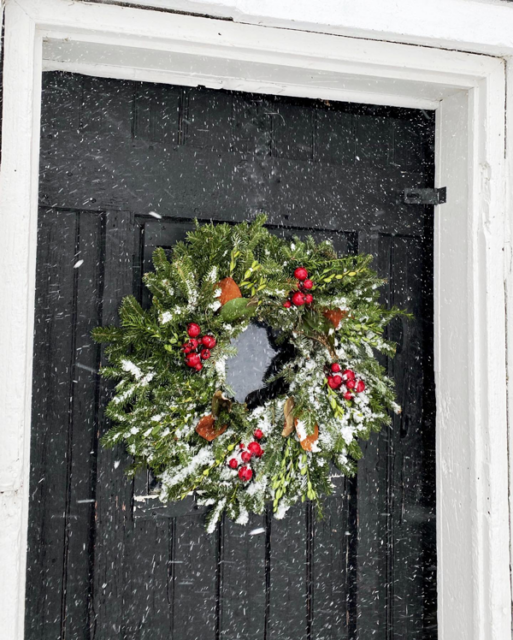 The wreath on the springhouse door is one that we sold through our holiday farmstand for Cloverhill Flowers. I love the mix of evergreens, boxwood, berries and magnolia leaves.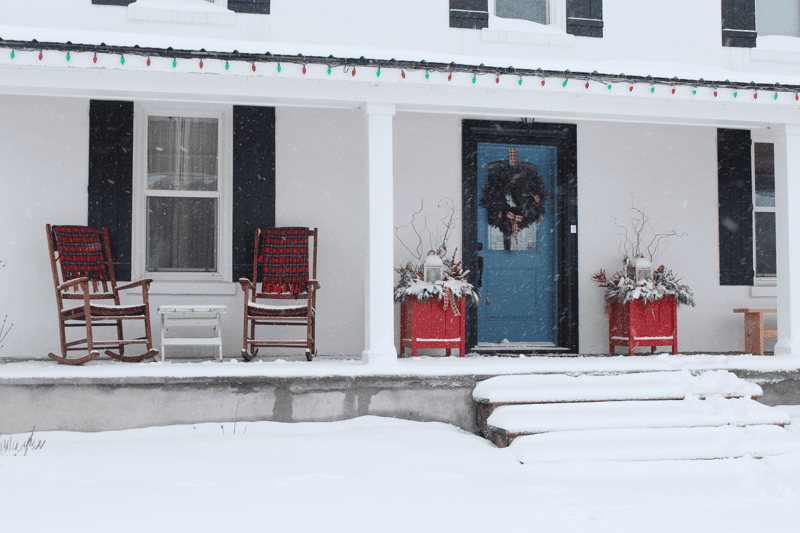 The front door wreath and all the greens in the planters are from the flower business too. It's been handy having so much fresh material to work with! I usually decorate inside of the farmhouse first and then do the outside after, but this year I switched it around. Not only did it mean I wasn't completely frozen by the time I was done doing it, but it also gave me a chance to really have some fun decorating instead of rushing.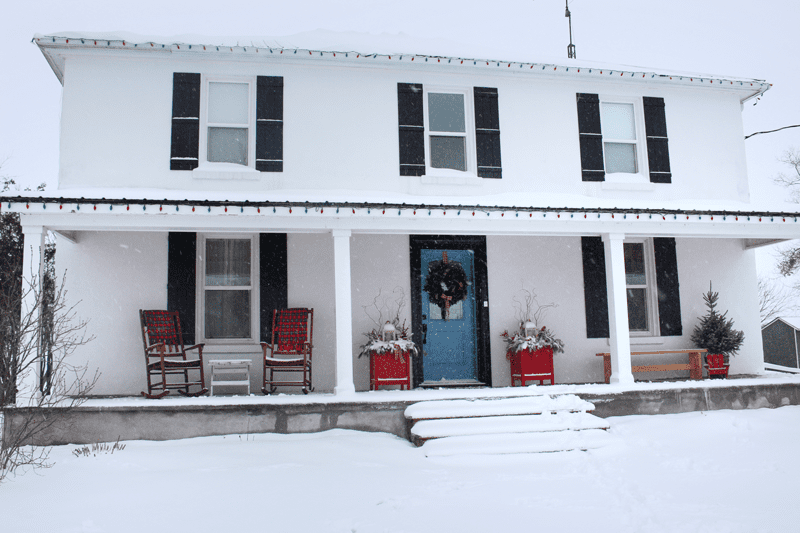 The girls have been so captivated by Christmas lights, so when they asked if we could put them on our house, my brother offered to come help us get them up. We put green and red LED C9 bulbs in a row along the front of the porch roof and another along the top roofline. Garrett put some along the springhouse too.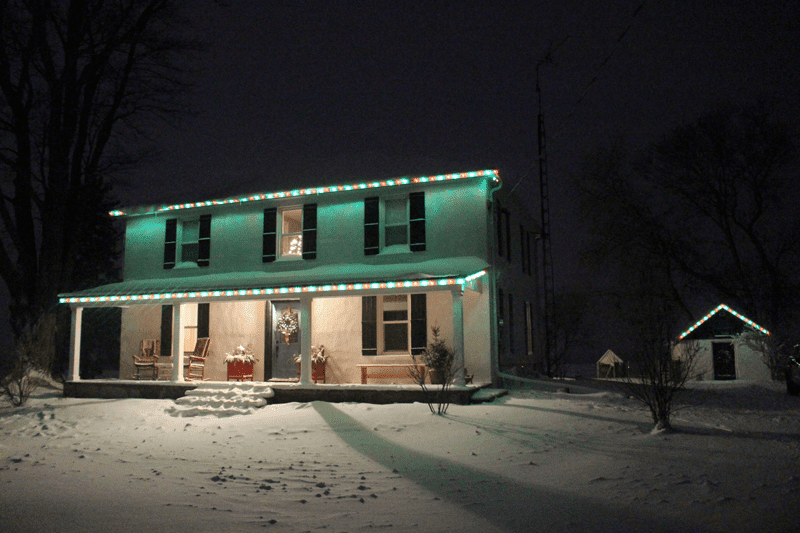 It looks so fun and festive!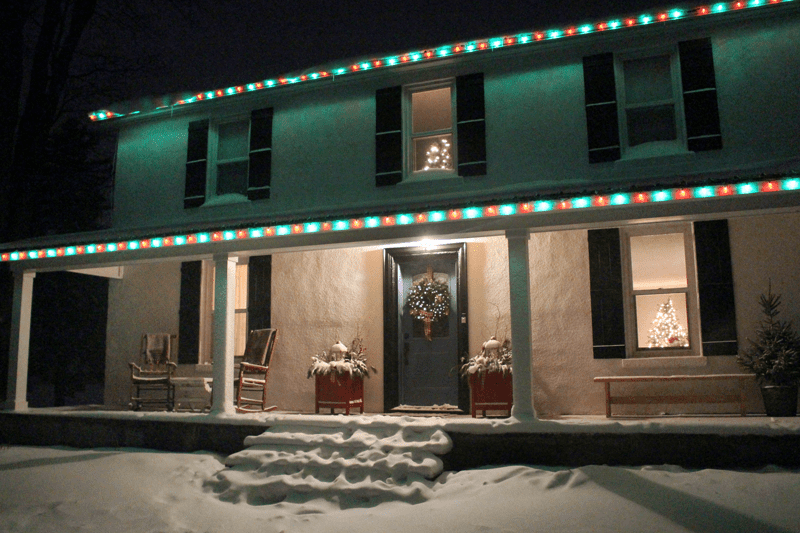 On the porch, the little twinkly lights glow in the wreath and planters (hard to see under the snow here, ha!) You can see our Christmas tree in the living room and the tabletop tree from our old apartment in the hallway window upstairs.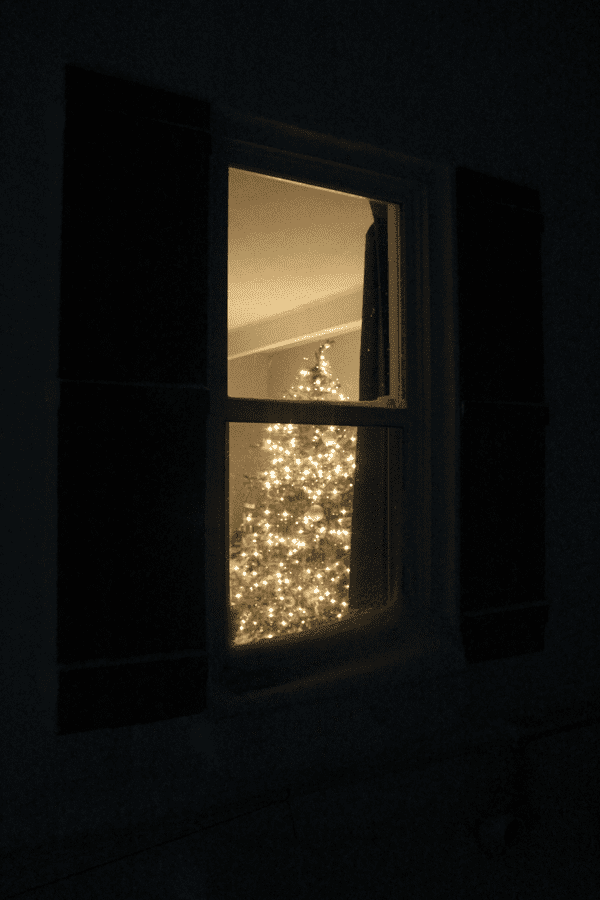 I popped out the other evening for an errand and when I came home I watched the girls through the window. They were playing in front of the Christmas tree in our living room and it made my heart warm (despite the cool temps). It got me thinking about how the soft glow of a Christmas tree can invoke so much of that holiday joy.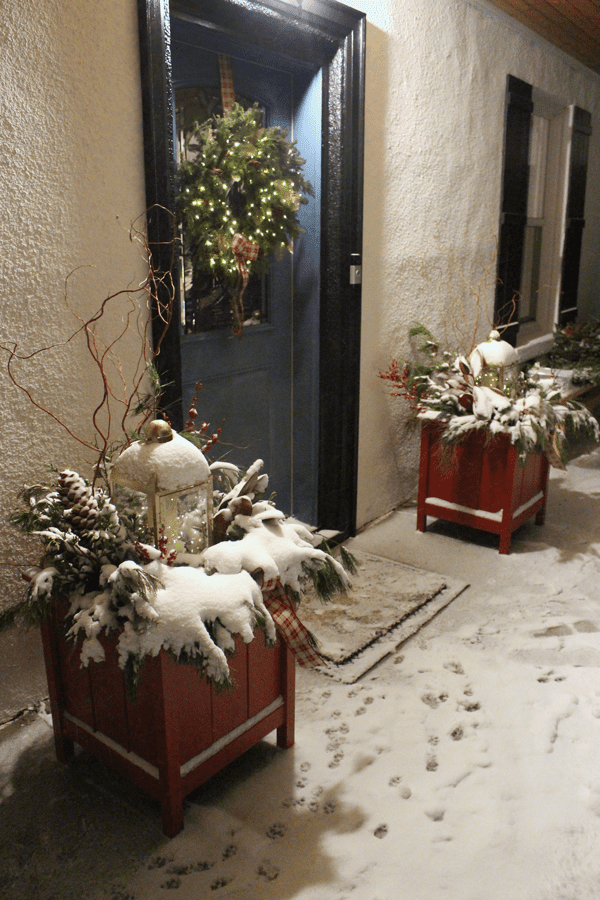 Thick snow on the planters and little cat and dog paw prints in the snow on the front porch. I'm sure looking forward to another Christmas here at Cloverhill Farmhouse.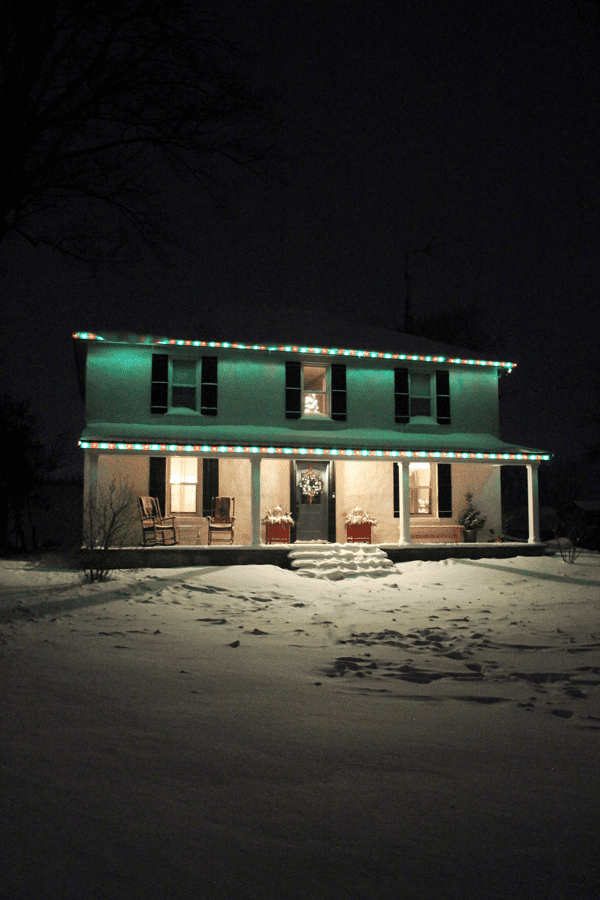 I hope you've enjoyed our front porch decor for the holiday season this year. I'll be sharing the Christmas decor inside our farmhouse later this week and you can see previous years of holiday decor under "Holidays".