This simple and inexpensive photo case method makes storing garden seeds easy. Sort your seeds by type and keep them organized for when you're ready to plant!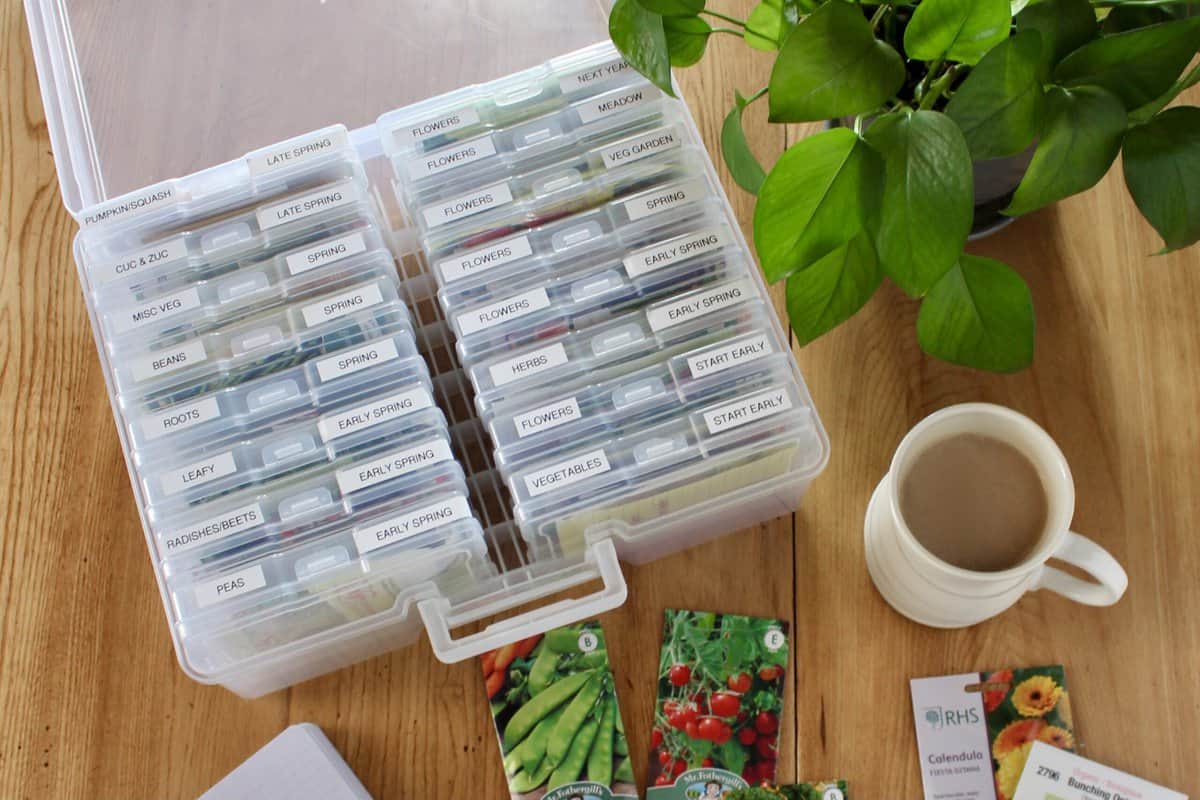 For the last seven years, I have been managing a sustainable cutting flower farm in Southern Ontario with my mom. At Cloverhill Flowers, the majority of our flower seedlings are started at a greenhouse, but some flowers and vegetables we start ourselves. We also sow certain varieties directly into the field.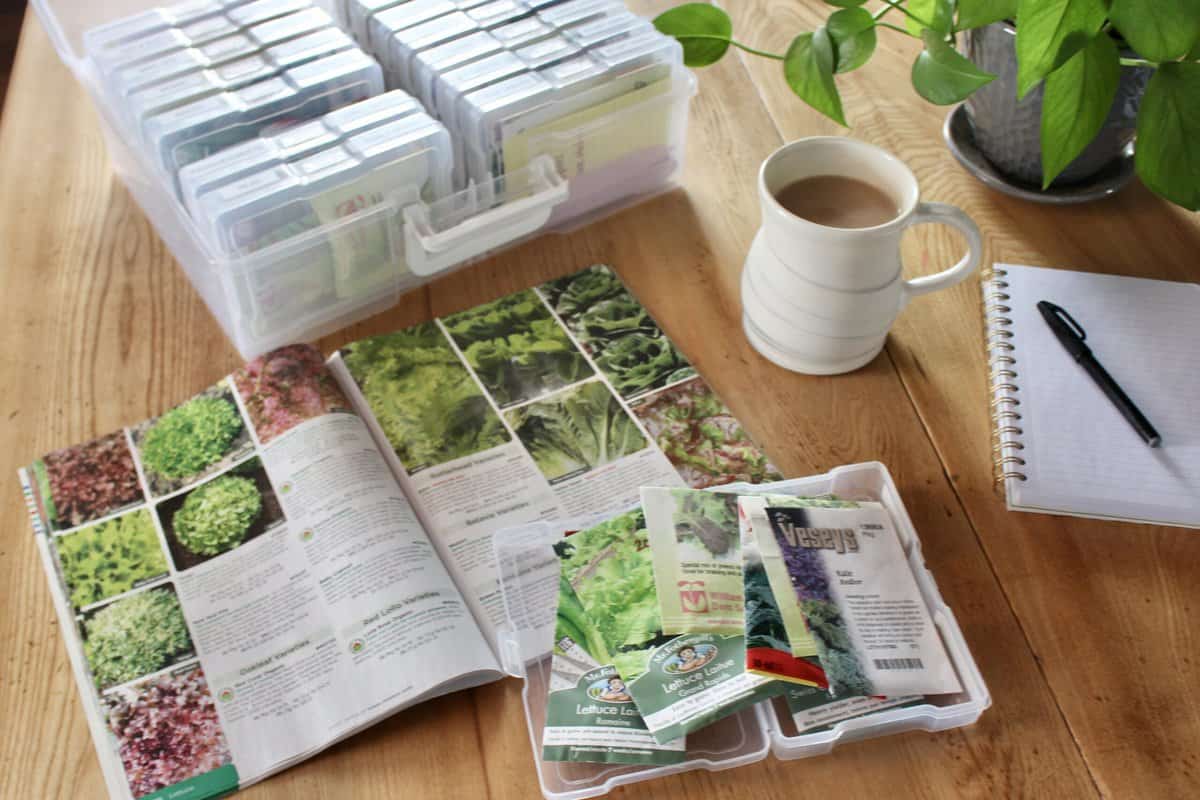 I'll admit that when the seed catalogues come out each year, we get very excited. If we don't have a clear idea of what seeds we already have leftover from the previous year, we have been known to accidentally buy them again. Oops! Getting ourselves organized has saved us time and money!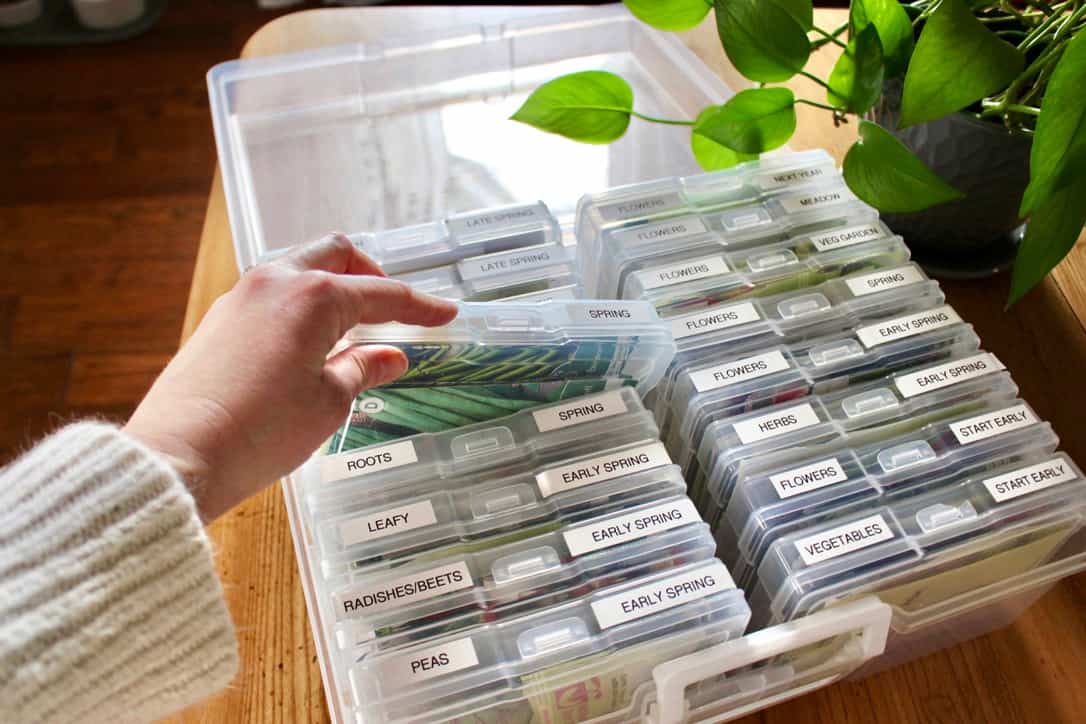 We have tried all kinds of ways to organize our seed packets. From sorting them into large envelopes and plastic bags…to keeping them gathered up with elastic bands in recipe card tins and shoe boxes. Each spring we would start our planting, and our systems would fall apart.
Then a couple of years ago we stumbled across this storage method and it has been a game changer!
Seed Storage in a Photo Case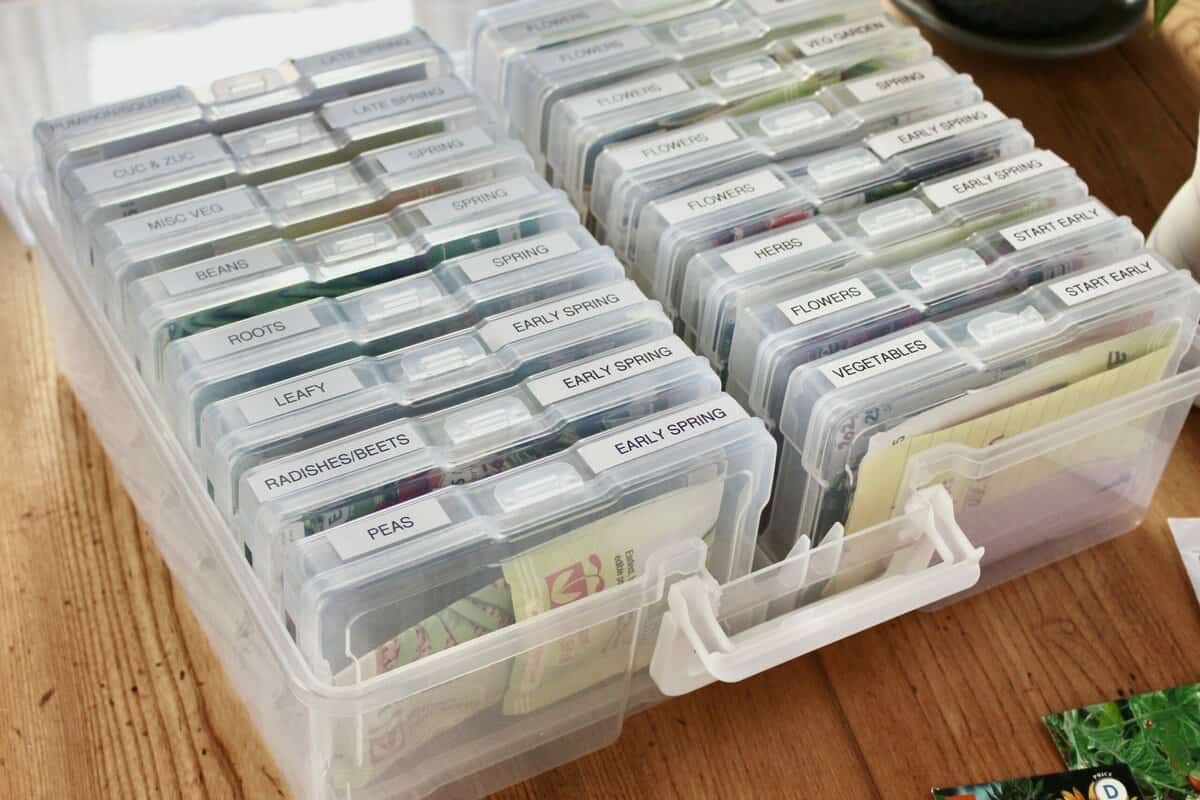 You know those photo cases you see at craft stores? It turns out that they are the perfect size to fit most seed packets. These photo organizers are essentially one large plastic tote with 16 smaller plastic cases inside. Each small photo case fits 4×6 photos, or seed packets!
SHOP SEED STORAGE PHOTO CASES ON AMAZON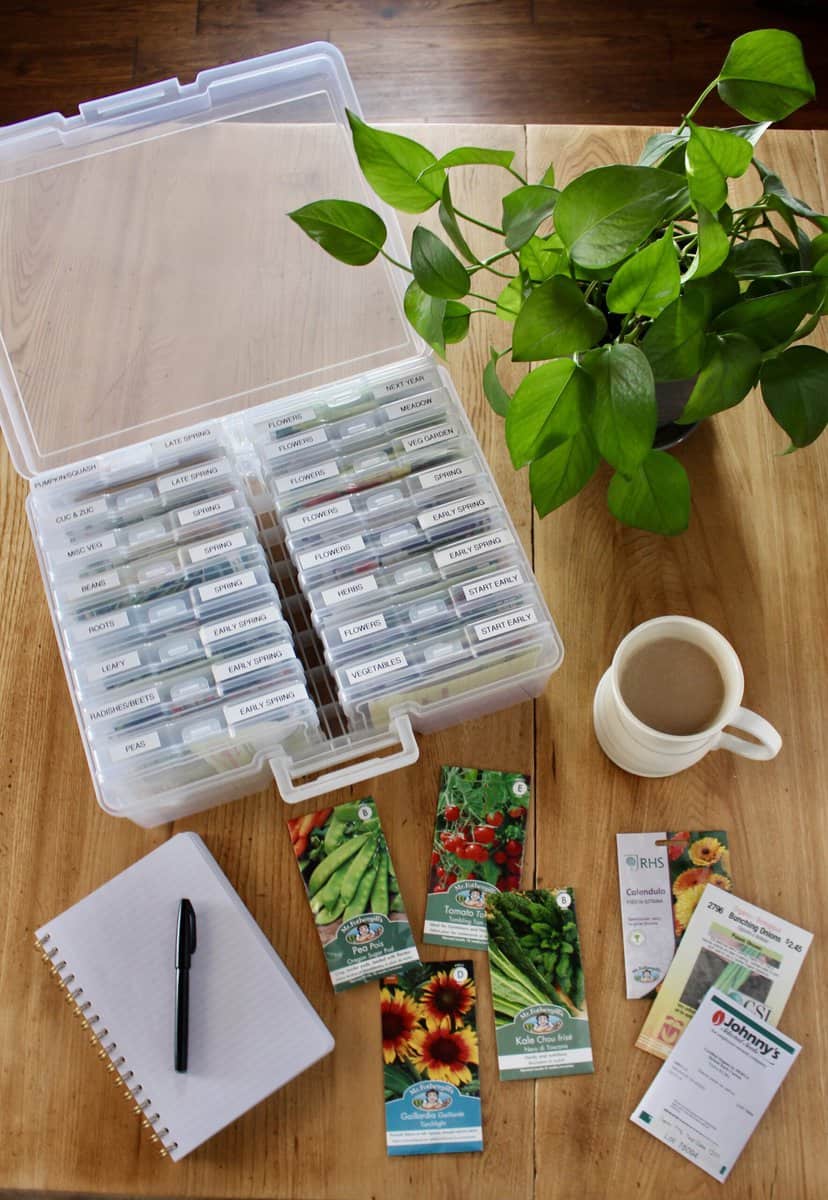 The tote has a handle, making it easy to carry it outside when we are ready to plant. The containers are not waterproof but do a good job of keeping them dry. This makes it perfect for taking out to the garden, without worrying you will get seed packets wet. I've accidentally done that before!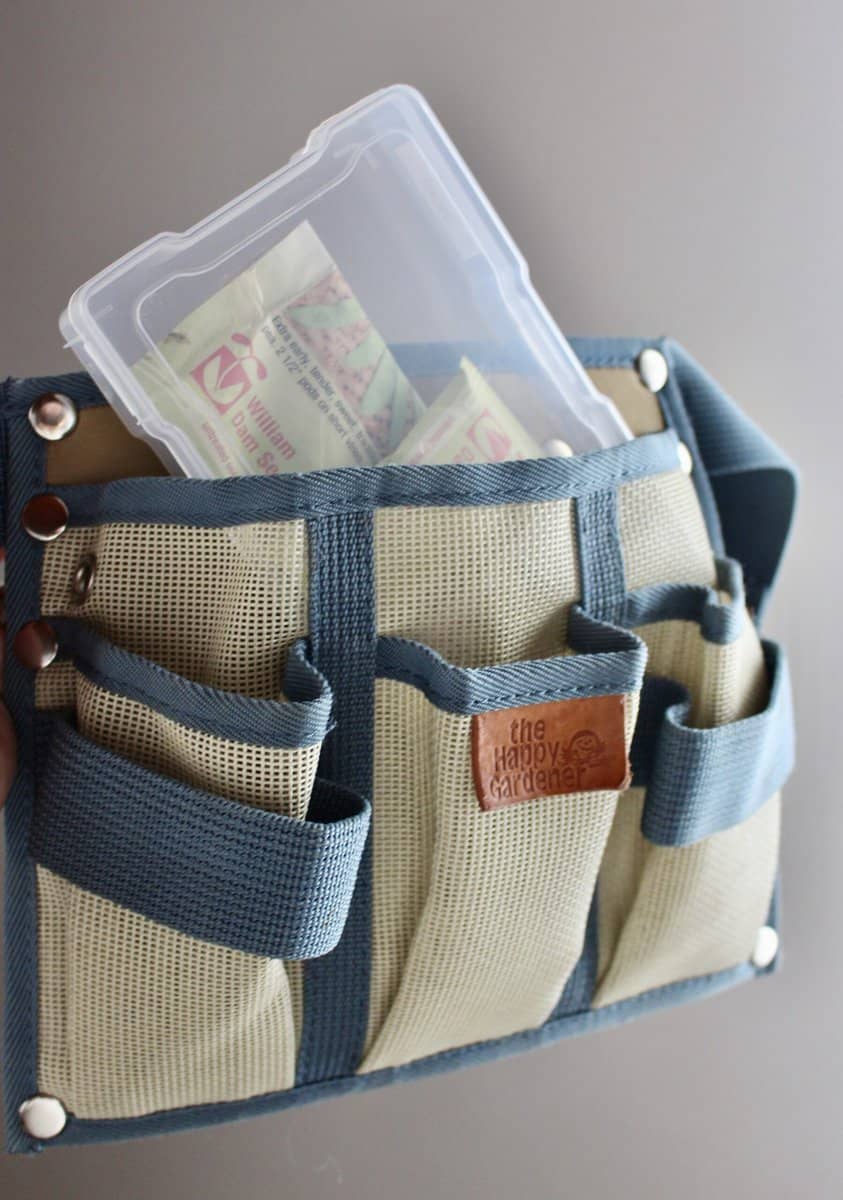 Usually, I like to remove each individual smaller plastic case when we are heading out to plant those seeds in the field, leaving the rest inside. The smaller photo cases fit perfectly into the pocket of my work belt!
When I'm done planting, we usually have some seeds left over. I can tuck the packet away into the case to save for succession planting or for next year. We use tape to close up our seed packets and prevent spills in the cases. No one likes a game of "What's that Seed?", although we have been known to plant a row of "mystery seed" from time to time when we can't figure it out.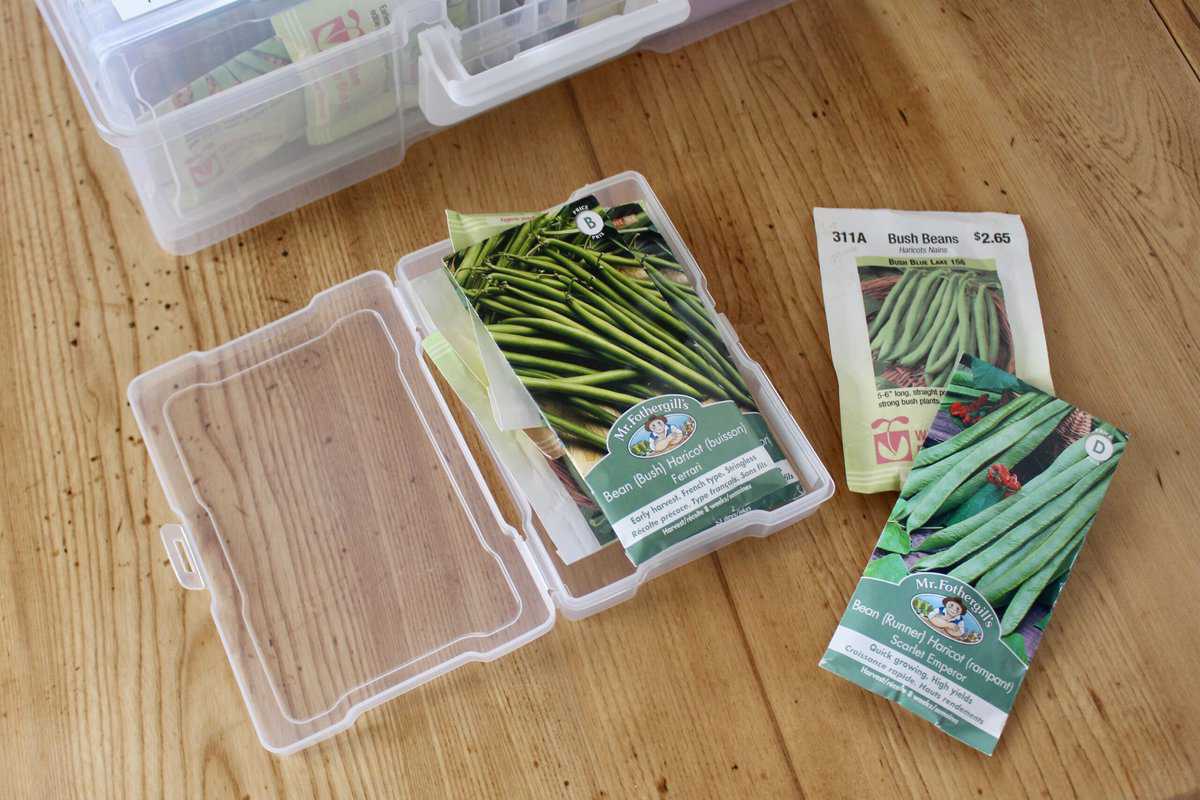 Occasionally we have a seed packet that doesn't quite fit, but I can usually fold it to fit it in the case. For seeds that we buy larger quantities of such as one pound bags of peas and sunflowers, I keep them in a small plastic tote.
How to Organize Your Seed Storage Containers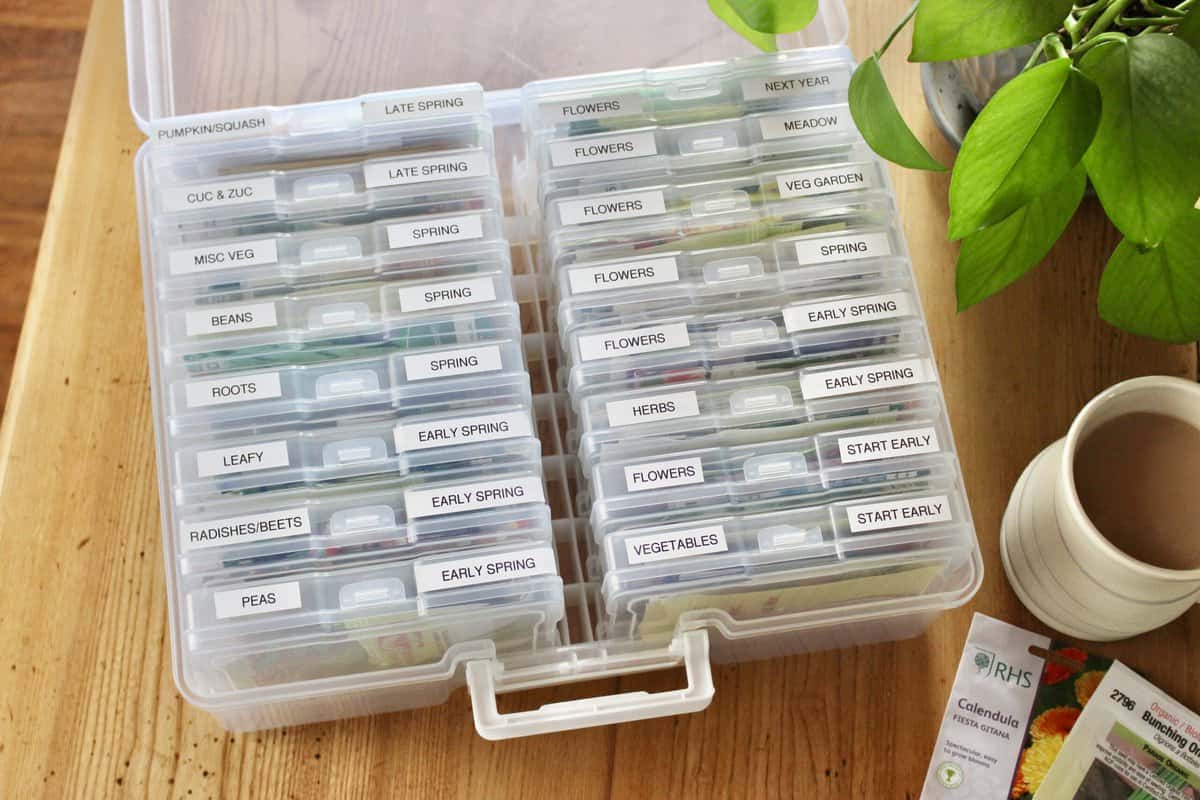 You can organize your seeds into whatever categories make sense to you and your growing zone (we are zone 5b). You can look up your Canadian Plant Hardiness Zone or US Plant Hardiness Zone.
I organize our seeds into the types of plants (ex. root vegetables, herbs, tomatoes, etc), then into when they are planted in our growing season (ex. early spring, spring, late spring).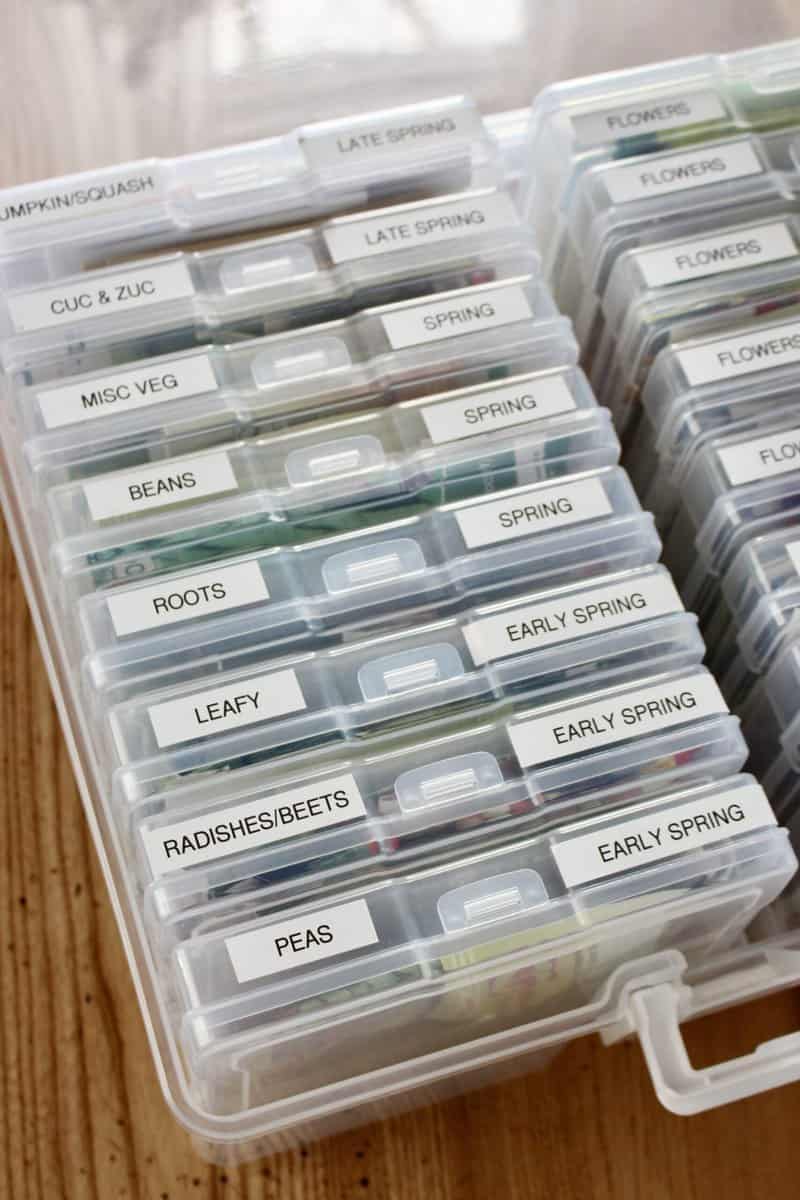 I used my label maker to label each container with the type of seeds and the planting time.
For the more generic categories, I tuck a piece of paper in the front of those cases, listing what varieties are inside.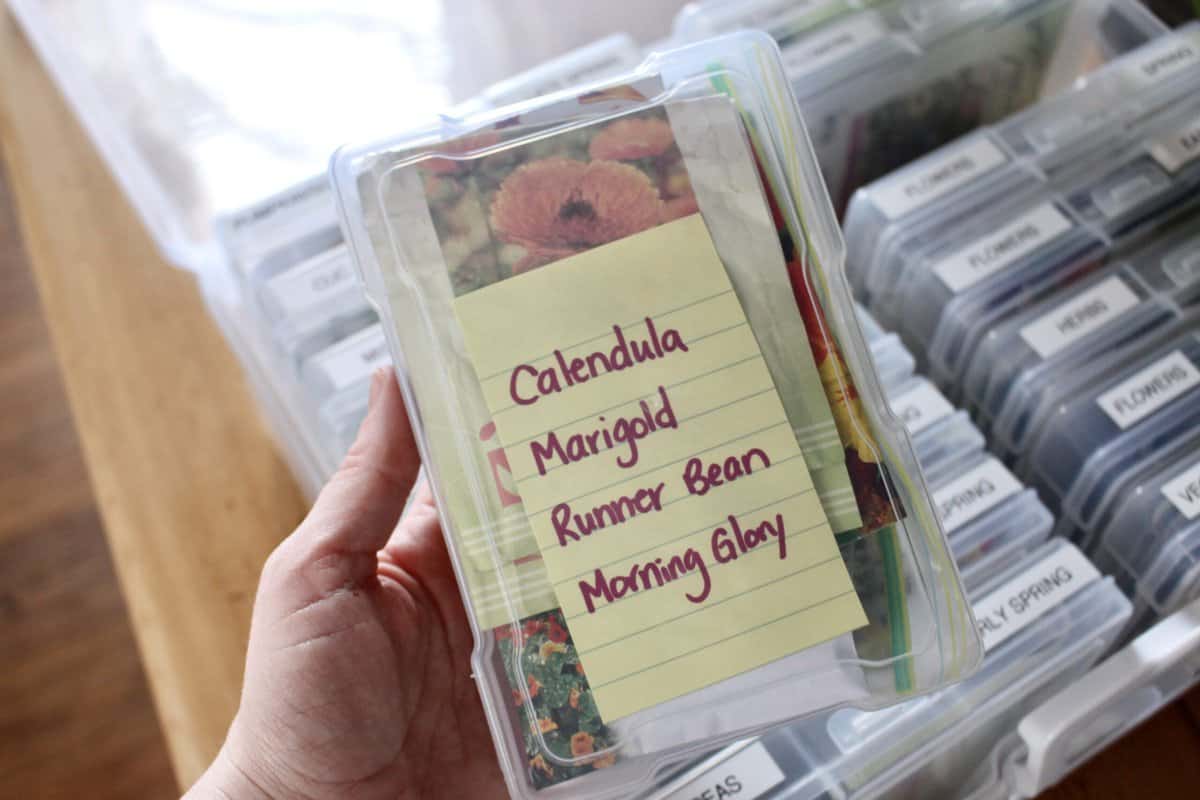 When I put the plastic cases back in the larger tote, I organize them from the earliest planting date at the front to the latest at the back.
I also keep one plastic case at the back for seeds that we may be saving for the next growing season. This prevents confusion when it is time for planting.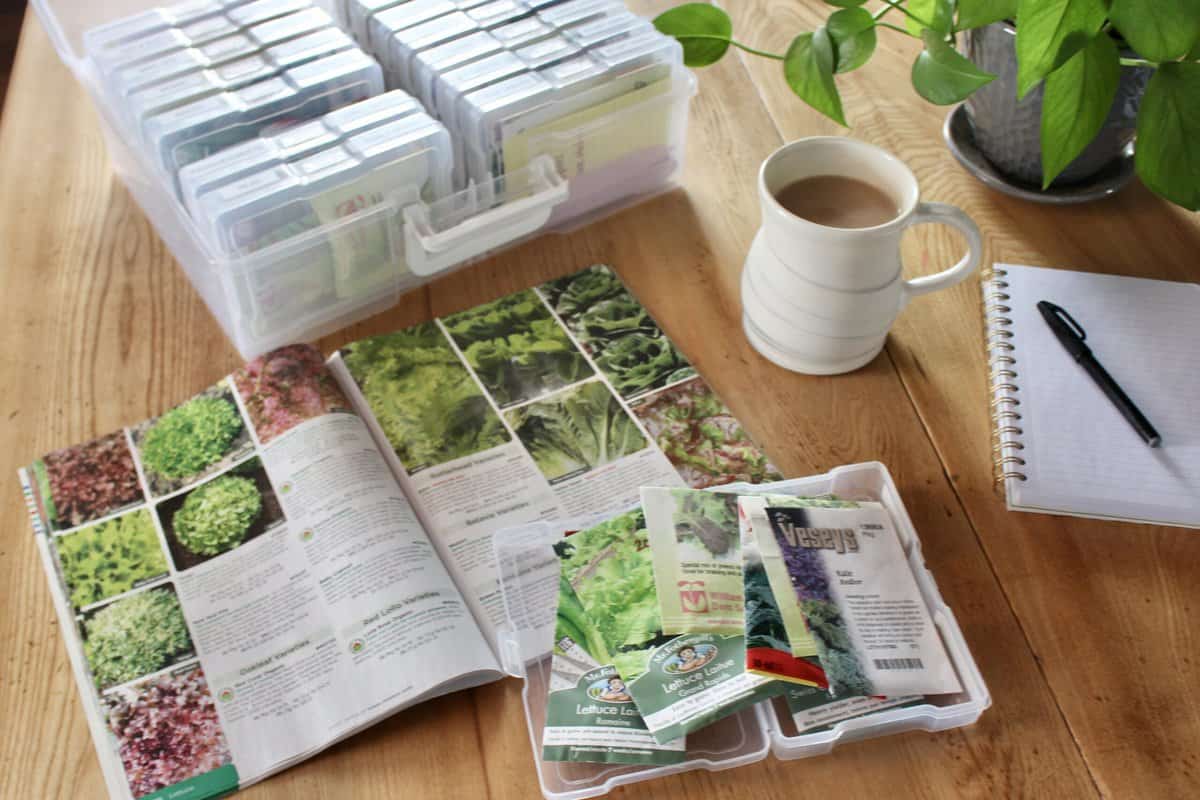 When we are ready to order our seeds the next year, it is easy to pull out this tote and do an inventory of what we have left in each category.
Ideal Conditions for Storing Seeds
When seeds are stored correctly, they can be used again the next season. The most important thing to remember is to store any seeds in a cool, dry and dark location.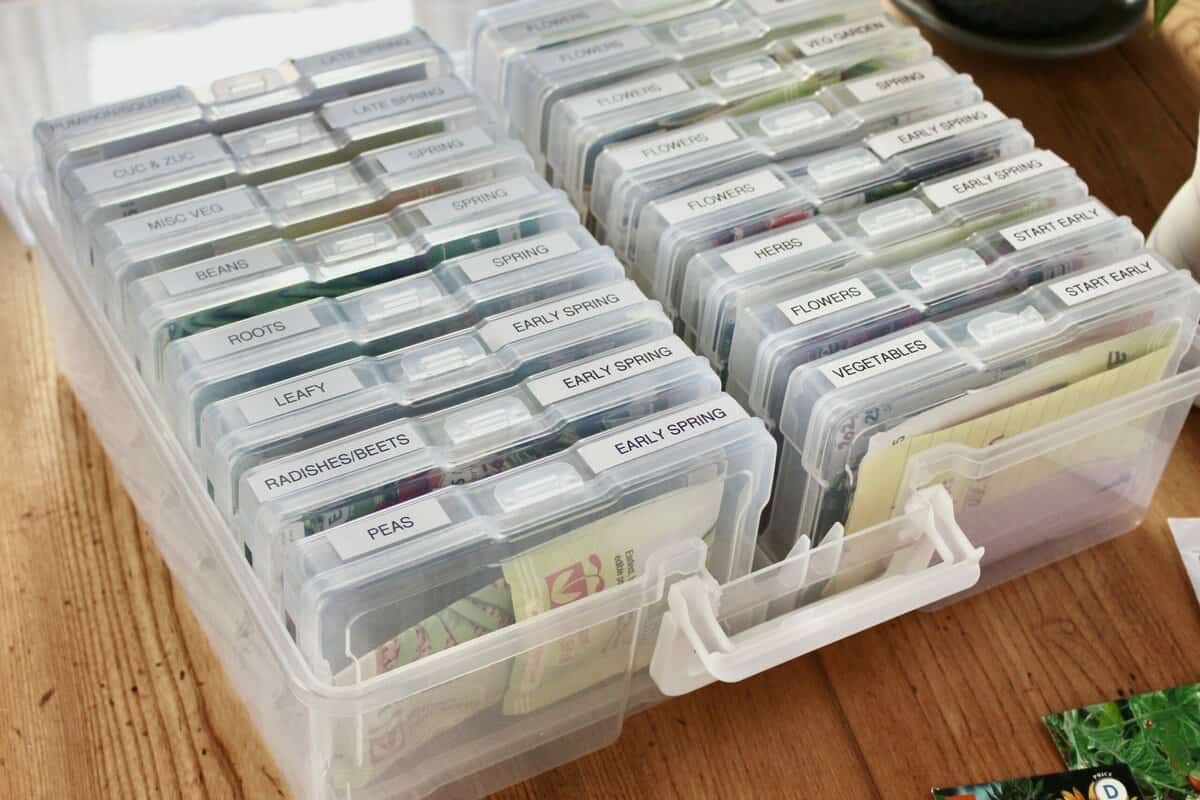 We keep ours in the cool farmhouse basement, but a closet or cabinet that is away from a heat source could work too. Storing them in an area that has large fluctuations in temperature and humidity, such as a garden shed or a garage, should be avoided.
We used to buy brand new seeds every year but have since learned that as long as the seeds are stored properly throughout the year, they can be used again the next season. Most seeds are still viable for 1-4 years after their "packed for" or "sell by" date.
You may have a lower germination rate with older seeds, meaning the percentage of seeds that sprout will be lower. You can sow extra seeds when planting to increase your germination.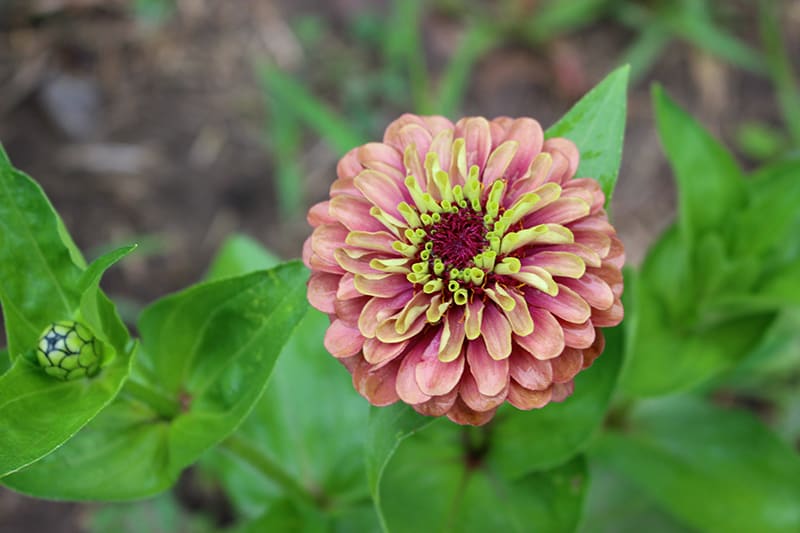 I hope you find this seed storage solution helpful with your own garden this year. Follow along on our own gardening adventures on the Life at Cloverhill Instagram and Cloverhill Flowers Instagram.
More on Gardening