Happy Halloween!
We're spending the day visiting friends and family, but I wanted to pop in and share Lucy's and the dogs' Halloween costumes with you all. I had so much fun making them!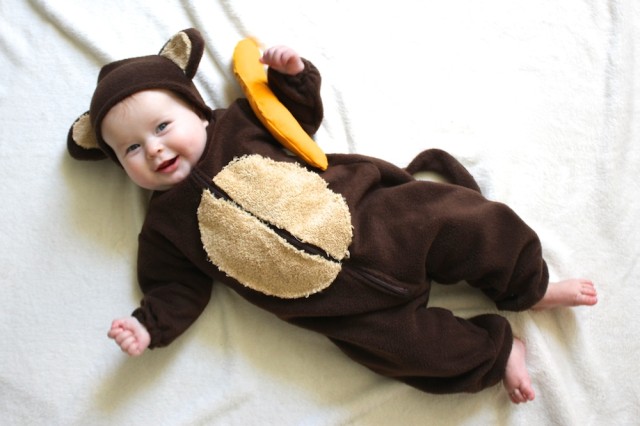 Pretty early on we knew that Lucy's Halloween costume was going to be a monkey…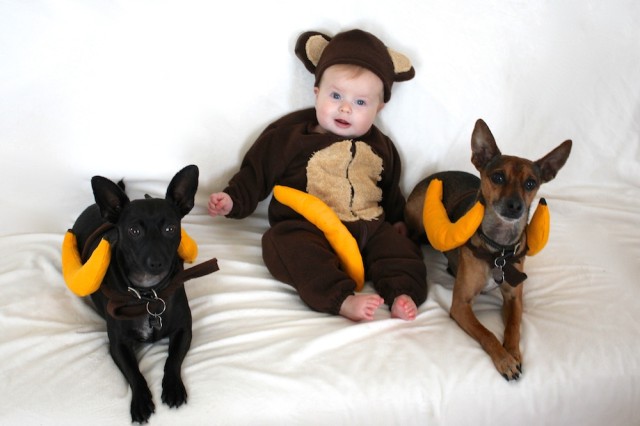 …and what monkey wouldn't want a bunch of bananas to hang out with too? I've always done costumes for the dogs (a taco, a bat, Wile. E. Coyote, business dog, dinosaur, ranch dogs), so it's no wonder that I was excited to make one for Lucy this year.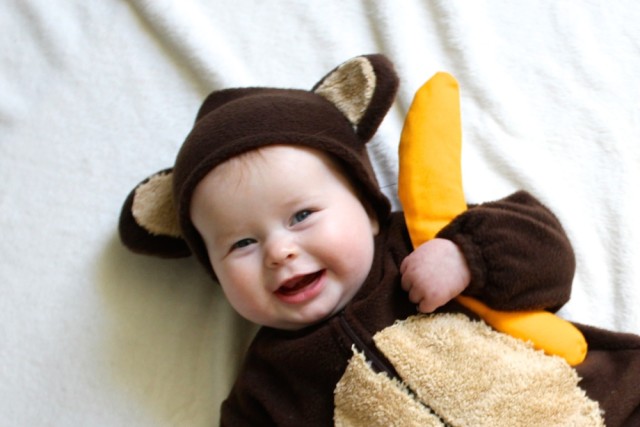 The idea for a monkey all started back when I first announced I was pregnant. I work with several Chinese ladies and when they heard I'd be having a baby in 2016, they got really excited because it was going to be the year of the monkey on the Chinese calendar. And not just any monkey, the golden monkey, which only happened every 144 years. They believe that it's good luck and any time I'd tell them about good news in my family, they'd say "oh, that's the monkey baby".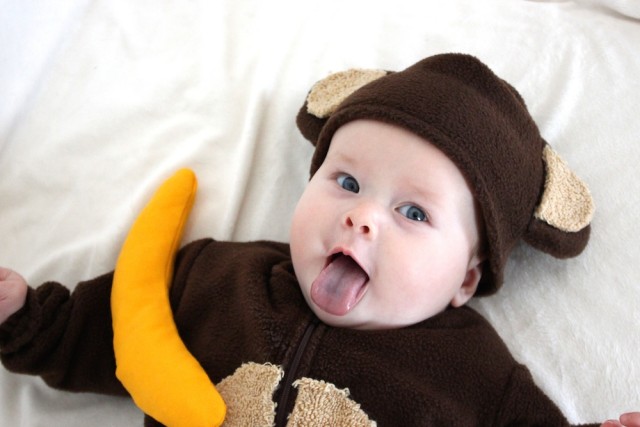 So as our little good luck charm grew inside me, we started to affectionately call her monkey. And now its' stuck as one of her nicknames. Garrett often call her "Monks" and she gives him a big smile in return. Lucy is definitely our cheeky little monkey.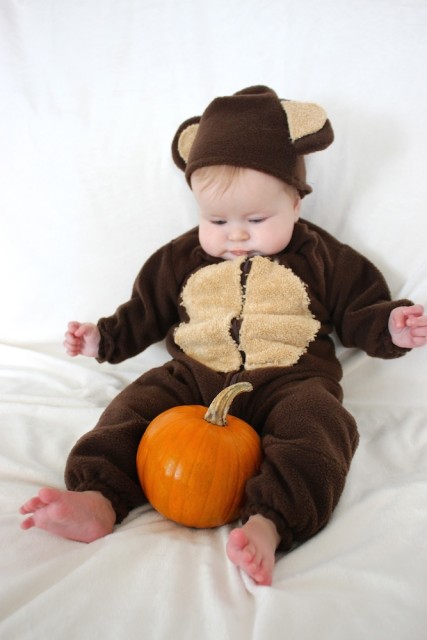 I decided to make her costume myself and it was so much fun sewing it. I used some patterns as a rough idea of what to do and then played around with the other details.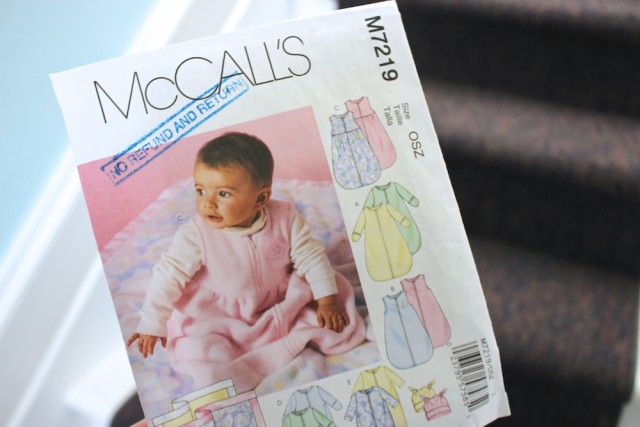 For the main bodysuit, I used this McCall's baby clothes pattern (M7219) that I'd bought to make her some new sleep sacks.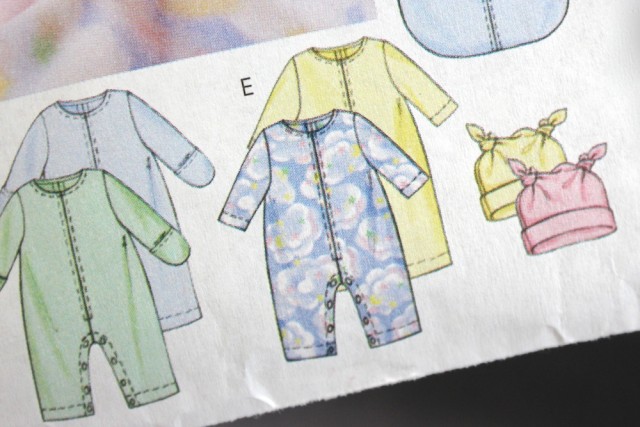 They had a configuration that made a bodysuit that I thought I could easily alter to make into a costume. I went with chocolate brown polar fleece to make it soft and cuddly.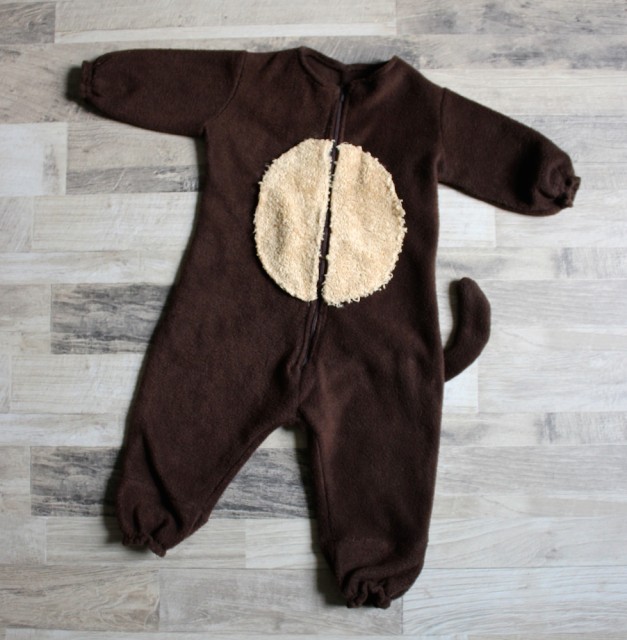 I followed the pattern to make the shape, but instead of adding snaps along the bottom, I sewed the legs. I also added elastic to the arm and leg holes to keep the costume snug. It can be really cold here in Canada on Halloween and I didn't want her to get a chill if we went outside. For the belly, I took a cheap fuzzy tan towel, cut out an oval and cut it in half. After I'd sewn in the zipper, I hot glued the two oval halves in place, putting a piece of cardboard inside the costume so that if any glue came through the fabric, it wouldn't stick the whole costume together.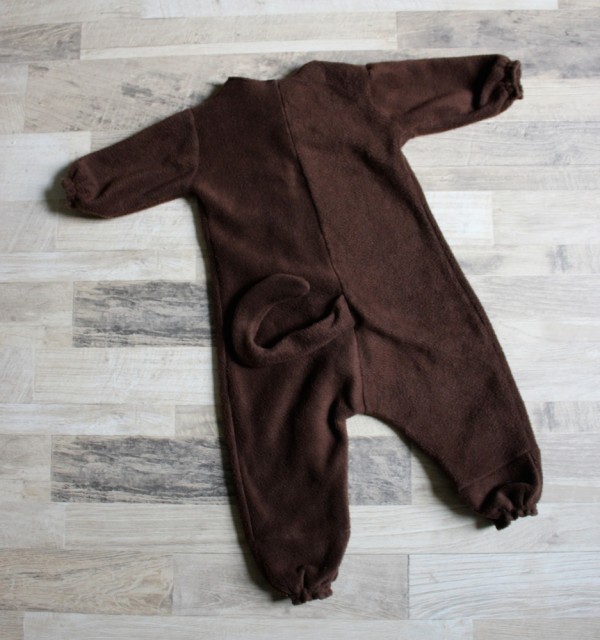 To add the monkey tail, I made a "J" shape with two pieces of polar fleece fabric sewn together and turned inside out. Then I used a seam ripper to make a hole in the back of the costume, slipped in the tail and stitched the back up again.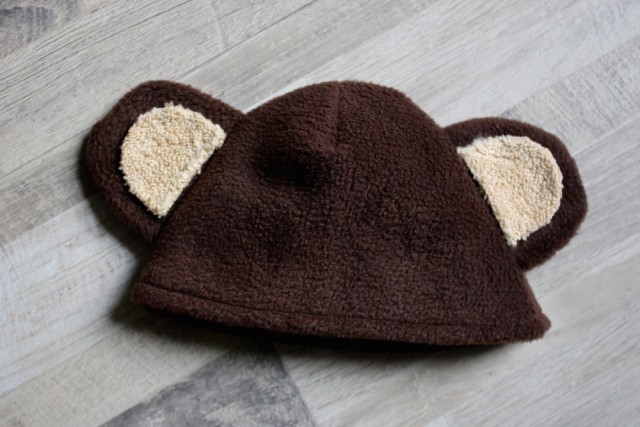 For the hat, I used this polar fleece hat pattern, adding ears while I sewed the sides. I hot glued some of the fuzzy tan towel to make the insides of the ears.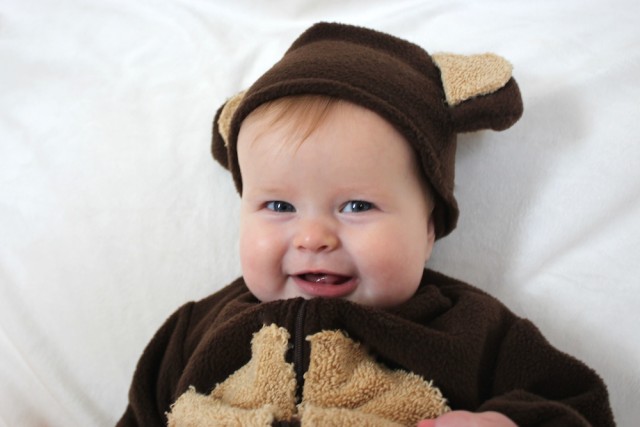 Not only does it complete the monkey costume, but it keeps her little noggin' warm too.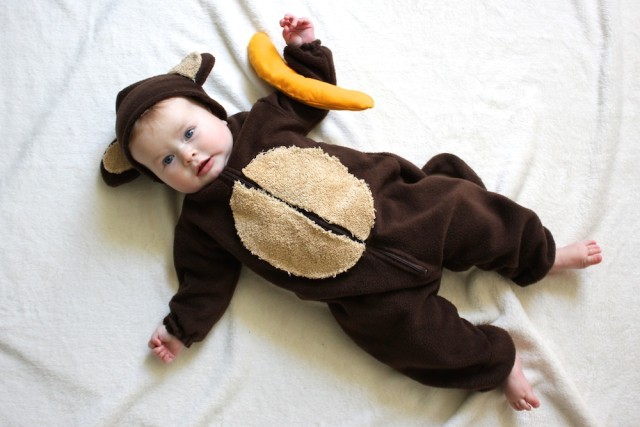 I had friends warn me of how hard it was to get a baby to wear a Halloween costume, but I think by making it into a bodysuit and hat, there wasn't anything uncomfortable or scary for her. I need to remember this next time!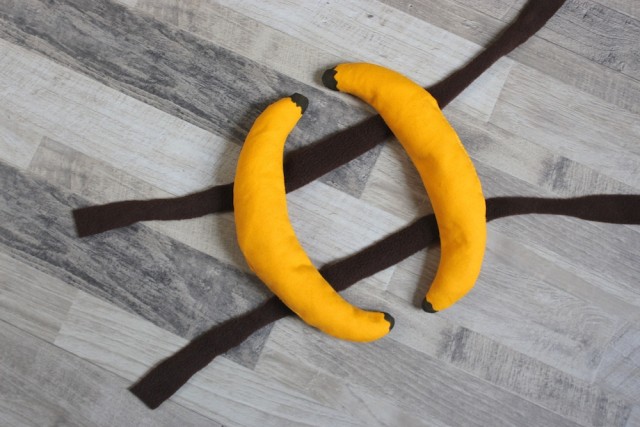 For the dogs, I did simple banana costumes, by making two stuffed bananas attached to brown strips of polar fleece. The bananas were just scrap fabric I had, cut into a banana shape, sewn together, turned inside out, stuffed with poly-fil and sewn shut. Garrett had the great idea to add the little black marks on the ends like real bananas. I hot glued the bananas to the brown strips of polar fleece, and used those to tie the costumes onto the dogs.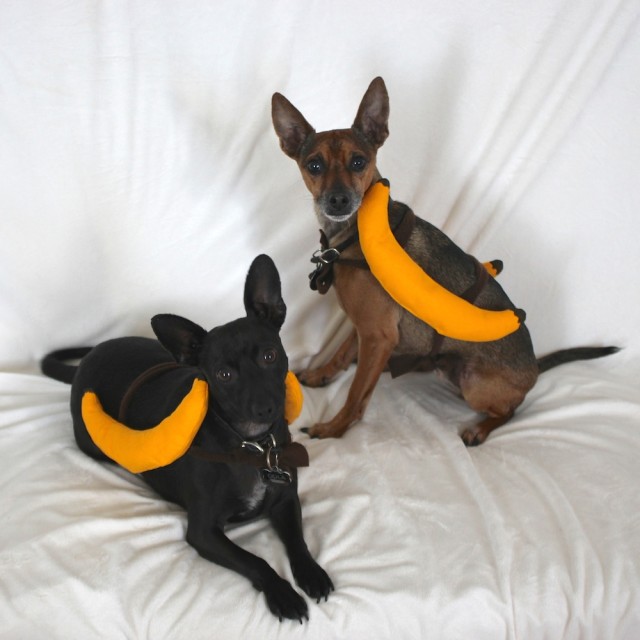 They're always such good sports about wearing costumes. I think it's because they know they'll get treats 🙂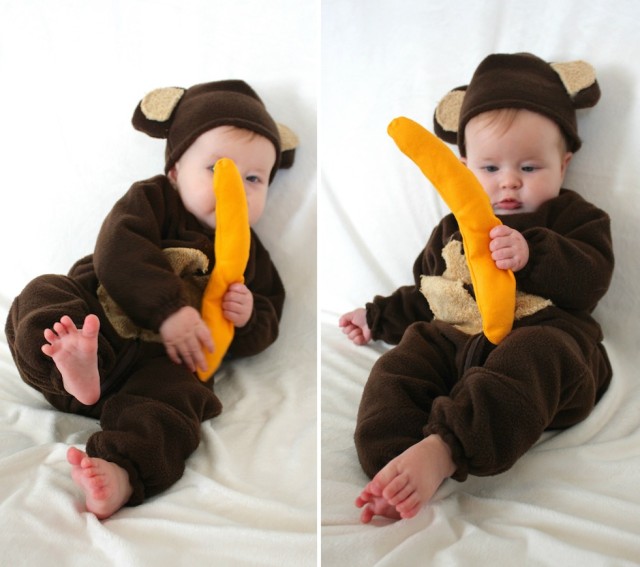 Of course I had to make another banana for Lucy to hold and it turned out to be a great prop to keep her happy while I took pictures.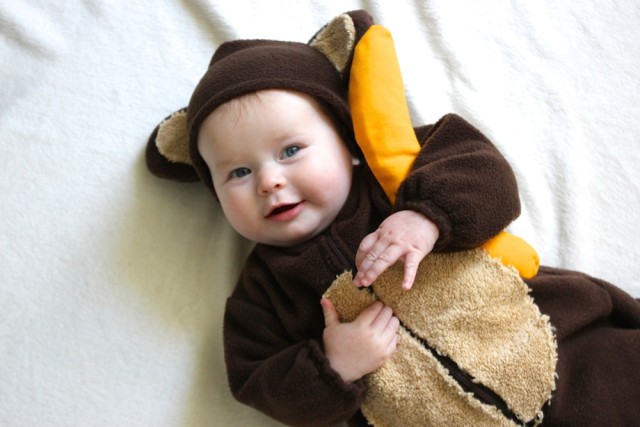 I always loved to dress up when I was a kid and I hope that we've got many more years of fun costumes for our little Lucy too.
Happy Halloween folks!