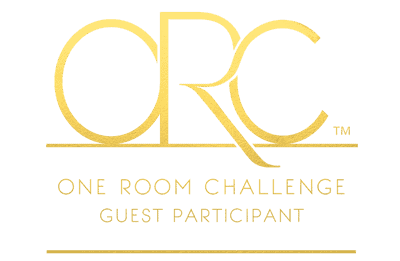 It's that time of year – the One Room Challenge spring edition! For the last 13 years, bloggers from all over have participated in the bi-annual event by picking one room in their house to makeover over the course of six weeks.
For those of you who are new here, I'm Amanda and my family lives in a 1903 farmhouse we loving call "Cloverhill" in rural Ontario. We moved here int he spring of 2015 and have slowly been renovating and restoring this 115-year-old treasure. Last year I participated in the One Room Challenge for the first time and transformed our Master Bedroom: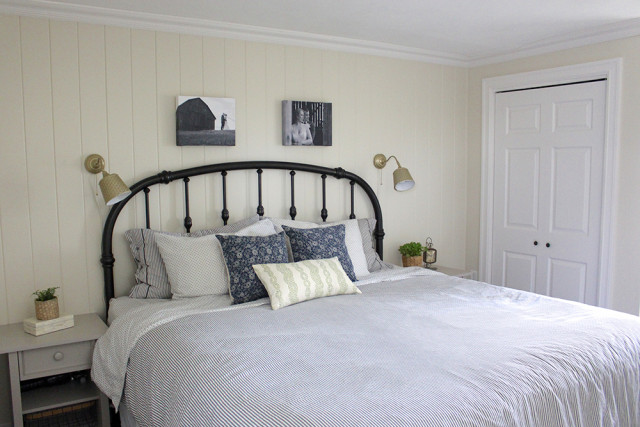 You can see the full reveal here. I loved the challenge of pulling together this space in such a short amount of time and the end result was a serene and calm space that we enjoy every day. This year I know I wanted to take on another space in our century home and I went with something that people see as soon as they enter our home – the Front Entryway!
BEFORE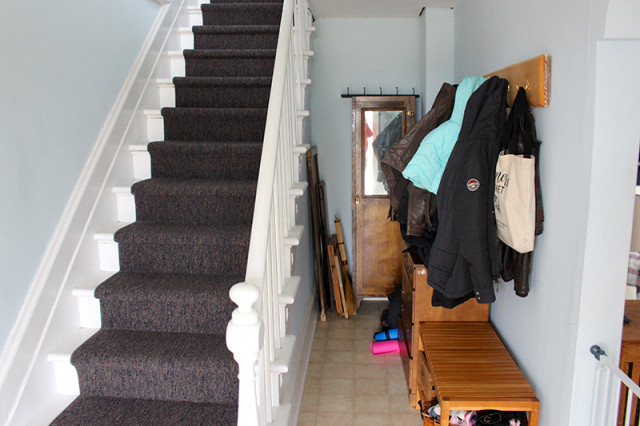 Over the almost three years since we moved in, this front hall has been a catch-all for everything from coats, shoes and hats to yoga mats, extra picture frames and dog toys. I am so incredibly excited to finally be tackling the space and creating something that is functional and fits in with the rest of the farmhouse.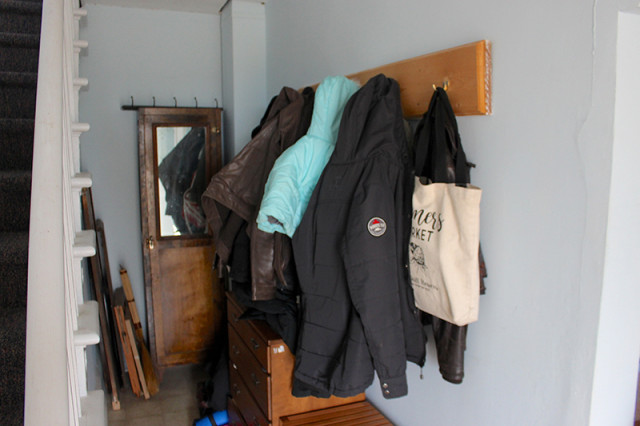 The unfinished wooden coat rack on the wall was already there when we moved in, and because the wall had just been painted around it, we couldn't just remove it without having to deal with a big empty rectangle on the wall. I have a fun family heirloom-inspired DIY coat rack that I can't wait to put together for this wall after the walls have been repainted. The dresser below the coats was a garage sale find from our last apartment, paired with an old IKEA bench that I had from my first apartment. I think that both will be finding new homes.
At the far end of the hallway, we have an antique cabinet on loan from my parents and while I really love this piece, it gets lost in that back corner and it really doesn't hold much except for shoes. I think it would be better suited somewhere else in the farmhouse. I'd like to replace it with a better fitting wardrobe that will hold our coats and offer more storage while keeping this space open and airy.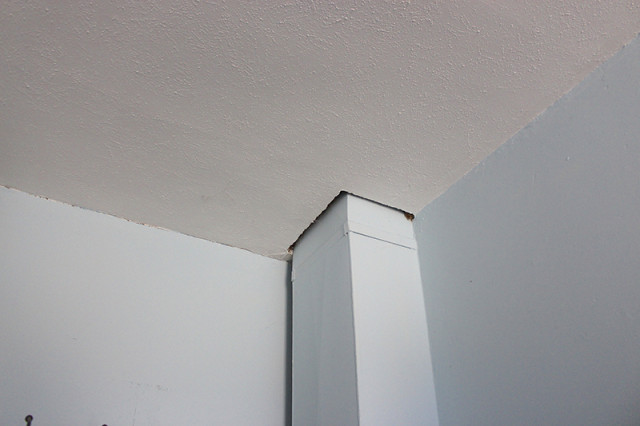 At the back of the hallway, there is also this awkward ductwork that runs up to the second floor. While we can't do much about its placement, I would love to add some trim at the top to hide the hole and make it look a little more built in.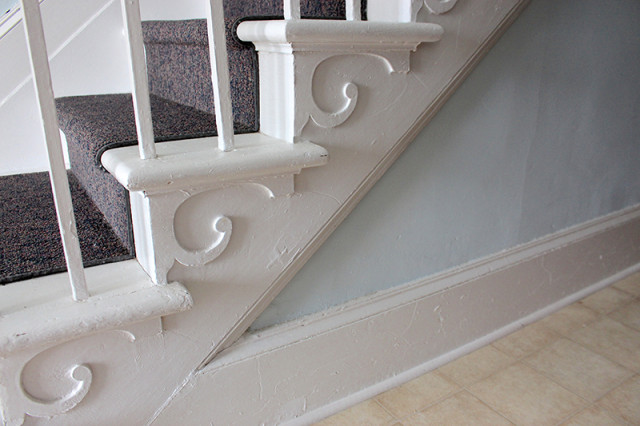 One of the original features of the house that I want to clean up and preserve is the intricate woodwork along the stairs and the thick baseboards around the room. Some scraping, sanding, patching and new paint should get it looking like new again. We'll be keeping the carpet runner for now because it's in great shape and cleans up really well.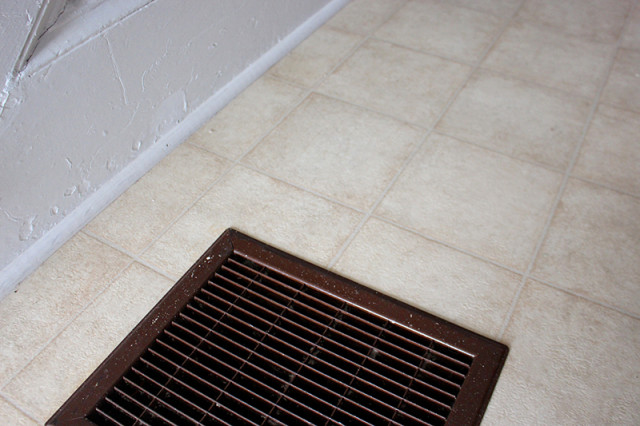 The biggest eyesore in the space is this yellowed sheet vinyl on the floor, which has cigarette burn holes from the previous owners. I've been able to hide most of them with a big area rug by the door, but the only real solution is to add new flooring – something I'm very excited about! I'm also on the hunt for some vintage inspired heat grates to replace these old brown ones.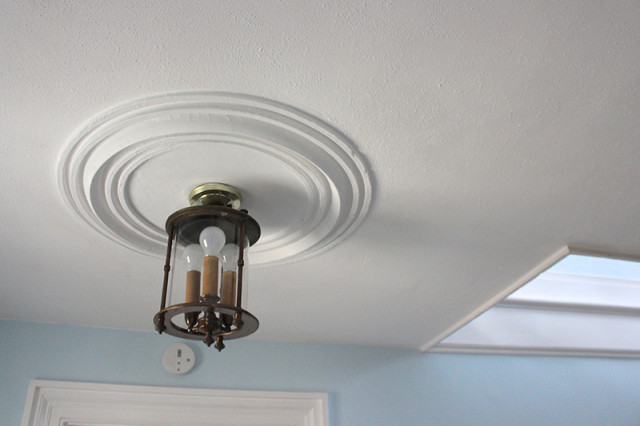 This vintage-style light fixture came with the house and will be staying exactly where it is, with just a little cleaning and some new LED Edison style bulbs. The other small electrical job we have is swapping out the brown and yellow stained light switches for fresh clean white ones. A small task that we've done in every room we've worked on and I'm always surprised at how such a little thing can really make it looked polished.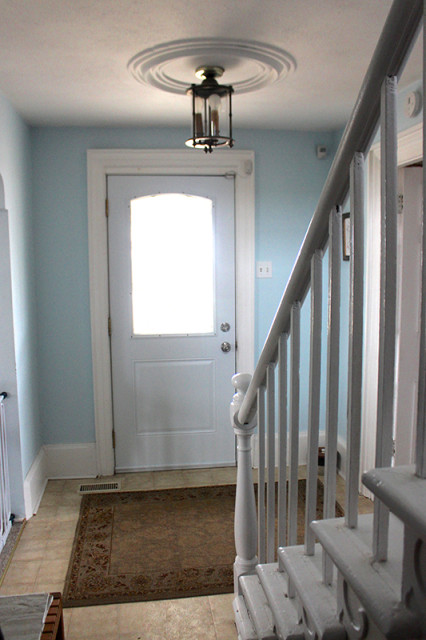 From this view at the back of the hallway, you can see the big area rug and the vinyl flooring. I'd love to add a little more artwork by the door. (I have this print up there on the right)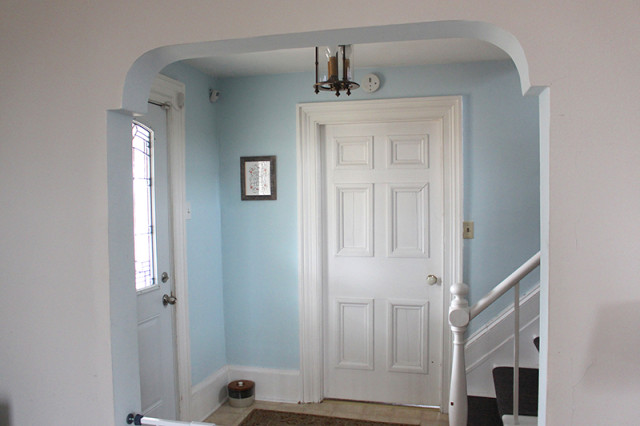 The most dramatic change will come from a new wall colour. Paint can really transform a space and I'm hoping that by going with a muted sage green, it will give the space a rich English countryside feel. This archway is from the living room looking into the front hall and I've always felt that the sky blue was just too blue – as if it was the wrong shade to be right beside these grey walls in the living room. A new colour and some fresh trim paint should really pull the room together.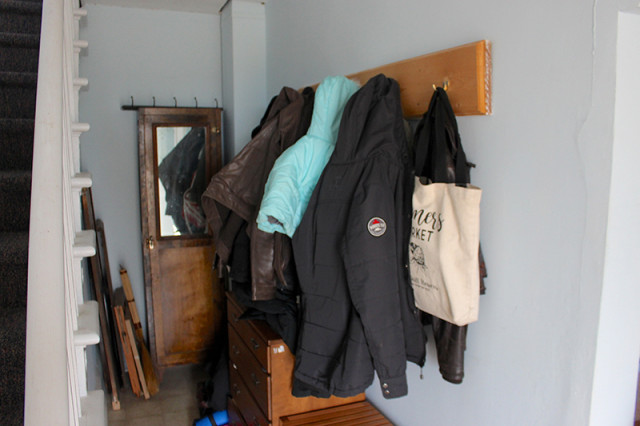 I'm already itching to start tearing this apart and I love the challenge of only having six weeks to do it! Here we go!
THE INSPIRATION
Just like last time, I've put together a mood board to show the look that I'm going for in this Farmhouse Front Entryway.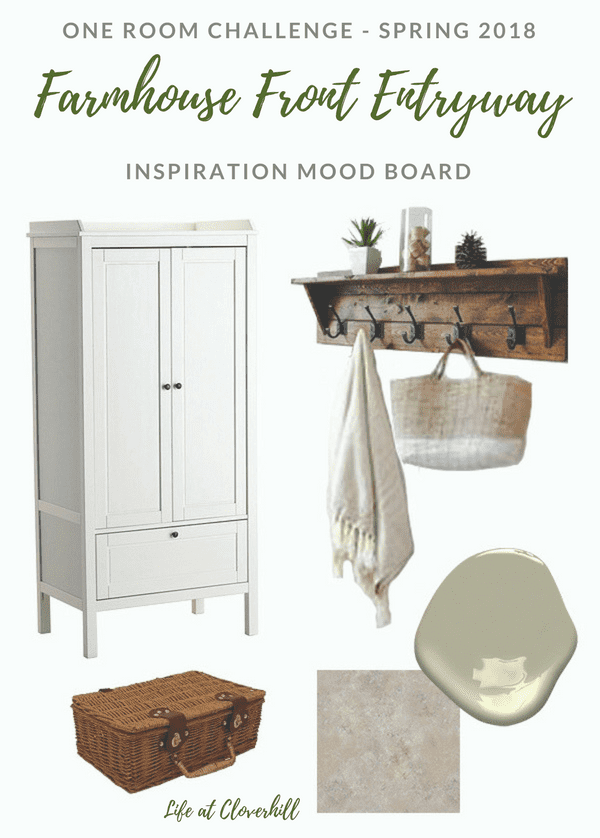 Along with adding a new wardrobe and custom coat rack, we'll be adding new flooring, fresh paint and some little touches to make this space a welcoming entrance to our home.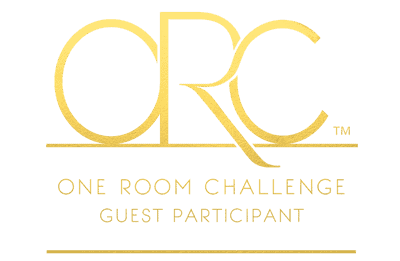 Be sure to stop by every week for the next six weeks to get an update on the progress. Check out the One Room Challenge blog to see all the other participants as well.
FARMHOUSE ENTRYWAY – ONE ROOM CHALLENGE