I'm back with another update for the One Room Challenge. With only one more update left before the big reveal of our Front Hallway makeover, we've made some big progress this week.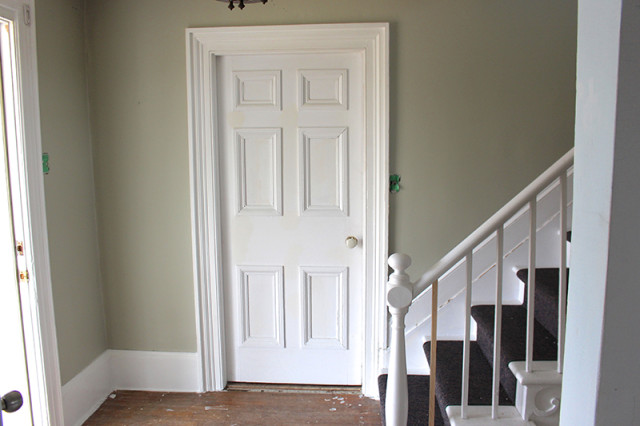 In Week 2, I shared that I'd picked out the wall colour – a lovely sage green-gray colour called Gray Mirage. Last weekend Garrett helped roller the paint on, while I went around and did the edging. It was the perfect day to paint – sunny and warm enough to leave all the doors and windows open to air the place out.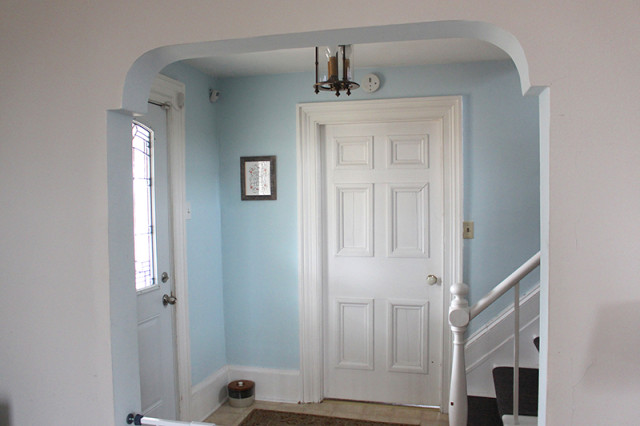 As a reminder, here is the light blue the walls were before. The new colour fits in so much better with the look we're trying to achieve in this old farmhouse.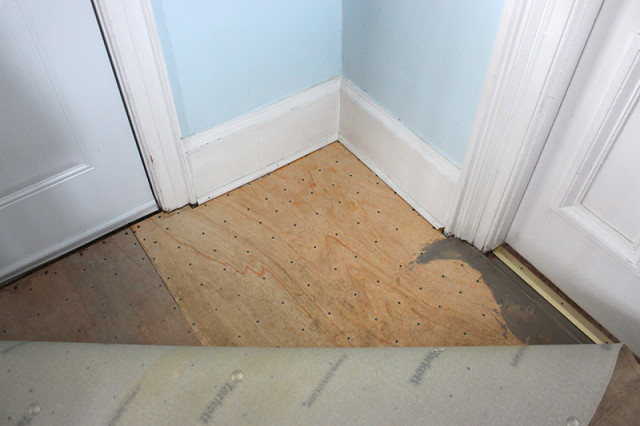 I also showed in Week 2 what happened when I took a peek under the sheet vinyl and discovered that it wasn't glued down to the subfloor like I'd thought. It made me rethink my plan and I debated getting tile.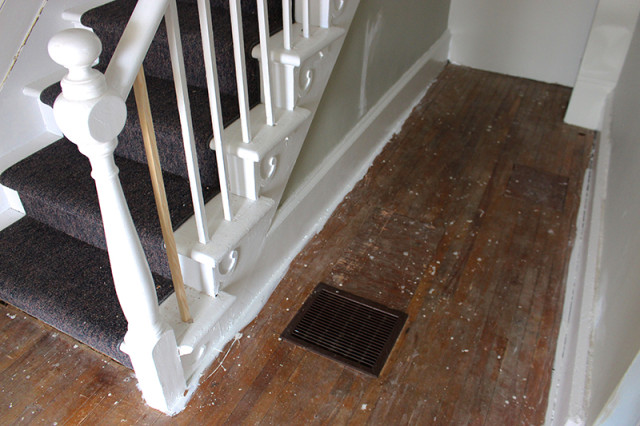 Then we ripped up all the subfloor and found the original thin wood flooring. While we debated what we should do, I worked at patching the baseboards and walls, while my dad replaced some of the missing banister rails for us.
So what did we end up deciding on with the floor?
After weighing all the pros and cons, we realized that restoring the old hardwood floors was not cost-effective and wouldn't work for us.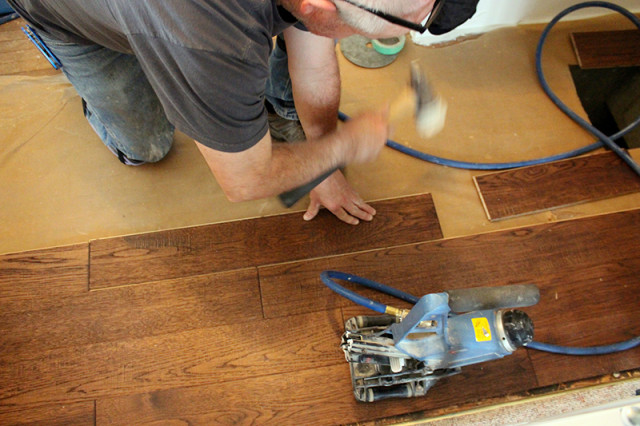 So earlier this week we had new engineered hardwood floors installed over top. I absolutely love how they turned out and they fit in great with our existing original hardwood floors in the upstairs hallway. It was totally worth having someone come to professionally install them and it was surprisingly inexpensive for a space that is just under 75 sq ft.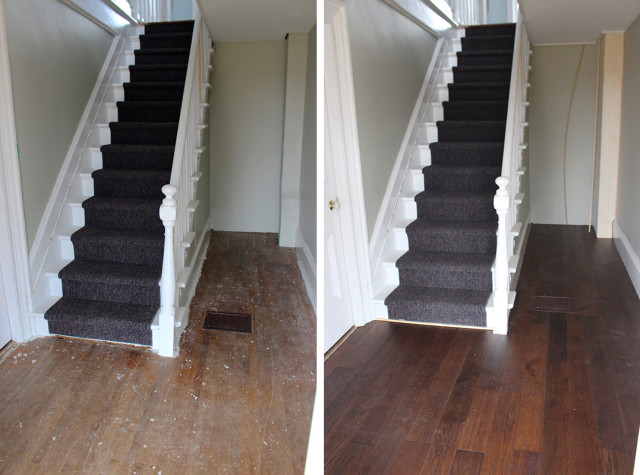 I picked warm hickory flooring with wider planks and I love how well it compliments this old farmhouse.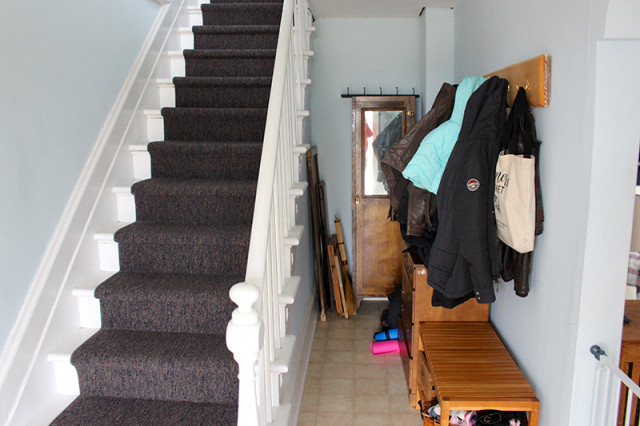 I can't believe that only a month ago the space looked like this (and I'll admit I had to tidy it up for this shot, ha!)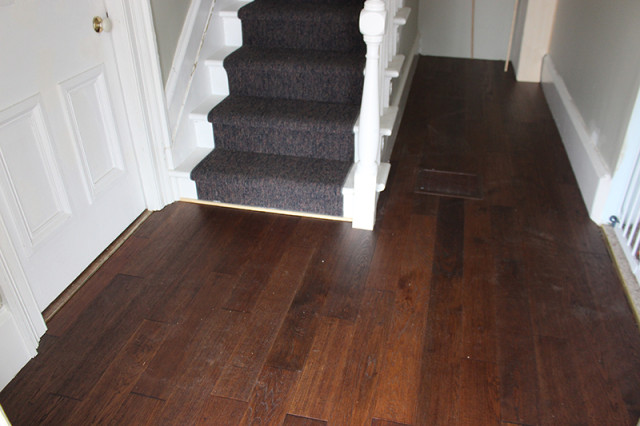 We only have the two door frame moldings left to be installed when they arrive this week. The old cold air return we have blends in much better but I'd still like to give it a fresh spray paint and maybe keep an eye out for an antique cast iron one to replace it sometday.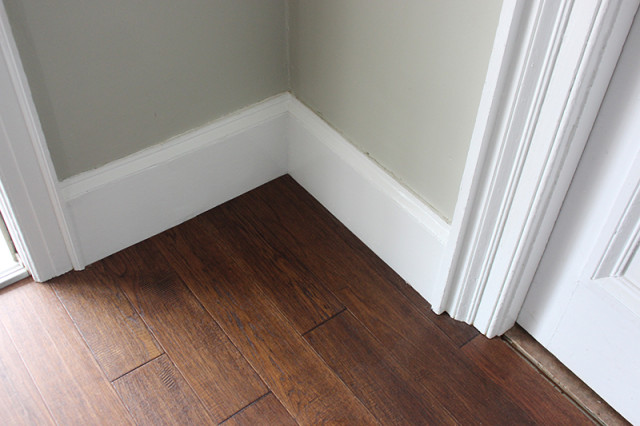 I still need to do more repairs to the top edge of all the baseboards, and repair a few spots that have been dinged during the renovation, but overall they're starting to look much better. The repairs and a fresh coat of crisp semi-gloss white paint make everything look so fresh!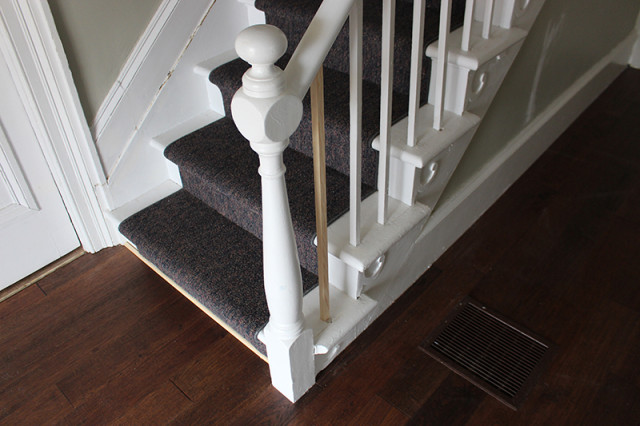 We also need to finish touching up the stairs, painting the new rails and added a small moulding along the flooring edge.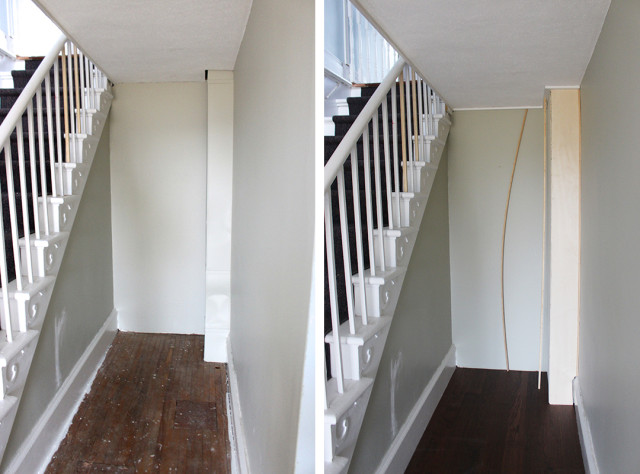 We had originally planned to just paint the ductwork to match the walls, but my dad came up with a plan to cover it using some 2x4s as a frame and cladding it in smooth plywood.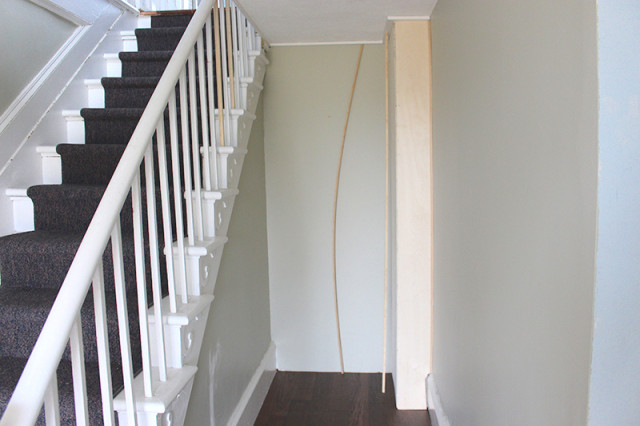 He glued the pieces together and added a piece of trim to hide the gaps in the wall at the back.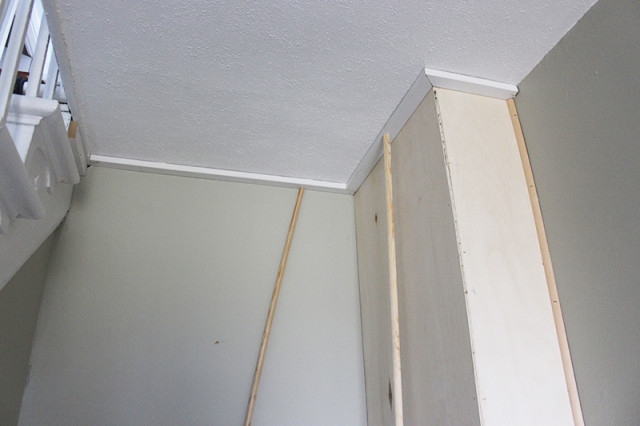 The extra trim you see propped up was just to give support while the glue cured.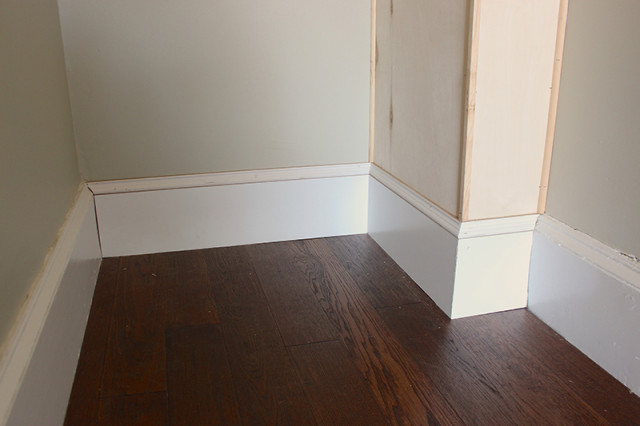 Yesterday he came back and added this new baseboard to blend it into the original 115-year-old baseboards. I'm so lucky to have a dad that is so handy – he was able to do this with things that we already had! The main part of the baseboard is actually the old shelves I have in my tiny home office at our apartment, and the top piece of the trim is leftover from when we added trim in our powder renovation. It's great when you're able to use things you already have and save money and avoid waste.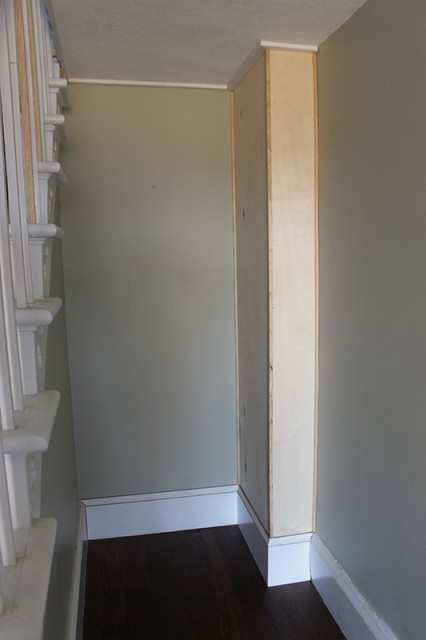 This weekend we'll caulk and prime the new pieces, then give everything a couple coats of fresh paint. You'll never be able to tell it hasn't always been there.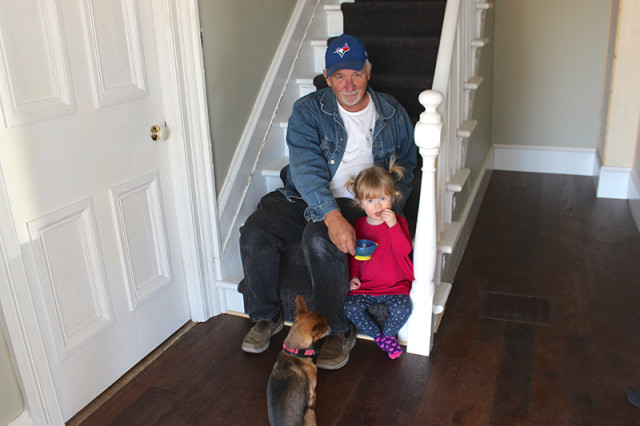 Of course, our two hardest workers need a little snack break sometimes too. Even Whiskey wants to get in on the action.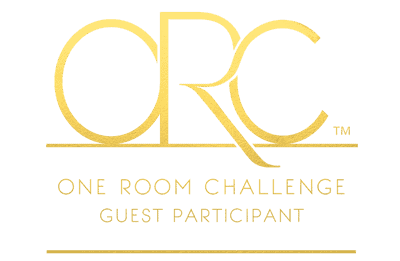 Be sure to stop by every week for the next six weeks to get an update on the progress. Check out the One Room Challenge blog to see all the other participants as well.
FARMHOUSE ENTRYWAY – ONE ROOM CHALLENGE