Last week I shared our plans for making over our Farmhouse Front Entryway for the One Room Challenge this spring, and I started rolling up my sleeves right away. I'm thrilled to finally be tackling this space and I think it'll make such a big impact when we welcome friends and family into our home.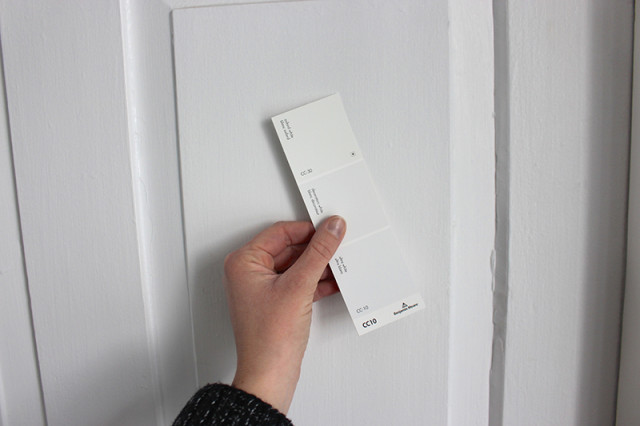 The first step was picking out paint colours and I'm excited to be working with Benjamin Moore on this part of the challenge. I used their Pale Oak in our Powder Room renovation last fall and absolutely loved the colour saturation and paint quality, so I knew I wanted to use their product in this space as well.
We're lucky of have so much of the original 1903 woodwork, including tall baseboards, throughout the house and I wanted to pick a white that was a close as possible to what we already have throughout. Whites can be such a hard thing to match, but thankfully I was able to go to my local Benjamin Moore supplier and pick a bunch of paint swatches to test out at home. This Oxford White was bang on and I'm going to get a gallon of the Benjamin Moore Regal Select in Semi-Gloss for all the new trim pieces and the touch-ups needed elsewhere.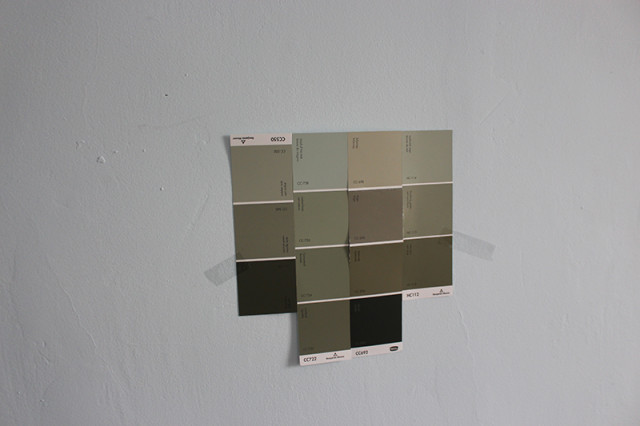 I always get so excited when the time comes to pick the paint colours. For the main wall colour, I was planning to go with a light sage green colour and grabbed a bunch of samples to test in the front entryway and also in the upstairs hallway, which will need to be painted the same colour as well.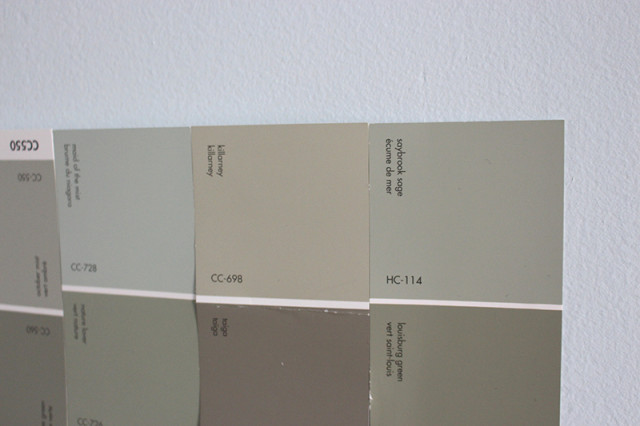 These three sage green inspired tones were my top three – Maid of the Mist, Killarney and Saybrook Sage….until I saw this…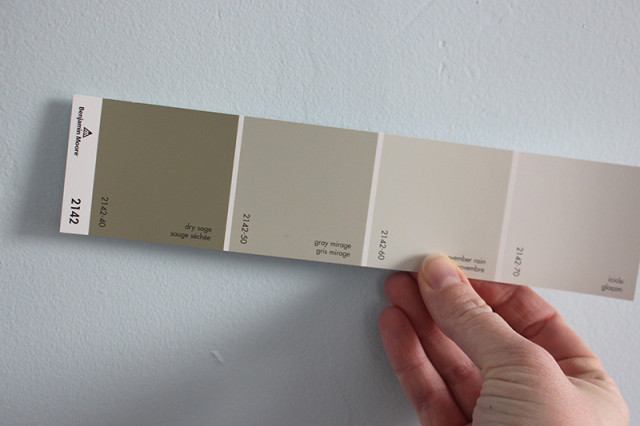 While looking at the white sample at the end of this paint swatch card, I noticed a grey-green-taupe colour in the middle – Gray Mirage. It was warm but not too dark for the downstairs hallway and strong enough not to be washed out in the bright upstairs hallway.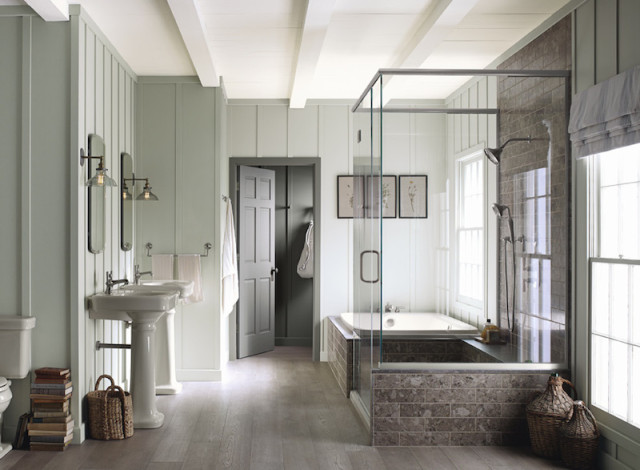 I went to the Benjamin Moore Project Ideas and Inspiration website and found this inspiration photo of a room using the Gray Mirage colour. I was sold. It was a perfect neutral grey-green colour that will really lend itself well to the era of our historic home.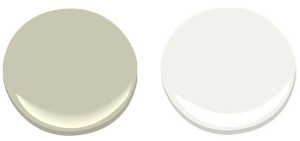 So these are the colours I've chosen – Gray Mirage for the walls and Oxford White for the trim and doors. I used Benjamin Moore's helpful Paint Calculator to figure out exactly how much paint I'll need.  The wall colour will also really pop against our original wood floors in the upstairs hallway as well.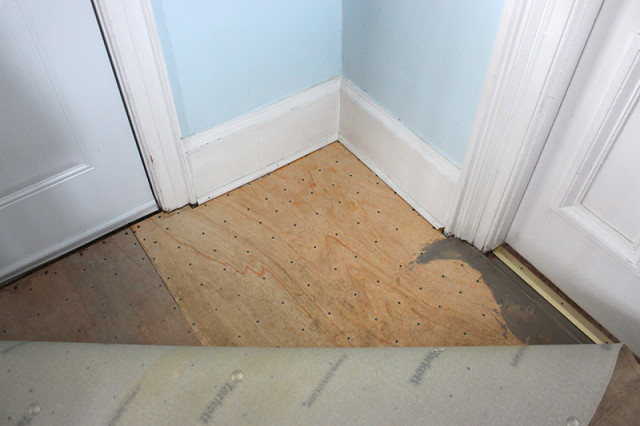 Speaking of flooring, I was worried we were going to have to put the new flooring over the existing sheet vinyl because I thought it was permanently glued down like the other sheet vinyl in the house. Then one day this week I was talking to my dad on the phone and he said I should just try to lift a corner up. As soon as Lucy was down for a nap, I attempted my little peek – and was pleasantly surprised to discover that the vinyl wasn't glued down at all. What I found underneath was relatively new subflooring that was in excellent condition. Which has got me rethinking about what kind of new flooring to put down. This weekend we'll be heading out to look at some stores and do a little more research – but it's exciting to know we can just rip up the old flooring with no problems!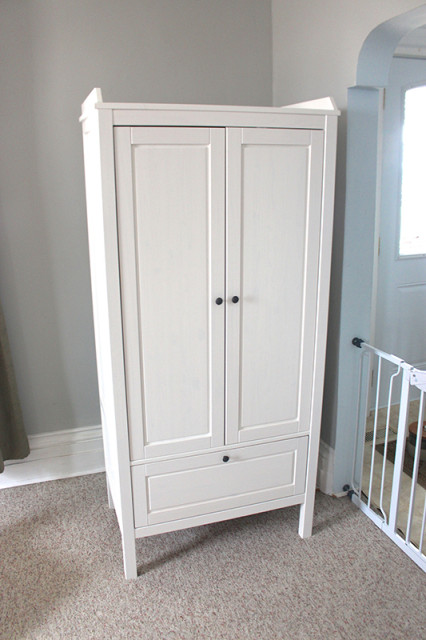 The big thing I checked off the list last weekend was taking care of the new wardrobe that will act as our front hall closet. I went to IKEA on Friday evening to pick it up and I think that's the first time I've gone there and only bought what I came for, ha! It's solid pine and the colour is coincidentally the exact same white as our existing trim.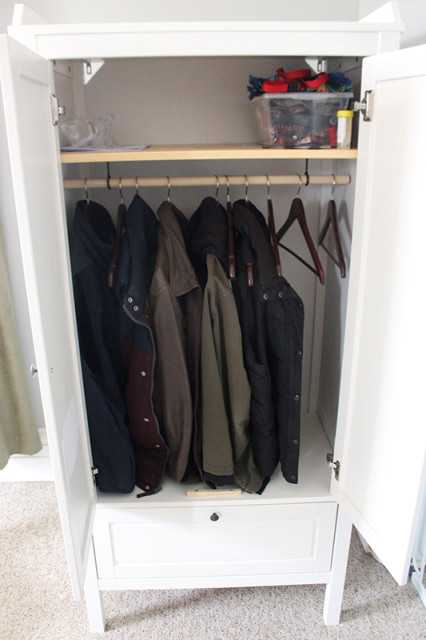 It's actually meant to be a nursery wardrobe, but it is able to accommodate adult-sized hangers, so I knew it would be able to fit our coats. The bottom drawer is enough space to hold our in-season footwear and I'm looking for little baskets to fit on that top shelf to hold hats, gloves, Whiskey's jackets, etc. I'll be using my old picnic basket as storage on the very top of the wardrobe for things that are out of season.
It feels good to be making some progress this week and I can't wait to start the painting and flooring very soon!
Disclosure – Benjamin Moore has generously provided me with product for this challenge. All thoughts and opinions are my own.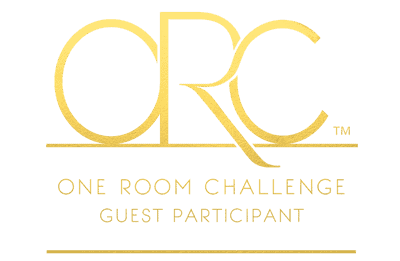 Be sure to stop by every week for the next six weeks to get an update on the progress. Check out the One Room Challenge blog to see all the other participants as well.
FARMHOUSE ENTRYWAY – ONE ROOM CHALLENGE