Earlier this month, I shared the Vintage Inspired Boy Nursery Mood Board for our nursery refresh, along with Repainting the Nursery Dresser. This week we tackled sourcing a secondhand pine bed for mama to use now and for baby boy to use when he is older.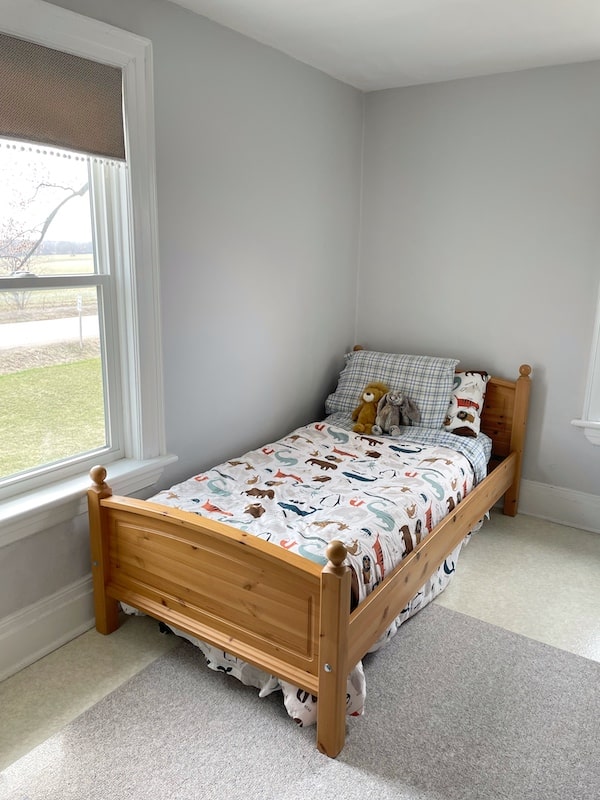 With our second baby, I learned how handy it is to have a twin bed in the nursery, for those all-nighters where its easier to sleep nearby. I originally had thought about making a simple headboard to go with the trundle bed we had set up in there already. When we looked at the cost of materials to make a DIY headboard, it made more sense to go on the hunt for a real twin bed frame.
Pine Bed Inspiration
When I started looking for what style of bed to use in this vintage inspired nursery, I kept coming back to the idea of real wood. I went through some of my inspiration pictures on Pinterest and many of them had simple pine beds.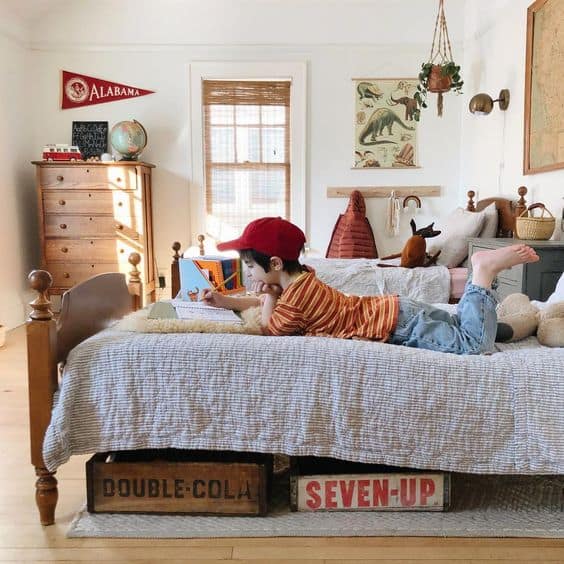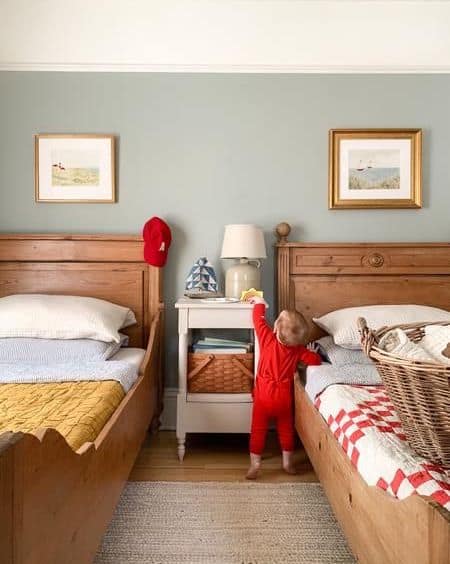 Why I'm Adding a Twin Bed to the Nursery
We're lucky to have pretty generous sized bedrooms in our 1903 farmhouse. The nursery is 14′ x 12′ which allows enough space for not only a crib, dresser and bookcase…but also a twin size bed, tucked in by the windows. With our first baby, if she was having a tough night, I'd often spend it sleeping on a blanket on the floor. It wasn't very comfortable (and often very chilly in the winter).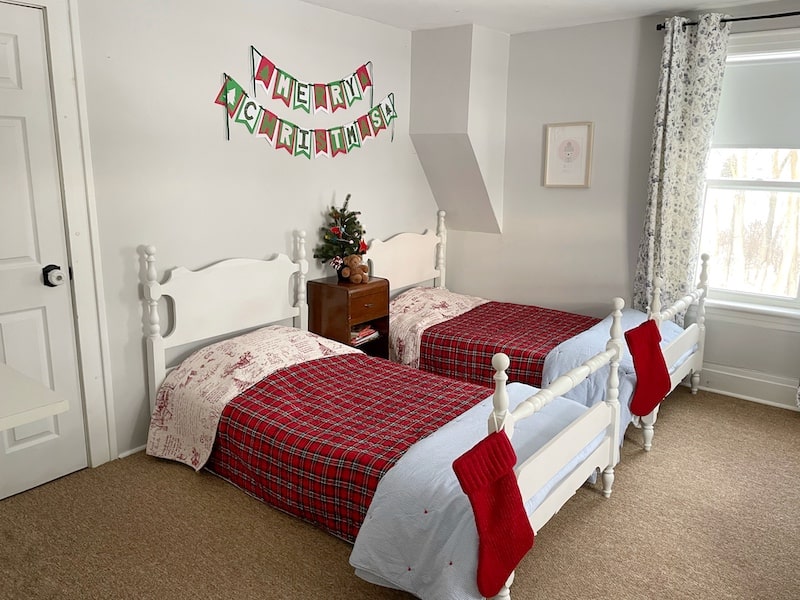 When our second baby arrived, we had painted matching twin beds for them to eventually share a room. You can see how those beds turned out in this picture above, from the 2021 Holiday Home Tour. Until they were ready to move in together, we kept the extra twin bed in the nursery for me to use if the occasion arose. It was so handy to have a proper bed to doze on if she was up through the night sick or teething.
With this little guy, I knew I wanted another twin bed and borrowed an old trundle bed my parents had. It did the job until we could find something to use long term. I still have it setup inside the bed frame, until we can find a new mattress we like.
Scoring a Pine Bed on Marketplace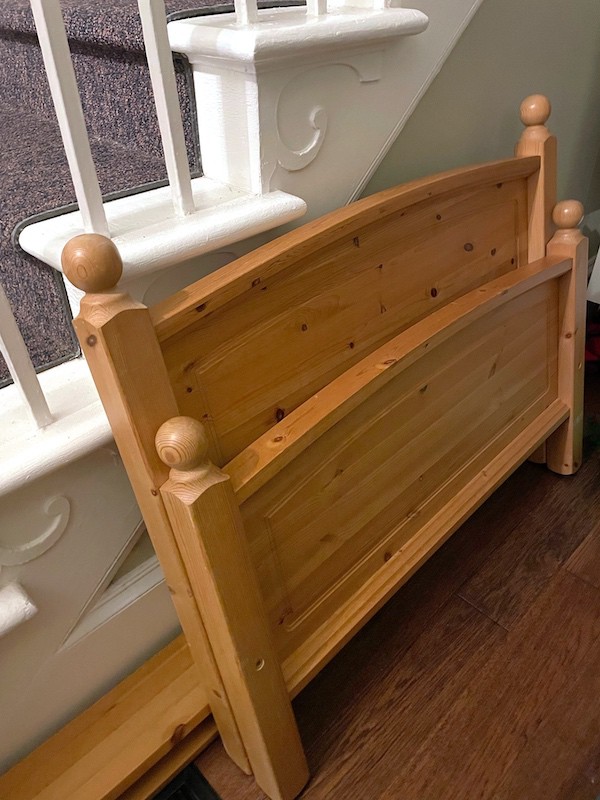 After doing some searching for a few days on Marketplace, I was thrilled when I found a solid pine bed frame nearby for only $80. I had thought we might need to paint a bed frame or at the very least refinish it. What a pleasant surprise to find that this pine bed was in fantastic condition. I gave it a wipe down with hot soapy water and it shined right up. The finish isn't too yellow, like you sometimes find with pine furniture – it was perfect!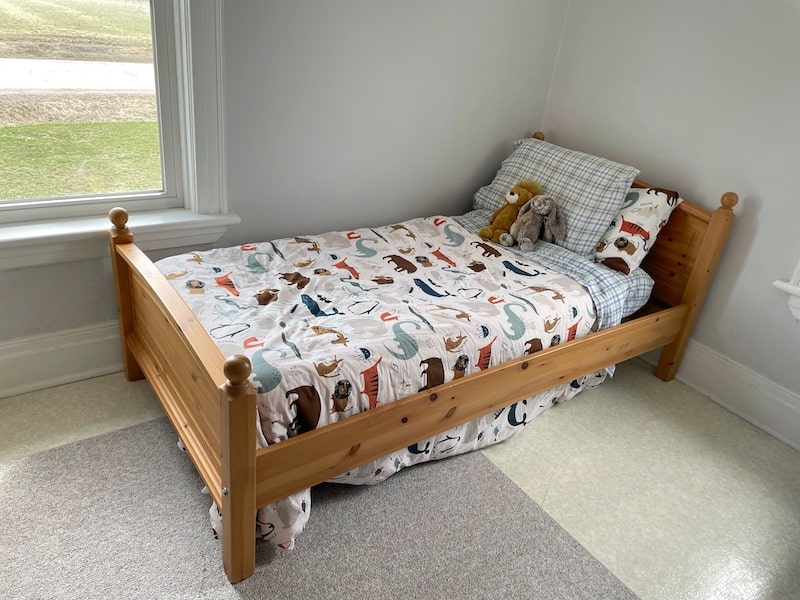 The only thing it was was missing was a board/slats for the mattress and the screws that go with it. For now I have the trundle bed frame set up inside the pine frame. Next time we go to the home improvement store, we will grab a piece of plywood cut to size. We did that with our girls' secondhand twin beds and it worked great.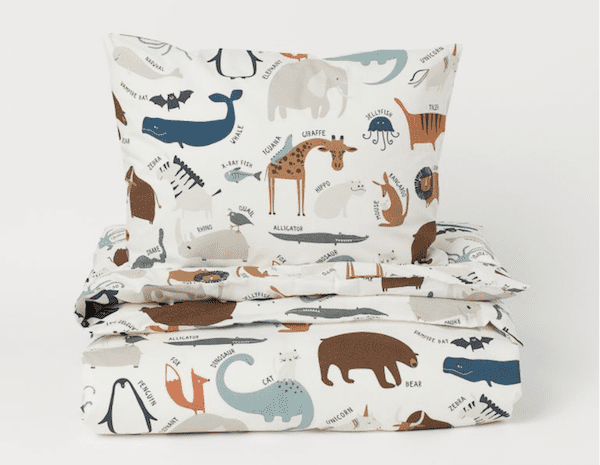 The bedspread is an organic cotton animal print duvet cover from H&M Home. It's currently out of stock, but hopefully they bring it back again. The design is cute and playful, while still keeping with the more muted colours I'm going for.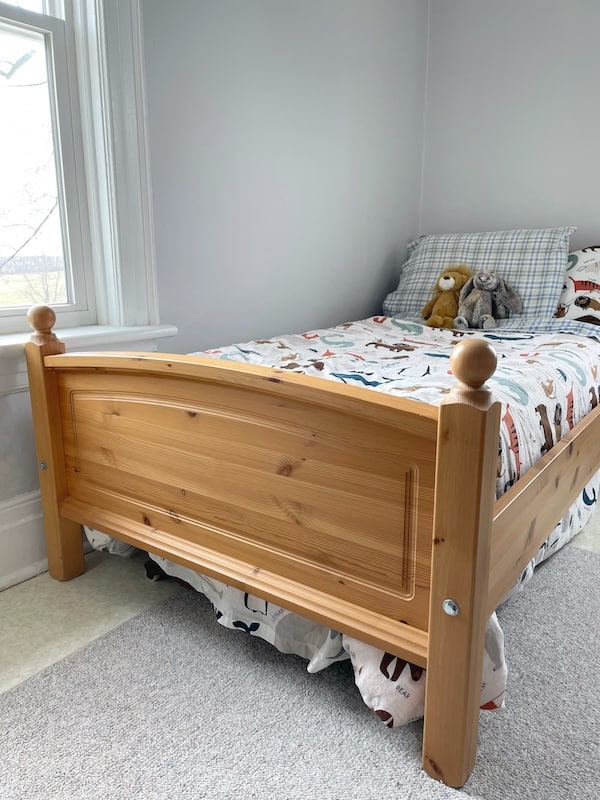 I'll be adding some artwork near the bed soon. Maybe a nightstand or side table to have somewhere to set down books. The bed has already turned out to be a great place for all three kids to pile up together for a bedtime story.
Transitioning to a Big Boy Bed Someday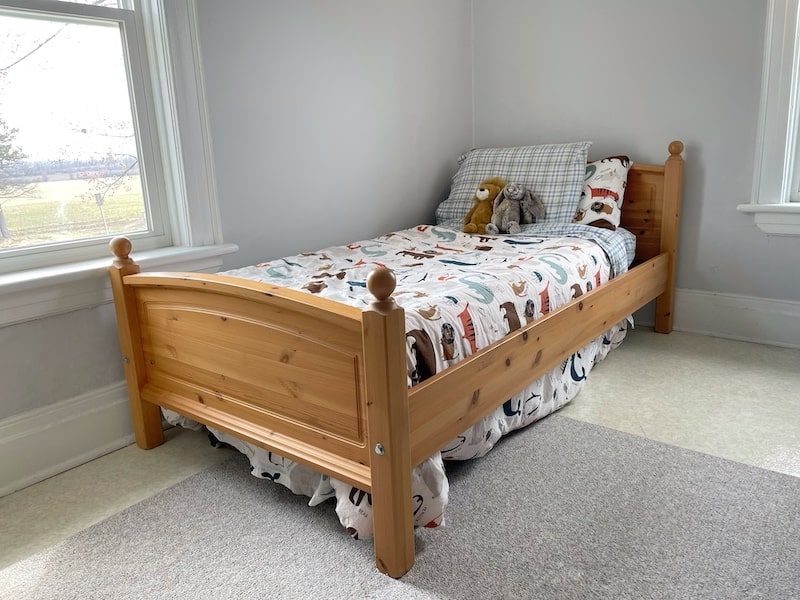 The great thing about having this pine bed now, is that when we're ready to transition our son into a big boy bed – we already have one we love for the space.
Next Steps for the Nursery Refresh
Now that we have the main pieces of furniture ready (this pine bed, the repainted dresser and our existing crib and bookcase), it's time to get into some of the finer decor pieces. I'm still toying with the idea of painting the walls and maybe doing new carpet. We originally added the area rug style carpet to cover the linoleum floor when we made this a Soft & Sweet Nursery for our first daughter. It hasn't held up as well as I had hoped.
VINTAGE INSPIRED NURSERY MAKEOVER