It's been a few years since I participated in the One Room Challenge, but I've always found it to be a great motivation for tackling projects in our 1903 farmhouse in rural Ontario. I've been wanting to update our nursery and this is just the push that I needed!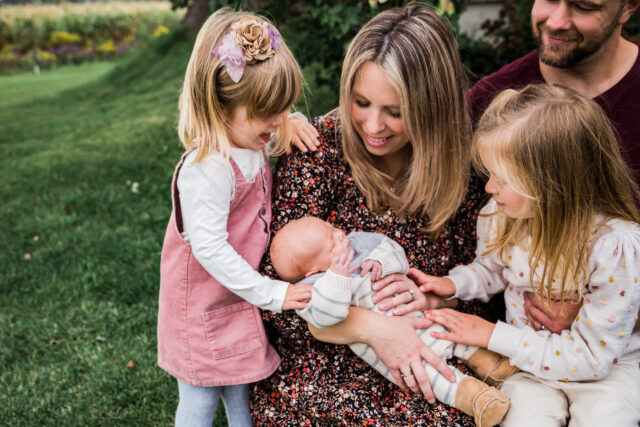 In September, we welcomed our third baby – an adorable baby boy who spent the first six months sleeping in a bassinet in our room. Now we have moved him down the hall into the Soft & Sweet Nursery which we used for our daughters. The nursery has lots of soft neutrals and Peter Rabbit decor from my Beatrix Potter Baby Shower. As cute as it is, I'm ready to give this space an update for our little guy.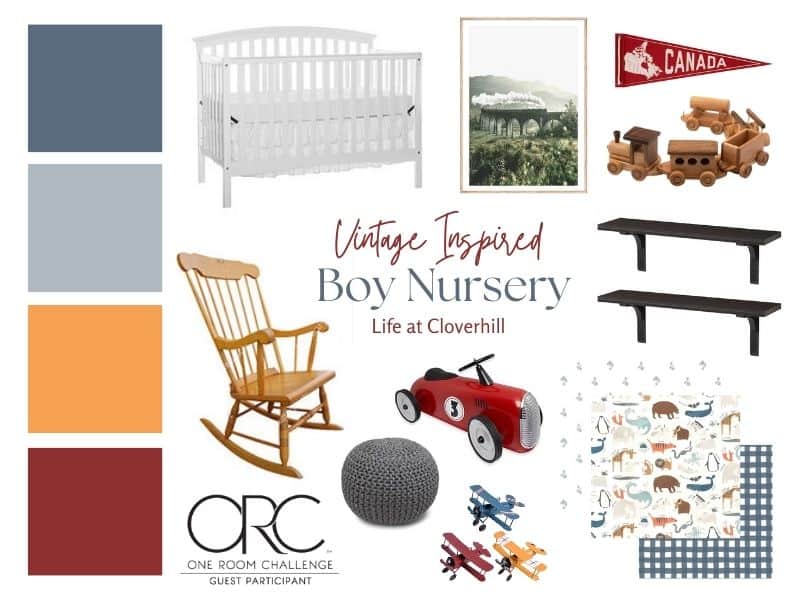 My inspiration for this nursery started with a few vintage toys we had – a wooden train, worn baseball glove and a retro metal pedal car from my childhood. I want to shift the colour palette from the soft pastels towards muted primary colours. I'm keeping the crib, heirloom rocking chair, knit poof and bookshelf.
I already have almost all the pieces to redesign the nursery, but haven't found the time and motivation to focus on it. We moved our youngest daughter out of the nursery last summer, and since then the room kind of became a catch-all where we would put things to deal with later on. I tidied it up for the baby to move in last month, but never got around to adding the new pieces. I'm excited to finally be tackling it!
The Nursery Before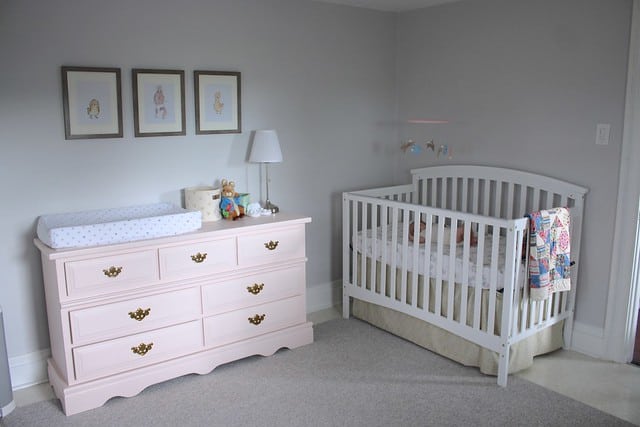 I really loved the soft colour palette we used when the nursery was for our daughters, and it has essentially stayed the same since 2016. My husband painted this old wood dresser soft pink and I made a bunny mobile and hung baby animal artwork.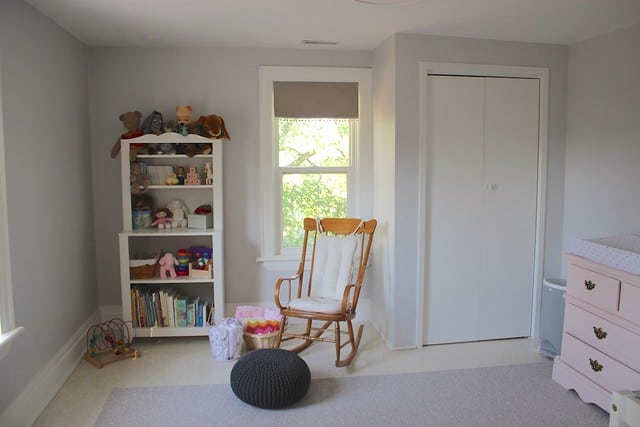 I sewed Pom Pom Trimmed Window Valances and found a linen coloured chair pad for the vintage rocking chair on loan from my parents. It was a fun room to decorate and has served us well for all our kids. Now it's time to change things up a little, while still keeping things on a low budget.
When our second daughter slept in the nursery, I moved the bookcase to add a twin bed in the corner. It was helpful for whenever she was having a cold or a fussy night, and I wanted to sleep close by. Since then, we have moved her twin bed into the room our two girls share, so I'd like to add in a new twin bed for me to use now and for our son to use eventually when he is out of the crib.
The Nursery Revamp Plan
Over the next eight weeks, I'm going to hopefully tackle the following:
Repainting the Dresser
Making a Mobile
Adding Shelves
Selecting and Hanging Artwork
Updating the Diaper Changing Area
Setting up a Twin Bed in the corner
Adding Thicker Trim around the Closet
Possibly: new carpet and wallpaper
I'll be sharing updates on how the process is going and any changes I make along the way.
You can see my previous renovations we've done in our Farmhouse here: