The first project for the Vintage Boy Nursery Update is repainting the dresser we already had in the nursery.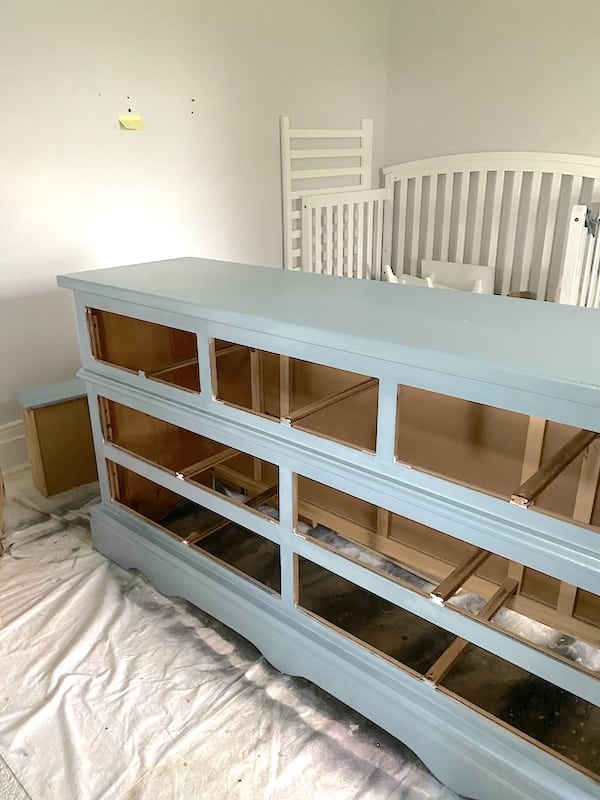 To be fair…this dresser was actually repainted way back in August, about a month before our son was born. Then it sat in the corner of the nursery, hardly used, because our little guy spent all his time in our bedroom or in the living room. I kept his clothes in a laundry basket by the bassinet. It was easier than walking all the way up to the nursery when we weren't really using it. Now he is sleeping in his room and we use the dresser all the time. I'm glad we had it finished in the summer.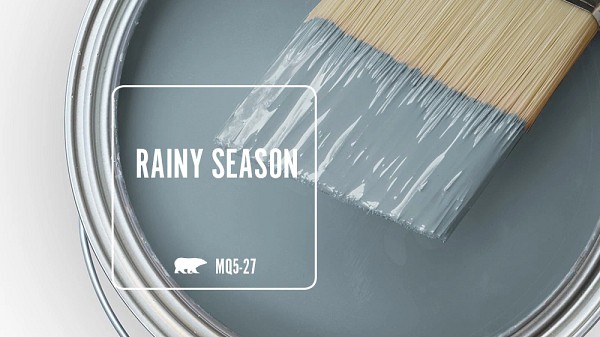 For the new dresser paint colour, I picked Behr Marquee "Rainy Season". We already had the can of paint in our basement from back when I was a member of the Behr Paint DIY Team years ago. I loved getting to be a part of that collaboration with a team of bloggers for two years. They even sent us on a trip to Huntington Beach, California back in 2014!
Ok, so back to the project. Behr sent me this paint colour as part of a press release, and I'd never found a project for it at the time. I was happy to finally have something to try it on. It's the perfect moody blue for this dresser makeover. We loved this colour so much after painting it that we ended up using the same paint on the feature wall in our bedroom.
The Before & After from the First Time We Painted the Dresser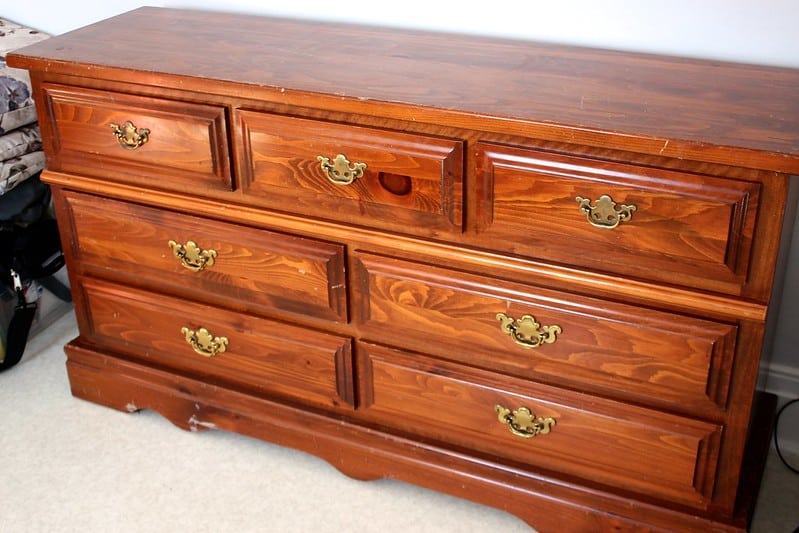 Back in 2016, the dresser was a $25 VarageSale score. I loved it for the extra long top, making it perfect to double as a change table too. It was solid wood and made in Canada – it just needed some lightening up for a baby girl's nursery.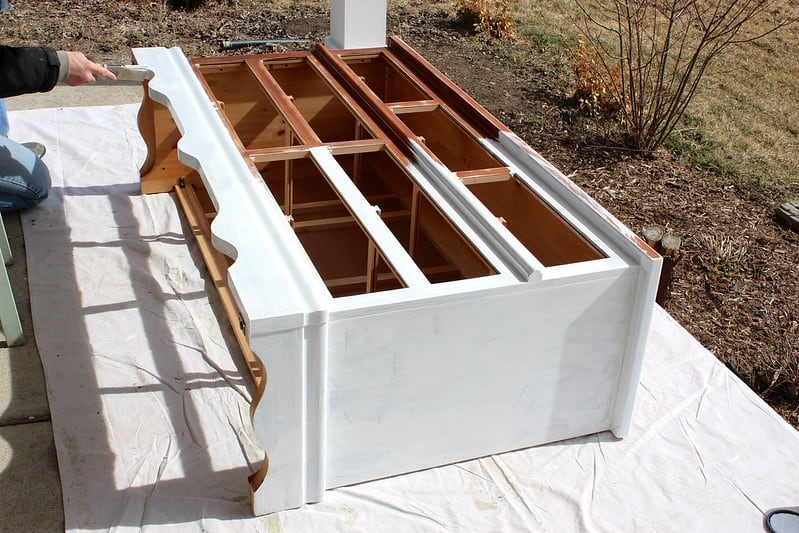 My husband sanded the whole dresser to rough up the surface, then applied a good stain blocking primer.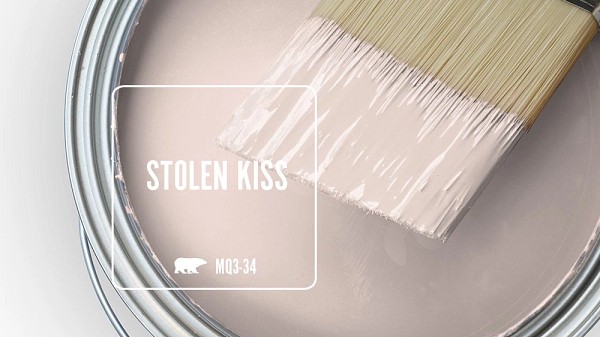 We painted it Behr Marquee "Stolen Kiss" – a lovely soft pastel pink that wasn't too overpowering for the Soft & Sweet Nursery.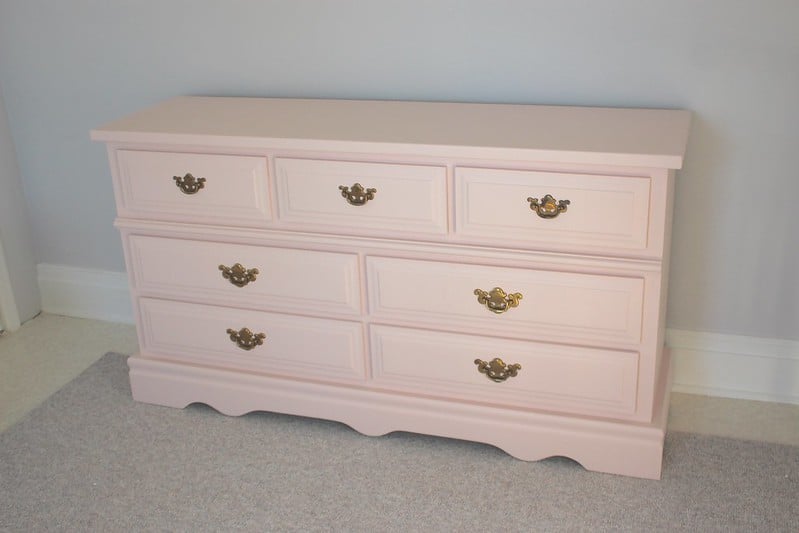 I loved how the Soft Pink Dresser Makeover turned out and we used it for both our daughters. It held up really well. I was impressed that after 5 years of regular use, there were very few marks on the paint finish. When we found out last spring that we were having a boy this time, I wanted to update the dresser for him. We still liked the original brass hardware that came with it, so we kept that again.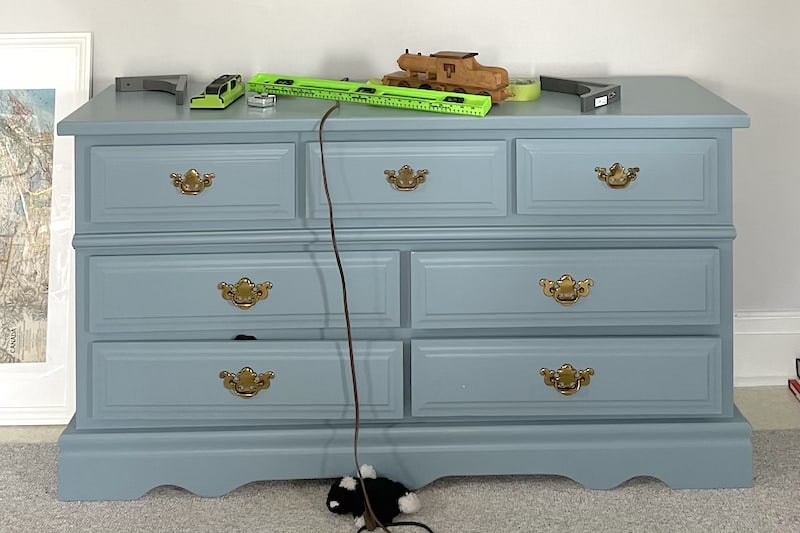 The dresser turned out great with the new paint colour! Now we just need to hang the shelves and artwork above it….and clear off all the tools we're using, ha!
VINTAGE INSPIRED NURSERY UPDATE