We've put our powder room renovations on hold for the next few weeks while we wait on a few things, which means it's the perfect time for me to finally jump into the One Room Challenge by Calling it Home. For years I've admired the challenge from afar, always hoping that I could get the right room with the right budget at the right time, but I never got my act together. This year I decided to go for it and tackle a room that I've been dying to get my hands on since we moved in – the Master Bedroom!
For those of you who are new to the blog and are visiting from the challenge, thanks for stopping by! I'm Amanda and I've been sharing on my little ol' blog here since 2009. It started as a creative outlet for a single gal living in the city and now I'm a happily married mama of a rambunctious baby girl, two dogs and a flock of chickens. My husband and I purchased our first home two years ago, a 1903 farmhouse in rural Ontario that we named Cloverhill. I like to write about whatever we have going on – from renovations to projects, recipes to travel, it's a little bit of everything.
Before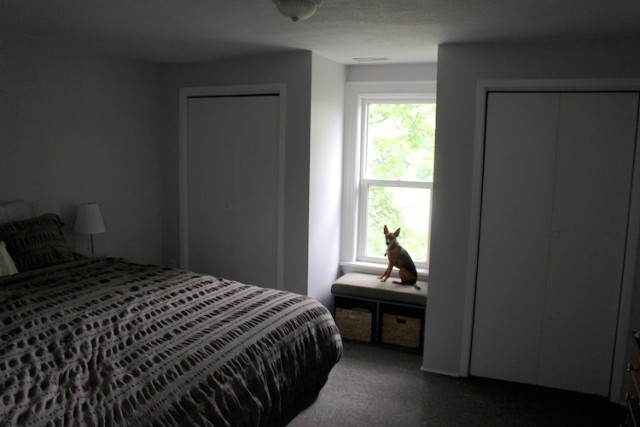 When we first moved in almost two years ago, we really didn't do anything to the master bedroom. We had a dark green duvet cover, threw in the hand-me-down nightstands and dresser from our apartment and set up the DIY window seat for the dogs to look out.
Aside from getting a new striped duvet cover awhile back, nothing has changed. If anything it has gotten even worse…especially when Lucy was sharing a room with us those first few months. Total chaos. Before I show you the next pictures just please remember that this is a bedroom of two very tired first-time parents. Which is also one of the very reasons why I wanted to do this challenge. We need an oasis where we can relax and get some much-needed sleep after a long day.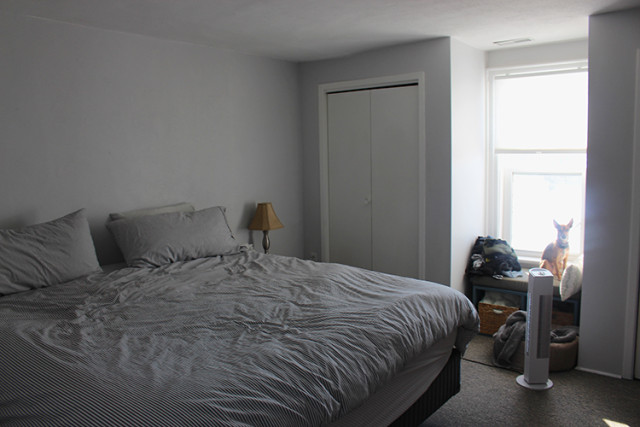 Same dog…more mess.
I wanted to be honest with you that our rooms are not always picture worthy. We have busy days (weeks. months. years.) just like everyone else. I'm one of those people who must make the bed every day, but sometimes that means just tossing the sheets and duvet on…but it's still technically made, ha!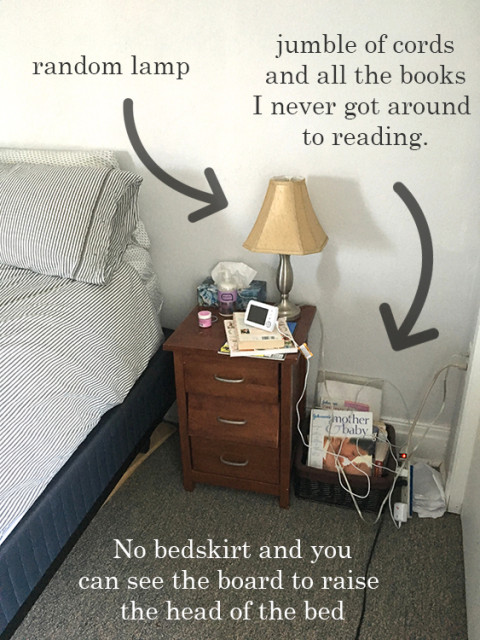 When I started to take the before pics, I couldn't stop laughing at our ramshackle nightstands. The bottom two drawers don't work on either one and as you can see it just became a catch all for everything.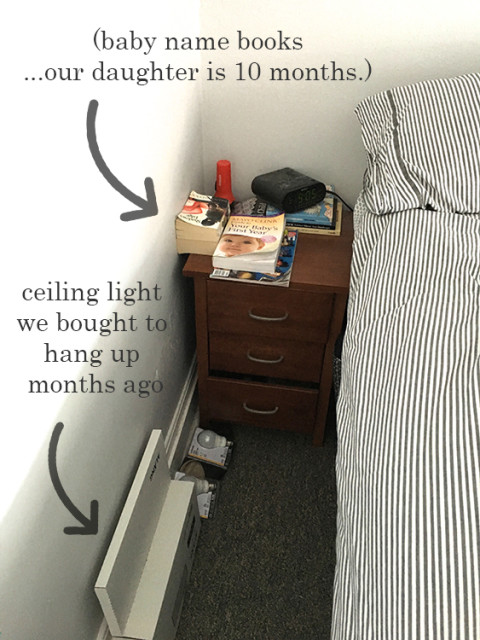 The great thing about really bad before pictures is that the afters will look that much better. At least that's what I'm telling myself.
The Inspiration
I put together a little mood board to show you what I'm thinking of. Soft neutrals with a few different metals for a little contrast.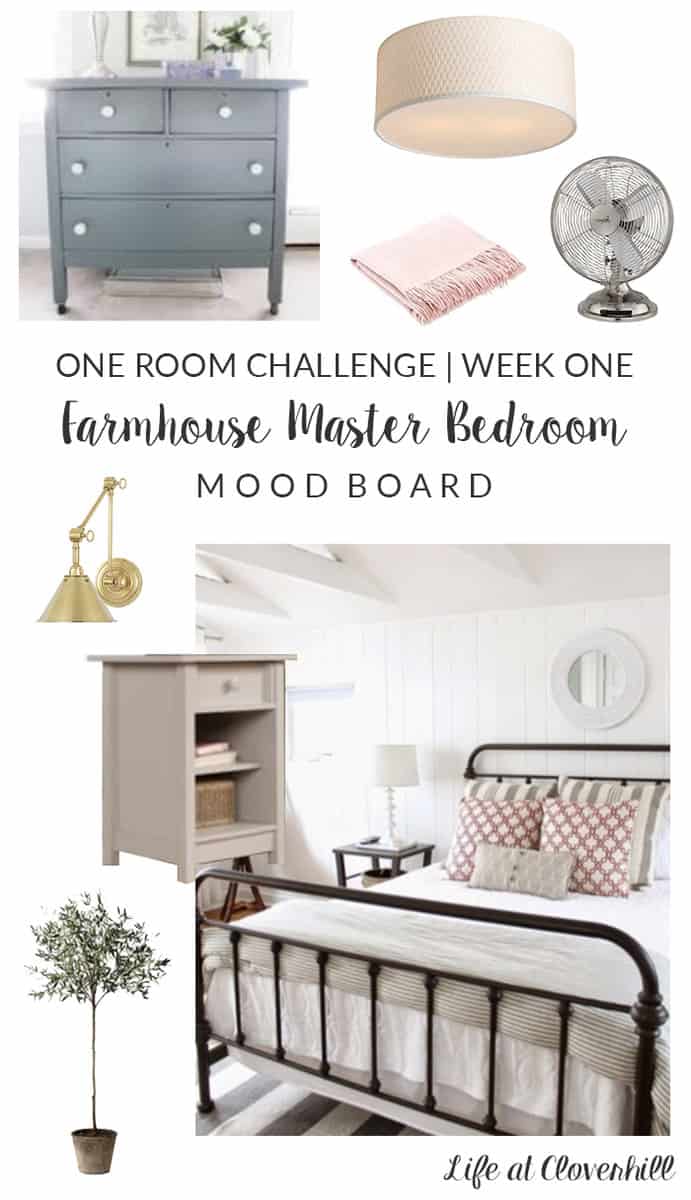 The Plan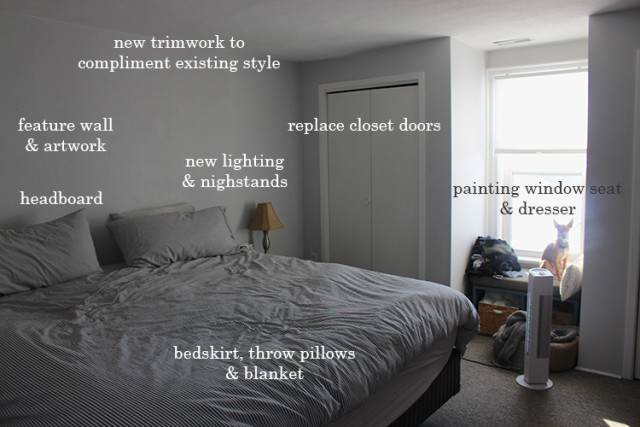 Over the next six weeks I'll be updating this room with some key pieces that are missing and touching up those we're keeping. After we finished Lucy's nursery last spring, it made me realize how much easier it is to keep a finished, organized space tidy. My hope it that we can do that in this room too and make it a room we happily put on display…instead of shutting the door whenever company stops by. Wish me luck!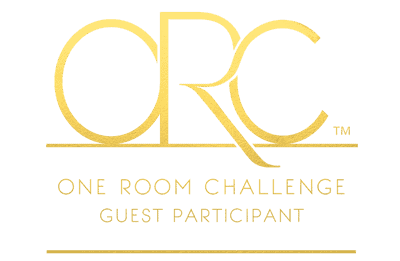 Be sure to stop by every Thursday for the next six weeks to get an update on the progress. Check out the One Room Challenge blog to see all the other participants as well.
/ / /
Farmhouse Master Bedroom One Room Challenge: