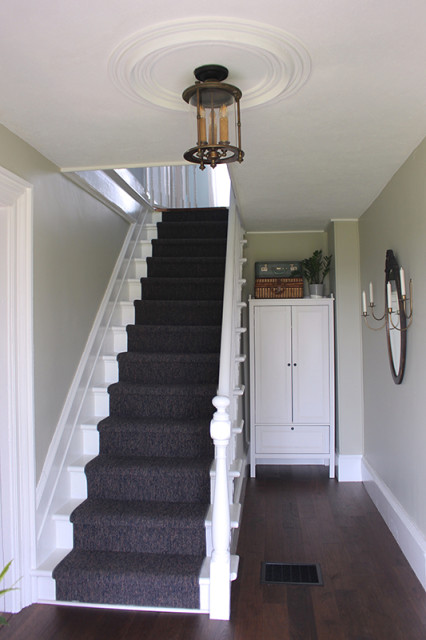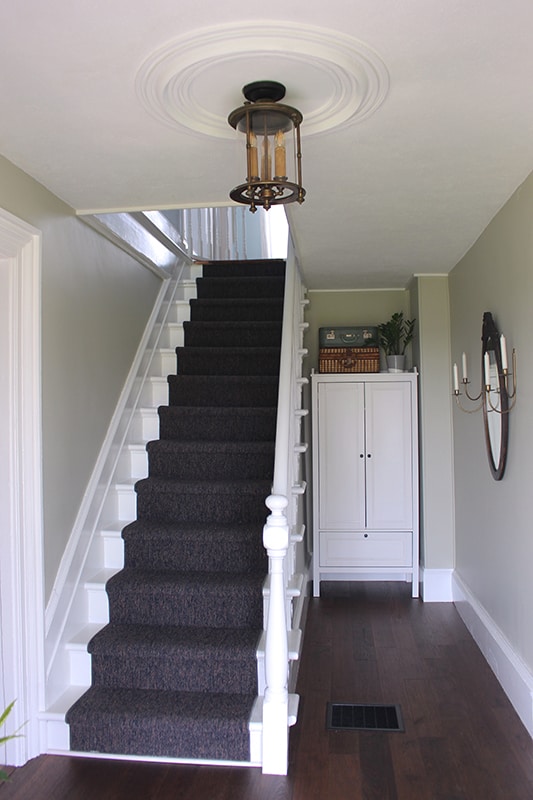 I am SO excited to finally be able to share the final reveal of our Farmhouse Front Hall Makeover. Ta-da!
For the last six weeks, as part of the One Room Challenge, we've been working hard on transforming our entrance into an inviting space for when guests enter our home and I'm so pleased with the results. Seeing as we undertook this while I'm pregnant again, I've had to rely on the generous help of our family to get this space finished and it's been a real team effort to get to this point.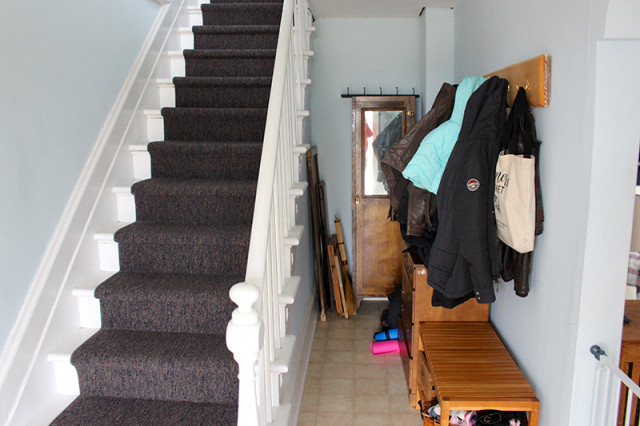 Back in the first week of the challenge, I shared what the hallway looked like before we started the renovation. It was cramped, had poor storage and was constantly a mess. I dreaded when guests came to the front door and saw such an eyesore.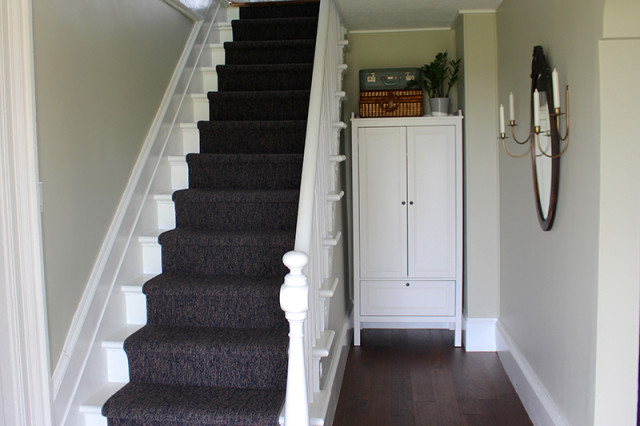 I'm loving how clean and open it is now. It fits in so much better with the look I want for our farmhouse and it just feels right. The wardrobe we added to the far wall is perfect for housing all our coats, with a shelf inside for baskets and a drawer below for shoes.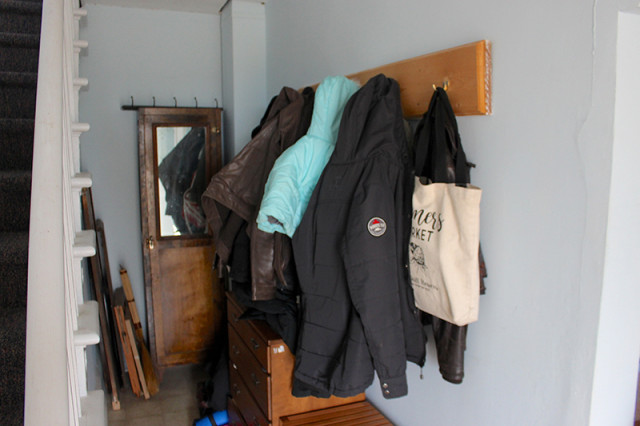 The cabinet in the back could never hold very much and has been moved upstairs as a linen closet in the hallway. The beat up old coat rack along the side wall was where we'd always hung our jackets and bags, but now with the wardrobe, we could get rid of it and the dresser below.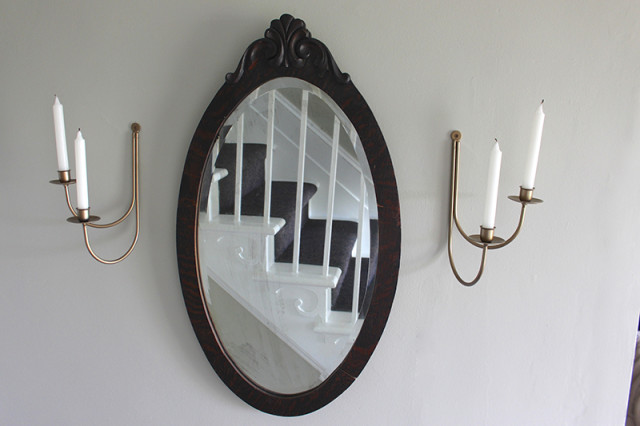 In its place, we hung up a large vintage mirror and two candlesticks that I shared last week. Maybe someday we'll add a coat rack again as our family grows (which was my original idea I talked about in week 3) but for now, I'm loving how this mirror bounces the light around this space. My brother helped me take a thrift store find and turn it into those two candlestick holders. Not bad for a few dollars and a can of spray paint from the basement.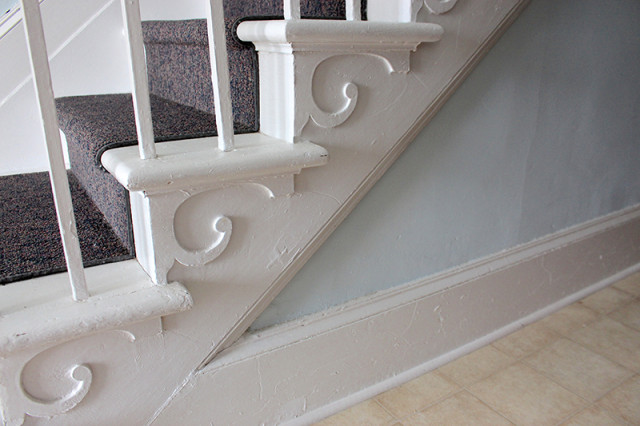 The biggest change to this space was repairing all the damage to the walls and woodwork, adding a fresh coat of paint to everything and replacing the sheet vinyl flooring.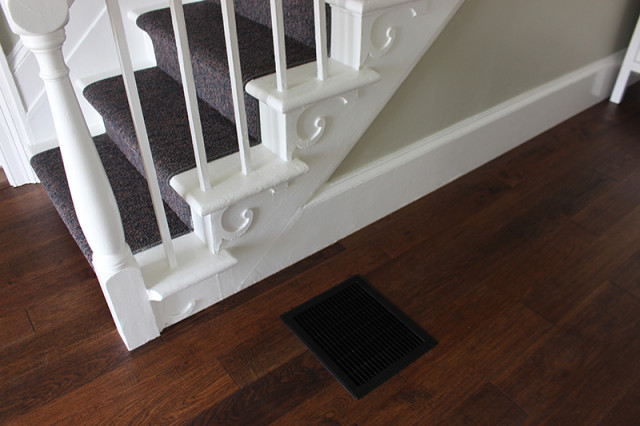 The new look gives the room so much more depth and character. The grey-green wall colour we chose is much better for a historic home. Deciding what to do about the flooring was such a rollercoaster but this brand new "looks old" hardwood flooring fits in perfectly with the house and I'm so glad that we paid a little bit extra to have it installed professionally. I also love how clearing out this space and giving everything a fresh coat of paint made the detail in the woodwork on the stairs really stand out. Those little curls in along the stairs were always one of my favourite features of this room and now they get to shine.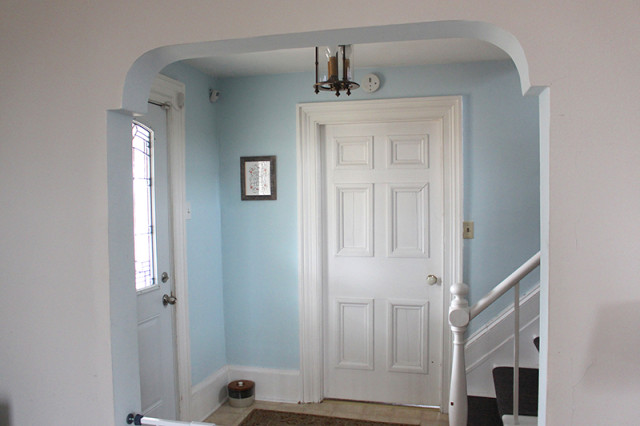 You can really see how bright blue the original wall colour was.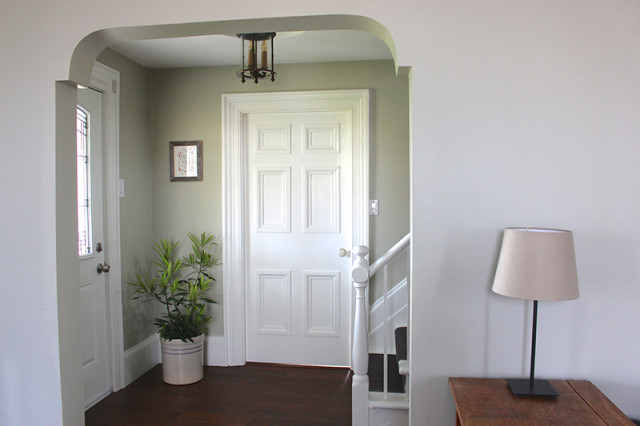 Now it feels much calmer and still keeps the hallway bright and cheery. I like how well it compliments the grey-blue wall colour in the adjoining living room.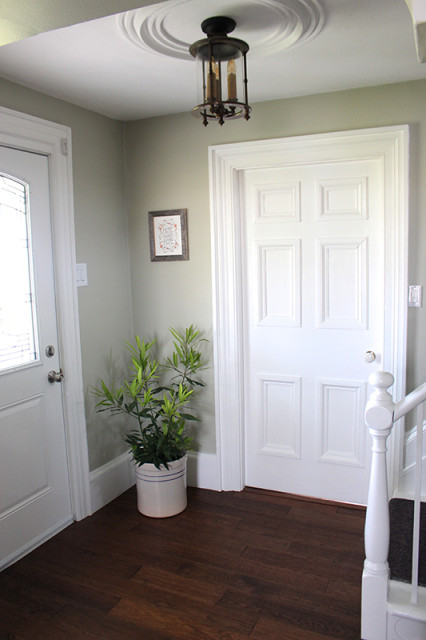 I tried to keep the decor simple and kid-friendly. This bush is an outdoor plant that I've nestled into a large crock that my mother-in-law found for me last summer. Once we get past the frost warnings in our area, I'll be moving this plant outside, but for now, it's happily adding some greenery to the hallway. The "Home Sweet Home" print was one I'd added a few years ago when we moved in and I just love it so much that it had to stay. Eventually, I'd like to add a nice rug in here too, especially when we start to use this front door more in the warmer weather.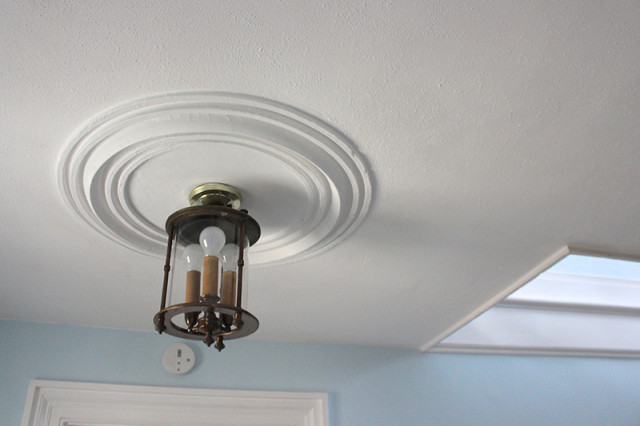 We also did a little makeover to this older light fixture that I couldn't part with.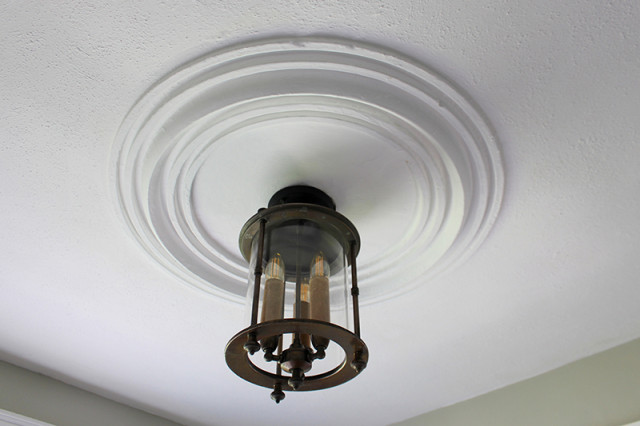 It's amazing what a quick cleaning and a few little changes can do. Garrett got up on a ladder and carefully painted the gold base with some simple black craft paint we had lying around. For only $20 I was able to swap out the big bulbs for some LED candle bulbs that fit in much better with the vintage style.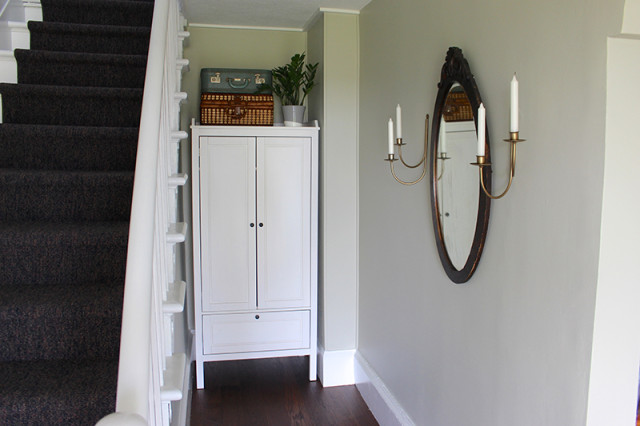 One of the nicest changes that you wouldn't even notice if you didn't know about it is how my dad hid our ugly ductwork. He built a frame around the ductwork on the right side, covered it in smooth plywood and added some trim around it. He also was able to add the missing baseboards for around the ductwork wall and along the back wall. It almost perfectly matches the 115-year original baseboards and you'd never know this stuff was made with some of our old melamine shelves and some leftover trim from renovating the powder room.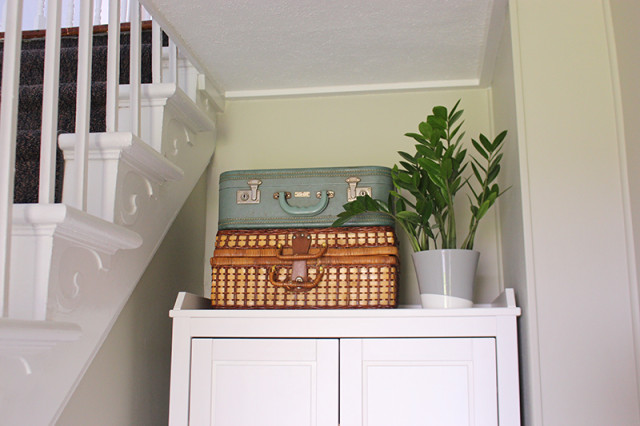 This old suitcase and picnic basket are from my grandfather's house and I've always had a soft spot for them but didn't have the right place to display them. Now they're right at home on top of the wardrobe and are perfect for storing off-season items. The ZZ plant up there was a birthday gift from my siblings two years ago and it is seriously the easiest houseplant ever. It flourishes in low light and with minimal watering – just my kind of houseplant!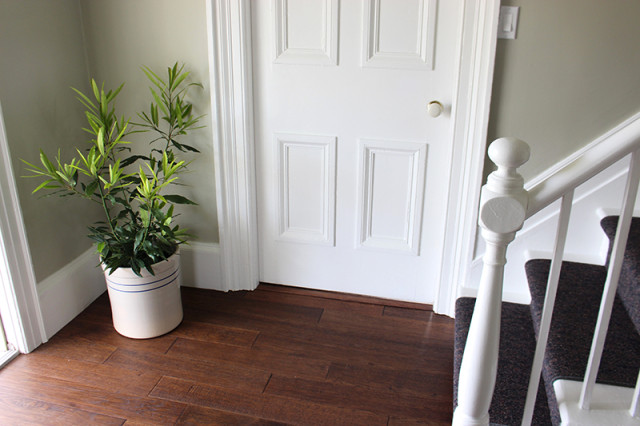 I hope you've enjoyed following around with this renovation and thank you for following along! Be sure to check out the master bedroom makeover we did for the challenge last spring. You can visit the One Room Challenge blog to see all the other participants as well.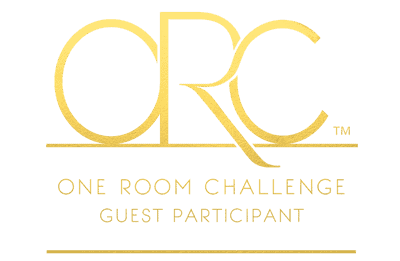 FARMHOUSE ENTRYWAY – ONE ROOM CHALLENGE