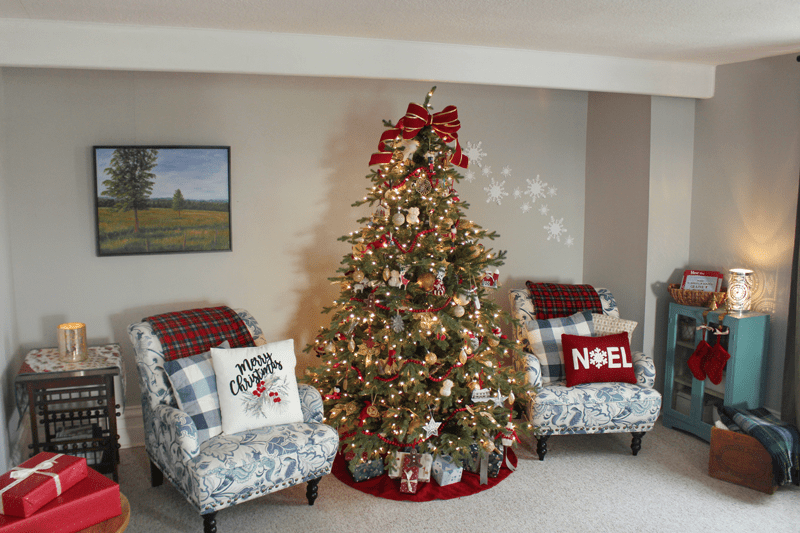 Making our home warm and inviting during the holidays is one of my favourite traditions, especially now that we have two little girls who are very excited about Christmas. It's been a different holiday season this year and even though we don't have company popping by to share it with, I still wanted to make our home feel a little festive for the season.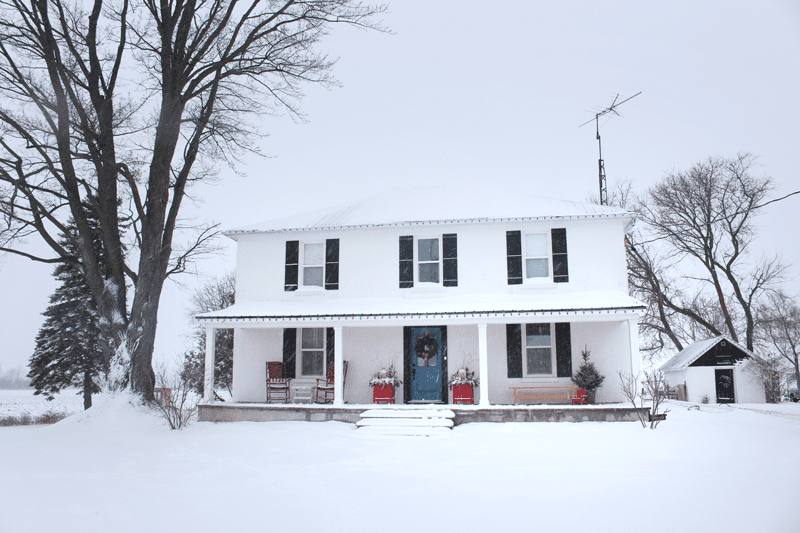 Earlier this month I shared our Snowy Farmhouse Front Porch and how I turned our Holiday Wood Planters into Outdoor Christmas Lantern Planters. We've had a very snowy month and it's made the whole farmhouse feel like a winter wonderland.
Front Hall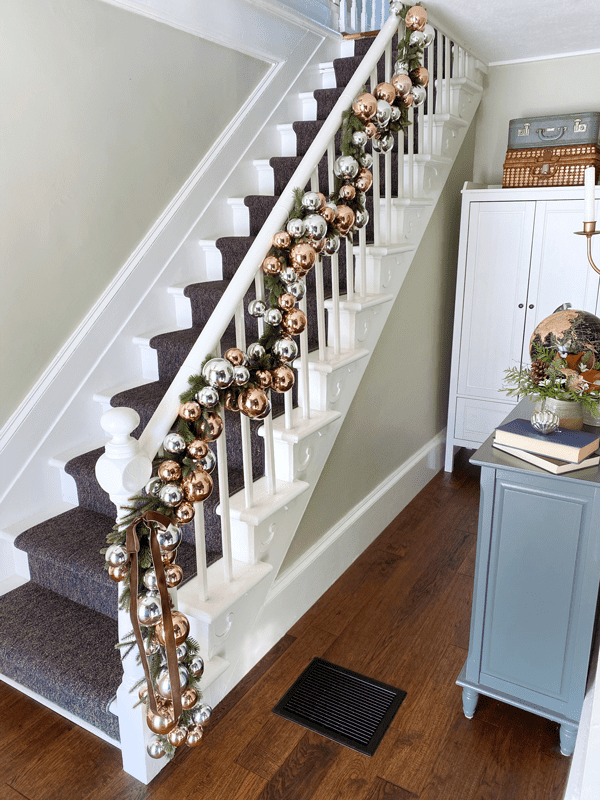 The one part of our house that people get to see (especially delivery people these days) is our front hall, so this year I went with something a little more bold.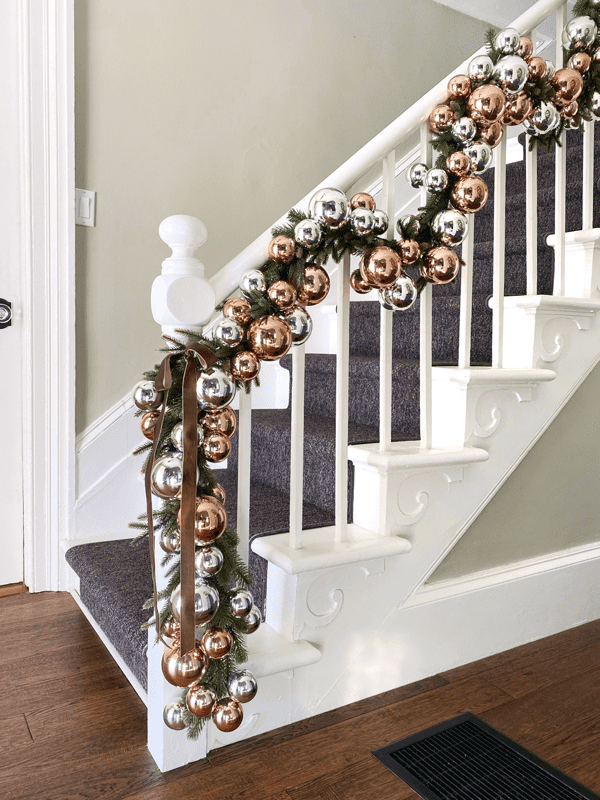 Awhile back I saw a tutorial on Instagram on how to make a ball garland and then spotted wired rose gold ball garland on sale at Michaels. I wove it around two faux fir garlands I had to add some greenery in there. The final touch was a soft brown velvet ribbon at the newel post. It's a much bigger fuller looking garland than I've ever hung on the stairs before and I really love it.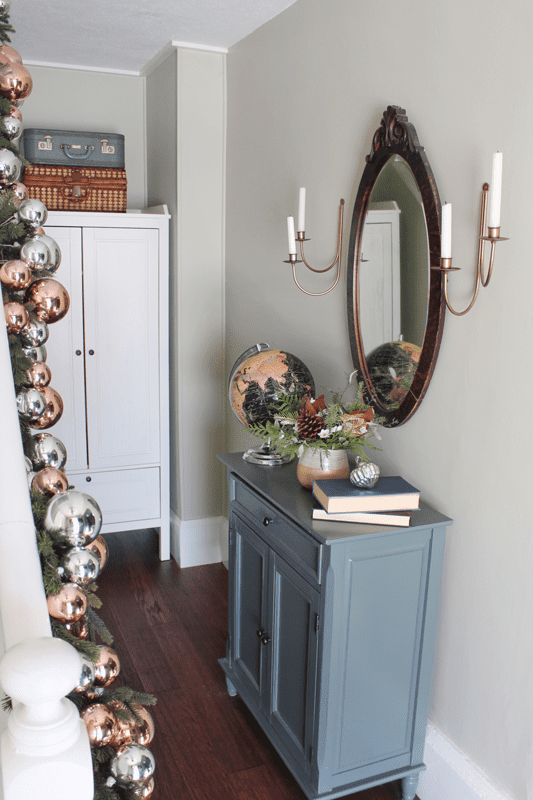 We renovated our front hall a couple of years ago with engineered hardwood, a wardrobe for a hall closet and this narrow cabinet. This is still one of my favourite spaces we've done in the house and it is only 75 sq ft.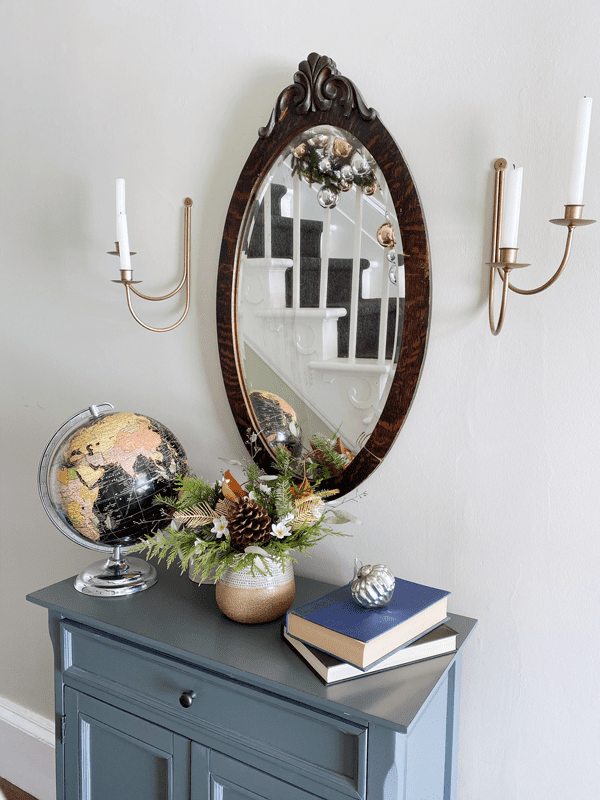 On the hallway cabinet, I made a simple floral arrangement using leftover greenery from making the outdoor planters, along with a pinecone wired to a stick and a few faux white flowers. Closer to Christmas I'll swap out the faux flowers for some real ones. The vintage globe was a gift to the girls from my aunt and they love looking up all the different countries.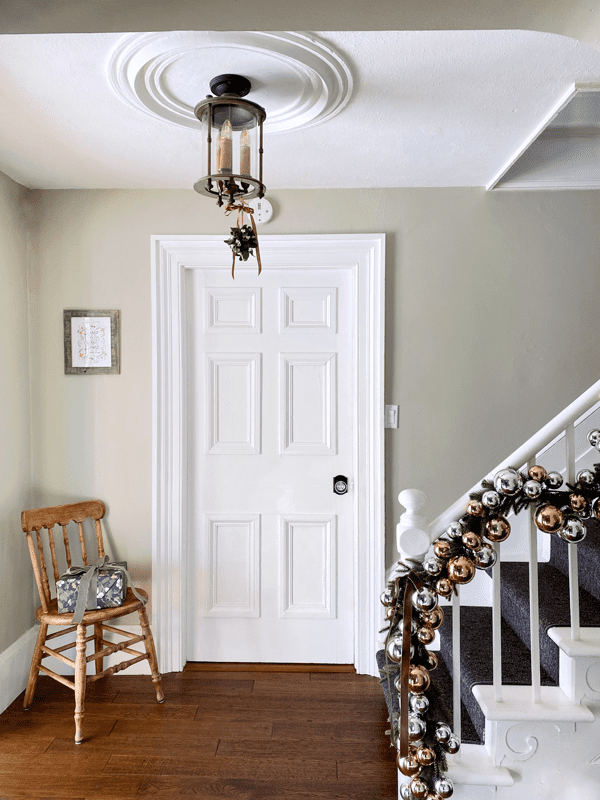 Living Room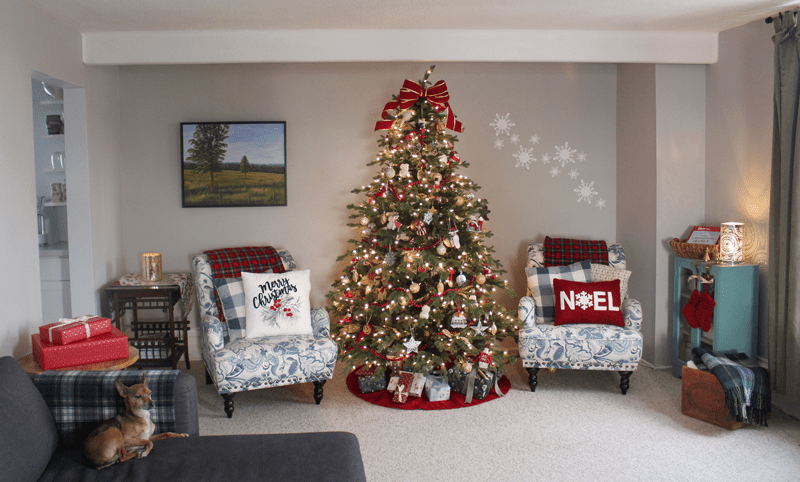 The living room is where we spend the most time as a family. The girls have their toys in there (on the other side of the room), we cuddle up for movies and wrap presents in here. I've kept one side for the kids to do their thing (not shown for obvious reasons #toyseverywhere) and then this side is the nice and cozy Christmas area.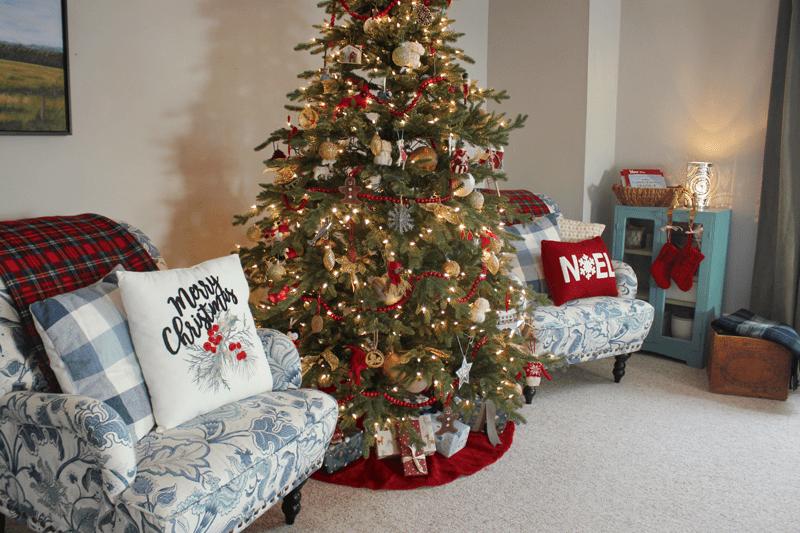 Our tree is a heartwarming mix of treasured family ornaments remembering special trips, the births of our girls, our wedding and then simple handmade ornaments I've made over the years. The newest additions have been made by our four and two year old girls and I love those ones so much. The simple clay ornaments and funny drawings make me think of the ornaments my own mom kept from my childhood.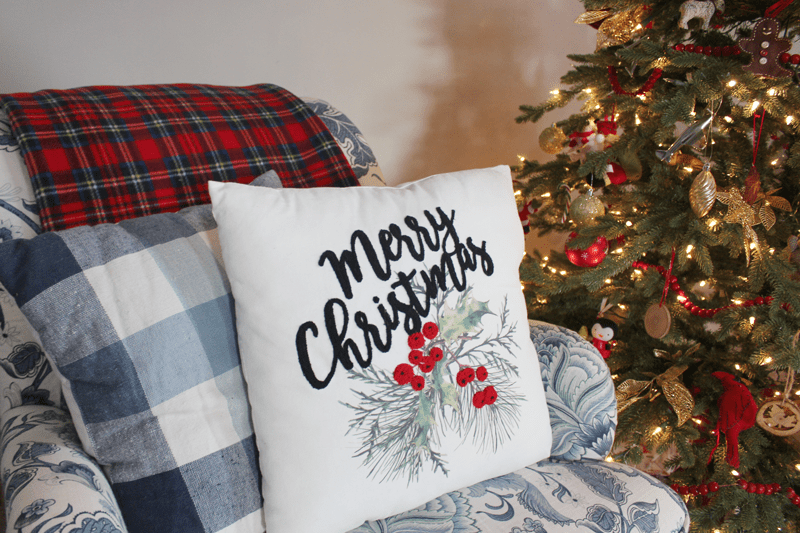 The embroidered "Merry Christmas" pillow was in our bedroom in the holiday home tour last year, but I thought it would look nice downstairs on the blue floral chairs paired with the No Sew Flannel Throw Blankets I made for the girls.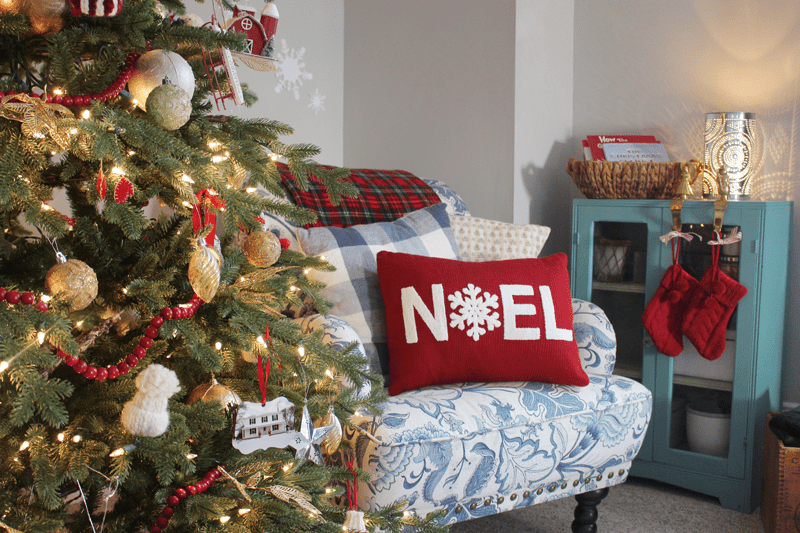 The red "Noel pillow" was a new find this year and goes well with our red cable knit tree skirt and stockings.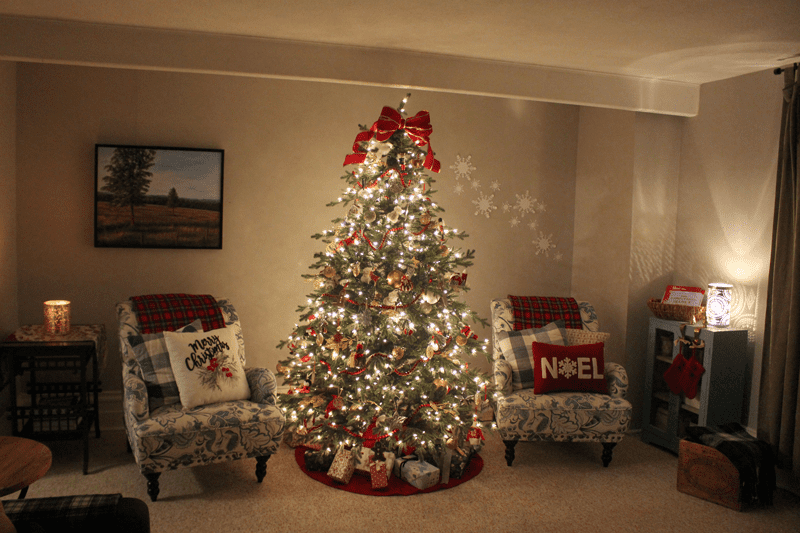 The days are so short right now and as soon as darkness settles in, I go around turning on the lights – like our vintage inspired tin lantern and my favourite Christmas candles.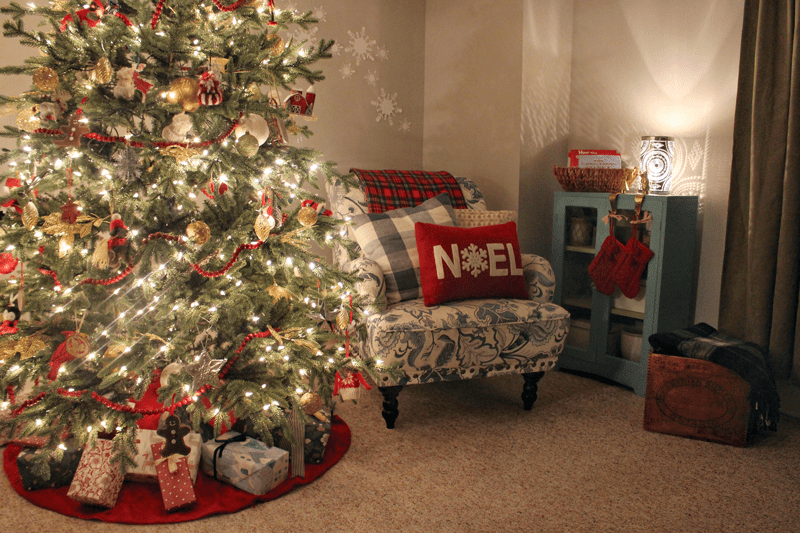 A new tradition we've started this year is reading the girls bedtime books all together, down in the living room by the light of the Christmas tree. I keep a basket of them down here and we snuggle up on the couch or around one of the chairs.
Farmhouse Kitchen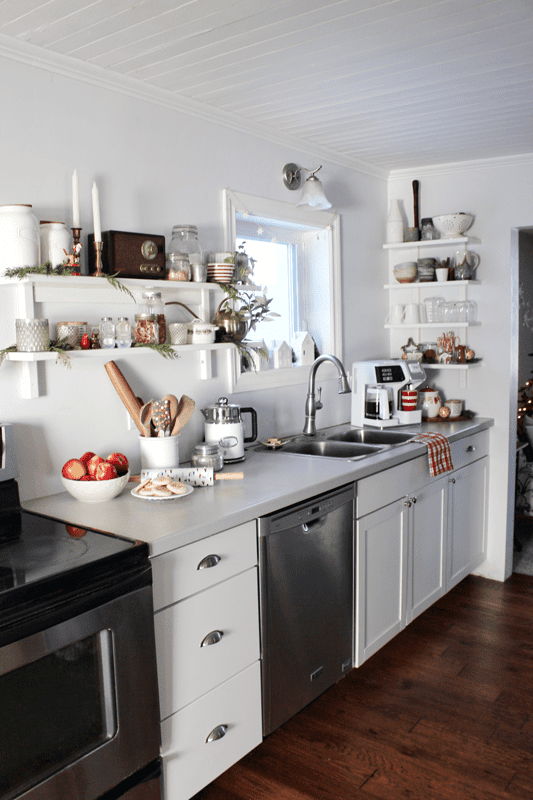 The heart of our home is definitely the kitchen. It's where the holiday meals are made, the dance parties begin and all the messy holiday baking takes place. I'll fess up and say this is probably the only time this kitchen will look this clean and tidy between now and Christmas.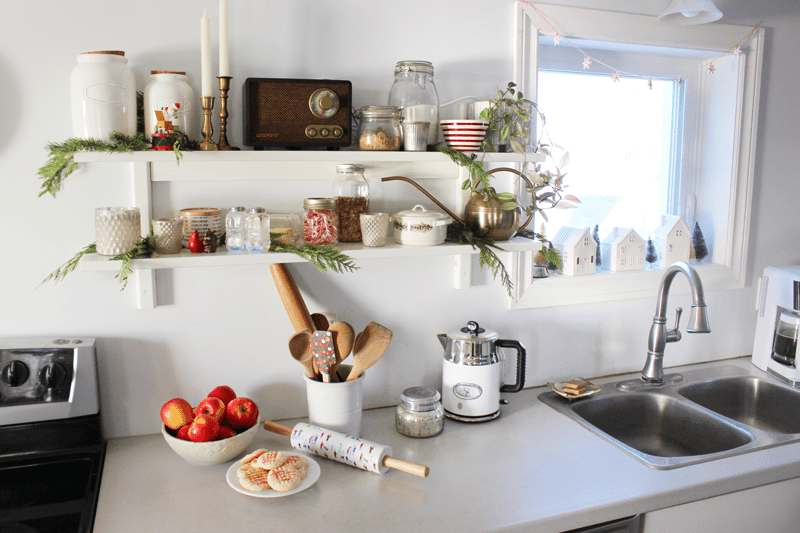 There is lots I'd like to do to this kitchen someday (it's always on our to do list), but there is one nice change we made this year. We always had this big blank wall space above our counter and this year we added some more open shelves, in the same style as the ones farther down the wall. It's actually the shelving unit we took down when we swapped out open shelves for cupboards on the other side of the kitchen. It has really cleared up our counters of the small things like the salt & pepper shakers, butter dish, sugar bowl, coffee & tea canister, etc.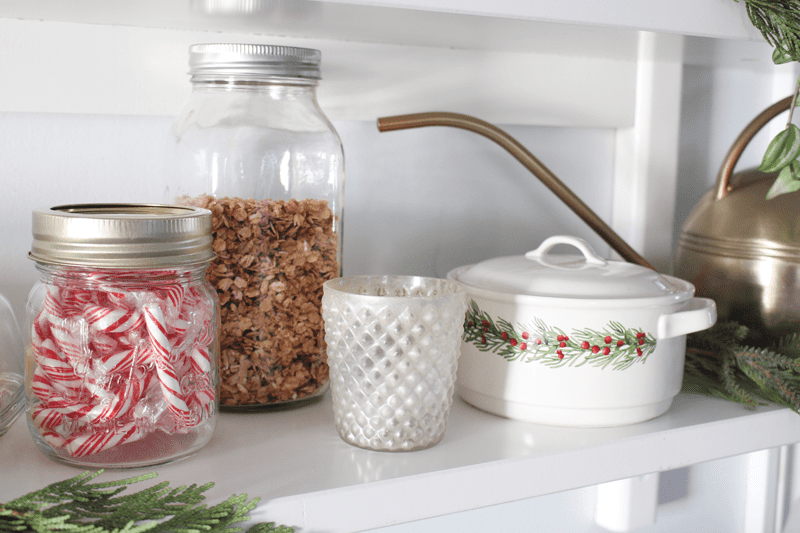 I've loved keeping some of our most used baking ingredients and our favourite Honey & Oats Granola up there and a few of our seasonal favourites like candy canes.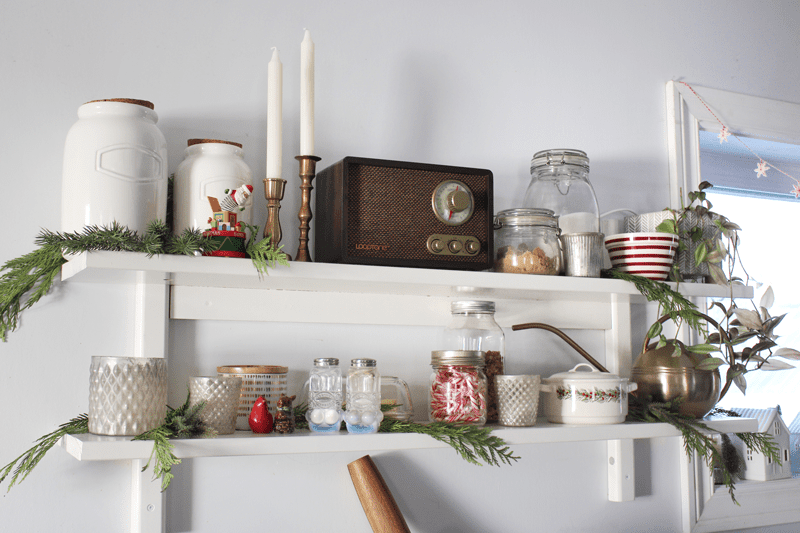 We recently bought this Bluetooth AM/FM Radio and it's been a huge hit. I'll leave it on the local Christmas music station while puttering around the house, or pop on a podcast through my phone. And it gets lots of use for impromptu kitchen dance parties.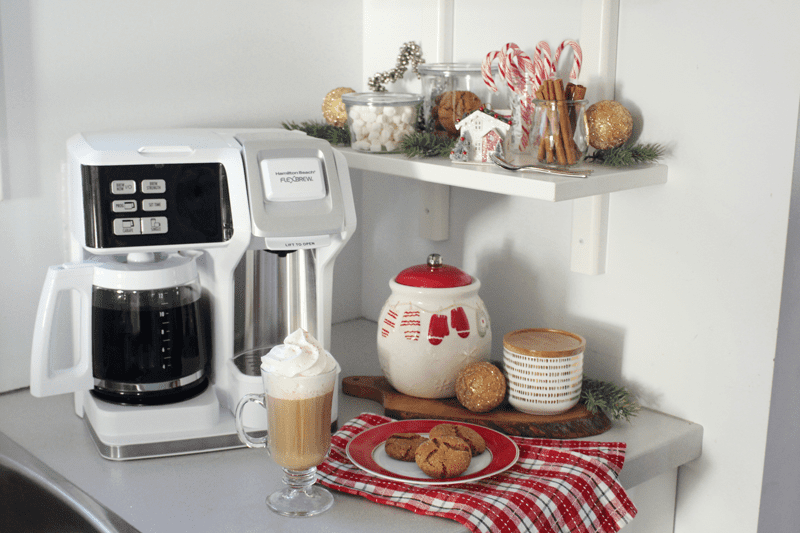 On the other side of the kitchen, I've set up a Christmas Coffee Bar with our new Hamilton Beach 2-Way FlexBrew Coffee Maker (for which I have a giveaway on until Friday at midnight – your chance to win your own!)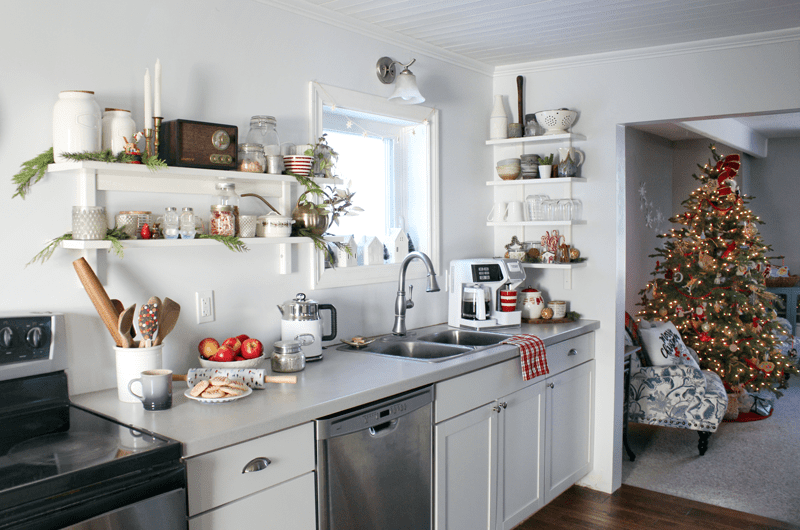 This is the first year we've had the Christmas tree in this part of the living room and I love that you can see it from the kitchen too. While I'm waiting for dinner to cook, I can sit down on my favourite chairs by the tree and watch a Christmas movie with the kids.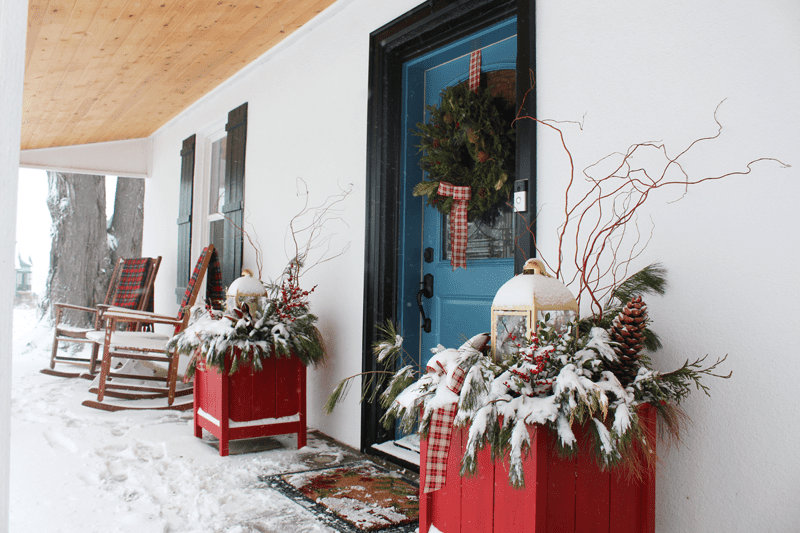 Thank you so much for joining me on a holiday home tour of our farmhouse. I hope you have a truly wonderful Christmas season with your loved ones. Merry Christmas!