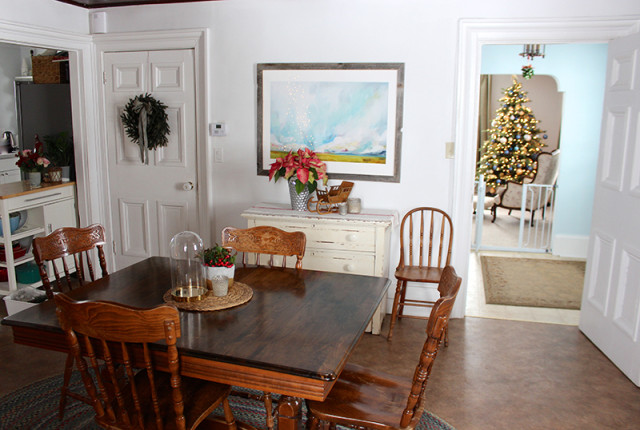 With twelve days left until Christmas, I'm excited to share a little home tour of our Christmas decorations at Cloverhill Farmhouse. You can see my Christmas decor from last year and every other year in the Holiday Guide.  I've kept things fairly simple and toddler-safe this year, so there are many decorations that I didn't put out, but I know we'll be able to pull those out again in the future. I'll warn you that this is a long post, so make a nice mug of cocoa and settle in for a walk through our home.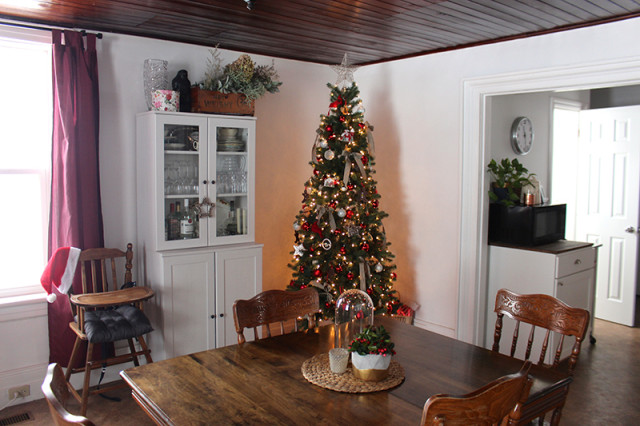 In an attempt to keep our favourite family ornaments out of curious toddler hands, I set up a slim tree in our dining room. This is a room that Lucy is only in if we are with her. I'd never thought of setting up a tree in here before but now I love it. We get the glow of the Christmas tree at dinnertime and I love to sit at the dining room table and work while Lucy is napping. It makes this room feel so cozy and Christmasy.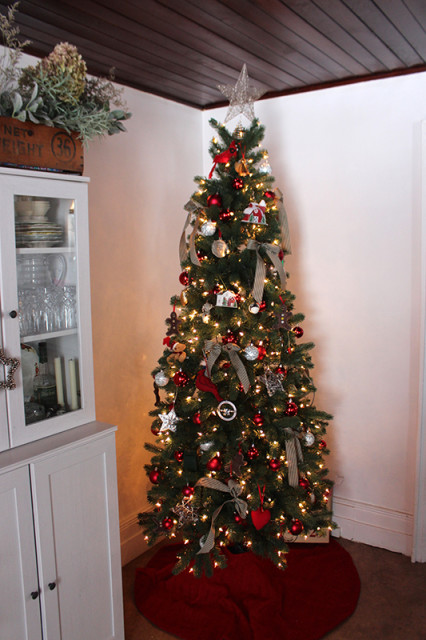 The special ornaments are at the top (nothing fragile though) and then simpler ornaments like unbreakable red balls and my handsewn Gingerbread Man Ornaments on the bottom. I'm not too fussed if Lucy takes those for a little jaunt around the house. I also added white and black striped bows using ribbon I found on Penny Paper Co. and used on a wreath for the antique sled I refinished a few years ago.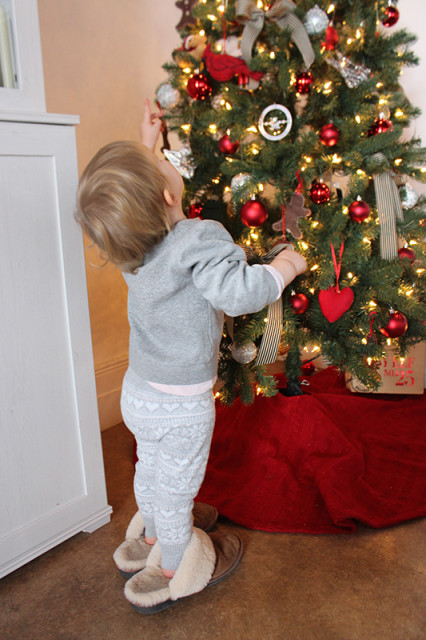 As soon as Lucy comes downstairs in the morning, she rushes to the "twee" and asks me to turn it on.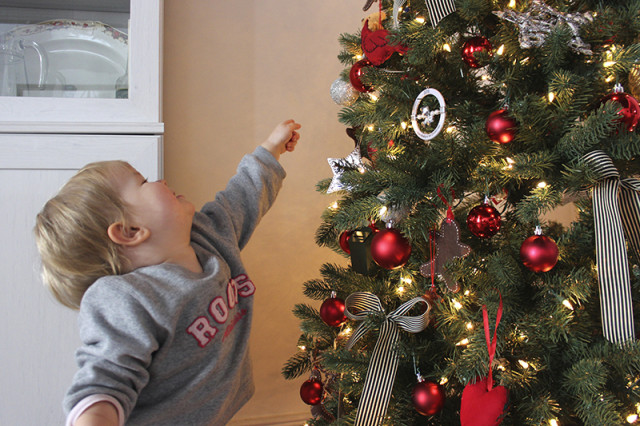 She loves pointing out all her favourite ornaments.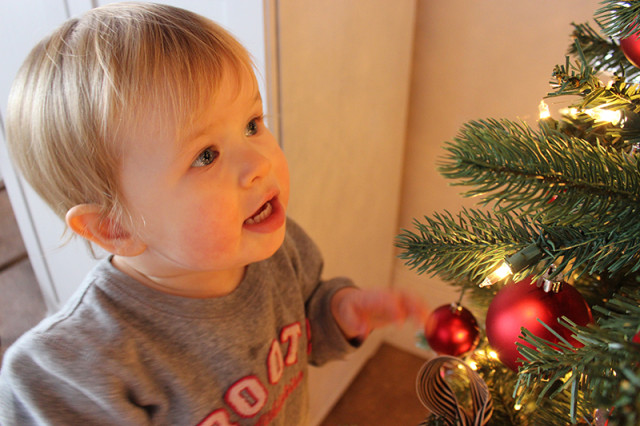 Seeing the tree in her eyes, it really does look magical and exciting.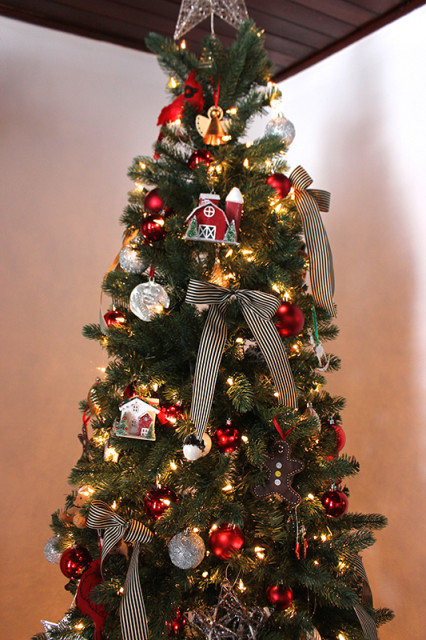 We added a few new ornaments this year. I've started collecting vintage-inspired cardboard house ornaments, like the red barn I found on our road trip to Vermont this summer and the little white house from Crate and Barrel.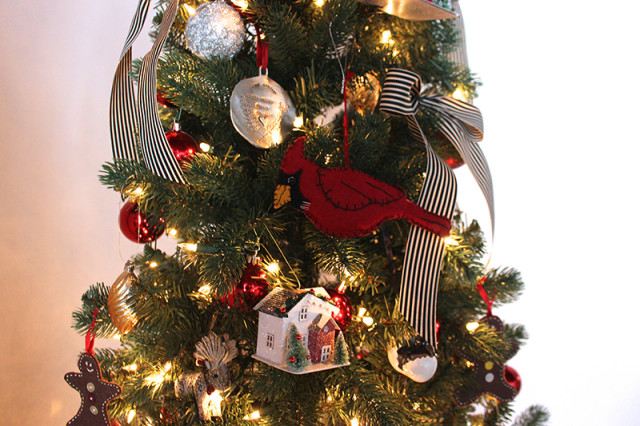 The handsewn red cardinal was a gift from a friend this year and it reminds me so much of the cardinals we see in my parents' backyard every winter.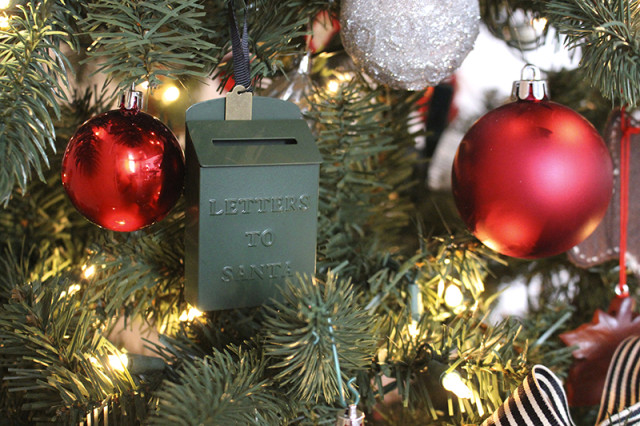 I also put up our new "Letter to Santa" mailbox ornament from the Joanna Gaines Hearth & Hand line at Target.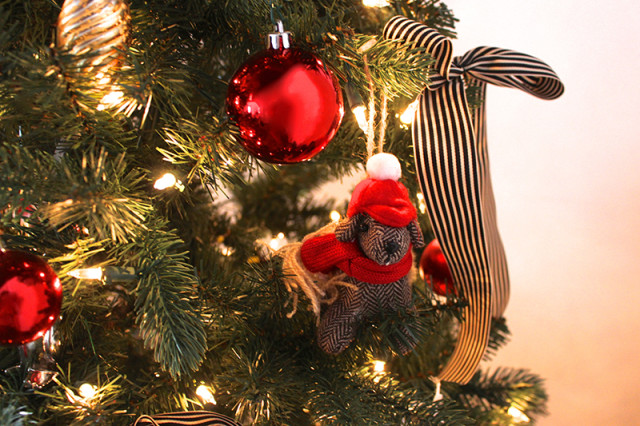 One of Lucy's favourites is this little Sherlock Holmes puppy ornament that was tied to a gift I received years ago.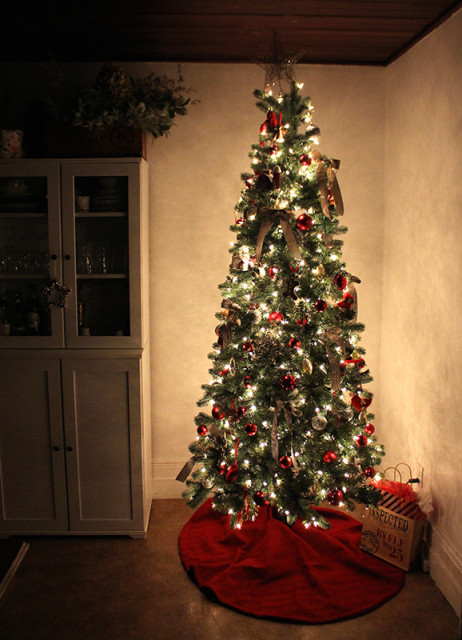 Nothing beats the glow of the tree at night. We only have one gift under the tree and Lucy hasn't bothered with it for a whole week so I'm thinking I may actually be able to wrap a few gifts and put them under the tree before Christmas.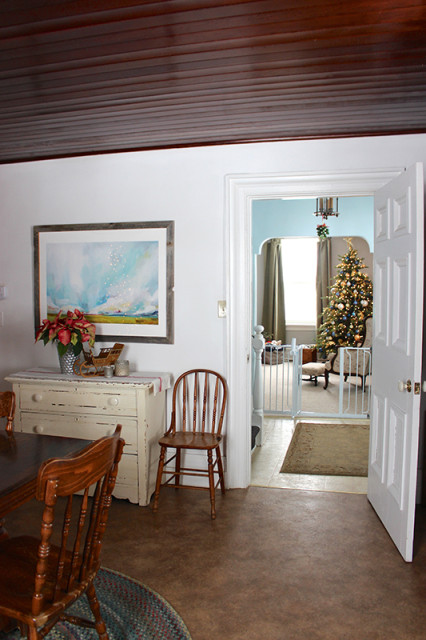 If you turn around in the dining room and look through the hallway (past the baby gate), you can see our new Family Friendly Farmhouse Christmas Tree.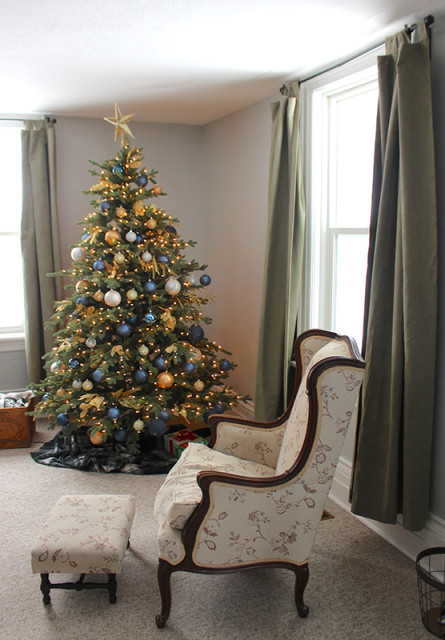 I'm so in love with our new tree and ornaments from Canadian Tire. I still can't believe that everything here is unbreakable! This is the only decoration we have in this room because everything on the coffee table and end tables is fair game for little hands.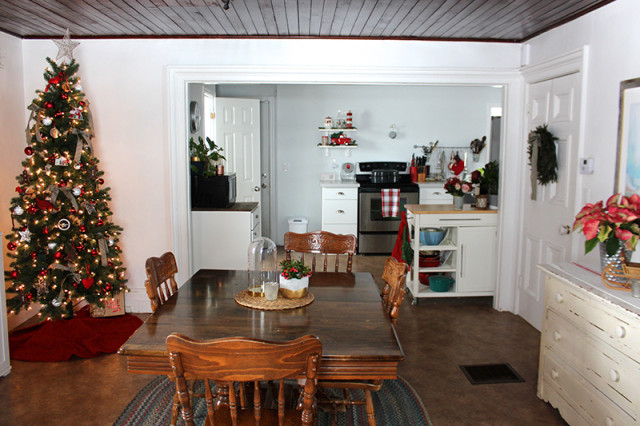 Back into the dining room, you can see the kitchen in the background. One of my goals for 2018 is to work on making that space more streamlined and less cluttered by adding more storage. But for now, it's the heart of the home over the holidays – where we bake the cookies, roast the turkey and stir the cranberry sauce.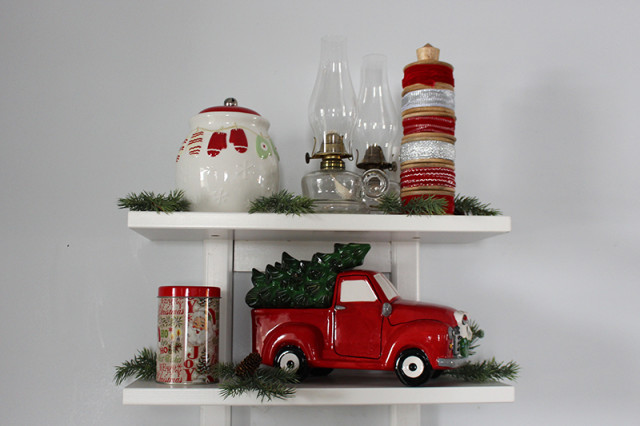 I haven't done much decorating in the kitchen, but I did rearrange this open shelf with some of my favourite festive cookie tins, our emergency oil lamps (practical and pretty too) and my big spool of Christmas ribbons.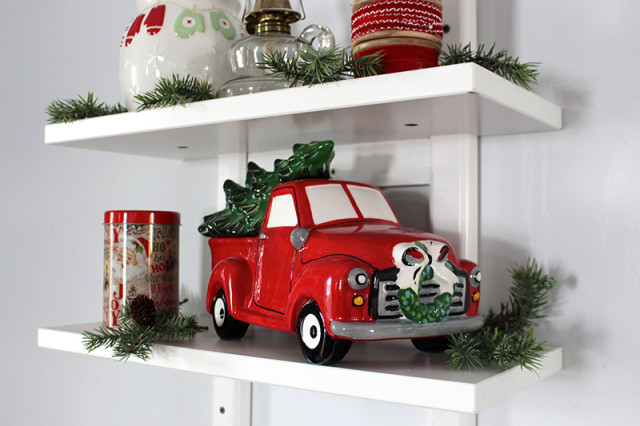 The red truck cookie jar was a great find at Walmart last year and I look forward to actually using it for cookies someday when Lucy is older. I remember my parents having a big cookie jar at Christmastime full of gingerbread cookies.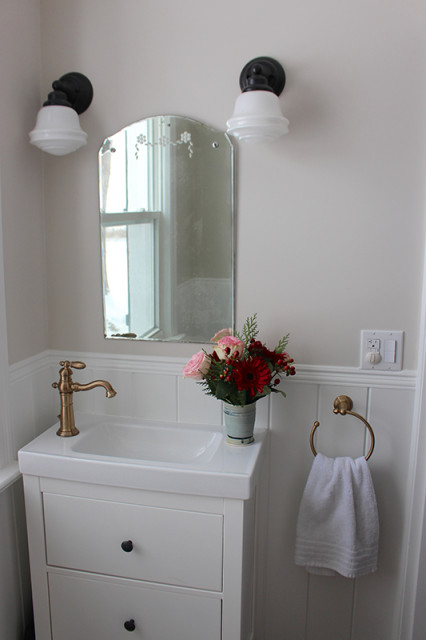 I even spruced up our newly renovated powder room with a fresh flower arrangement my mom put together for our party this past weekend.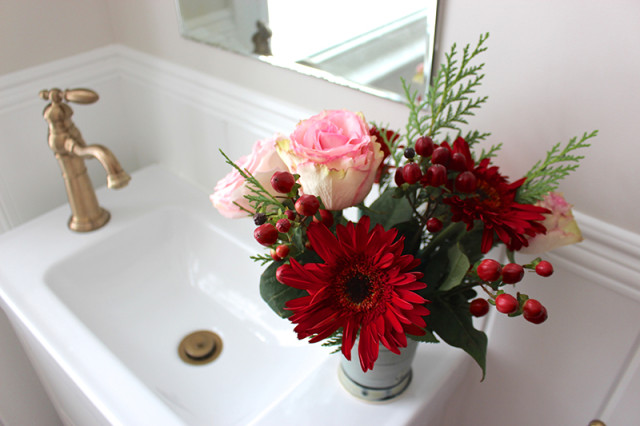 Crimson red gerbera daisies, winter berries, blush garden roses and fresh cedar, in a pottery vase made by my aunt.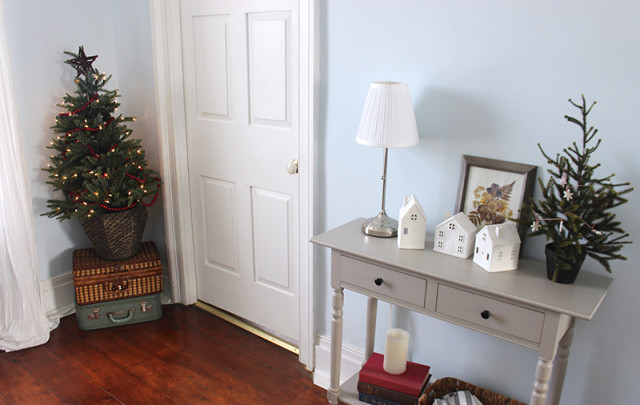 In our upstairs hallway, I put out our tabletop tree with wooden beads and a rustic star. Last year I found these ceramic house tealight holders at Target and while I couldn't put them out downstairs with Lucy, up here in the hallway they're safe to be out. They add a lovely glow with some battery operated tea lights.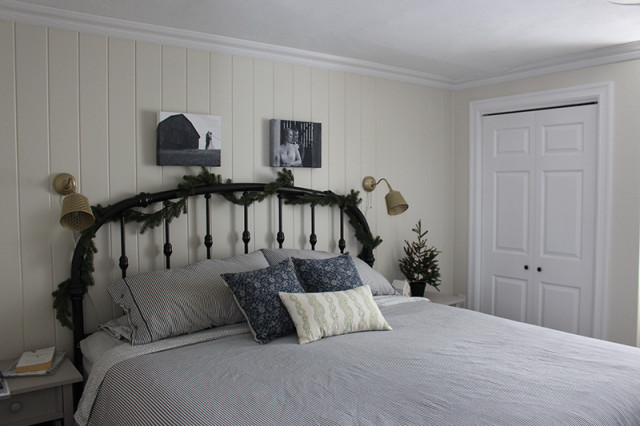 In the evenings, I love to curl up in our master bedroom with a fun Christmas novel, so I added a little garland to our DIY Wrought Iron Bedframe, along with a small tree.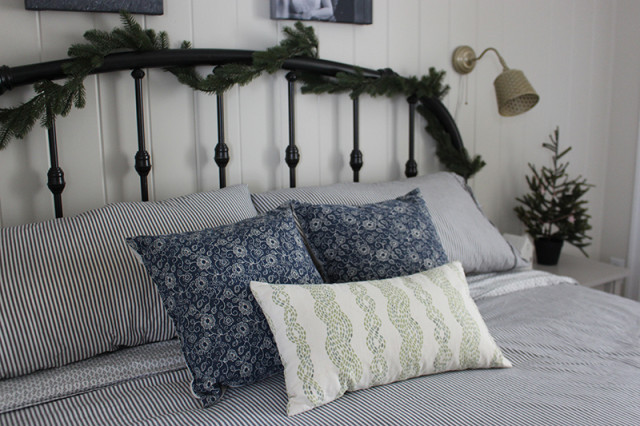 Maybe next year I'll have some time to find some festival sheets or pillows, but for now, it doesn't take much to make it feel festive in here.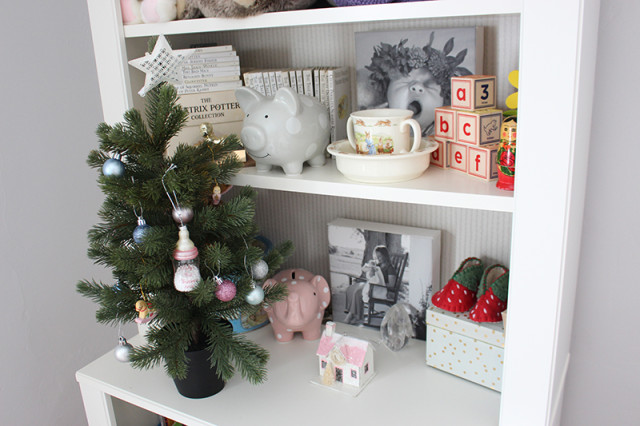 In Lucy's nursery, I added a little tree to hang some of her ornaments from her first Christmas last year.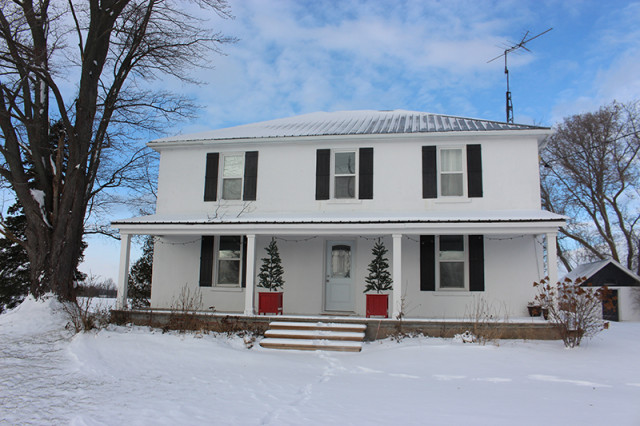 We got some snow this week, and I can only hope this means it will stick around for a lovely White Christmas – my favourite! At night we turn on the Christmas tree lights in the holiday planters Garrett made me a couple of years ago.
I hope you've enjoyed the tour of our farmhouse decorated for the holidays. Merry Christmas everyone!!